<![endif]-->
<![endif]-->
Magento Services
Magento services are all-encompassing services for implementing, migrating, improving, upgrading, and managing a Magento application. For 11 years in Magento services, we at ScienceSoft have built diverse and profound expertise across all the mentioned activities.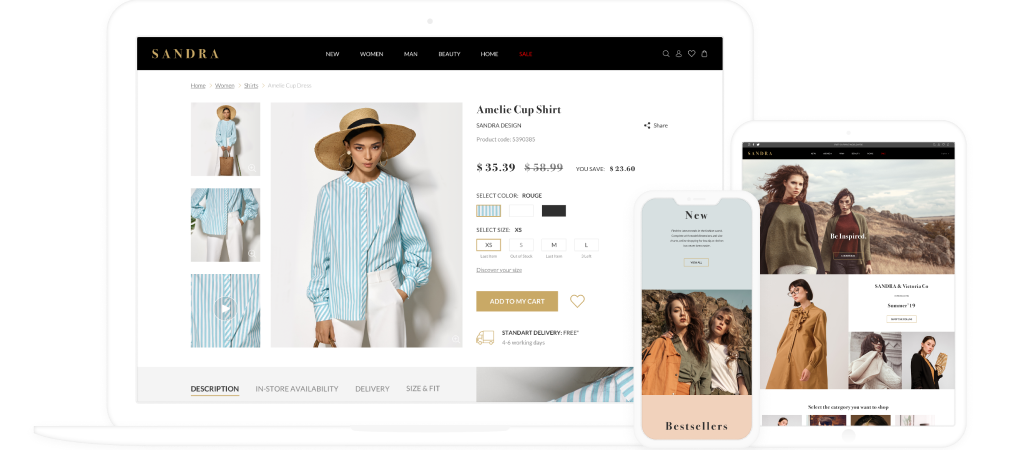 About ScienceSoft
Named among the Americas' Fastest-Growing Companies 2022 by the Financial Times.
11 years in Magento services and 19 years in ecommerce.
Magento certified developers in the team.
Expertise with different product lines and business models (B2B and B2C).
Adobe Solution Partner.
How We Help at Different Project Stages
For the convenience of our customers, we offer a helping hand at all stages of a Magento-based project.
Initiation and planning stages
Magento consulting
An effective strategy of launching and growing an ecommerce business is the first must step towards good return on your Magento investment. With our hands-on experience from designing an ecommerce solution to getting a web store live, we can come up with an optimization idea for each aspect of an ecommerce solution. We help to translate your conceptual blueprints and requirements into actionable solutions, thus finding answers to your most troubling ecommerce-related questions. We can become your partner to shape a strategy for omnichannel retailing, multistore management or digital business transformation. Our consulting can be complemented with the technical implementation of all the solutions discussed or given as a standalone service.
Business analysis
The core functions of business analysis are to capture and document all business requirements and offer a solution that brings value to customers. Meaningful involvement of business analysts throughout the project provides for its smooth progress and future success. Besides, their knowledge of Magento capabilities enables them to implement all business ideas most suitably and craft your future ecommerce solution according to your company's specific needs.
Magento development and customization
After your business roadmap has been outlined, the time comes to convert it into a viable technical solution. Speaking the Magento language, we install, configure and customize your Magento application. Out of the box, all Magento users have the same functionality kit – surely rich, still not unique for each business. Competent in customization, we shape a bespoke Magento-based solution for your business where the design reflects your brand identity and provided shopping experience agrees with your customer-centric policy.
Magento migration and upgrade
At our work, we target at elevating your business performance. If your current ecommerce platform doesn't suffice for this, we offer an optimal solution for migrating your business to the latest Magento version. We understand that migration is a business-altering decision and it may seem a big step for you but it's worth the effort as long as it brings the desired flexibility and scalability to your solution. Besides, the migration to Magento is a possibility to reconsider your current business processes and build a new Magento-based backbone for your ecommerce business.
Magento integration
There is software that can bring to your business advanced content and customer management, accurate order processing and smart resource planning, predictive analytics and control over several sales channels. If your IT ecosystem comprises several systems, their integration with each other and with your Magento application is matter-of-course. The integration allows automating critical business processes that influence the work of your team like synchronizing customer data across the relevant systems instead of managing it manually.
Ongoing Magento support
We don't step aside after your ecommerce solution is live. We ensure its solid functioning by monitoring and fixing apparent bottlenecks (malfunctions, security vulnerabilities, performance issues).
Magento solution evolution for business development
We support your business growth and expansion. Whenever new ideas or further improvements come to your mind, we discuss them and implement in the best possible way. You may plan to move to an international arena or go on omnichannel rails, we are ready to design a technical solution for that. As a go-to partner all along your ecommerce journey, we participate in developing an evolution strategy for your business – we further work on shopping experience achieving higher rates of conversions and repeat customers or optimize your back-office processes for higher team performance.

Time to Get in Touch

Reaching us, you reach a team of competent business and technical experts. Whatever question you have – concerning our Magento services, your business challenges or project cost estimation, our answer is one click away.

<![endif]--> <![endif]--> <![endif]-->