Editor's note: We share the main features and differences between Adobe Commerce (former Magento) and Salesforce Commerce Cloud (former Demandware). And if you need expert assistance in selecting an ecommerce platform and tailoring it to your business specifics, feel free to check the services of ScienceSoft's ecommerce consultants.
Magento, owned by Adobe, and Demandware, bought by Salesforce in 2016 and now called Salesforce Commerce Cloud, both are popular platforms for building e-stores. Even though Magento has a larger market share, Demandware can confidently compete with it in capabilities.

Magento vs. Demandware: key differences
To give you an overview of Demandware and Magento, we compared these platforms based on several key criteria:
Hosting
Demandware is cloud-hosted and managed by the Salesforce team, which means you won't have to deal with software updates and server maintenance. Salesforce provides the stability guarantee policy in the Service Level Agreement, which includes security guarantees.
Not so long ago, Magento implemented a cloud-based solution as well. Still, there's a lot of work to be done to make it completely reliable. As a result, Magento is commonly used as an on-premises, self-hosted platform, which provides merchants with full control over their e-stores. It can be seen as a pretty complicated task, but you get complete freedom over your ecommerce business infrastructure in return.
Customization
Since Demandware is completely under the control of the Salesforce team, it is hard to customize it, as any change has to be approved. Receiving a change approval takes time, but this way, the provider makes sure you'll have no problems working on their platform in the future.
If you need your ecommerce solution to be highly customizable and easy to evolve, consider Magento instead. Being in charge of the infrastructure, you can start small and gradually scale up your e-business.
Functionality
Demandware offers strong native features for personalized merchandising. Demandware's omnichannel capabilities are one of their biggest advantages over other ecommerce platforms.
As for Magento, besides advanced content management and merchandising capabilities, it has features to support loyalty programs (for instance, reward points) and customer segmentation.
Integrations
Both platforms are extensible, but Magento has a much bigger community of developers and is open for third-party involvement. Salesforce Commerce Cloud has a lot fewer partners and supports fewer integrations, which are usually quite expensive.
Pricing
Demandware requires a license fee and also charges a commission from sales made via the platform. The more an ecommerce business earns, the more its owner has to pay for the platform usage.
Magento pricing starts at $1,988 per month. This figure doesn't include the website build, which can be quite pricy, depending on its complexity. Overall, Demandware comes at a higher cost as the responsibility for the infrastructure rests with Salesforce.
How to choose an ecommerce platform?
To make an informed choice, you should start by setting your priorities. Think of the features your website must have to meet your business needs. One of the main questions you should answer is how much control you need to have over the e-store's infrastructure. Are you going to evolve it intensively? Would it be problematic to find resources to maintain your site? For example, Magento is cheaper than Demandware, but you'll have to outsource or hire a team to support it.
Your business structure is also important. Keep in mind that Salesforce Commerce Cloud concentrates mostly on B2C business type, and Magento is often used for B2B as well.
What's your next step?
The choice of the ecommerce platform requires deep research and a clear understanding of whether you can fulfill your business needs with its features. Feel free to leave us a message if you need expert help with this task.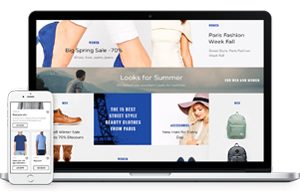 Our consultants will help to shape an optimal ecommerce solution for your business.