Editor's note: Successful e-store launch starts with a sound business strategy. In the article, Peter dwells on business plan development for aspiring furniture ecommerce initiatives and shares strategic findings from ScienceSoft's projects. For more strategy tips, you are welcome to leverage the expertise of ScienceSoft's ecommerce consulting team.
Furniture has firmly anchored on the ecommerce market accounting for 12% of US online sales in 2019, according to Statista. From what I see on the US market now, businesses lean towards online, particularly to secure business resilience when offline sales get stalled for reasons beyond their control. Therefore, I expect more furniture manufacturers and sellers to start a furniture business online and want to help with my experience earned on relevant projects. To save you from missteps hard and expensive to fix, I will focus on a big-picture strategy regarding website development, marketing and shipping aspects.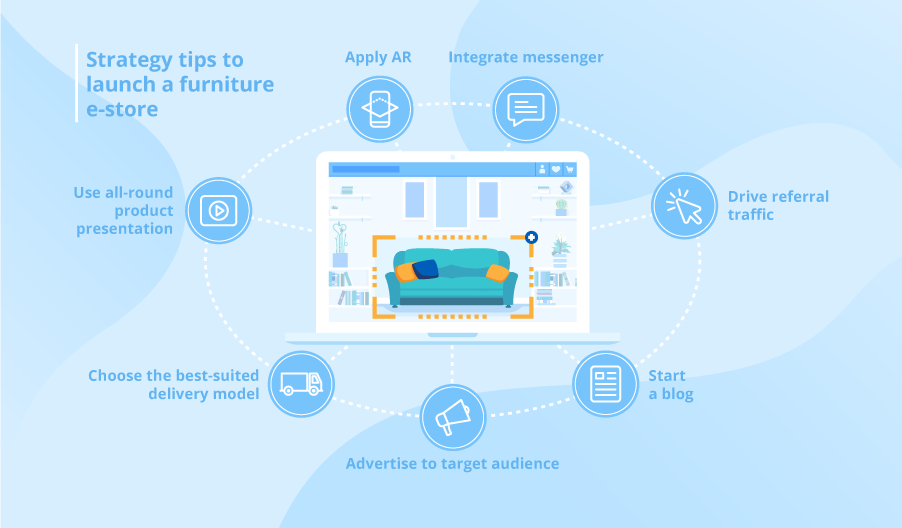 #1 Bring the digital experience as close to offline as possible
Furniture is the kind of purchase customers take seriously. As a rule, they thoroughly examine items, compare offerings from different brands and involve several decision-makers to choose the best-suited one. Seemingly, ecommerce must lose to offline as unable to deliver real-life experience, but my practice shows it's not necessarily true. There are several tricks to design furniture websites with the digital experience rivaling traditional shopping.
All-round product presentation. If you are determined to sell furniture online rather than just building a digital catalog, words and pictures are not enough to lure your customers into a purchase. For furniture web stores, you can integrate video content types to showcase items (often in different interiors), convey every detail to a viewer and provide some assembly guidelines. Alternatively, you can achieve an equal effect with 3D visualizations, which are used extensively in the interior design and architecture spheres. To see how this idea works in practice, check ScienceSoft's project on the creation of the 3D furniture catalog comprising more than 1,000 items.
Augmented Reality. I see vast AR adoption in retail, and across diverse product lines, it eliminates customers' fear of purchasing online. Applying AR in an online furniture store, you enable your shoppers to layer items over their interiors. This is something they won't get in a brick-and-mortar store – thereby, a strong competitive advantage in your favor.
Messenger integration. At ScienceSoft, we advocate this technique when build custom ecommerce websites for a furniture line. People rarely do furniture shopping alone and tend to seek advice of family and friends. By accessing their messengers directly from the web store, your customers can quickly exchange links to items they like and talk them over.

Custom product builders

. If your furniture items are customizable, you should enable your visitors to compound different variations and instantly visualize the result. The variables can be size, color, upholster, etc. Not only the idea of self-designing is attractive, but the scenarios of product builder implementation on the website can be really engaging. Don't miss to watch our furniture web store demo – we show what kind of online experience can be created and give one of the best product builder ideas!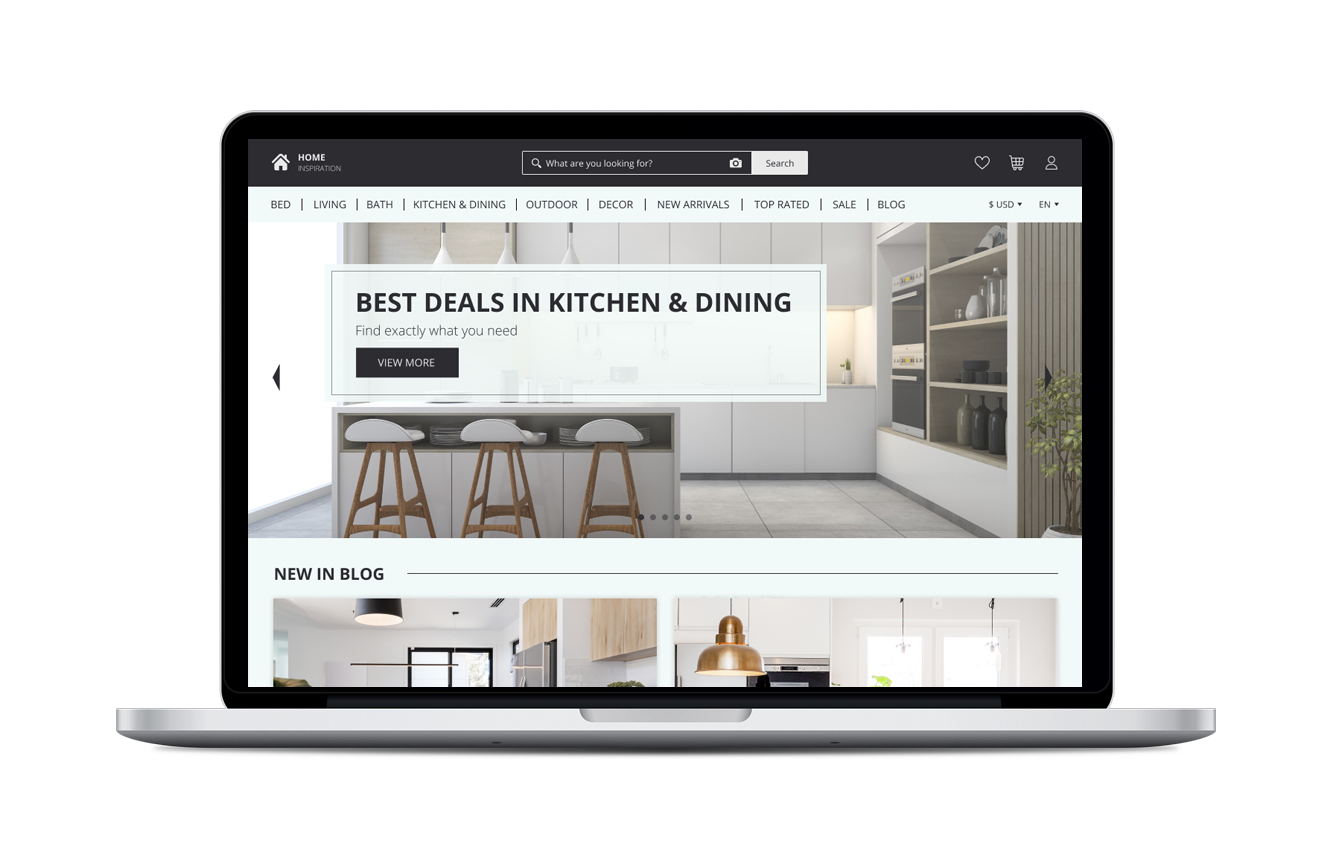 #2 Funnel your marketing effort into customer acquisition
When you are new to the ecommerce market, customer acquisition is where you should naturally invest. From the experience I had with furniture companies, I shape three important marketing conclusions:
Drive referral traffic. Ranking by a general search query 'buy furniture online' can give you up to 3,400 US visitors a month (the search traffic is estimated according to Ahrefs data as for the publishing date). The number of potential visitors increases if you add more targeted search queries for particular furniture items or brands. Promoting your website up to the SERP's top may take you about a year. However, about half of the SERP's top positions are represented by lists of online furniture sellers. Usually, one can purchase presence in such listings if their offering is relevant. For you, this can be a quick way to establish a presence for organic visitors.
Start a blog. People do search for design tips and interior ideas online – catch them! Surely, I don't mean a blog to be your purely informational resource – I always advise ScienceSoft's clients to turn it into an extra sales opportunity by integrating product cards.
Advertise to your target audience. The knowledge of your target audience is important to achieve ROI on advertising campaigns. I will give you two examples of how I make my way from the audience analysis to advertising channel choice.

A company sells affordable IKEA-inspired furniture. One of the target customer segments is representatives of Generation Z who trust recommendations and mostly prefer social media as the top influencer channel, according to numerous studies. Influencer marketing seems the most profitable advertising channel.

A company manufactures and sells expensive designer or vintage furniture to Millennials and Generation X with high income. There's no need to reach end customers as targeting interior designers, decorators and design studios via networking, cold calls, in-person negotiations will work better.
#3 Choose a shipping and return strategy depending on the market served
The issues related to furniture transportation are usually painful to businesses as most items cannot be delivered through standard parcel delivery services (FedEx, UPS, USPS) due to their large sizes and irregular shapes. My goal is to help them organize transportation (both delivery and returns) in the most cost-effective way. I vary an approach depending on the market coverage.
If you serve the local market, you need full-time couriers who also offer furniture assembly services. If you work by a dropshipping business model, your supplier is responsible for that.
A chain of warehouses across the country enables national delivery.
Should you set sights on international delivery, outsource the distribution and order fulfillment services to third-party logistics providers (3PLs).
Your next move is an online store launch
I have covered the three aspects that will be success-critical for your venture. But of course, the process of starting and running a furniture ecommerce business is much more nuanced: you need to design a website and organize effectively back-office processes (supply chain, warehousing, customer management among others). If the information you read online and your own in-house expertise is not enough in your current business situation, feel free to contact me and my team for further assistance.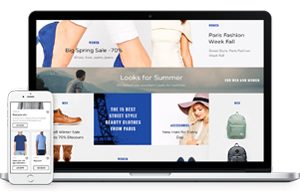 Our consultants will help to shape an optimal ecommerce solution for your business.