Editor's note: In this blog post, Maryna shares how to use an ecommerce business intelligence solution to stay competitive in the present-day ecommerce industry. Read on to learn the basics of effective ecommerce BI, and if you seek deeper engagement of BI experts with your project, feel free to leverage ScienceSoft's business intelligence consulting services.
In the spring of 2020, we witnessed a huge shift towards online retail. Online shopping becomes the new normal even for the items, which previously were mostly bought in person, toughing up the already intense competition within the ecommerce sector. And I believe that the only key to holding up well in this competition is to deliver top-notch customer experience.
Are you sure that you can offer a seamless customer journey and win clients from competitors? Let's do a quick check:
Can you get quick and clear insights into rapidly changing customer needs?
Is the amount of effort dedicated to analytics worth the quality of analytical outcomes?
Are your marketing campaigns effective?
If you've got at least one 'no' or 'not sure', then it's high time to take some action. I suggest you go for the development of an ecommerce BI solution.
Ecommerce BI is used to collect and analyze the data about your customers, your marketing and sales processes and other retail-related data to present it in the form of compelling reports and dashboards while your manual efforts are reduced to a minimum.
Based on the gathered data, algorithms of your BI solution allow:
Conducting advanced customer segmentation based on customers' interests and purchase data to create tailored customer journeys and implement personalization in the ecommerce website design – tailored product promotions, targeted discounts, etc.
Analyzing customer life cycle and customer churn to reveal improvement opportunities for customer journeys and enhance marketing campaigns.
Identifying market trends to get the upper hand in offering highly sought-after products.
To underscore my point, I suggest you have a look at the benefits reaped by one of ScienceSoft's clients after implementing a robust analytics solution, which we developed for them. A multibusiness corporation could collect and aggregate data from 15 different sources and deliver personalized customer experience by analyzing website traffic, online store visitors' engagement, cart abandonment rate, etc.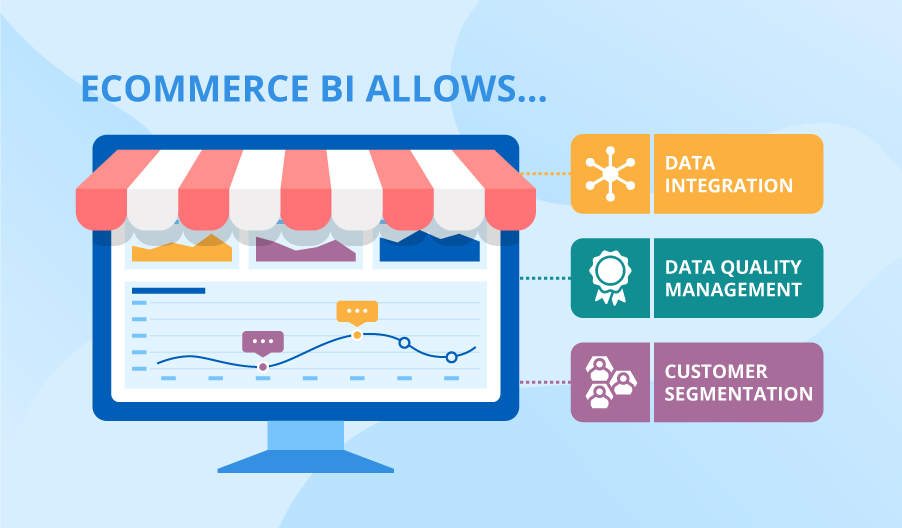 When working with online retailers, we at ScienceSoft usually set up a solution that allows:
For starters, your data is gathered from all the necessary data sources – an ecommerce solution, CRM, marketing tools, social networks, etc. into the central repository to be further mined for actionable insights.
If you don't have any facility to store all that data in one place, you'll have to build a data warehouse (DWH) either in the cloud or on-premises. My colleague Alex Bekker, Head of Data Analytics Department at ScienceSoft, illustrated the peculiarities of data warehouse design for both options in the article dedicated to data warehouse design, so feel free to explore it if you need more details on that issue.
Although both options offer certain benefits, I recommend going for a cloud DWH due to its fast deployment and the absence of hardware-related costs. As for your data privacy in the cloud, it will be safe with the leading cloud service providers, such as AWS, Microsoft Azure, and Google, which apply strict security measures to stored data. Additionally, I recommend securing your cloud-based BI solution with data anonymization, data encryption, and more in the course of the development. After the deployment, consider setting up user access rights and having your BI solution checked with regular vulnerability assessment and penetration testing.
For you to achieve a state of high data quality and consequently obtain the high quality of analytics insights, data quality management procedures should be given the highest priority. The main stages of the data quality management process involve:
Determination of data quality thresholds and rules.
Assessment of data quality.
Resolution of data quality issues.
Control and monitoring of data quality.
Operating in different working environments and in pursue of meeting its unique needs, each company has to develop its own customized approach to data quality management. If you need to learn the basics, feel free to read the guide to data quality management compiled by my colleague Irene Mikhailouskaya.
The analytical algorithms of your ecommerce BI solution usually allow segmenting your customers on the basis of various factors (demographic, psychographic, and behavioristic). You can further enrich your customer segmentation with big data from external sources (social media, weather data, epidemiological data, etc.), and your AI-driven BI solution will be able to power recommendation engines to personalize web page content, reinforce purchasing (e.g., offer discounts on the items abandoned earlier), offer a simplified check-out flow, and much more. As a result, you'll be able to create a personalized user experience, win customer loyalty, and, consequently, increase your sales.
Drawing on my experience, I may say that the best way to promote ecommerce business intelligence in your company is to use the agile approach to developing your ecommerce BI solution. Its concept can be presented with the following steps:
Defining the burning needs to be satisfied with ecommerce BI.
Developing an ecommerce BI solution to facilitate ad-hoc optimization and working on its adoption.
Enhancing the solution with self-service analytics capabilities after the first tangible outcomes. You can enable self-service analytics with such software as Power BI, Tableau, Qlik Sense, etc.
Reinforcing the solution with advanced analytics capabilities for getting deeper insights.
Are you ready to win customers with ecommerce BI?
To succeed in today's ecommerce market, you need to understand the psychology behind your customers' actions, so that your marketing and sales processes feel like a conversation with a good old friend, not a sales pitch. Although it may sound utopian, such an approach has already being practiced by top ecommerce companies (Amazon, eBay, Alibaba, etc.). If you want to be among those companies – here is my advice loud and clear – set up your ecommerce BI solution. With the well-established and tuned ecommerce BI, you can derive deep customer insights, increase the efficiency of your marketing campaigns, timely detect potential churners, and, ultimately, boost your sales. If you feel like reaping the above benefits with your ecommerce BI project, just let me know.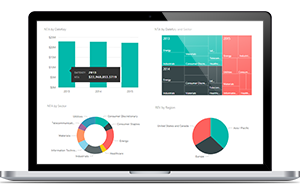 We offer BI consulting services to answer your business questions and make your analytics insightful, reliable and timely.