Ecommerce CRM
The Most Detailed Functional Portrait and Ready-to-Use Architecture
With 15 years in CRM consulting and development and 20 years in the ecommerce domain, ScienceSoft will help you personalize customer experience by aligning digital sales, marketing and customer service.
Ecommerce CRM: A Summary of Key Details
An ecommerce CRM is a system that stores comprehensive customer data and allows its use to personalize any interaction customers have with your business. To enjoy the full potential of an ecommerce CRM, regard it as software for end-to-end customer experience, not just sales. Customer relationship management in ecommerce goes deep into personalized marketing and customer service, and CRM software can successfully cover both.
Functional components that may constitute an ecommerce CRM: a customer data platform, digital sales, marketing, and customer service.
The cost of an ecommerce CRM may vary between $15,000 (an entry-level system for 10+ users) and $250,000 (a large-scale system for 1,000+ users).
CRM software can be tailored to different scenarios of customer service. You may have your CRM localized for different sales regions or equip your team with portable solutions for after-sales field maintenance and repair service.
The Most Comprehensive Checklist of Ecommerce CRM Features
We describe all possible CRM features you may have. Still, no ecommerce CRM is alike, as each company has its unique ways of dealing with customers.
When planning your CRM system, you can use ScienceSoft's best practice – first, break down your customer experience strategy into smaller goals, and then plan the features accordingly.
Features for a unified customer data platform
Data collection and organization
Pre-built integrators for digital sources of customer data.
Customer data unification.
Detection and removal of duplicate customer accounts.
Customer data export to other applications (specifically to sales, marketing and customer service modules).
Read on
Default and custom criteria for dynamic customer segmentation.
AI-powered segment suggestions.
Segment overlap analysis.
Read on
Features for assisted selling
Widely used for B2B and high-risk B2C (e.g., real estate) ecommerce sales.
Features for digital marketing
Features for customer service
A Sample Architecture and Key Integrations of an Ecommerce CRM
Our CRM experts always say that a CRM is not one-piece software but an ecosystem of integrated software, each performing its own role in serving customers. Please have a look what this means in ecommerce.
ScienceSoft Shares CRM Best Practices Important for Ecommerce
| | |
| --- | --- |
| | We create each functional module with a specific set of roles and permissions. Thus, we maintain the confidentiality of data and set up clear workflows where each employee performs the tasks according to their role and can't interfere in the activities beyond their responsibilities. |
| | We complement a web-based CRM with a mobile app. It's a lifesaver when the team is in the field, negotiating sales deals or providing after-sales service. To ensure the users' consistent experience with a CRM, we create a uniform user interface for both a web and mobile app. |
| | We create CRMs that support different regions, languages, and currencies, if an ecommerce company sells internationally. This helps associate financial transactions directly with the region and adapt the communication style to a local culture. |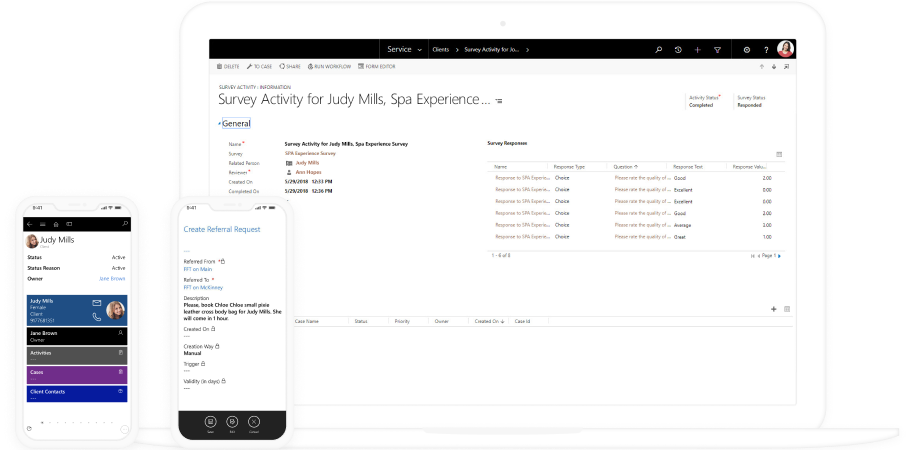 CRM for a Luxury Retail Chain: a Success Story of Cross-Channel Personalization by ScienceSoft
ScienceSoft created a CRM system that unified customer data from the company's three business lines – brick-and-mortar retail, ecommerce and hospitality facilities – and put this data for use in cross-channel customer service and loyalty building.
How Much to Invest in Ecommerce CRM and What Return to Expect
The cost of an ecommerce CRM can vary as vast as $15,000-250,000 depending on the scope of the system to build. A quick analysis of ScienceSoft's projects shows the following progression:
Depending on CRM functional modules you choose to build, you can see the improvements in a number of ways, including:
A conversion rate increase in long sales cycles.
Fast creation of custom sales proposals.
More trustful relationships with customers in B2B and high-priced B2C sales.
A fast launch and simultaneous running of multiple marketing campaigns.
Good conversion from marketing efforts due to effective personalization.
Fast response and case resolution time.
Time savings for customers by giving them self-service help.
Continuous improvement of customer experience based on customer feedback analysis.
Best Options for an Ecommerce CRM
Dynamics 365 CRM
ScienceSoft recommends
Best for
B2B and high-priced B2C ecommerce segments.
Description
Offers a whole suite of easily integrated apps with core functionality for digital sales, marketing and customer service, and with complementary functionality for LinkedIn sales prospecting, field customer service, and customer feedback collection. A Leader in 2022 Gartner Magic Quadrant for Sales Force Automation and B2B Marketing Automation. A Leader in 2022 Forrester Wave for CRM Solutions.
Pricing
Sales module – from $65/user/month.
Marketing module – from $750/tenant/month.
Customer service module – from $50/user/month.
Salesforce
Best for
B2C ecommerce companies aimed at growth marketing.
Description
Offers full-function Sales, Marketing and Service Clouds, all sharing the same customer data platform – Salesforce Genie. Has the CRM Starter Pack, a quick-to-launch solution for companies that are hesitant about full-scale Salesforce implementation. Named the top CRM platform for the ninth consecutive year by IDC. Recognized as a Leader in the Gartner Magic Quadrant for Sales Force Automation Platforms for the 16th consecutive year.
Pricing
Sales Cloud – from $25/user/month.
Marketing Cloud (for personalized cross-channel marketing solutions) – from $3,750/org/month.
Service Cloud – from $25/user/month.
A custom CRM
Best for
Ecommerce domains with high specificity (industrial manufacturing, automotive).
Description
Not based on a pre-defined functional set but built individually for a business. Allows for fast delivery of new features. No subscription fees.
Pricing
The cost is ranged between $15,000 (an entry-level system for 10+ users) and $250,000 (a large-scale system for 1,000+ users).
Frequently Asked Questions
How much does it cost to implement an ecommerce CRM?
The cost of ecommerce CRM development ranges from $15,000 for a small company with 10+ CRM users to $250,000 for an enterprise with 1,000+ CRM users.
How long does it take to implement a CRM system?
The duration of CRM development fully depends on your requirements to a future system. In ScienceSoft's practice, we have CRM projects lasting 5–6 months and 2–4 years.
Do I need to integrate CRM with my ecommerce platform?
Surely. Your ecommerce platform is one of the sources of customer data for a CRM system. The integration will ensure full and fast data transfer.
Implement Your Ecommerce CRM with ScienceSoft
In its 40+ CRM development projects, ScienceSoft has worked with different customer experience strategies and managed to create unique CRM solutions for each case. Now, we are here to help YOU find a way to amaze your customers with one-to-one service. Engage us for:
About ScienceSoft

ScienceSoft is an international IT consulting and software development company. Since 2008, ScienceSoft provides all-around CRM services and helps companies leverage extensive customer data to create personalized customer experience.

<![endif]--> <![endif]--> <![endif]-->