Editor's note: We talk about the benefits of integrating an ecommerce storefront with an ERP system and shortlist ERP solutions most frequently used in ecommerce. If you question the need to integrate ERP into your business processes or need assistance to plan a cohesively functioning ecosystem, our ecommerce consulting team at ScienceSoft is competent to help.
The common business practice of distinguishing between the back and front offices extends to the ecommerce domain. As the front office, ecommerce businesses have websites (digital storefronts) to interact with customers while the back office encompasses a sequence of workflows to keep the business functioning. An Enterprise Resource Planning (ERP) application supports most of these processes, and it is important for their effective automation.
There's no default integration between an ecommerce application and an ERP system. And while setting it up requires certain effort, the benefits are well worth it.
Benefits of ERP and ecommerce integration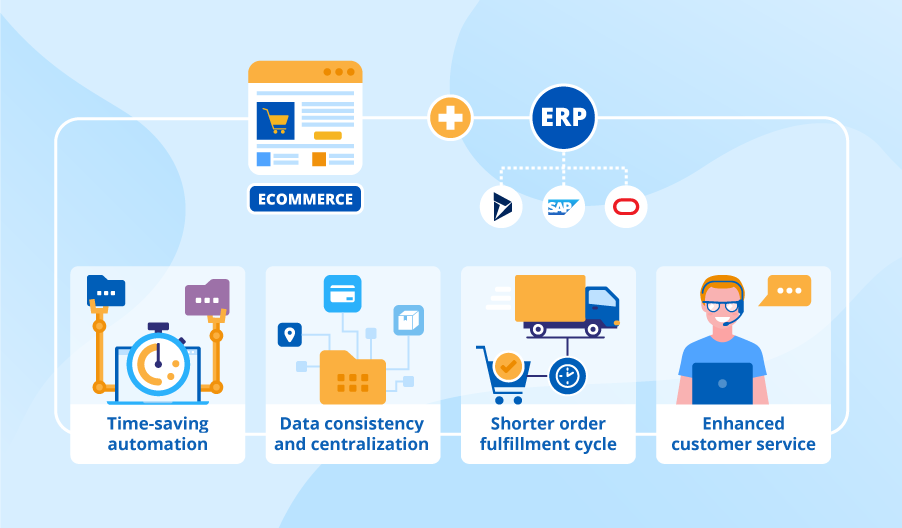 1. Time-saving automation
The day-to-day operation of an ecommerce business involves a variety of manual tasks, ranging from simple ones such as entering data into forms to more complex related to transferring data between applications. Though essential, such tasks are time-consuming and error-prone.
The solution to this problem is automation. When integrated, an ecommerce platform and ERP exchange the data routinely, which eases the burden of manual data transfer and prevents data errors. Time saved in the daily routine of your team would be better spent on high-value tasks.
2. Data consistency and data centralization
In ecommerce, data originates in multiple sources and flows in multiple directions. Customers place online orders, thus triggering payment and order management processes. Once an order is shipped, a business needs to keep the customer updated on its route as well as write the item off the inventory and control the stock levels to prevent stockouts. And that's how sales, finance, logistics, and procurement teams have their role in data management.
ERP and ecommerce integration maintains the integrity and visibility of your data, which positively affects the team's productivity and customer experience.
3. Shorter order fulfillment cycle
An online sales process is two-step. Customers move through the sales funnel until they reach the point of placing an order. After that, the product moves physically from the warehouse to the destination.
ERP and ecommerce integration makes these two processes work in unison. Order information gets transferred in real time to order management and warehousing systems and is processed promptly. This way, the journey from order placement to fulfillment is shortened.
4. Enhanced customer service
Customer service is essential for customer retention. Crafting personalized and helpful responses to customer queries requires access to up-do-date customer and product data, a possibility to reach customers via different communication channels, deep knowledge of company products and services, etc. In a way, customer service is the integration point of all other teams and departments.
Having your ecommerce storefront integrated with ERP makes it easier for your agents to react to customer demands in real time, for example, provide them with the latest order status information.
Best ERP systems to integrate with your ecommerce website
Microsoft Dynamics 365
Microsoft Dynamics 365 offers a suite of ERP applications for managing back-office operations, including finance, logistics, inventory, billing, and others. The ERP suite can be natively integrated with Dynamics 365 Commerce. In case you use another ecommerce platform, you can integrate it with Dynamics 365 ERP via pre-made connectors or go for custom integration. Microsoft Dynamics 365 can be deployed on-premises and in the cloud.
Learn more about Microsoft Dynamics 365 and its ERP ecosystem
Oracle ERP
Oracle ERP is a complete ERP solution offering tools for finance, project management, risk management, enterprise performance management, and other essential enterprise operations. It can be natively integrated with Oracle CX Commerce.
Learn more about Oracle ERP Cloud
SAP S/4HANA
SAP S/4HANA is a feature-rich ERP system for handling complex business operations. It has a number of advanced features, including embedded AI, real-time analytics, and intelligent automation. SAP S/4HANA offers multiple deployment options, including on-premises, private cloud, public cloud, and hybrid deployment. It natively integrates with SAP Commerce using SAP Cloud Platform Integration and Integration APIs.
Learn more about SAP S/4HANA
Enhance ecommerce with ERP benefits
ERP functionality is important to ecommerce companies as the effective organization of back-office operations helps produce consistent business outcomes. If you are planning to integrate an ERP solution in your ecommerce ecosystem, our team at ScienceSoft will be glad to help with the implementation process, just let us know.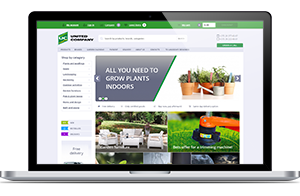 Are you planning to expand your business online? We will translate your ideas into intelligent and powerful ecommerce solutions.