B2B Ecommerce: Key Specifics, Functionality, Costs and Best Practices
Since 2003, ScienceSoft implements ecommerce portals and helps B2B companies establish a profitable digital sales channel.
ScienceSoft Describes Key Specifics of B2B Ecommerce
B2B ecommerce is a digital portal where business buyers can directly research and order products/services from a seller. Often, the parties involved in B2B sales are manufacturer-distributors or wholesaler-retailers.
Though B2B (business-to-business) and B2C (business-to-consumer) ecommerce websites are similar in core structure (catalog, detailed product information, online checkout), user experience and often user journeys will be in many ways different. Key specifics of B2B sales that impact the functional design of the solution:
Multiple decision-makers and multi-tier approval workflows.
Wholesale orders, frequent repeat orders.
Rational buying decisions, little to no emotionally-driven buying.
Trust-based long-lasting relationships between sellers and buyers.
Negotiable pricing.
A possibility of credit payment.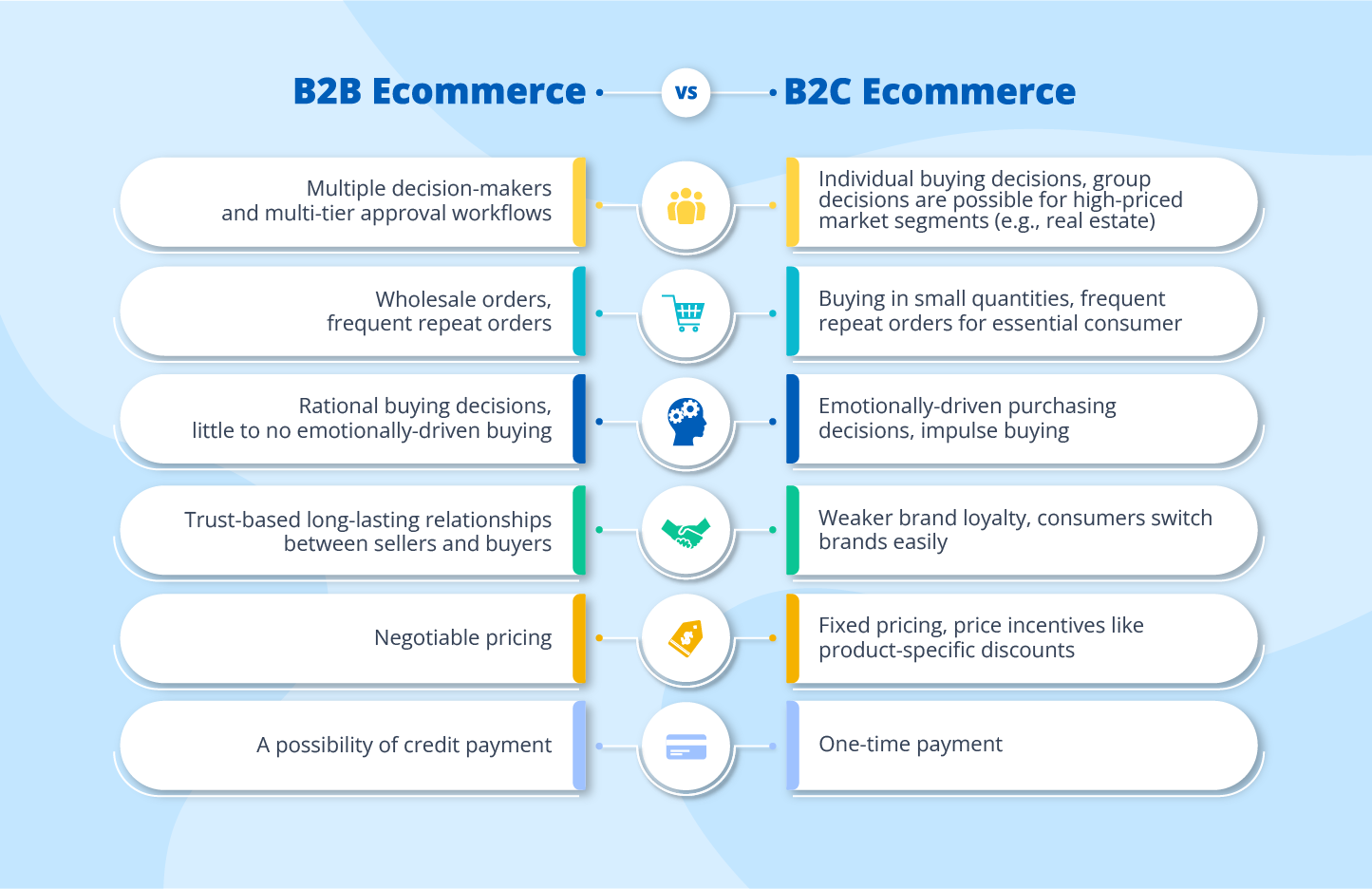 The cost of launching a B2B ecommerce solution ranges between $70K and $250K. Overall business profitability depends much on the efficiency of supply chain management.
Functional Overview
ScienceSoft's B2B ecommerce developers share key functionality they use to enable a B2B buyer lifecycle.
Product search and discovery
Goal: to give the fullest product description for informed product choice.
Several convenient search options: by browsing a logically structured catalog, by using a search box with autocomplete and autocorrect, by a product's SKU, by uploading pre-filled requisition lists (for repeat buyers only).
Product illustrations supported by 3D visuals and AR experience.
Text or video manuals covering end-to-end product life cycle: assembly, usage, disposal, recycling.
Product comparison pages.
Buyer's experience personalization
Goal: to identify and retain high-value clients.
Configurable criteria for customer grouping.
Segment-specific catalog view with custom pricing.
Configurable RFx process.
Volume-based pricing rules.
Personal back-in-stock alerts.
Payment
Goal: to support several payment options typical for B2B transactions.
Bank transfers.
Purchase order.
Payment on account.
Check / money order.
Order placement
Goal: to create a convenient workflow for multiple decision-makers within one organization.
Account roles and permissions based on a company's hierarchy.
Automated notifications to responsible roles on order and payment approval.
Multiple requisition lists per one corporate account.
Splitting one order to ship to multiple addresses.
Recurring orders
Goal: to maintain long-term relations with customers.
Product subscriptions and scheduled delivery recurrence (might go along with discount incentives).
One-click re-ordering.
Automated notifications when a recurrent payment passes through or fails.
Customer service
Goal: to interact with customers in person when they need it.
Custom call-to-action buttons to reach sales or customer support teams fast.
Integration of communication channels convenient for buyers: chat, phone, scheduling in-person appointment.
A possibility to place orders from the admin on behalf of buyers, for example during a phone call with a buyer.
Modeling a Resilient Supply Chain in B2B Ecommerce
In 2021, about 40% of supply chains of multinational corporations were not prepared for such disruptions as demand shocks, border delays, or shortages of raw materials. Having solid experience in supply chain management, ScienceSoft sees particular importance in building solid B2B supply chains capable of standing up to turbulence. We achieve transparent, agile, and data-driven supply chains with the lowest overheads possible by using the following systems:
There is no single correct organization of the supply chain as it depends on whether a company manufactures or re-sells products, has its own fleet or uses third-party logistics providers, and more factors. We illustrated a sample process but ScienceSoft can apply the knowledge and skills to digitize your supply chain with due regard to your business specific.
B2B Specifics for Different Industries
ScienceSoft's experience in launching B2B ecommerce solutions spans a variety of industries. Still, we see that the trend for expansion to digital channels goes full speed in three major verticals.
Healthcare
The segment of corporate buyers in healthcare is huge: hospitals, retail pharmacies, medical institutions, research labs, and more. Digitization of procurement processes helps them maintain fast and uninterrupted medical services.
Tip: due to regulations existing in the healthcare sphere, you will need a custom registration procedure and a highly personalized experience for buyers based on their licensing.
Industrial manufacturing
Industrials increasingly launch digital channels and with that win smaller buyers who used to be undervalued and underserved by sales teams. Now, they make up part of the profit.
Tip: you will need a highly scalable and high-performing ecommerce solution to operate hundreds of thousands of SKUs and a complexity of multiple pricing lists.
Groceries
Working with perishables, grocery manufacturers and suppliers use digital sales channels to minimize the time gap between order placement and processing, and with that achieve improvements in customer service.
Tip: high level of automation throughout your supply chain will allow for a quick order life cycle. Predictive analytics will help with faster goods turnover and minimize overhead of stale stock.
B2B Ecommerce Development with ScienceSoft
Our team can help you plan and develop a custom, fully tailored to your business needs B2B ecommerce solution.
Interviewing selected members of your team to understand your current business situation, number of buyers, growth plans.
Studying the specifics of your products and workflows.
Compiling and negotiating a detailed solution specification.
Technology consulting.
Evaluating project risks and developing a risk mitigation plan.
Architecting the solution, planning all functional modules and inter-modular dependencies.
Coding and testing units of code.
Setting up all necessary integrations with business systems.
Testing the whole application for bugs, security vulnerabilities, and performance issues.
UAT testing.
Going live.
Success Stories by ScienceSoft
Success Factors of B2B Ecommerce Implementation
Looking back on ScienceSoft's projects for B2B companies, we can think of several best practices that have helped our clients better plan diverse aspects of their ecommerce solutions.
| | |
| --- | --- |
| | The higher value products you sell, the more comprehensive and detailed product descriptions should be. Your B2B ecommerce solution needs to support the type of content that would best sell your product: 3D product viewers, free downloads of product specifications, video tutorials, etc. Based on your choice, your ecommerce web designers will plan different types of page layouts. |
| | A B2B ecommerce solution should provide possibilities for micro-conversions to engage with buyers who are in the middle of their decision-making process. You can offer to schedule an individual consultation with a sales rep or detect abandoned shopping carts and contact back such users. |
| | For some businesses providing on-demand manufacturing services (e.g., industrial parts manufacturing), an ecommerce website must be first of all aimed at building the brand as there are no stock products to sell. Having established the trust, prospects will be able to request an individual quote by uploading their specifications or prototypes. |
| | B2B businesses commonly have (or plan) a wide geographical expansion. By selecting a multi-store ecommerce solution, you can give a local touch to the content and user experience in different regions. |
| | If your system allows you to configure partial shipments and backorders, you are prepared to deal with late stock deliveries and don't miss sales opportunities. |
An average cost of B2B ecommerce implementation varies between $70,000 and $250,000. The range is that large because the cost of an ecommerce solution always depends on numerous factors: estimated traffic and the choice of optimal solution architecture, the customization scope, number of third-party integrations, and so on.

The benefits of B2B digitization predominantly arise from cost savings. While an average cost of manual entering and servicing an order is $50-150 for a B2B business, it goes down to $25 and less with an ecommerce solution integrated with the back office.
Why Custom Development May Be the Best Option
At ScienceSoft, we work with ecommerce platforms that claim to be B2B-specific and provide all the major functional capabilities a B2B business most definitely needs (for example, a request-for-quote flow). However, we admit that commercial software (even open-source) is a monolithic application structure and a rather standard functional package. Modifying, extending, and replacing some parts of it is long and costly. So, we go for platform-based development when all or most of the functionality we need is covered.
Alternatively, custom development helps us bring the much-needed flexibility for:
| | | | |
| --- | --- | --- | --- |
| Building the functionality needed for your business specifically | Researching and better serving your target audience | Adapting a new application to your established workflows | Scaling your ecommerce solution in line with your growth strategy |
About ScienceSoft

A provider of ecommerce services since 2003, ScienceSoft creates ecommerce ecosystems comprising digital sales channels and tech-driven supply chains for upper mid-market and market leaders around the world.

<![endif]-->