Editor's note: The importance of cybersecurity in ecommerce is beyond any doubt given the nature of customers' personal and payment information processed and stored by ecommerce companies. In the article, we introduce you to the most important aspects of ecommerce website security every business owner must know. And if you need to validate your website against security standards, consider security checkup ScienceSoft offers within ecommerce audit services.
Retail tops the list of industries where the share of cyberattacks against its online environment (ecommerce) is many times higher than the share of attacks targeting internal corporate network – 62% to 5%, respectively. So, security of online transactions should be of utmost importance for ecommerce companies that deal with confidential customer information. Read on to learn the fundamentals of ecommerce security and elaborate a mature approach to the safety of your own business.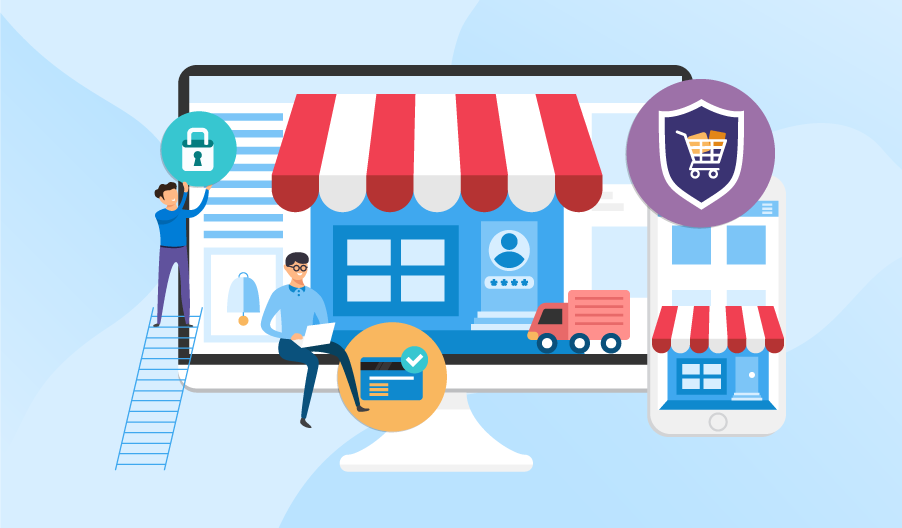 What cyberattacks to expect in ecommerce
Ecommerce security is a set of measures one takes to protect their online environment from cyber threats. Security would not be a problem so acute if we knew exactly how and when malicious actors are going to attack. However, you must be aware of the most frequent ecommerce security issues to fight them off.
Social engineering and its subtype phishing
Social engineering is an umbrella term for the whole range of malicious activities targeted to steal a person's credentials and get illicit access to confidential information. Most frequently, it takes the form of phishing when criminals send emails with fraudulent links for their purpose. In ecommerce, two scenarios of a phishing attack may play out.
Criminals seek illicit access to an admin panel of an ecommerce platform.
Criminals have already taken over an administrator account and now can attack the whole customer base with phishing emails.
As this kind of attack exploits a human factor, the most important safety measures you can take is to:
Educate your employees on standard phishing scenarios.
Institute a corporate policy requiring regular password changes and certain password complexity.
Encrypt customers' credentials.
DoS attack
The goal of a DoS attack is to overwhelm your server with traffic until it crashes and becomes unavailable for real users. And the time that your website is down, you are losing revenue and possibly the trust of your customers.
To mitigate the risk of DoS attacks, you should:
Secure the network infrastructure with firewalls, VPN, content filtering, load balancing, and other defense layers.
Install a DoS protection system that will recognize and block malicious traffic.
Credit card fraud
Cases, when malicious actors steal credit card information and use it to place orders, are frequent in ecommerce. While you can't really prevent the theft itself unless it happens from your customer base, you can watch out for red flags of fraudulent transactions to mitigate the aftermath of further investigations and chargebacks.
Make sure your website is PCI DSS compliant.
Examine carefully large transactions and orders where billing and shipping addresses differ, especially if expedited delivery was chosen.
If suspect a credit card fraud, check if an IP location and a billing address match.
Support payment authentication by using 3D secure.
Malware
Cybercriminals may use various techniques to deliver malware to your network environment. If the cybercriminals succeed, they may steal customer data or lock up the system and demand a ransom.
A robust antivirus protection package is the fundamental security measure against malware attempts. It will check all newly downloaded files and regularly scan the system to ensure nothing malware-infected has slipped in.
Why large and small ecommerce companies need to approach security differently
Online retailers succeed if they craft a security strategy in line with their business specifics. When developing ecommerce websites, we, at ScienceSoft, always have a company size as a criterion for elaborating a proper security strategy.
Effective cybersecurity for small ecommerce companies
Small companies tend to overlook security as they mistakenly believe that cybercriminals won't take the trouble to go for "small fish". However, smaller online retailers are increasingly targeted due to their weaker security controls. In fact, 43% of cyberattacks targeted small businesses in 2019, while only 14% of such companies rated their ability to thwart cybercriminals as high.
Cybersecurity may take a back seat in small ecommerce companies due to their limited resources and the associated high cost of a dedicated security team. Often, they don't even have a clear picture of whether their company is protected against malicious acts.
Cybersecurity solution
I recommend retailers to find a cost-effective way to delegate security management to experts, for example, via choosing an optimal ecommerce solution. When a security aspect is concerned, there is a strong argument in favor of SaaS (software-as-a-service) ecommerce platforms. This deployment model implies that retailers pay a monthly fee for creating and running a web store on the servers hosted by a software provider. With their company data stored safely in the cloud, retailers don't need to invest in configuring and protecting on-premises servers as well as installing security systems. Rather, the platform vendor is responsible for maintaining and upgrading software and hardware, patching detected vulnerabilities, and ensuring data security.
While a SaaS provider ensures the security of the server side of the application only, retailers need to take care of their internal network. Still, they can do without an in-house security team by outsourcing security monitoring and management to a managed security service provider (MSSP). We at ScienceSoft avoid a fixed-price package of security services and decide on required ones upon security audit.
Effective cybersecurity for large ecommerce companies
Large ecommerce companies harvest extensive customer data. Retailers understand that a weak security system can lead to severe consequences for them and tend to invest heavily in the security of their applications and environment. Still, even with substantial security investments, there are certain specifics that can pose security problems.
#1 Large companies well-rooted on the market often use heavily customized ecommerce platforms. For example, Magento Commerce targets mature companies that want to create a unique branded experience for their customers. While the Magento development team does their best to provide a secure solution (e.g., they release security patches to fix detected vulnerabilities and encourage retailers to install them timely), merchants may jeopardize the security of their company if the customization is done poorly.
There is a risk of running into malicious extensions with injected backdoors that will allow cybercriminals to hack a website after the extension has been installed.
Poor coding of sensitive aspects of an ecommerce solution (like log-in or checkout functionality) can compromise its security.
Cybersecurity solution
Here are two best practices we, at ScienceSoft, always adhere to when dealing with customized ecommerce solutions.
Conduct code audit to check the quality of custom code and extensions, find backdoors and vulnerabilities and determine how to remedy them.
Work with reliable extension vendors to be confident in their product quality for further customization.
#2 Large retailers digitize their processes and compose an ecosystem of interconnected applications to manage customer relationships, finance, supply chain, products, marketing, content, and other aspects. The complexity of interconnected applications and systems makes the business vulnerable to cyberattacks. Having hacked one of the applications, perpetrators can possibly get to other systems integrated with it.
Cybersecurity solution
Each entry point into the network must be secure to maintain the confidentiality and integrity of communications across all the ecosystem elements. Penetration testing helps detect and eliminate existing vulnerabilities before hackers exploit them for malicious purposes.
#3 With a large ecommerce team, the risk of an 'inside' security breach grows. Security threats may derive from intentional and unintentional violations of security rules by team members.
Cybersecurity solution
You can enhance your internal security in two steps.
Configure role-based access and define what actions different roles are allowed to perform to prevent information misuse and leakage.
Make security training a common practice in your company. Not only should your team understand the importance of password and email security, but be aware of red flags of tampering attempts and an incident response plan.
Take your business security seriously
An impact of a single security breach is devastating for any ecommerce company. Indeed, it's much easier to elaborate on and always adhere to an effective security practice than try to offset financial and reputation losses in the worst-case scenario. Luckily, you don't need to hire and finance an internal security team for that as a reliable security services provider can back up your ecommerce security. For example, we, at ScienceSoft, follow a tried and tested approach: we start with a security assessment and then craft a security strategy covering both application and network scope. Don't hesitate to ask for our help with any security tasks!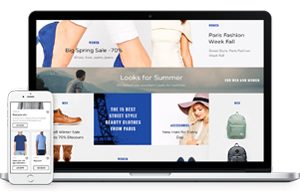 Our consultants will help to shape an optimal ecommerce solution for your business.