Editor's note: We outline the core features an automotive ecommerce website needs and proceed with a list of online businesses that already use the lessons and succeed. Take a look at the scope of our ecommerce consulting services if you need help setting up a new webstore or struggle to make profit of an existing one.
According to the 2020 Automotive Ecommerce Report by Digital Commerce 360, automotive ecommerce generates over $14.6 billion per year, split evenly between the sales of new ($7.5 billion) and used vehicles ($7.09 billion). The numbers suggest that ecommerce is becoming a viable alternative to traditional retail in the auto space.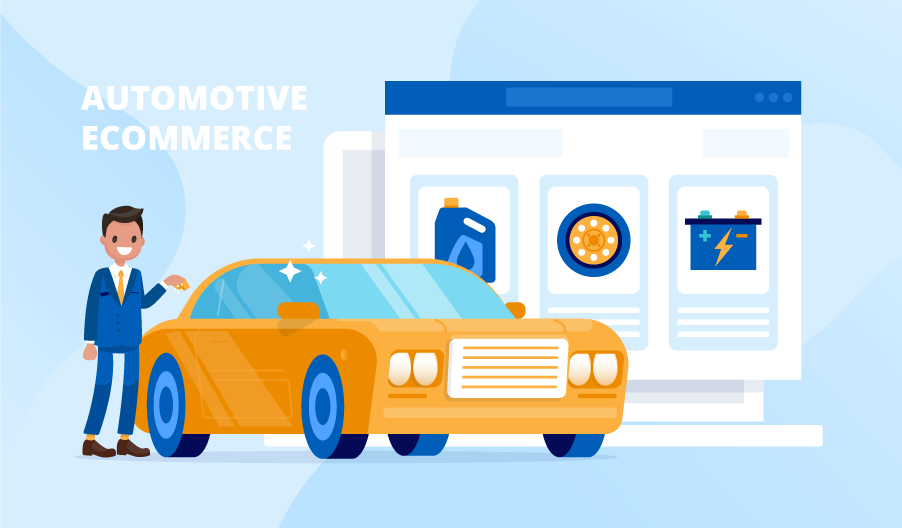 We want to help you understand what makes for a successful automotive website. For that, we walk you through the key features to implement and unveil some best practices adopted by real businesses.
Fundamental design principles to follow
Across all product lines, ecommerce websites share similar features, such as shopping cart functionality or a product catalog, though design focus certainly varies. What sets auto websites apart is the need for strong product presentation to let customers find comprehensive information and make informed decisions, often involving substantial spending. Here is a feature set to have.
Product information
Having worked thoroughly on the product information to give to your customers online, you minimize a probability of them leaving your website looking for additional details and inspire trust as a competent seller. In addition to product description, a product page should contain manufacturing specification and high-resolution images, preferably with a 360-degree view option. In some cases, a video sells a product much better than pictures.
Product sorting and search
Customers should have the ability to sort and search through products quickly while browsing. This allows them to find needed items much faster and compare similar products against such criteria as price, manufacturer, etc. For automotive websites selling auto parts and accessories, the search by model, make and year is critical as customers own a specific vehicle and appreciate you saving their time to find relevant items.
For those customers using a search bar, autocomplete and autocorrection will be handy as they don't need to spell search queries correctly to buy precisely what they need.
Product reviews
Digitally savvy customers rarely buy products online (not to say about high pricing segments) before considering ratings, reviews, and other kinds of testimonials. Having those on your website will save you from frequent bounces off your website when visitors need to further research what people think about a given product, its quality and cost reasonability.
A strong mobile presence
Servicing or repairing a vehicle in the garage, people may look for needed auto parts online from their mobile devices. To make the experience convenient, you should provide them with features such as menus and buttons optimized for mobile, versions of images scaled for mobile screens, and other quality of life improvements.
Examples of automotive ecommerce websites
Metal Tech 4×4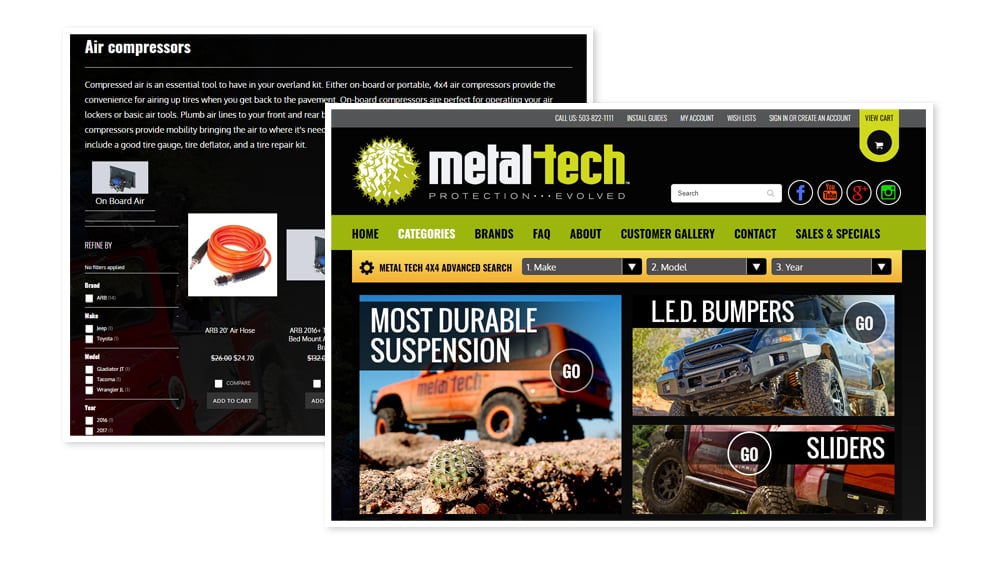 Metal Tech 4×4 sells off-road vehicle parts. For the convenience of customers, the website features an elaborate search and filter system, high quality images, and detailed product descriptions. What's peculiar, the seller is very flexible in payment options, offering customers to pay in installments or negotiate a better price for bulk ordering via a quote form.
Sportbike Track Gear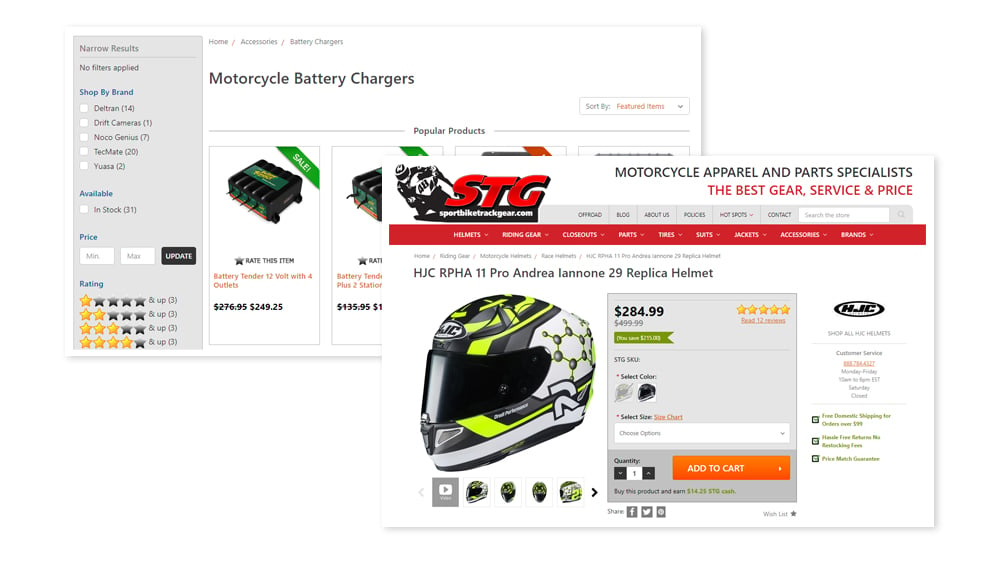 https://www.sportbiketrackgear.com
The company claims to be really scrupulous about selecting the brands to work with to offer their customers the best quality. The same attitude is evident in the way they present their products. Product pages are comprehensive with end-to-end description, videos and reviews supplied for each item in the catalog. Also, the seller provides tips from their practice positioning themselves immediately as experts in the motorcycle community.
Awesome GTI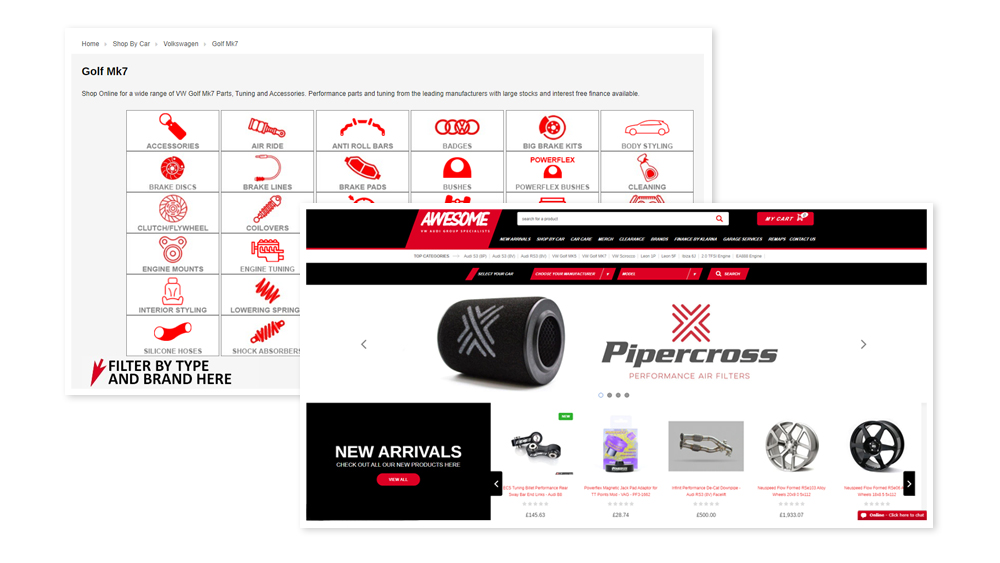 A go-to marketplace both for auto parts and garage services. Awesome GTI takes an interesting approach to designing website navigation: in the top menu, visitors select a car model and then view subcategories with available parts and accessories.
RTW Wheels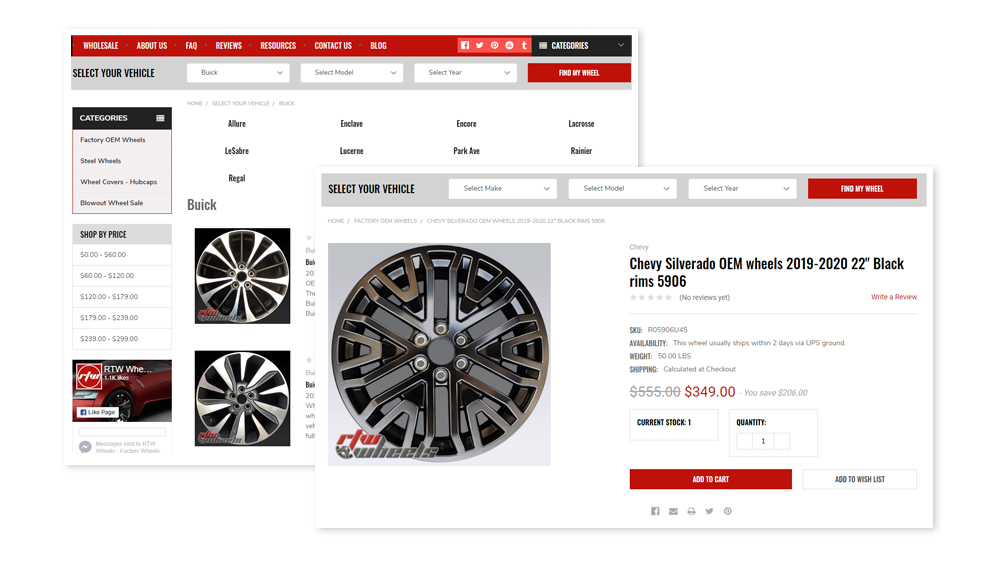 A large wheel and tire company based in Texas. The feature we absolutely love on their website is a product finder. It guides visitors through a series of questions about their car and returns matching products. And if you explore the website a little bit deeper, you will find out that the company cares about the environment and buys scrap wheels and tires for recycling.
Generate online sales for your automotive business
Automotive ecommerce is a young industry, yet it has a massive growth potential. You have learned from our short guide that browsing convenience and the completeness of product presentation are fundamental to design a user-friendly automotive website. Along with tips and best practices, our team can help with end-to-end implementation services – from concept design and ecommerce platform consulting to website implementation and launch. Don't hesitate to contact us to discuss details!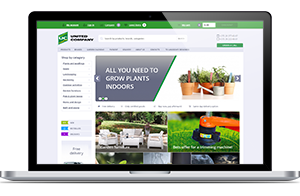 Are you planning to expand your business online? We will translate your ideas into intelligent and powerful ecommerce solutions.