Editor's note: We discuss advantages and disadvantages of business models most frequently employed in ecommerce. Feel free to opt for our ecommerce consulting services in case you need expert help launching on the ecommerce market.
In 2019, the number of online shoppers has reached almost 2 billion people making the ecommerce market both attractive and feasible for entrepreneurs. And all through the COVID pandemic, a digital presence has been a must for many businesses to survive. For those embarking on an ecommerce journey now, we have a number of knowledge resources where we share how to start an online store and secure high ROI from your investment, discuss the most popular ecommerce types and give an overview of the best ecommerce platforms. Now, we are drawing your attention to the topic that is pretty narrow, but that underlies one of the most important decisions at the stage of business planning – choosing an ecommerce business model. We hope our overview below will simplify your choice.
Ecommerce business models you can go for
The way you supply your online store with goods defines a business model to pursue.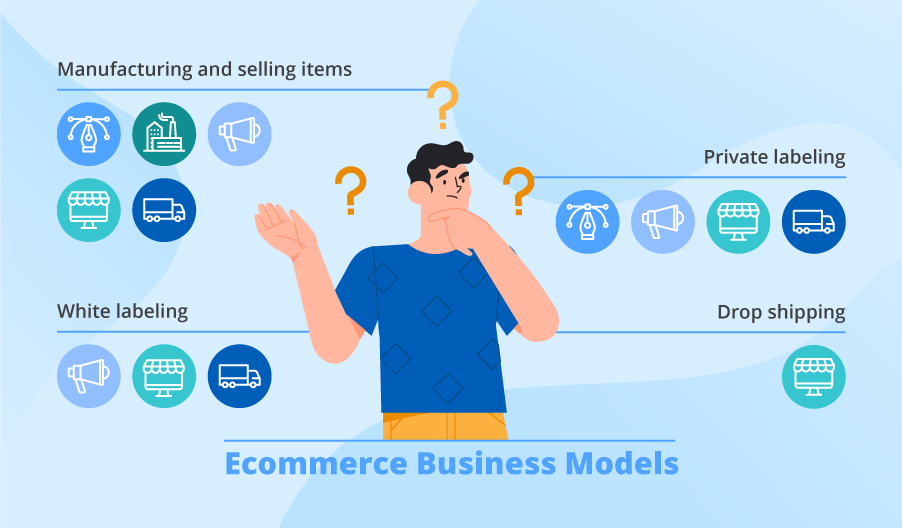 Manufacturing and selling items. Everything product-related, including the quality and prices, is under your full control. Among the processes you will need to manage are procurement of raw materials, product packaging, branding, and warehousing.
Private labeling. This e-business type presupposes on-demand manufacturing of your branded products – you design a product and outsource its production to a third-party manufacturer, thus avoiding manufacturing expenses. The main disadvantage of private labeling is complicated control over the product quality.
White labeling. Within this business model, you source manufactured products and offer them under your brand. You don't take part in product design and manufacturing, but you take care of the marketing and selling strategies.
Drop shipping. Drop shipping is the most attractive business model in terms of warehousing savings though its cost-effectiveness is still debatable. You don't handle products directly but outsource warehousing to a third party (a manufacturer or a wholesale retailer) who will fully manage and deliver orders upon the product purchase. There are certain concerns here that you must consider: though you can launch online pretty fast, the margin potential is low and your possibilities to build a strong brand are highly limited.
Deciding on the ecommerce business model
Every e-business model has its pros and cons. Answering the following questions will help you weigh up the risks and apply a cool-headed approach to a business model choice: Who is your target audience? Would you like to sell products under your brand name or not? Would you like to manufacture your products yourself? Would you like to invest in inventory storage and management?
Start your ecommerce journey
A fitting ecommerce model is the backbone of your future ecommerce business, but your further success depends on such a multitude of decisions. ScienceSoft may become your ecommerce consulting and implementation partner on this exciting journey – learn more about our team or contact us directly to address your business request with no delay.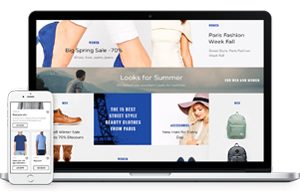 ScienceSoft provides professional ecommerce implementation services. We have the answer to any of your ecommerce-related question.