Top 5 B2B Ecommerce Solutions for Wholesalers and Manufacturers
Ecommerce Software for B2B: the Background
B2B ecommerce solutions provide an effective digital presence for manufacturers and wholesalers. With regard to decision-making and buying specifics, B2B-oriented ecommerce platforms offer in-built features to support a complex sales process that frequently involves multiple decision-makers, price negotiations, and sales personalization.
Inherent Functionality Provided by B2B Platforms
Pricing rules based on the order volume.
Minimum and maximum allowed order volume.
Product bundling.
Shipping to multiple delivery addresses and times.
Independent product research
Catalog navigation and filtered search.
Diverse viewable and downloadable content formats.
A content builder for non-technical users.
Integration with a PIM system to handle multi-sourced product information and supply it to buyers.
Quick order by SKU.
Decision-making process assistance
Multiple roles and permissions per one business account.
Multiple requisition lists per account.
Half-way conversion points like demos or callback request forms.
Order summary export for approval.
Personalized buyer experience
Price segmentation.
Quote management and price negotiation.
Personalized product catalogs.
Flexible payment options: online, on account and by installments.
Multistore support to target buyers internationally.
Communication tools for quick buyer-seller interaction.
Top 5 B2B Ecommerce Platforms
We build our comparison on the insights drawn from independent and reputed market researches as well as our own consulting experience.
Adobe Commerce (previously Magento) for B2B
Best for: B2B companies expanding to B2C
Description
Leader among B2B commerce suites by Forrester.
A B2B module for free with the Adobe Commerce Pro plan.
On-premises and cloud implementation.
25+ B2B-specific reports to fuel data-driven business management.
Native Adobe Commerce PWA Studio for headless development.
Possibility to run a B2C storefront on the same Adobe Commerce instance.
Pricing
Depends on gross merchandise volume (GMV) and starts at $3,999 a month (for GMV less than $5 million a year).
Salesforce B2B Commerce
Best for: mid-to-enterprise B2B companies
Description
Leader among B2B commerce suites by Forrester.
Provides elements of visual modeling and drag-and-drop interfaces to let users take part in the app design and ease its adoption.
Supports up to 750,000 SKUs.
Offers omnichannel order management.
Salesforce B2B and B2C ecommerce platforms can be integrated.
Pricing
The vendor provides exact prices by request.
Commercetools
Best for: B2B companies requiring unique website design
Description
Regularly listed among the best ecommerce software products by Gartner and Forrester.
Requires an additional front-end application built on any framework to launch a storefront.
Broad flexibility in user experience and workflow design.
Doesn't suit B2B companies looking for a turnkey ready-to-install solution.
Episerver B2B Commerce Cloud
Best for: Midsized B2B companies with up to 10,000 SKUs
Description
Named among strong performers on the B2B ecommerce software arena by Forrester and IDC.
Native Episerver PIM add-on to manage product information and distribute it via digital and offline channels.
Intuitive admin interface catering to teams with different levels of digital maturity.
Currently available in North America only.
Conga
Best for: end-to-end B2B commerce automation
Description
Offers a suite of products to automate B2B commerce operations: a digital commerce solution, CPQ, contract lifecycle management, billing and invoice management, and more.
Conga's contract lifecycle management software was named a market leader by Gartner.
More than 10,000 companies around the globe choose Conga for B2B automation.
See a B2B Ecommerce Solution in Work
Platform-based development allows implementing a B2B e-solution cost-effectively and applying all the best practices of B2B website design to establish and nurture trusted relationships with business buyers. To see it in practice, immerse in an interactive experience of the B2B ecommerce solution designed by our team.
* No registration or contact details are required to view the demo.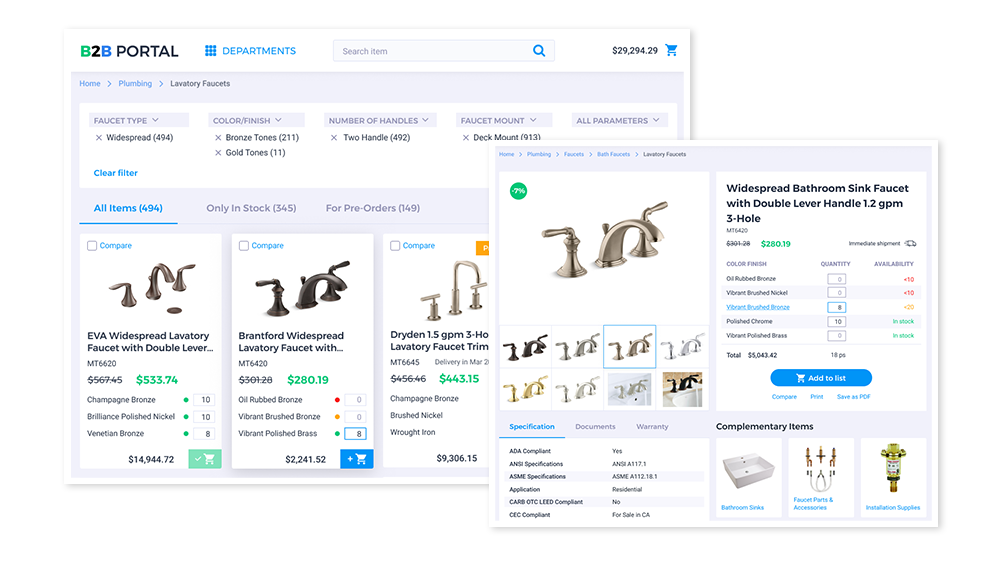 Can't Decide on the Right B2B Platform? Ask for Expert Help
To optimize your development costs with a fitting B2B-oriented ecommerce platform.
To remove market-entry stress by tasking us to:

Estimate the competition.
Research applicable regulations.
Calculate the B2B market entry cost.

To scope your B2B ecommerce solution.
To drive the solution evolution when your business requirements variate or your business scales up.
To configure and customize the selected B2B ecommerce platform expertly.
To design your B2B website in line with your business requirements and brand image.
To leverage advanced customer segmentation and on-site personalization.
To make your B2B website responsive on different devices.
To implement an ecosystem of business technologies and processes to achieve proper workflow automation and data consistency across your organization.
About ScienceSoft

ScienceSoft provides comprehensive IT consulting and software development services since 1989. In the sphere of ecommerce, we work with B2C and B2B businesses across varied product lines and take full responsibility for their ecommerce implementation process to help them establish firmly in the e-market.

<![endif]-->