Digital Transformation Consulting Services
Envisage your business transformation
Digital transformation consulting lays out a technology-powered strategy to improve the efficiency of business processes. At ScienceSoft, we help companies unfold digital transformation (DT) in a single business area or across the enterprise, and achieve high ROI from the initiative.
Why Choose ScienceSoft as Your Digital Transformation Consultancy
We've developed software solutions since 1989 and started working as consulting leaders on large digital transformational projects as soon as we gained sufficient professional experience.
Companies speak highly of their cooperation with ScienceSoft and often stay with us over the years for deeper transformation. Over 130 clients generously shared their success stories.
There are 3,600+ success stories under our belt at the moment.
We have Fortune 500 companies among clients and know the demands of large enterprises and mid-sized agencies.
The Financial Times Includes ScienceSoft USA Corporation in the List of the Americas' Fastest-Growing Companies 2023
For the second year in a row, ScienceSoft USA Corporation ranks among 500 American companies with the highest revenue growth. This achievement is the result of our unfailing commitment to provide high-quality IT services and create best-value solutions that meet and even exceed our clients' expectations.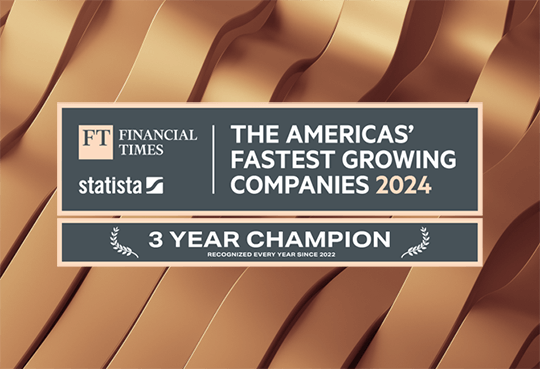 ScienceSoft's Laser-Focused Approach to Digital Transformation
There is a commonplace opinion that digital transformation must take place across the whole enterprise to be complete and beneficial. ScienceSoft does not agree. Our digital transformation consultants see great value in initiatives narrowly focused on a single business area at a time. With such an approach, we make digital transformation much more predictable in terms of duration, cost and ROI.
Here is what can be the target of transformation:
We can improve a business workflow that affects several departments or the whole organization, for example a document management workflow. We mostly aim to make a workflow faster and more transparent, though each case is certainly individual and we will factor in the specifics of your workflow to find its unique improvement way.
End-to-end business process
We deal with a business process consisting of many workflows, involving specialists across departments, and often prolonged in time. Take a supply chain process as an example. We spot improvement opportunities at all stages of the process and make it in general coherent and smoothly running.
We automate time-consuming tasks and launch new value-creation functions to help your department achieve new goals or target KPIs.
We tune your digital capabilities to support the launch of new business models (e.g., ecommerce) or the growth of your business to new markets or geographies.
Don't think that you lose any opportunities by narrowing the scope of digital transformation.
ScienceSoft provides digital transformation consulting services to mid-market companies and large enterprise, and sees quite a common picture. Companies tend to delay their digital transformation as they envision a never-ending process eating millions of dollars and bringing continuous stress to the whole team. However, business areas within a single company have different levels of digital maturity, and enterprise-wide transformation is simply rarely needed.
Transformation Stories: an Inside Look into Our Clients' Success
ScienceSoft Drives Digital Transformation in Key Business Areas
We improve the overall efficiency of your business processes by integrating digital solutions to eliminate wastes (unnecessary spending, asset misuse, time waste), transform operational models or identify new revenue streams across different areas of your business.
Main goal: to find new ways to connect to your target audience and increase customer value.
Solutions we offer:
Ecommerce launch.
Integrated omnichannel customer experience.
AI-powered personalization at all stages of a customer lifecycle.
Sentiment analysis to monitor brand reputation across customer-generated texts (reviews, social posts, surveys).
Main goal: to improve the quality and decrease costs of customer care.
Solutions we offer:
AI-powered agent platform.
Virtual agents (chatbots).
Remote servicing.
Integration of customer interaction channels.
Intelligent automation of customer service processes.
Main goal: to improve the working environment and propel high employee performance.
Solutions we offer:
Robotic process automation of routine tasks.
Secure and delay-free remote workplace.
Digital space for team collaboration.
Document management.
E-learning.
Main goal: to provide easier access to medical care and improve treatment delivery.
Solutions we offer:
EHR (electronic health records) systems.
Telehealth.
Medical image analysis.
Connected medical devices for remote patient monitoring.
Patient portals and digital messaging.
Hospital inventory management.
Main goal: to achieve transparency at each supply chain stage, build supply chain resilience, speed up product time-to-market.
Solutions we offer:
Data-driven demand forecasting.
Inventory levels and location tracking.
Environmental control during the storage and transportation of goods.
Digitized procurement.
Multichannel order processing.
Connected supply chain.
Connected factory / Industry 4.0
Main goal: to improve the cost, agility, and safety of manufacturing processes.
Solutions we offer:
Proactive equipment servicing.
Product quality control.
Remote human-machine interaction.
Wearables for industrial work safety.
Integration of shop-floor and top-floor systems.
Real-time KPI visibility.
Main goal: to automate routine financial tasks and free time for strategic planning.
Solutions we offer:
Robotic process automation of financial tasks.
Automated accounting software.
Cost management, cost and budget modeling.
AI-enabled dynamic pricing.
Main goal: to increase ROA.
Solutions we offer:
Real-time asset tracking.
Asset utilization optimization.
Sensor-based remote monitoring and predictive maintenance of operating equipment.
Asset availability analysis and procurement planning.
Main goal: to improve insurance teams' productivity and deliver excellent customer experience.
Solutions we offer:
Insurance automation (rule-based and AI-powered).
Insurance fraud detection.
Insurance portals and client-facing apps.
Predictive and prescriptive analytics for insurance.
Insurance smart contracts.
Top Technologies We Use to Enable Digital Transformation
Collecting data from smart connected devices and sensors to control environments and operations of physical objects or build business intelligence.
See our projects
Creating a virtual copy of a physical object to run simulations and apply the resulting insights to the object.
Creating systems with irrevocable records of transactions for secure information storage and sharing.
See our project
Creating self-learning algorithms to find distinct patterns in the input data.
See our projects
Applying ML algorithms to perform tasks that otherwise require human intervention (like speech or text recognition).
See our projects
Structuring and processing data that arrives in large volumes or complexity.
See our projects
Recognizing attributes on visuals and video.
See our projects
Merging real and virtual environments to create an immersive user experience.
See our projects
Building scalable and cost-effective applications or IT infrastructures in the cloud.
See our projects
How We Deliver Digital Transformation
Analyzing the business background: present business state, processes, competitors.
Assessing the IT infrastructure and processes: cloud adoption, readiness for fast software delivery (DevOps practices, automated testing and security, etc.), data management maturity.
Setting up and prioritizing digital transformation goals.
Laying out a strategy with clear, actionable steps, analyzing the feasibility of and creating proofs-of-concept for proposed solutions.
Prototyping solutions and launching pilots (if needed) to collect early feedback and make prototype improvements.
Providing resources for:

Core software development tasks (we have developers skilled in a wide pool of technologies).
High-end jobs, like custom software architecture design, CI/CD implementation, and more.
Niche hands-on industry experience or skills in advanced techs like IoT or blockchain.

Planning agile changes to the DT strategy when intermediate results are assessed.
We help with the fast adoption of new processes by your team. During training, we typically cover:
User roles and permissions.
Key software functionality and navigation.
Key process flows and automation opportunities created by software.
Why Strategies That ScienceSoft Creates Work Well
Digital transformation on a smaller scale
We don't necessarily see digital transformation as an enterprise-wide initiative. We offer to focus on a single business area or process that you need to improve.
Transparent cost and timeline
We clearly define the scope of digital transformation not letting it turn into a never-ending process. Our proposal always contains cost and time calculations, with possible fluctuations in case of changing requirements.
Focus on value, not technologies
We know business opportunities enabled by digital techs and prioritize only high-value use cases to drive tangible results.
We have a well-oiled Agile delivery process and work well with dynamic business requirements and project scope changes. We ensure that your software is living and ever-evolving in line with your business goals.
Effective process automation
We analyze what manual tasks can be automated to make business processes faster and less error-prone.
Strengthened cybersecurity
As you adopt more digital techs, we plan a comprehensive security program to make your whole IT environment immune to external and internal threats.
Assistance in adapting an organizational culture

We help your team embrace changes in business processes by providing user trainings and explaining potential benefits to employee's productivity and performance.

<![endif]-->