Top 5 Multi-Vendor Marketplace Platforms
Software to launch a multi-vendor marketplace
An online marketplace platform is a web application that aggregates product or service offerings from multiple vendors resulting in a wide catalog selection and a large target audience served.
The stats reveal a strong customer interest in marketplaces – as of 2019, sales via online marketplaces accounted for almost a half (47%) of total ecommerce sales sharing the rest among branded websites and other digital channels. To monetize this business format, marketplace owners employ a commission revenue model but can also use the space to sell their own goods. Marketplaces can take B2C and B2B directions alike.
Marketplace features for the core business roles
Marketplace software has been evolving for a couple of decades to offer the required convenience to marketplace providers, vendors and end customers.
Marketplace provider experience
Covering all roles with an access to the admin panel
Application settings configuration
Quick vendor onboarding
Vendor management including monitoring business performance
Automated approval of product uploading by vendors
Management of required and optional product attributes
Vendor commission management
Support for different payment flows: direct customer-seller payment or aggregated customer-marketplace payment
Content tagging and categorization
A separate admin panel with product, sales and order management
Role-based access to the vendor's admin panel
Self-service catalog management
Promotional pricing
A vendor page with branding elements
Content and SEO management
Drag-and-drop merchandising
Easy association of related products
A data import/export
Account balance and reporting
Layered navigation and advanced product search
Autocompletion, autocorrection and live search suggestions
Multilingual and multi-currency support
Ratings and reviews
Customer-to-vendor communication
Vendor page with company information, contacts and entire product collection
Quick view/buy from the category page
Logged-in and guest checkout
Concurrent checkout with products from different vendors
Experience personalization
Best ecommerce software for multi-vendor marketplaces
A marketplace pursues a business model different from brand-owned online stores, making even the best ecommerce platforms insufficient to its specifics by default. We overview top platforms that allow building a marketplace from scratch or evolving your existing e-store into a marketplace.
Magento Commerce
Description
Forrester and Garner rate Magento as a Leader on the ecommerce market emphasizing its ability to keep up with ever-changing ecommerce demands. Highly customizable to deliver on any business ideas. Shines in B2C and B2B sectors alike. There are currently 2 offerings from extension vendors for a multi-vendor marketplace setup and about 60 add-ons with complementary functions.
Smooth transition to a marketplace model for businesses that already have an operating web store built on Magento.
MultiMerch
Description
Multi-vendor marketplace software to sell physical and digital products. It doesn't cater to the specifics of service and booking marketplaces.
With a robust feature pack and an open-source code for customization, MultiMerch receives positive feedback from businesses as a full-function and flexible marketplace solution. Among the features that make a business difference, they particularly welcome 30+ payment gateways, 4 shipping modes and dynamic fee rates based on a seller's membership level or product price. The vendor targets small-to-midsized companies.
Pricing
3 plans encompassing:
An out-of-the-box solution to download and build with your resources – $1,250/one-time payment
A complete marketplace configuration and setup – custom pricing
Custom marketplace setup – custom pricing
CS-Cart
Description
CS-Cart markets their Multi-Vendor product as a standalone marketplace platform, feature-rich out-of-the-box and further customizable for specific business demands. There are 1,300+ ready-to-install add-ons to expand capabilities in marketing, website management, analytics and more. The more plugins are used, the more costly are the upgrades, though.
CS-Cart underlies 1,300+ marketplaces including enterprise-grade players with 500,000+ vendors and 53,000,000 SKUs. Most clients praise a highly responsive support team and structured documentation to help with marketplace setup and running.
Pricing
3 pricing plans at $1,450, $3,500 and $7,500/all one-time payment (check the full list of features included here)
Arcadier
Description
Suitable for both product and service marketplaces, Arcadier primarily focuses on the mid-market segment but steps into the enterprise sector too with large projects implemented for trading and banking businesses. The company grows rapidly expanding their market share with 300-400 new marketplace sign-ups a month.
Pricing
4 pricing plans offering different customization scope at a monthly fee of $79, $199, $499 and custom pricing
WooCommerce with a marketplace extension
Description
WooCommerce is the world's leading ecommerce platform powering over 28% of the market. The marketplace extension allows scaling a WooCommerce-based web store up into a multi-merchant marketplace.
The overall feedback for this marketplace product is positive. Though some clients mention the lack of useful features that are anyway specific for each business, the WooCommerce's team shows up as highly responsive and evolves their development roadmap continually.
Custom marketplace software
Description
Though custom development is generally seen as a costly approach, we go for it if business requirements can be met only with unique and strictly business-specific architecture and functionality not offered by marketplace software providers. The decision on custom development is made after meticulous business analysis when the time, budget and viability of building workarounds to existing platforms are studied.
Pricing
Will be estimated based on your business requirements.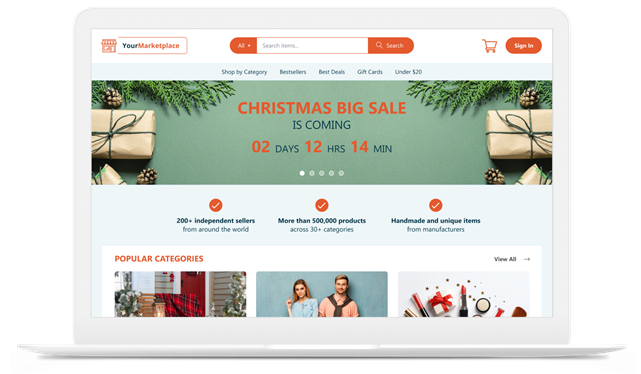 A Multi-Vendor Ecommerce Demo
Check our free interactive demo to see marketplace software in action.
Launch an online marketplace with ScienceSoft
One needs an in-depth understanding of the marketplace business model and an optimal technology set to make a marketplace venture a success. You can foster the knowledge and competencies in-house or team up with ScienceSoft – an experienced ecommerce services provider that will save your time and take care of cost-effective marketplace implementation.
We help to:
Analyze the competition and coin a competitive advantage.
Firm up your business strategy.
Think through all capabilities to give to your future vendors.
Plan a winning experience for end customers.
Choose a technology best-suited for your business scope.
Piece all functional requirements into a solution concept.
We assume a full ownership of the development to:
Balance platform configuration and deeper customization to achieve business goals in an optimal way.
Wrap up the website functionality into sleek design.
Integrate chosen payment and shipping options.
Make your website mobile-optimized to convert a mobile audience.
+ We back up your business with ongoing technology support, emergency help and further development on demand.
About ScienceSoft
Since 1989, ScienceSoft has been providing IT consulting and software development services. The company's cross-industry expertise in platform-based and custom development now encompasses healthcare, manufacturing, banking, education and entertainment to name a few strategic directions. For retail businesses, the team offers assistance in ecommerce implementation and automation of in-store operations.
<![endif]--> <![endif]--> <![endif]-->