Editor's note: We explore the distinctive features of a virtual store that boost customer satisfaction. If you consider developing an ecommerce solution that would provide genuinely immersive customer experience, you are welcome to leverage ScienceSoft's custom ecommerce development services.
To convert and successfully retain customers, a retailer has to provide them with a compelling shopping experience. Conventional online shopping with lengthy browsing of numerous product lists can be perceived as a chore, while virtual shopping can be a way more personal, enjoyable experience. A virtual store is still an emerging form of ecommerce, but it's gaining in popularity at quite a rapid pace – an estimated 100 million people are already using VR and AR to shop.
Virtual store – a quick intro
Virtual stores employ computer simulation technologies to create the virtual environment of a physical store. A customer can walk around the store, interact with accurate 3D models of products, instantly add them to a virtual shopping cart, and more.
3D virtual stores, AR applications, and virtual reality stores are three major types of virtual shops. Their difference lies in the technologies implemented and the resulting level of a customer's engagement.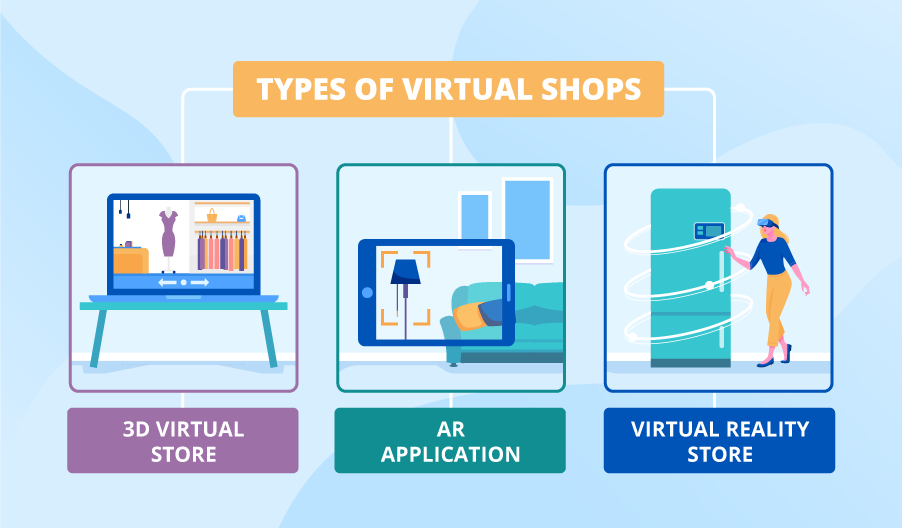 You can power an ecommerce application with 3D shopping experience so that customers move in a virtual shop, browse and zoom any product they like. No additional devices are required. To get a clearer impression of what experience the 3D technology provides, read about one of ScienceSoft's projects – 3D virtual store development for an ecommerce retailer with various product categories.
Ecommerce brands can use AR applications to provide for informed product choices and enhance the after-sale experience for their customers. In this article, my colleague Anastasia Yaskevich shares details on how augmented reality can be incorporated into a shopping routine and bring an element of fun into the shopping process.
Virtual reality shopping has manifested in retail as a way to create a more immersive experience for customers. Though its application in ecommerce is questionable due to special equipment such as a VR headset and hand controllers required, the technology can differentiate customers' in-store experience. For example, retailers may offer a virtual tour across a large mall or welcome customers to a behind-the-scenes tour to see how products are produced.
How a virtual store brings offline purchasing experience online
Combining the capabilities of both offline and online shopping, a virtual online store brings an informative and joyful element of real shopping to online retail. Here are some of the opportunities that virtual shopping opens to customers.
Getting a true-to-life representation of a product
Customers are more likely to make a purchase after they receive all information they need, and a virtual store provides an opportunity to try a product before buying. A buyer can pick the interactive 3D model of a product, examine it from different angles, and even preview in real surroundings, which results in a careful and informed product choice and fewer product returns.
Getting instant customer help
Just like in a physical store, customers can get help during online shopping and after the purchase is made. For example, customers can turn to a virtual shopping assistant and have their questions answered straight away.
Making online shopping a social activity
Several people can simultaneously share a virtual environment and interact with it in real time, which makes for a multiuser experience. Customers can visit a visually appealing virtual online store with their friends, which makes shopping a social activity available at home.
Delight your buyers with virtual shopping
Most of the advantages featured by virtual stores are not actually new, as they often constitute customer experience in brick-and-mortar retail. Their originality comes from incorporating those elements into an ecommerce solution and blurring the boundaries between the two retail channels. As a result, customers can fully experience products and perceive shopping as an engaging activity that they will be glad to repeat.
ScienceSoft has hands-on experience of integrating virtual reality technologies into the ecommerce realm. If you are thinking of launching a virtual online store and need help with bringing the idea to life, you are welcome to contact our ecommerce team for consulting and development assistance.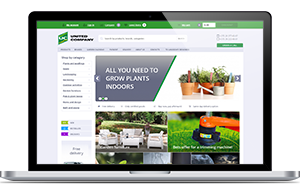 Are you planning to expand your business online? We will translate your ideas into intelligent and powerful ecommerce solutions.