Online Virtual Store
Enable Close-to-Reality Shopping
ScienceSoft uses different extended reality techniques to implement virtual stores and enable immersive experience for shoppers.
Online Virtual Store in Brief
Created with the help of extended reality tools, an online virtual store bridges the gap between digital and real-life shopping in a variety of ways. Augmented reality and 3D modeling are key technologies of a virtual store used to create real-like product presentations and virtual try-ons; interactive user manuals and intelligent chatbots help to replicate in-store experience for online customers. Retail brands investing in virtualization of their ecommerce presence see the ROI from increased conversions and reduced returns.
Types of Virtual Stores
There are many ways to add immersive experience to an online store. ScienceSoft wants to share the most viable types of virtual stores that we commonly implement.
Helps digital shoppers visualize the fit and match of virtual items and make product choices confidently.
Best for: fashion, makeup.
Brands implementing the idea: Carolina Herrera, Charlotte Tilbury, Adidas.
Technology to use: Augmented reality.
Read more about AR in retail
Enables customers to place virtual items into real-world settings and assess the item's size and match within their existing environment. Increases online sales of high-priced products difficult to return.
Best for: furniture, interior design items.
Brands implementing the idea: IKEA, Dulux.
Technology to use: Augmented reality.
Replicate one-to-one customer service in the online shopping context. Create vast opportunities for cross-sell and upsell.
Best for: luxury segment in any product vertical.
Brands implementing the idea: Gucci, Dermalogica.
Technology to use: Live streaming app.
Offers customers to interact with 3D models of items, explore them from any angles, zoom in/out, rotate, customize (change the color, material, etc.) and see the result instantly. Builds confidence in product choices.
Best for: composite, highly technical items.
Brands implementing the idea: Bumbleride.
Technology to use: 3D modeling.
Check a similar project
Provide contextual support to customers using the product and respond in real time to their actions. Build deeper product knowledge, ensure much faster product adoption and support the customer's confidence in their purchase decision.
Best for: complex machinery, equipment, vehicles.
Brands implementing the idea: Mercedes-Benz
Technology to use: Augmented reality, chatbot.
For offline retail only
Creates virtual tours for in-store visitors, most commonly to differentiate the brand and build stronger emotional connection with customers. Requires VR hardware to launch.
Best for: retail chains looking for new ways to reinforce customer loyalty.
Brands implementing the idea: Amazon, IKEA
Technology to use: Virtual reality.
Comprehensive guide to VR shopping
How ScienceSoft Implements Different Types of Virtual Online Stores
3D virtual store
We create 360° product images and upload them on product pages.
Interactive 3D product view
360° video of your product is recorded and uploaded to the 3D product imaging software to create an interactive 3D view.
Integration extension for your ecommerce platform
To synchronize your product catalog with a 3D product imaging account. 3D images will be automatically added to products with matching SKUs.
Customer behavior insights produced by AI help identify and feature product highlights most interesting and important for customers.
AR-powered ecommerce app
We create 3D models of products and an augmented reality app capable of overlaying them on the real-world environment.
Creating 3D models for your product catalog using 3D product imaging software.
Virtual environment creation
Capturing a camera image and detecting feature points (visually distinctive features) on horizontal, vertical and angled surfaces. Creating three-dimensional environment image.
Adjusting the position of a 3D object automatically following the device movements.
Analyzing the lighting in the real-world environment and adjusting the lighting of virtual objects to the same conditions.
Transforming an augmented reality app into an AI-powered virtual assistant capable of processing data input from a user (in text and voice formats) and responding.
Webstore supporting virtual consultations
We enable video chats in a webstore.
Video calling app integration
Make video calling possible within an online store.
Self-managed consultation appointment
Multiple accounts for team members and a possibility to schedule video chats with customers, make break time unavailable, set up average consultation time.
To start a video session immediately if an expert is available and create a queue with a waiting timer if all experts are busy.
To let customers get back to the expert's tips and opinions shared during the call.
Pop-ups with product recommendations
Products discussed during the consultation linking to product cards.
To offer customers to pay via a secure link sent during the chat session or in any convenient messenger.
Virtual Store: Success Story by ScienceSoft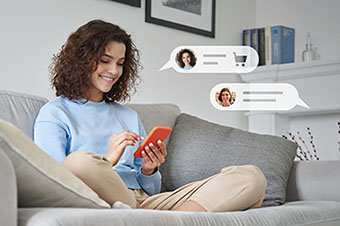 Virtual Store with Live Chat and Checkout Integration
ScienceSoft implemented a Pannellum-based virtual webstore where users can immerse into a digital showroom, view 360° products photos and chat with consultants.
Virtual Store Implementation Specifics
When implementing virtual stores, ScienceSoft keeps in mind the following important aspects.
| | |
| --- | --- |
| | The major challenge and one of the success factors in developing an ecommerce AR app is the quality of 3D models. 360-degree product images (that can be created in 3D product imaging software) don't provide the required level of detailing needed for AR, and we strongly advise you to engage 3D modelers. |
| | 3D modeling will deliver the most value when you have analyzed your products and identified the most important product attributes to convey. Product size, texture, smaller details, color – decide what characteristics need to be brought into focus. |
| | If not optimized, 3D models are heavy and don't load fast, slowing down the website page performance. This is particularly critical for mobile experience. To avoid such an effect, 3D modelers need to reduce the number of model planes but keep a realistic depiction of a product. |
| | The immersion of a virtual object into real-life settings will be realistic if an augmented reality app uses a depth-from-motion algorithm to create depth maps. This eliminates the need for any additional sensors on mobile devices to create virtual object occlusions. |
How Big Retailers Benefit from Virtual Store Implementation
A virtual webstore of Carolina Herrera
Clients of Carolina Herrera, a fashion and beauty brand, have all the opportunities to make their product choice well-weighed. The digital user experience the company offers is not inferior but in many ways outsteps the experience of traditional shopping, with such features as virtual try-on, 3D shopping, online product customization, and even makeup products pictured on the models of different skin, hair and eye colors.
Success tip
Apparently, the company made a stronger focus on user interactivity, so they kept the website design very neat and uncluttered not to overwhelm users. Concise product descriptions, short heading, clear instructions – the central stage is given to products and a possibility to produce their real-life look. Customers did appreciate the effort – since the website's upgrade, visits per user have increased by 30% and a base of loyal customers has grown by 50%.
A 3D virtual store of Bumbleride
Bumbleride is a good example of how empathy to the target audience successfully drives the digital experience design. Young parents are very diligent and scrupulous when it comes to baby products, so a seller of baby strollers, Bumbleride, made a point of creating truly informative presentation of their products. For each model, they provide a detailed description, real-life photos, a video demo, and technical specification.
How the company further improved customer experience
Bumbleride added 360-degree product viewers. A possibility to turn a model round, look at it from all angles and zoom into every detail compares to in-store shopping experience and adds to the customers' confident choice.
Interactive user manuals of Mercedes-Benz
Mercedes-Benz wanted to ensure the best experience for their customers and launched an interactive alternative to multi-page user manuals – a virtual assistant app combining the capabilities of augmented reality and an AI-powered chatbot. Using the app, Mercedes owners can point their phone camera at any vehicle's component and get a descriptive explanation of how it functions.
What helped the app's success
Using Ask Mercedes app, drivers can also chat with a virtual assistant in messengers and voice services like Facebook Messenger, Amazon Alexa or Google Home. Understanding the lifestyle and technology preferences of their target audience, the Mercedes team managed to make the app relevant.
Cost and ROI Factors
You may choose different elements of virtual experience to be introduced in your webstore, depending on the goals you pursue and the value you are planning to achieve. So naturally, the cost of your virtual store will be individual. The most cost-intensive part is the creation of quality 3D models for AR experience – for example, the cost of modeling one 3D automobile will start at $5K.
Below, we give you a summary of cost-influencing and ROI-determining factors that will help you do a cost-benefit analysis of your plans.
3D model creation: 3D modeling software licensing, 3D modeling services.
Integration of 3D modeling software with online product catalog.
Types of targeted devices for an augmented reality app.
Complexity of image recognition algorithms.
Increased online conversions* and decreased product returns due to bringing online shopping experience as close as possible to real life.
A convenient way to present difficult-for-transportation items, 3D modeling helps increase the ROI from event marketing.
* Companies see a double-digit increase in online sales with the launch of AR-enabled shopping experience.
Virtual Store Software: Get to Know Trusted Vendors
RestAR for 3D modeling
Description
Enables the conversion of 360-degree product videos into 3D visualizations.
In 2020, the company was acquired by Unity, the world's leading platform for 3D modeling, to democratize and make 3D content creation affordable for companies of any size.
A perfect fit for ecommerce where there is no need to visualize fictional 3D objects, rather create a 3D product twin.
Pricing
Custom pricing by request.
Vuforia for augmented reality development
Description
A product by PTC, a global provider of augmented reality, industrial IoT, PLM and CAD solutions.
Named a leader among enterprise augmented reality platforms by tech market advisory firm ABI Research.
On average, delivers the first payback in 6 months and 170+% ROI for 3 years (based on the results of four Vuforia clients).
Pricing
Basic license – $42/month.
Basic + Cloud license – $99/month.
Agency Package – custom pricing.
Pro license – custom pricing.
Virtual Store Implementation: Services by ScienceSoft
Our team will help you understand and implement the capabilities of extended reality that can bring value in your particular business case.
If you know which XR technology you want to implement, we conduct a feasibility study and provide you with investment estimate of your planned project.
If you are looking for ways to drive up sales figures, we take a look at your business, spot improvements opportunities and elaborate a proposal for XR technology integration.
Virtual store implementation
Integration with 3D modeling software.
Product configurator setup.
AI-powered chatbots integration.
Augmented reality app development.
About ScienceSoft

Experienced in 3D modeling and augmented reality app development, we successfully apply our knowledge and skills to help ecommerce businesses create interactive customer experience online.

<![endif]-->