Retailers may be used to strict differentiation between ecommerce types and believe that they should stick to a single one. In fact, a B2B component is often a part of a business strategy and retailers can successfully target a variety of audiences at the same time (individual consumers, companies, vendors, governmental agencies). As Magento consultants, we witness this tendency across ecommerce projects and give its brief outline. As Magento B2B developers, we explain how Magento meets B2B needs and offer three case studies from the experience of our team to show how different B2B companies and their demands can be.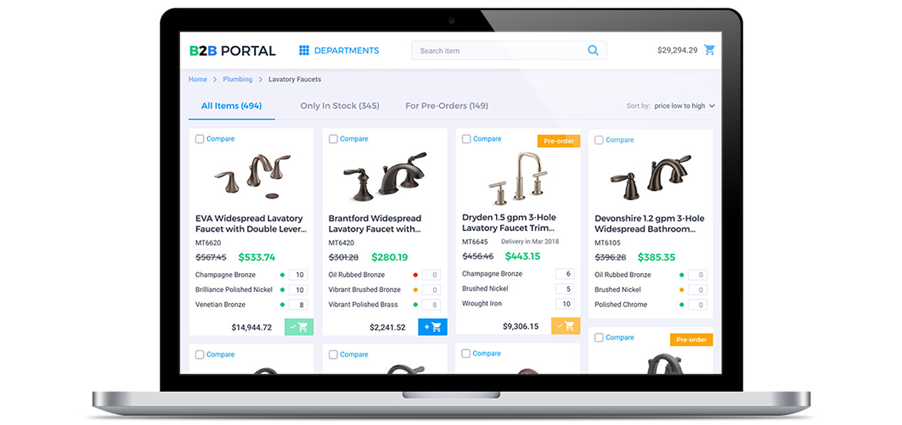 The many-faced B2B
The very name of B2B (business-to-business) suggests us to interpret this commerce model rather straightforwardly: selling products or services between legal entities as opposed to individual consumers (here is a classic example of a B2B-centric portal). However, the notion of B2B is wider and embraces one aspect that is hardly in evidence – multi-vendor marketplaces. At its core, a marketplace owner sells digital space to vendors to provide for the diversity of brands, manufacturers and, naturally, products presented. Meanwhile, both businesses and individual consumers can act as end buyers there.
Another hidden B2B face is the concept of B2M (business-to-many). With the name not widely adopted so far, it refers to businesses targeting both individual consumers and businesses, which is basically the combination of B2B and B2C commerce models.
How Magento covers B2B needs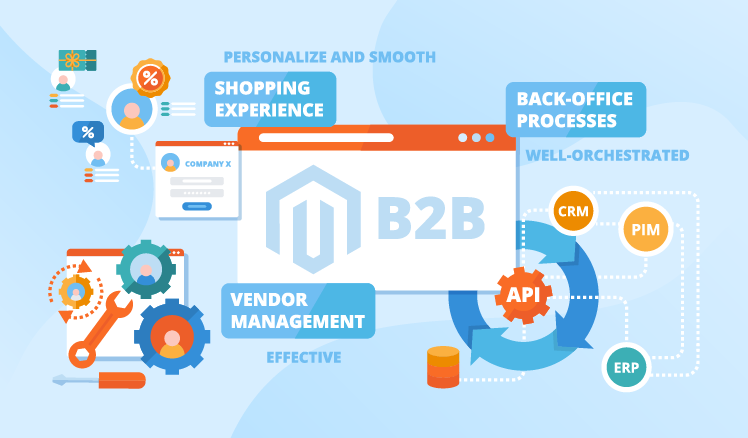 Aiming to stay at the forefront among ecommerce software providers, Magento acknowledges the B2B multi-faced nature and offers ample B2B capabilities to ecommerce companies. As we see it, there are three vital aspects of B2B commerce where Magento proves effective:
Personalized and smooth shopping experience. Traditionally associated with B2C, personalization of a shopping experience takes a different form in B2B commerce. For retailers to build win-win relationships with buyers, custom catalog and pricing lists are available in Magento. In B2B, what boosts sales for retailers and gives buyers a privilege of a personalized approach and bargains is a practice of targeting the content and varying promotions for different customer segments, giving a reduced cost for large orders or loyalty bonuses for frequent repeat orders. Further added comfort, a fast and frictionless online purchasing process is possible with Magento. Retailers give their customers a possibility to reorder directly from their personal accounts, which can save plenty of time for repeat clients. A personal account itself is comprehensive with full company information, payment details, shipping preferences, wish lists, pre-orders and more.
Well-orchestrated back-office processes. Not only customer-facing functionality must be well-thought-out, but the back office must also work flawlessly for the end-to-end customer experience to be satisfying. The ideal scenario is funneling all the critical information a company processes into central data sources, for example, an OMS system for managing orders or a PIM system for uploading, enriching and spreading product information. This is all the more important for marketplaces where product information flows from multiple vendors who must also control their supply, payments and orders. With its extensive APIs, Magento allows for integrating systems and creating centralized data sources. In an integrated IT ecosystem, each component (PIM, CRM, ERP, etc.) is responsible for its part of a common goal but all of them are connected. Data flows are mapped by Magento solution architects.
Effective vendor management. Working with multiple vendors, a marketplace team is likely to be overloaded with catalog, inventory and order management. Magento provides for self-service tools for vendors to lead all business processes on their own. So, the vendors have a separate vendor panel with access to their products, customers, reviews, orders and more.
Magento B2B projects in all diversity
It's time to put the words into action and take a closer look at B2B functionality in Magento projects.
A Magento B2B solution complemented with a B2C component
One of our key ecommerce experts recalls the work for a big beauty brand with a mission to create quality products from natural ingredients. The company needed expert assistance to target both individual consumers and business buyers and complement their online B2C store with B2B commerce functionality (a company's long-sought objective).
With a B2B component added, retailers seeking business partnership now go to a specified section on the website where they need to register and get admin approval. With this simple step completed, they get access to custom pricing and can buy at a lower price. Depending on their purchasing history, the system triggers pricing rules and allocates loyalty bonuses accordingly.
As a finishing touch, a Magento-based web store with both B2C and B2B functionality became the center of the company's ecosystem and was integrated with point of sale and warehousing software, ERP and CRM systems. With the revamped solution, the company synchronizes the product listing from Magento back end with eBay and Amazon and can grow their revenue by selling via several channels.
A Magento B2B solution enhanced with B2C and Marketplace features
The customer in this project was a US-based retail company that introduces contemporary European interior designers to the US public. The company wanted to develop the store concept and implement a relevant ecommerce solution to create a luxurious digital space for designers to present and sell their collections of interior objects. A top-priority implementation task was to establish a convenient way to collaborate with multiple designers. A sophisticated UI design was critical to communicate the brand message and provide a smooth shopping experience across the website. Building on that, the team offered to merge Magento Marketplace, B2B and B2C experiences for a best-suited solution.
The online space created for the company is a Magento-based multivendor marketplace capable of housing 500K items and effectively connecting vendors to shoppers. Each vendor has their own admin account where they can manage product listings, process orders and run sales reports. Product information management is attribute-based so that vendors have a strict list of characteristics to add to each product. This allows for a consistent shopping experience across the web store.
As the customer basically sells the digital space to businesses, B2B functionality was required. The developers' team enabled automated rule-based pricing and implemented an advanced system of vendor commissions so that the customer could tailor their pricing strategy to vendors easily.
From B2C best practices, the developers took an intuitive shopping process with extensive filtering capabilities, informative product pages, custom order and shipment statuses, and tailor-made customer notification.
Multivendor B2B marketplace
A Magento-based marketplace became an optimal solution for a customer selling a wide range of product lines under one roof. Offering the convenience of shopping for food, fashion, electronics, baby stuff and more in one place, the company won clients but struggled with complex vendor management. Together with the company's intention to grow and attract more sellers in the future, this called for an enterprise-level ecommerce solution where vendors could register and start selling easily.
Our team of Magento developers offered Magento Enterprise (now, Magento Commerce) as a go-to platform for the company. A B2B marketplace was implemented allowing each vendor to manage products in their own admin account. With that, the customer ensures a quick time-to-market for vendors. For the convenience of shoppers, the website has vendor pages with the overall vendor rating and their featured products. Variable vendor commissions are implemented via rule-based price management. Altogether, the website houses 200K+ products.
Key takeaways
Magento B2B development does not conflict with B2C and marketplace functionality, and ecommerce businesses can effectively marry all three components. From our described experience, we see how B2B businesses should always prioritize UX and UI design traditionally seen as a better fit in the B2C area. In fact, both individual consumers and business buyers are picky and expect their shopping journey to be easy and intuitive, with informed purchasing decisions and fast checkout. Providing for custom pricing based on automated customer segmentation and pricing rules, retailers encourage B2B sales. Elements of a marketplace are essential for those working with multiple vendors. By assigning admin accounts to vendors, retailers allow them to connect to their customers directly and be in full control of their business processes.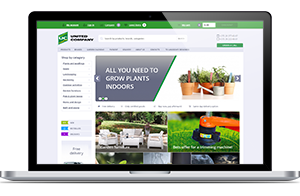 From strategy development to auditing an online store, we look forward to expertly support your each step in Magento development to bring you to the top.