Editor's note: One of the leading ecommerce consultants at ScienceSoft, Peter applies his analytical skills to surface challenges e-businesses face selling medical consumables and equipment online. If right now you are struggling to get a similar business off the ground, consider our ecommerce consulting assistance to make the transition to online smoothly.
Online medical supply sales has been steadily growing at an annualized rate of 17% over the past years. However, if you are planning to capitalize on the ever-increasing demand and get serious about selling medical supply or equipment online, you shouldn't be deluded by the anticipation of quick and easy gains. From my experience in healthcare ecommerce, I conclude that such business bears a great deal of specifics while some aspects are even critical to know before the start to strategize wisely. I will help you nail down the three of them.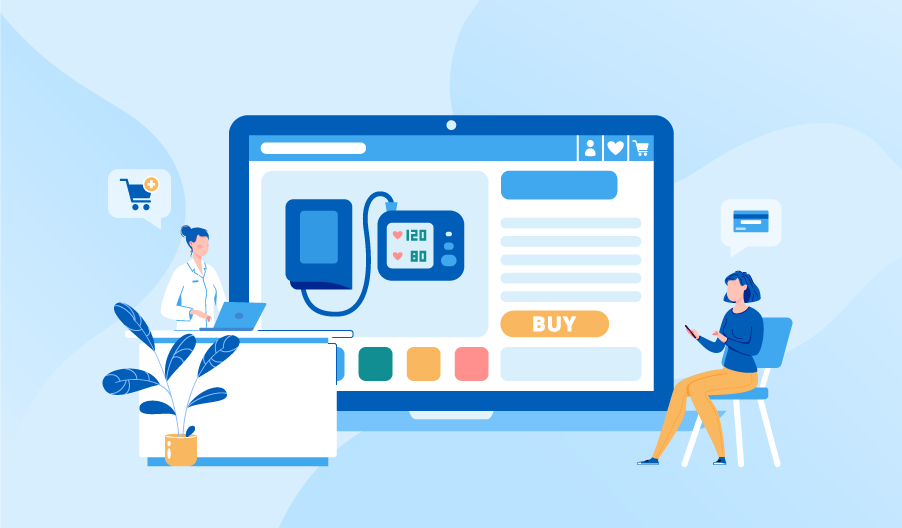 #1 A mixed target audience of business buyers and individual consumers
Solution: A multi-store – two storefronts (for B2C and B2B) on a single platform instance.
The largest audience segment of your business will remain healthcare-related institutions: hospitals, laboratories, universities, etc. Still, individuals may need some kinds of medical equipment or supplies for their home treatment too. Therefore, I always advocate a B2M (business-to-many) approach, also known as B2X, for sellers of medical equipment and consumables. This marketing term describes a business model employed to target a varied customer market – business entities and individual consumers, in our case.
On the whole, this need to support both B2B and B2C experiences will affect all your activities directed towards establishing and nurturing customer relationships. But the greatest difference will be in digital buyer journeys. Below, I'll share tricks of ScienceSoft's ecommerce team that varies approaches to designing B2C and B2B medical websites to help you achieve converting user journeys in both.
How to meet B2B needs
How to meet B2C needs

Automation of account creation and historical data transfer to transit current customers to online smoothly.
Role-based account management to recreate a corporate procurement hierarchy if needed.
Automated pricing rules to encourage larger order volumes and nurture customer loyalty.
Requisition lists to restock regularly bought items quickly.
Shipment to several addresses.
A possibility to export a shopping cart as a PDF email for management approval.
Flexible payment options (several payment methods, trade credit).

Accurate and comprehensive product presentation with detailed instructions for product usage, storage and disposal.
Rich search possibilities to make the navigation across medical assortment easy for non-professionals:

Logically structured menu categories and subcategories.
Faceted search by product properties.
Auto-complete and error-correction functions.
Search by images.

Guest checkout to convert visitors hesitant to register.
To differentiate between B2C and B2B user journeys, we at ScienceSoft offer the development of a custom ecommerce website that can serve as a multi-store. The two separate storefronts are tailored to each customer group, while products and transactions are managed conveniently from the same back end.
#2 The market dominated by big players
Solution: Relationship marketing to accrue your market power.
The good news is that the global medical supply and equipment market is rather immune to downturns as the demand for these commodities is recurrent. On the downside, the market is pretty competitive with large manufacturers and suppliers having established long-term relationships with major clients in the healthcare sector. As I often notice, less mature peers try to overcome this entry market barrier by lowering the prices. This tactic, however, can be self-destructive and lead to a negative profit margin.
I recommend taking a slower but less risky way of relationship marketing. It will allow you to present yourself as a reliable supplier capable of maintaining a business relationship with success.
Focus on product value and your professional expertise. Don't just sell but explain how your products will benefit patients' treatment and medical staff routine. As a rule, this demands vast content capabilities on the website to share knowledge in interviews, researches, discussions of healthcare trends and innovations, etc.
Establish the practice of proactive customer contact. I see quite a few opportunities to be proactive without expressing an explicit hard-sell intention and foster customer relationship: create and distribute education materials, hold training and networking events, announce your latest updates in social media, and more.
#3 The need for a sales team eliminated by ecommerce
Solution: Sales team refocusing.
By and large, an ecommerce website is a self-service tool that you give to your clients to place orders and conduct payment transactions – the actions that used to require from them regular communication with your salespeople via email, phone calls or fax. With an online sales channel now, you might naturally feel that the website is enough to manage the buying process and a full-time sales team is redundant. However, let me advise you not to jump to conclusions – ecommerce does take routine sales processes off your team's plate but, instead, frees up their time for strategic thinking and customer relationship building. Their functions may expand to:
Analyzing sales data to elicit trends and customer needs and, as a result, better plan customer engagement.
Nurturing new prospects via cold calls, emails, in-person visits.
Curating the creation of educational materials and supplying them to clients.
Driving website evolution by promoting new features requested by clients during personal interactions.
Give your medical business an online boost
Now you have a clearer picture of the e-medical market landscape, and the three challenges I've described will be of no surprise to you. Certainly, there are more to come when you start your online medical supply and equipment venture, so you will need a reliable and competent shoulder to lean on. Our ecommerce development team at ScienceSoft has vast experience of working in the healthcare ecommerce domain and will be glad to unpack it for your company's success. Reach out to us if you need your ecommerce solution designed and implemented competently.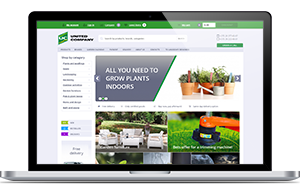 Are you planning to expand your business online? We will translate your ideas into intelligent and powerful ecommerce solutions.