Editor's note: As a team of custom ecommerce developers, ScienceSoft offers a range of competencies to build superior experience along the whole customer journey. Consulting and implementation of headless ecommerce solutions is one of our expertise areas. Read on to know why our customers choose to go headless.
Looking up to ecommerce trends is necessary to meet the ever-growing customer expectations and keep ahead of the ecommerce competition. What is no less important is to invest only in those trends that can make true difference for business.
One of the industry-leading technologies that ScienceSoft's customers choose to implement is headless commerce. The approach surely gives them more flexibility in website design. But it requires large upfront investment – kind of a pause for thought. In the next few minutes, ScienceSoft will brief you on the headless essence and address a threshold question: does your business need a headless solution?
Let's handle the theory: the definition of headless commerce
The architecture of a traditional platform-based ecommerce solution is monolithic. In other words, the website design is wrapped in the front-end theme tightly connected to the back end. Hence, any website design improvement must be applied to both sides.
An alternative approach to website architecture is known as headless commerce. In a headless solution, the back end is powered by any database-driven application (an ecommerce platform or a CMS) and the presentation layer is built on any front-end framework. This allows for unbounded flexibility in content presentation and customer experience management.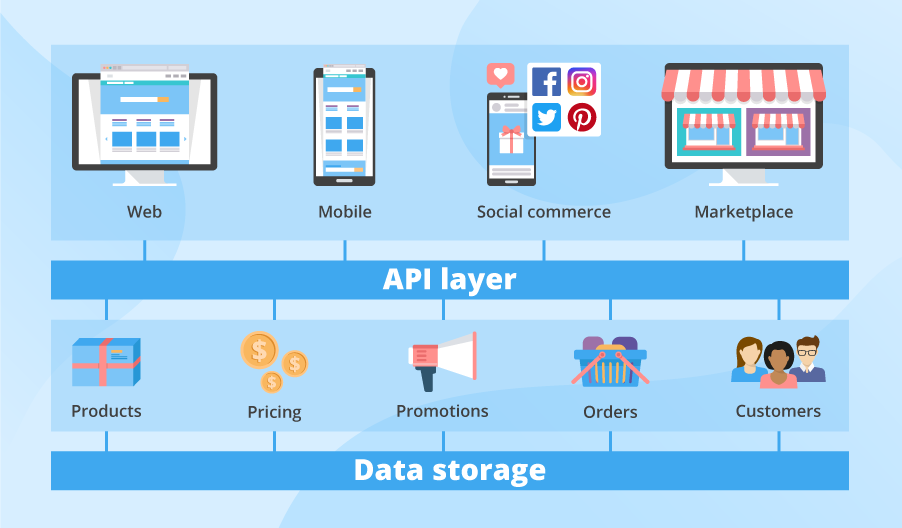 Why adopt the headless commerce approach?
We don't insist that these advantages will resonate with the majority of retailers but we can say that this is why our customers go headless.
Enhanced security. When the back end and the front end are packed together in a platform-based ecommerce solution, fraudulent interference into one component can impact the entire system. Meanwhile, headless architecture provides the required resiliency to cyberattacks.
Website design flexibility. A platform-neutral approach to website design means that the back end doesn't impose constrictions on your creativity and you can frame any kind of user experience on your website. That is when the knowledge of consumer psychology and the creativity of your team of UX and UI designers can go wild.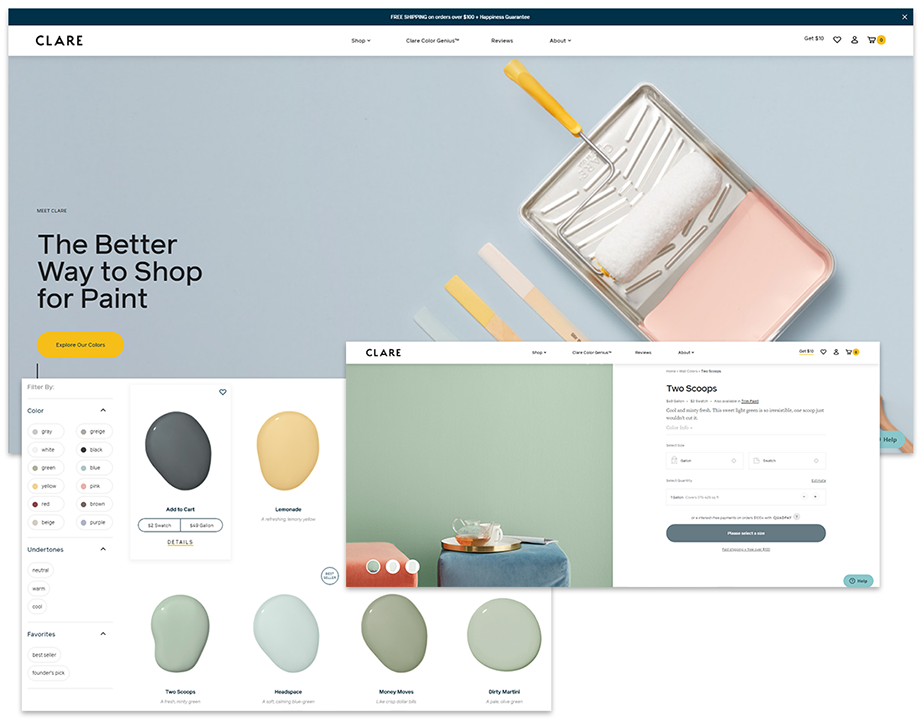 Front end: React
Back end: Contentful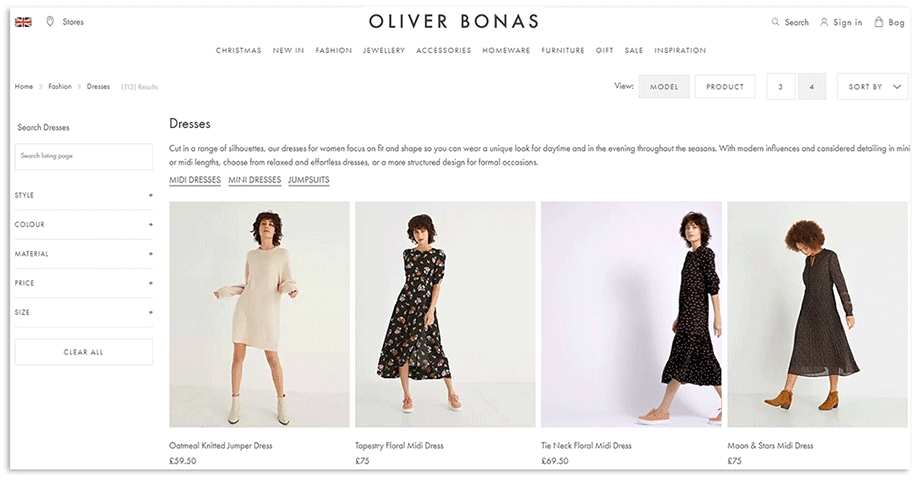 Front end: Angular
Back end: Magento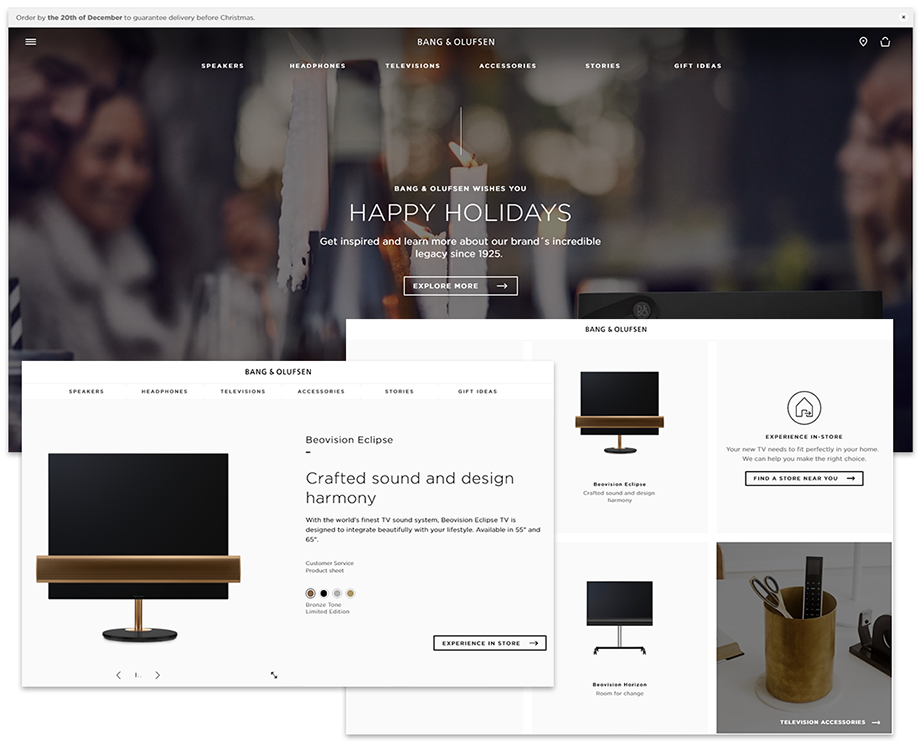 https://www.bang-olufsen.com/en
Front end: Next.js, React
Back end: Contentful
Is a headless website the right solution for you?
As always in our ecommerce consulting practice, ScienceSoft advocates technologies or solutions that offer new opportunities. But we investigate possible implementation case by case and never impose technology advancements until articulate clearly the actual value for a particular business. From our experience we see – there are two customer situations when going headless is the best possible decision.
Situation #1. An alternative to large-scale CMS-to-ecommerce migration
Imagine the situation. There is a company owning a CMS-powered digital space (be it a website or a web portal) where they educate, share news, entertain or communicate. They have traffic and visitor engagement. When an idea comes to add a shopping cart, serious concerns arise: do they have to migrate their whole website to an ecommerce platform? As they have 100+ web pages with branded design, won't it take ages and a small fortune to rebuild the website just for a possibility to add products/services and the checkout? And will the front-end library of the chosen ecommerce solution support the current design?
Long story short, migration is the worst possible way to take in this case. But look at what ScienceSoft can achieve with the headless approach. In the company's CMS, we create ecommerce pages and elements – of course, on-branded and fitting the website design: a catalog, product detail pages, shopping cart and checkout. Then, we implement an ecommerce back end but connect it via APIs only to the pages and elements that we've just created and that must support ecommerce functions.
What the company gains with the headless approach
The company saves time and money on migration and with reasonable investment, turns their traffic into a revenue channel.
Situation #2. A solution for experience-first companies
Among our customers, the majority asks to help them enhance the customer experience they provide. Let us say that making up customer-winning ideas is half the trouble but implementing them on the website can be a deal-breaker. So, we name the second target adopter of headless commerce – companies that want to stand out with exceptional digital experience.
Adhering to a traditional platform-based approach, such companies have to hold back on some design ideas as bound by the platform's front-end library. With a headless solution, they have all the design freedom. Having secured the ecommerce functionality in the back end, they can use literally any modern JavaScript framework to create state-of-the-art web designs.
What the company gains with the headless approach
The company doesn't pay for extra hours of front-end developers trying to fit design ideas into a platform-specific front-end theme. There are much better ways to invest – for example, to hire UX and UI design talent and win customers over with the unique website.
Technologies to support headless ecommerce implementations
In the best-case scenario, you engage ecommerce consultants to help you decide on proper technologies for a headless solution. With that, you don't overpay for excessive back-end functionality and have the front-end framework with the needed level of flexibility. Talking with no business and project specifics in mind, we can give you a list of technologies that generally work well for headless commerce.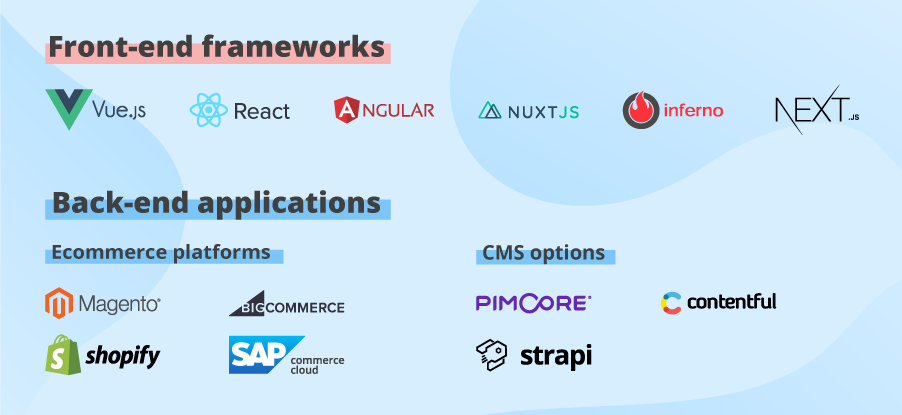 If your ecommerce solution limits creativity rather than inspires
Switching to a headless solution can be your way to support commerce capabilities in the back end and create any visual presentation and customer experience in the front end. However, headless commerce is not a turnkey solution to buy. It's the experience you live through with your development team: business analysts, technology consultants, ecommerce developers, UX and UI designers. ScienceSoft has all the resources on board to design, implement or turn your existing website into a headless solution.
Start working with ScienceSoft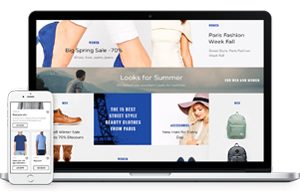 Our consultants will help to shape an optimal ecommerce solution for your business.