Do you want more visitors to your Magento web store? Purely rhetorical, this question is intended to lead us to one of the possible ways to drive traffic in ecommerce – starting a blog. Many merchants haven't even considered this solution knowing that a blogging opportunity doesn't go in Magento by default. Apparently, they are unaware of possible benefits as well. We invite you to follow us through the process of launching a Magento blog and get a clear understanding of what efforts it might take and what results it might bring.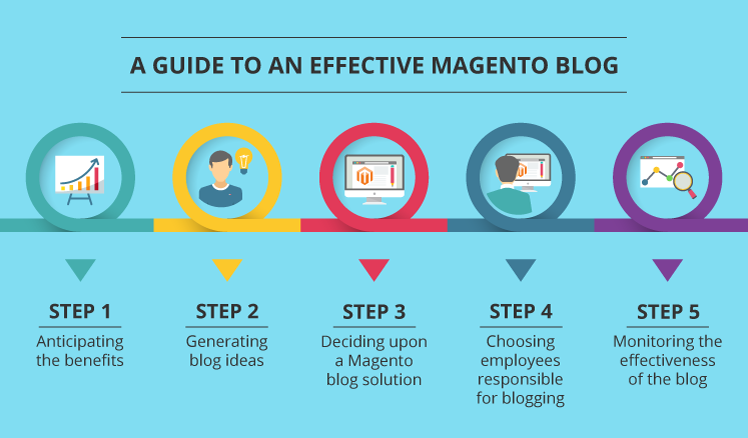 Step 1. Anticipating the benefits
Launching a blog on a Magento-based website is a serious step. Not only does it require efforts to find the best solution, but will also call for continuous updating of content. Merchants need to know if their investment of time, effort and money will return. A clear vision of possible benefits for customers and sales can encourage them to make the first step on this way. So, here are some inducements.
Customer communication. A blog helps initiate a conversation with customers. They may leave feedback, participate in surveys, respond to blog post questions or share articles on social media. These are clues for merchants indicating what customers are interested in and what shopping experience they expect.
Expert reputation. If a blog manages to gain credibility among readers, it becomes a "go-to" source of information. Thus, a company establishes itself as a leader among competitors.
Loyal audience. Nowadays, having occasional purchases is not enough to establish a flourishing business. Encouraging repeat visits and purchases becomes a target. Sharing valuable information in a blog, merchants contribute to building an audience of loyal readers. Their trust to the source of information translates into the trust to the business as a whole and they are ready to purchase.
SEO benefits. Running a blog means more chances to please Google with a content-rich website. Keeping SEO in mind, merchants can write articles around keywords and create strong internal links to category and product pages. As a result, they increase visibility of a web store, ensure higher positions in SERP and fuel organic traffic.
Social activity. People rarely go shopping online every day. At the same time, we all check social media accounts regularly. Ecommerce players may consider Facebook, Twitter or Instagram as free advertising platforms with huge audiences. Promoting blog posts on social media is a great way to engage people with diverse content and increase visits to a web store.
Step 2. Generating content ideas
If possible business benefits sound promising enough to take further efforts, merchants can move on to the second stage. The quality of content is in focus nowadays as it influences the visibility in search engines, customer interest and trust and, as a result, sales. It's quite natural that sellers might doubt their ability to create something valuable for readers and stay within the scope of their ecommerce direction. Put the doubts aside and look through some ideas for a Magento blog.
Come out with a company story. By sharing how the company was founded, depicting milestones in its development and showing the team standing behind, sellers present their business not as a solely commercial project, but as people who are passionate about what they are doing. This contributes to the development of trusting relationship with customers.
Discuss products. Depending on their product line, sellers might provide tips, guidelines and instructions on how to use their goods; tell more about their advantages and possible effects; make comparison lists or present new products in blog posts.
Offer reviews. Having customer feedback on an ecommerce website is crucial for sales. People decide to purchase easier when they read a real-life experience of using a product. A blog can become a new way to engage influencers. While they typically write their impressions of products and share photos on social media, sellers might ask for more detailed reviews for their blog.
Make important announcements. Merchants shouldn't miss an opportunity to inform their customers about upcoming promotional campaigns (seasonal or holiday sales, special offerings, available coupons) as well as to share company news (changes in return policies, expansion of delivery area, an announcement of the business going omnichannel).
Focus on customer interests. There are no strict rules to talk only about your own products and services. Fortunately, there is always room for creativity and we would like to encourage merchants to bring fresh ideas and raise topics that might be interesting for customers. If you sell furniture, you can be useful in sharing design tips. Do you work with organic products? Discussing healthy living will perfectly suit the interests of your target audience.
Step 3. Deciding upon a Magento blog solution
As Magento doesn't support blogging out of the box, merchants need to think of the way to extend the functionality. From our Magento development experience, we would recommend considering three possible solutions – adding a ready-made plugin, integrating a CMS system or launching a blog on a third-party blogging platform.
Plugin
Searching for blog plugins on Magento Marketplace, one might get lost in numerous opportunities available. Implementing the same idea, off-the-shelf extensions might differ in details and, more importantly, code quality. We opt for the Blog Pro for Magento 2 extension as it meets our criteria.
Here are the features that we consider crucial for effective blogging:
Four basic elements – pages, categories, tags and comments – suffice for what is expected from blogging.
The layout of blog pages is flexible due to a handy drag and drop builder. Besides, there is a possibility to differentiate the layout for mobile and desktop viewing experience.
The WYSIWYG editor allows formatting text and add graphics, videos, lists, tables, etc.
Merchants can specify human-readable URLs and fill in metadata to create SEO-friendly posts.
Social media buttons increase the coverage of a blog.
A publishing scheduler allows for flexible arrangement of working hours – one can create several articles, set to post them once a week and switch to daily tasks.
Admins can allow readers to publish comments immediately or get an approval first.
Statistics section shows the number of views for each blog post.
A third-party CMS system
Combining the power of Magento and a CMS system such as WordPress or Pimcore, merchants don't only get a convenient way to run a blog but enjoy a plenty of perks for efficient content management. While Magento excels in ecommerce functionality, it is not meant for creating rich and diverse content, which has become a must in tough competition among online retailers. Integrating a web store with a CMS platform, they cover both aspects in the most effective way.
Blogging platform
One of the primary aims of a Magento blog is to attract more visitors to a web store. But we have never said that the blog must be "inside" the store. Often, running it on a popular online publishing platform turns out to be a better solution. For example, Medium had 60 million unique monthly readers as of May 2017. "What a coverage!" you might think and this is only one of the benefits. As the platform is tailored to blogging, it offers a reader-friendly UX design and a simple way to style and publish articles. Moreover, high traffic allows Medium blogs to show up high in Google searches. The more people read them, the more of them follow links to a web store. The goal is achieved.
Besides, Medium offers its bloggers to see general statistics for blog posts. They can track views and reads as well as traffic sources.
Step 4. Choosing employees responsible for blogging
To get the idea of a Magento blog implemented successfully, merchants need to know clearly who will take up the task. Having developed a plan for posting frequency, they can assess the workload and decide how much effort is needed to keep the blog alive. In fact, they can engage diverse content creators.
Staff. If compared to news portals, ecommerce blogs are not expected to be updated daily. Moreover, Magento blog solutions have an intuitive interface and don't require programming skills to publish posts. Therefore, merchants can delegate the responsibility of blogging to the marketing team. Marketers who know the ecommerce business from inside understand better what topics can be interesting for their customers.
Influencers. As we have mentioned above, merchants can attract influencers to contribute to a blog. For example, they can send a testing sample of a product and welcome an honest review. To win with this technique, sellers are better to choose niche bloggers with smaller but more engaged audience. We detail the topic in our article devoted to micro-influencer marketing.
Contributors. Merchants can outsource part of content creation to guest writers. There are many ways to do this: placing a contact form Write for us on a website, engage freelance writers or buy texts from content marketing agencies.
Step 5. Monitoring the effectiveness of the blog
So, here you are – on the verge of launching a Magento blog. Potential benefits are clear, the head is full of ideas and the solution is chosen. There is one thing left that we need to discuss – how will you understand that you reach the target audience with your content? Indeed, one needs to clearly see if the result is worth the effort to stay motivated. Here are indicators one may track while running a blog in a Magento-based web store.
Overall blog traffic will show if the number of readers grows over the time. Moreover, it allows merchants to continually adjust a publishing plan. If they post frequently and the number of views is decreasing, they might need to focus on quality rather than quantity of publications.
Keeping an eye on views per post, top-viewed posts and social shares is crucial to see if the content resonates with readers. This data paves the way to understanding customer expectations from the blog.
The next indicator to track is traffic sources. Merchants need to know where their readers come from: social media, organic search, paid search, email marketing, etc. This will give more insight into high-performing channels to drive more traffic to a blog.
Blog admins need to monitor comments to understand what topics yield large readers' feedback, answer their questions and prevent spam and disrespectful commenting.
In the long run, merchants initiate blogging to develop a closer relationship with potential customers and boost sales. Tracking conversion rates (reader-to-visitor and visitor-to-customer), they see how changes in blogging strategy bring them closer to the goals.
Let us put the last piece of the puzzle and recall the need to use analytics software to monitor the efficiency of your blog. You can do well with Google Analytics or Piwik (the latter features advanced ecommerce analytics so can be more beneficial for a Magento-based web store).
Ready, steady, launch!
We understand that running a blog in Magento is a serious move to take. With the default functionality missing this feature, it requires additional efforts and strong motivation not only to start, but not to stop halfway as well. Hopefully, we have explained basic steps and outlined the way to rewarding blogging. Give it a try and the results will be not long in coming.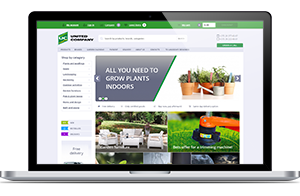 From strategy development to auditing an online store, we look forward to expertly support your each step in Magento development to bring you to the top.