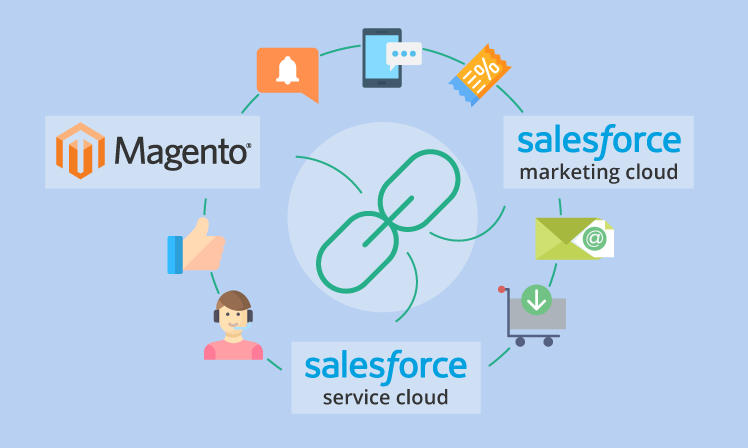 A customer (let's name her Kate) is shopping in a Magento-based web store. Having browsed for a while, she chooses a dress. Kate can't decide upon the size and uses a live chat to ask for help. The help comes in a minute – a sales assistant uses a size chart to guide Kate's choice. Pleasantly surprised with prompt and professional customer service, she completes the purchase and leaves.
In two weeks, Kate gets an email from the store giving her early access to a new collection. Flattered, she can't resist the temptation to choose a new outfit for her friend's birthday in five days. But she worries if she gets the order in time. A sales assistant from the live chat informs her about a fast delivery option and asks if the dress she bought last time fits well. Kate is impressed by such a caring attitude. She places the order and decides to return to the store again.
What allowed the store to manage their customer relationship so efficiently? There is a hint to the answer in the question itself. Having integrated a CRM (Customer Relationship Management) system in their ecommerce business, merchants get a 360-degree picture of each buyer. When all pieces of customer information including personal details (like name, age, email, and phone), purchasing history, interactions with customer support and reaction to promotions get centralized, sellers can use this comprehensive customer profile to personalize sales.
We have once talked generally about Magento-CRM integration. Now, we strive to detail it and see how Magento gains power when combined with Salesforce, one of the world's leading CRM systems. We will consider three key aspects of customer relationships – sales, marketing, and customer service – to see how Salesforce transforms them for ecommerce businesses. Here is a helping hand in article navigation:
The benefits of Salesforce Sales Cloud and Magento integration
Sales Cloud is the place where the wealth of company data is processed and stored. It provides a necessary foundation for future marketing activities and excellent customer service.
1. Comprehensive customer profiles
As an ecommerce platform, Magento collects the information about customers and their orders. But it doesn't organize it in customer profiles so that the sales team could instantly see the full information related to a particular customer. This is what Sales Cloud in Salesforce does. When integrated with Magento, it automatically creates a profile for first-time customers and enriches it with new details and purchases further on.
The role of Sales Cloud comes into full play in omnichannel retail. When a customer's purchasing information originates from both brick-and-mortar and online stores, the importance of drawing it together becomes unquestionable. In this case, both the Point of Sale systems in brick-and-mortar stores and an ecommerce platform of an online store need to be integrated with Sales Cloud.
2. Sales analytics
Retailers hold a hand on the sales pulse with customized reports available in Sales Cloud. To generate a report, they select fields and filters depending on what metrics they want to track and analyze. Thus, they can always see a real-life picture of their business.
What is more, sales managers can get millions of data points analyzed for them. Sales Cloud Einstein, an artificial intelligence technology that can process historical data, uncover trends, and come up with data-driven sales forecasts. These insights will be useful in planning procurement and marketing activities.
3. Price Books for a Magento multi-store
A possibility to transfer a Magento product catalog into Price Books in Sales Cloud comes in handy for owners of Magento multi-stores when a sales or customer support team has to quickly navigate in products and prices of different stores. With Price Books, they don't need to bother with multiple spreadsheets and can access individual catalogs for each store from Sales Cloud.
The benefits of Salesforce Marketing Cloud and Magento integration
Nowadays, ecommerce marketers aim at tailoring campaigns to buyers based on their preferences and purchasing behavior. But tracking down each and every customer to make individual promotions for them is hardly possible. Salesforce comes to help with its Marketing Cloud – a full-featured marketing platform that improves the way businesses communicate with customers. The solution offers a toolset that covers all steps of the marketing activity from collecting and analyzing customer information to automating personalized promotions and evaluating results. Here is what you will get if you choose to integrate Magento and Salesforce Marketing Cloud.
Data centralization
As customer information is the basis for all marketing activities, we will start by explaining how it is organized in Marketing Cloud. Marketers need to create and configure Data Extensions – customized databases where the data is stored. From now on, marketers can trigger customer segmentation by applying filters to the data. This opens a way to targeted marketing campaigns.
Personalization and management of customer experience across channels
As merchants get their customer data centralized, they can set out a smart marketing strategy. Salesforce has a number of solutions for this purpose.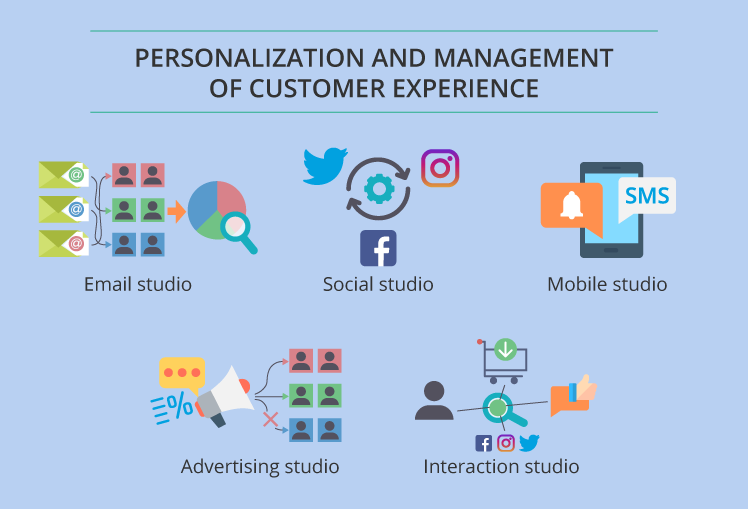 1. Email Studio
Knowing the importance of email marketing campaigns in ecommerce, Salesforce comes up with a modern email tool that meets the three primary aims – it allows creating visually appealing emails easily, targeting customers with relevant messages and tracking the results. This is all the more important for Magento-based businesses as the default functionality for email marketing lacks these crucial features.
To start with, users take customizable templates as the basis and further experiment with content blocks to achieve the desired look and feel of future emails. Responsive design ensures an excellent viewing experience on any device. Salesforce Einstein is responsible for personalizing the content for each recipient. Once an email is ready, users select a customer segment (-s) and schedule the dispatch. To evaluate the efficiency of the campaign and perfect it in the future, they can run A/B testing and generate advanced performance reports.
2. Social Studio
Ecommerce businesses seek for efficient social media presence to reach huge audiences of Instagram, Facebook, Twitter, etc. Social Studio brings control over all business accounts in one place. It enables creating appealing content, tracks mentions of a company across multiple social networks to keep merchants aware of customer feedback and allows a customer support team to start a conversation and address issues directly in social media.
3. Mobile Studio
Salesforce adds a new channel of customer communication to ecommerce businesses. Mobile marketing will be particularly interesting to owners of Magento-based stores as it represents a new way to keep in touch with customers via SMS, push notifications and group messages.
4. Advertising Studio
This platform powers smart ads campaigns. Advertising Studio allows reaching more customers with targeted and timely advertisements, particularly in Google search and social networks (Facebook, Instagram, etc.). Marketers can exclude unwanted customer segments not to disturb them with irrelevant offers. For example, there is no point in showcasing special discounts for the first purchase to repeat customers.
5. Interaction Studio
Aiming to provide ecommerce players with a powerful tool for a quality relationship with customers, Salesforce adds Interaction Studio. It allows for tracking a customer journey across all channels. Merchants get insights into what customers like and what pushes them away. This, in turn, is instrumental for targeted re-engagement with lost buyers.
Personalization of customer journeys
With Journey Builder, merchants can create relevant shopping journeys for different customer segments. From welcome emails for new shoppers to re-connecting with those who have been inactive for a while, they vary techniques to engage with customers and guide them through the purchase.
As Salesforce offers a drag and drop builder, the process of developing customer journeys is very convenient. A user selects a customer segment and maps out the path. For example, first-time buyers can be scheduled to get an email with new offerings in a week after their purchase, an SMS reminder in two weeks and a discount coupon in a month. Depending on whether this journey yields the expected results, marketers can continually modify it.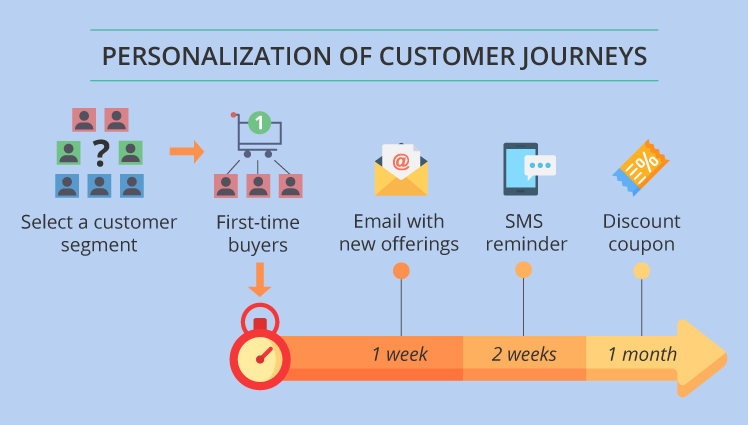 As you see, having integrated Salesforce Marketing Cloud into a Magento-based web store, merchants have no excuses to fail at marketing activities. They hold all the cards. But Salesforce potential for ecommerce businesses doesn't end here.
The benefits of Salesforce Service Cloud and Magento integration
Slow and ineffective customer support is detrimental to conversion rates. If web store visitors face challenges and need assistance in any aspects (guiding through product assortment, tracking the delivery, returning goods, etc.), they expect an issue to be resolved promptly. Making them wait longer, merchants put their reputation on the line. With that in mind, Salesforce offers an advanced solution for customer support in ecommerce. Service Cloud is a next-generation platform for efficient maintaining of customer communication and serving buyers at each step of their journey. Let's take a closer look at its key features.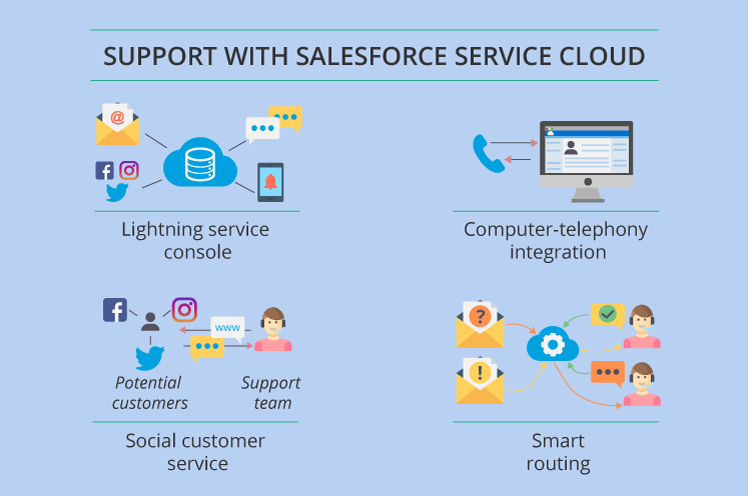 1. Lightning service console
The performance of support agents goes up when cases across all channels (email, live chat, phone, social channels) are stored in one central place. Having all customer details as well as the history of previous interactions on the screen, agents don't irritate customers by asking for the same information again and again. An intuitive interface allows them to easily drag and drop the information they need.
2. Computer-telephony integration
Customer agents can take phone calls without leaving the service console. With a customer profile having all contact details including phone numbers, they don't need to search for required information after picking up the phone. A new case that a customer initiates by phone gets automatically added to their profile.
3. Social customer service
Together with Social Studio from Marketing Cloud, Social Customer Service allows talking to potential customers in social media. The requests are delivered directly to the customer support team, which can efficiently handle them and invite social network users to visit a web store.
4. Smart routing
When configured precisely to meet business needs, Service Cloud distributes customer requests according to agents' competence and current workload. Accordingly, employees update their status instantly to indicate if they are ready to tackle a task. Urgent requests are always first in line to ensure their immediate processing.
Now that we have explained the power of Magento-Salesforce integration, let's go straight to its implementation.
The technical side of Magento-Salesforce integration
Salesforce AppExchange is the place to search for a simple and effective solution to bring Magento and Salesforce together. Indeed, this marketplace for enhancing the CRM functionality offers a number of apps for the integration of Magento and Salesforce Sales Cloud. However, there are no ready-made solutions for Marketing and Service Clouds.
Given that developing a custom connector for a particular business is always a preferred option, we want to outline key moments of integrating different Clouds with Magento. You will need the help of Salesforce integration consultants to implement the solution in a real ecommerce project.
Sales Cloud or Service Cloud + Magento
For this type of integration, we need to introduce the notion of Apex – a Salesforce's proprietary programming language for creating applications on top of the Salesforce functionality. Apex uses callouts to connect to external SOAP and REST web services, thus allowing for automated data transfers from third-party systems (Magento in our case) to Salesforce. The logic is the following: certain events serve as Apex triggers – they initiate an API call and, consequently, system-to-system data transfer. Let's consider an example of an Apex trigger in Magento. The registration of an account on a Magento-based website can trigger the creation of a customer profile in Salesforce Sales Cloud.
Marketing Cloud + Magento
One needs credentials to use Marketing Cloud API and set integration with Magento. As far as Salesforce doesn't provide a developer edition for Marketing Cloud, developers can't access the code for that. Instead, they need to create an API Integration app that provides the credentials required and gives access to Marketing Cloud API.
Marketing Cloud + Sales and Service Clouds
Though this kind of integration focuses solely on Salesforce Clouds and is out of the scope of Magento-Salesforce integration, retailers who use several Clouds shouldn't miss an opportunity to align their sales, marketing and customer support teams. The cloud-to-cloud integration in Salesforce is implemented via Marketing Cloud Connect.
Here is one of the possible use cases of Sales-Marketing Clouds integration. A retailer wants to collect customer feedback to understand if customers are satisfied with the product assortment, delivery terms, customer service and so on. In Journey Builder in Marketing Cloud, marketers create a relevant journey so that customers get an experience survey email after they have made a purchase in the web store. If they rate their shopping experience as poor, a task in Service Cloud is automatically created. The support team gets a notification and can contact unsatisfied customers for more details.
Magento and Salesforce – even more powerful when together
Seeking to know their customers better and personalize sales, ecommerce players can't neglect the power of integrating their Magento-based business with a CRM system. With all the capabilities enumerated in our article, Salesforce is an excellent choice to develop sustainable customer relationships, run smart marketing campaigns, and stand out with first-class customer support. Centralizing comprehensive business information and offering a wide range of perks, it noticeably changes the way merchants can communicate with customers. Still, choosing to complement their web store with Salesforce, companies need to explore the platform deeper to meet their business goals and not to get overloaded with excessive functionality and its associated higher costs.
Your integration solution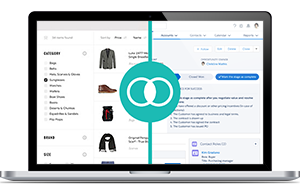 Magento-Salesforce Integration Services by ScienceSoft
Effective customer relationship management through Magento integration with Salesforce Sales, Marketing and Service Clouds.
Your integration solution