Salesforce keeps polishing the platform's collaboration and document management functionality to meet the growing demand for cross-departmental collaboration. At a glance, it seems that employee collaboration can thrive in Salesforce CRM alone. Then does it make sense to look for an additional collaboration system, like SharePoint, and invest in Salesforce integration with SharePoint? To figure this out, our Salesforce integration consultants check Salesforce collaboration and document management and explore how SharePoint can complement it.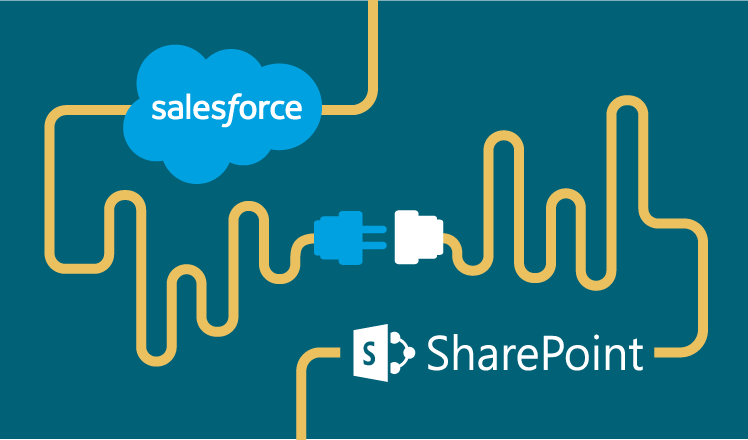 How does collaboration with employees and customers happen in Salesforce?
The heart of employee collaboration in Salesforce is for sure Salesforce Chatter. A communication tool enabled by default, Chatter supports feeds, profiles and groups to allow data sharing and communication among Salesforce users. To streamline discussions, Chatter offers recommendations of relevant contacts and content, as well as notifies about user mentioning.
Even though Chatter can ignite employee collaboration, it has several drawbacks. First, Chatter Free users have limited rights. They can view profiles, share files, join groups and post updates, but they can't see Salesforce data and records or edit documents right in Salesforce. So, collaboration between Salesforce users and employees without licenses will be hindered.
There are two ways to overcome this limitation:
To buy more Salesforce Sales Cloud licenses (starting at $25 per user per month).
To opt for the Lightning Platform Starter license ($25 per user per month). This license gives Chatter users the fullest access to Salesforce resources comparing to the other Chatter licenses.
Both options imply extra investments for a company.
Second, while Chatter can also accommodate external users (customer or partners), the features it keeps for them are very limited (for example, no access to calendar, events, content library, contacts and topics). Hence, the Chatter-based interaction between internal and external users is not free of pitfalls.
What comprises document management in Salesforce?
Salesforce has five modules for document management: Salesforce Files, Salesforce CRM content, Salesforce Knowledge, Documents, and Attachments. To sum up the capabilities of these tools, the platform has strong document management functionality, including:
Content organization in private and public libraries (with tags and filters).
Powerful content search engine that scans both content properties and the document itself.
Document version management.
In-browser content preview without downloading.
Convenient reviewing of the use of knowledge articles.
Content sharing with customers via both Salesforce CRM and mobile app.
Document management in Salesforce also has its constraints, mostly concerning the available space. Files that can be attached to the feeds and records have a size limit ranging from 5 MB to 2 GB in different modules. At the same time, Salesforce data and file storage is limited to 11 GB per organization and 632 MB per user license.
Salesforce vs. SharePoint – What is better for collaboration and document management?
Put simply, collaboration and document management can be efficiently established in Salesforce without using SharePoint if a company makes use of all the collaboration tools available - Salesforce Chatter, Salesforce Files, Salesforce CRM content, Salesforce Knowledge, Documents, Attachments, and Salesforce extranet. Two main cons here include high license costs and limited capabilities for collaboration with departments that don't naturally use Salesforce.
Instead, a company can decide to use SharePoint as their enterprise collaboration tool and Salesforce as their CRM. Then cross-departmental collaboration will occur in the intranet part of SharePoint, and the extranet will accommodate collaboration with external users, like customers and partners. User access to features will be limited only by the system admin but not by the platform. If a company chooses this option, they should carefully consider Salesforce to SharePoint integration to avoid any inconvenience for Salesforce users.
Why enhance collaboration and document management with SharePoint?
So as not only overcome Salesforce limitations but also get extra features, many companies decide to reinforce Salesforce collaboration and document management with a dedicated enterprise collaboration tool - SharePoint.
There are at least four reasons to extend the CRM's collaboration and document management capabilities through Salesforce to SharePoint integration.
Lower investment. While more Salesforce licenses is a costly option, a company will pay 10 dollars per user per month for SharePoint-based collaboration, and 20-35 dollars per user per month for the entire collaboration set of Office 365. So, with SharePoint, full-fledged collaboration in large cross-departmental teams will cost less.
Cross-departmental collaboration. Salesforce is intended for sales and marketing teams, while project collaboration involves colleagues from multiple departments, such as business analysts and technical specialists. At the same time, a SharePoint intranet is designed to connect employees company-wide, fostering cross-departmental team collaboration. The intranet will serve as an employee connector by allowing search for all employees' profiles and kick-starting collaboration.
Extended knowledge management. SharePoint outdoes Salesforce in knowledge management as its communication sites make knowledge sharing more dynamic by pushing knowledge to users through article announcements and promotion. To deliver knowledge articles to customers, read external users, a company using Salesforce still needs to complement Salesforce Knowledge with a customer portal. Such a portal can be either based on the Salesforce platform or be an external part of a SharePoint portal. Both options are acceptable. Yet, take into account, even though Salesforce solution won't require integration, it is likely to cost more in the long run due to higher license fees.
Document management on a large scale. As a document management and collaboration platform per se, SharePoint is more powerful than Salesforce when it comes to collaboration on documents and storage of large volumes of collaboration content. For instance, SharePoint allows real-time co-authoring and off-line work with documents. The data storage is limited to 1 TB per organization plus 0.5 GB per user license. The max size of file attachments is 250 MB, which is more than in Salesforce.
Apart from decreased license costs and increased data storage capacity, integration makes Salesforce and SharePoint work as a single collaboration environment. To be more specific, SharePoint content is incorporated in Salesforce in the form of references that can be searched and previewed. This gives sales reps more flexibility as they can access SharePoint files on the go, via mobile and without downloading large documents.
Also, as the content is stored in one place - SharePoint, there won't be a problem with document versioning in two systems.
Finally, Salesforce widgets and real-time data exchange between two systems will let Salesforce users conveniently collaborate within the CRM UI with their colleagues that use SharePoint.
While Salesforce to SharePoint integration looks reasonable, there's still one question left: What does it take to integrate the systems?
Salesforce integration with SharePoint – how does it work?
Salesforce-SharePoint integration can be provided with either ready-made tools or the ones built from scratch. The list of possible integration tools includes:
Salesforce Connect

The framework allows accessing data from external sources in real time and setting up integration with point-and-click tools, so a Salesforce admin can handle it themselves. However, the solution is available only for the Enterprise and Unlimited Editions, and is rather pricey (Lightning Connect's subscription fees start at $4,000 per month).

Ready-made integration apps from Salesforce AppExchange

The apps (e.g., sFiles Document Library Browser and DocAve for Salesforce) can be installed by a Salesforce administrator, but if their further customization is required, there may be a need in a Salesforce developer. However, it's necessary to find out in advance whether the app's vendor allows any modification.

A custom-built integration application

It can be the most flexible option, since such an app will be designed in line with your requirements and may address a need in multiple integrations (say, with SharePoint, ERP, marketing automation platform, etc.), without paying over the odds. However, choosing this option, keep in mind that your internal Salesforce administrator is unlikely to succeed in building a custom integration app, so you'll have to seek the help of experienced Salesforce business analysts and developers. For instance, one of our customers got their Salesforce solution integrated with SharePoint DMS through a custom-built app created by our Salesforce developers for the purpose.
Key takeaways
While Salesforce functionality for document management and collaboration is indeed strong, integration with SharePoint will extend collaboration company-wide and make it more convenient while reducing licensing cost. To enable this sync, a company can use a free Salesforce Files Connect that allows accessing SharePoint documents and collaboration via Salesforce widgets. Yet, if the integration project goes too complex, it makes sense to turn to adept Salesforce integration consultants to make sure data transfers will go smoothly.
Contact us
Salesforce-SharePoint Integration by ScienceSoft
We will connect your Salesforce and SharePoint solutions for aligned work and smooth data transfer.