Editor's note: As we like to say, customer-oriented service is a new black in ecommerce. We see increasingly that merchants tend to make a big deal of customer experience. As a provider of Magento web development services, we find it important to respond to their demands. We've accumulated a wealth of knowledge regarding effective customer experience management, and now we want to talk about its foundation – customer data collection and processing.
In the back end, Magento stores customer information coming from the website, namely certain types of demographic data and order history. That's a good place to start, yet the possibilities to understand and, hence, serve your customers better are so much wider.
I've decided to illustrate the role of the CRM system with an example of an omnichannel retail business that sells both online and offline. Besides, I'm empowering a Magento-based website with web analytics and email marketing software, and will need to centralize all the information provided by all systems. Here is where integration of Magento and CRM takes the stage.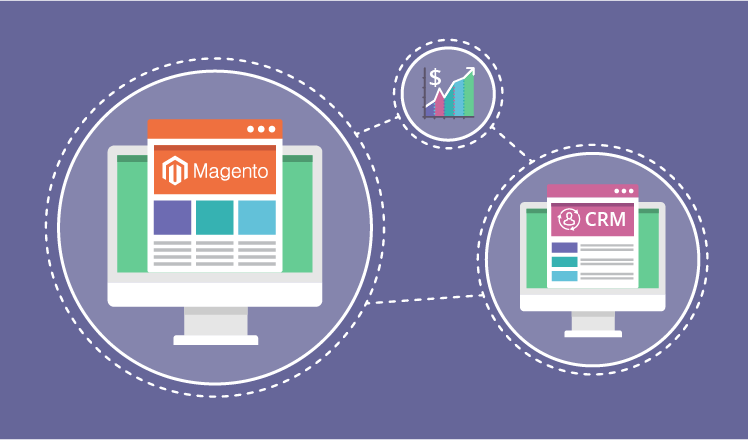 What is a CRM and why your e-shop needs it
As providers of Magento integration services, we often deal with CRM systems. When integrated with corporate systems responsible for tracking customer behavior in a web store, order processing, customer service, email marketing, etc., they become a center of all available customer information and a full history of a company's interactions with their prospects and customers.
The sources of customer information in an omnichannel retail business
Magento
Magento is a source of basic customer information and purchase history. You can customize registration fields depending on customer information needed. It is essential not to go overboard as a time-consuming and too complicated checkout process is the shortest cut to shopping cart abandonment.
Web analytics software
Magento back end is not the only way to gather customer data. When integrated with an online store, analytics software tracks both ecommerce metrics (for example, average order value, revenue per visit, conversion rate, etc.) and customer behavior. It expands a CRM profile with a summary of a customer's visits: what channel he or she used to get to the website (browser, email link, website link, etc.), the number of pages visited, duration of each visit, a page where the customer left, his or her response to marketing campaigns, social media activity and many more.
Brick-and-mortar stores
To get access to a customers' purchase history, brick-and-mortar stores can issue discount or membership cards. Each time a customer makes a purchase, this information goes from POS terminals to the customer's CRM profile. Additionally, you can conduct surveys to know more about customers' preferences, concerns and their feedback on customer service.
Email marketing software
Email marketing software has the information about emails campaigns and customer feedback. Analyzing it, you grow your knowledge of what works the best for different customer segments.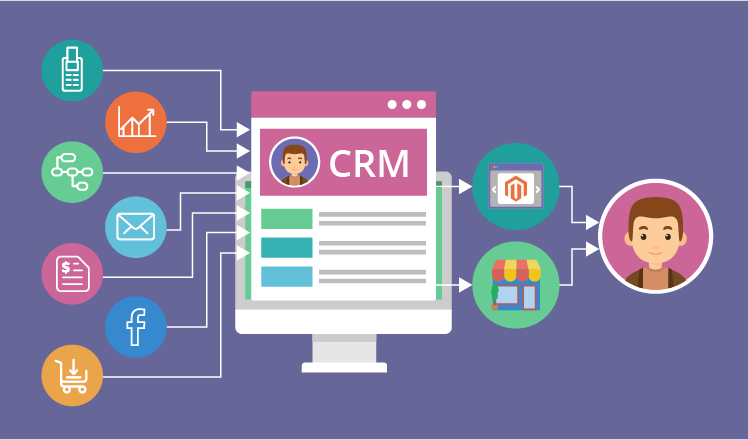 What ecommerce wins with CRM integration
Ecommerce is certainly not the only business domain that benefits from CRM integration. There are some advantages common for all:
Automated data centralization.

High team productivity.

No interdepartmental gap in information availability.

Cross-system data synchronization in chosen time intervals.
I go in more detail about the power CRM brings to ecommerce specifically.
Personalization opportunities

. Personalization is by far the star reason to use a CRM system. If you want to cater to your customers' preferences and expectation, you need a proverbial 360-view picture of customers. The information stored in the CRM will be further used for smarter and more targeted marketing campaigns, case resolution and even assortment planning.
Consistent customer experience across sales channels

. If you run an omnichannel business, CRM gives you a unique opportunity to engage with customers equally effectively via online and offline channels. For example, our team has successfully implemented a CRM system and integrated it with a Magento-powered website and a cloud POS system for a luxury fashion retailer. The company targeted to provide a truly personalized service to the customers and now they have just the right tool for this.

Strong customer support

. No matter what channel a customer uses to contact the store (request form, live chat, email, phone), the support team has immediate access to a comprehensive profile of this customer and can address their queries quickly and efficiently.
Which CRM to choose
Of course, I can't say that there is a single CRM system best for all ecommerce companies, as if their size and specifics don't matter. In fact, the CRM market now offers plenty of options different in customization capabilities, available functions and pricing. That's why, we start any CRM integration project with technology consulting to analyze business requirements and decide on the best-suited solution. There are two CRM systems we use most frequently and both have turnkey integration extensions for Magento websites.
Microsoft Dynamics 365
Microsoft Dynamics 365 perfectly suits the needs of large ecommerce companies. Offering extensive possibilities for customization, this CRM system allows a merchant to create a solution that fits their business like a glove. It is available both on-premises and in the cloud. Integrated with Magento via Dynamics 365 Connect, it empowers an ecommerce business to bring customer service to the next level.
Salesforce
A cloud-based CRM system, Salesforce is more expensive if compared to Microsoft Dynamics 365. The price is attributable to rich functionality that goes out-of-the-box. For example, ecommerce companies can benefit from AI program Einstein that enables developing predictive customer journeys; visual representation of statistics; a possibility to create a call center and many more features to contribute to excellent customer experience and boost sales.
The Salesforce CRM integration extension provides for smooth integration of two systems (Magento and Salesforce). Along with bulk data synchronization, the integration enables to synchronize individual objects manually from Magento to CRM, which provides more freedom in data management.
Read also: Top Salesforce Alternatives to Consider
A few last tips and one major conclusion
Underestimating the importance of proper Magento-CRM integration, one can undermine the performance of both systems. The following aspects must not be overlooked:
A reliable integration extension

. We have only mentioned two CRM systems above, yet you may choose other options. Make sure to install a connector that adheres to Magento coding standards. The

Magento-CRM integration extensions

submitted to the official Magento Marketplace are to be trusted.

Backup

. It is highly recommended to create a backup of a web store before installing or upgrading an extension.

Historical data

. There can be loads of information collected for many years of work. One can choose to clean this historical data if it will be synchronized along with real-time one.

Staff training

. The integration of Magento and CRM implies changes in the work of employees across different departments. Even when implemented expertly, it will fail to deliver good results if adopted poorly. Expert consultants in a selected CRM system can help involved employees embrace its potential.

Follow-up support

. Whether conducted by staff members or by a

Magento support team

, post-integration system maintenance is required for bugs to be fixed promptly or additional customization to be implemented without delay.
I have only given these tips for your general information. The best thing you can do for the success of your Magento-CRM integration project is to hire a savvy and professional team. We at ScienceSoft feel sure that our customers don't worry about timely data backup or staff training – we shoulder end-to-end project implementation and are responsible to think through all the details. If you've been planning to integrate a CRM system or even have bigger plans for customer experience optimization, let's discuss and see how we can be helpful!
Reach out for consultation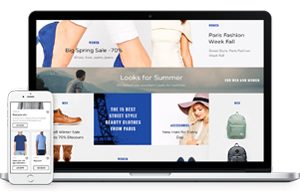 Magento-CRM Integration Services by ScienceSoft
We don't only integrate – we unlock all customer-winning opportunities available with the right CRM system.
Reach out for consultation