Just like artists, online retailers use their own canvas – an ecommerce platform – to paint their business. Its default functionality largely determines how they sell, communicate with customers and manage marketing activities.
Merchants who use Magento-based web stores know its power first-hand. However, they may doubt: is it possible to launch an email campaign and achieve its highest efficiency by means of the default Magento package only? Or maybe spending extra money on additional services is inevitable? Having a solid experience in Magento development, we help set things straight.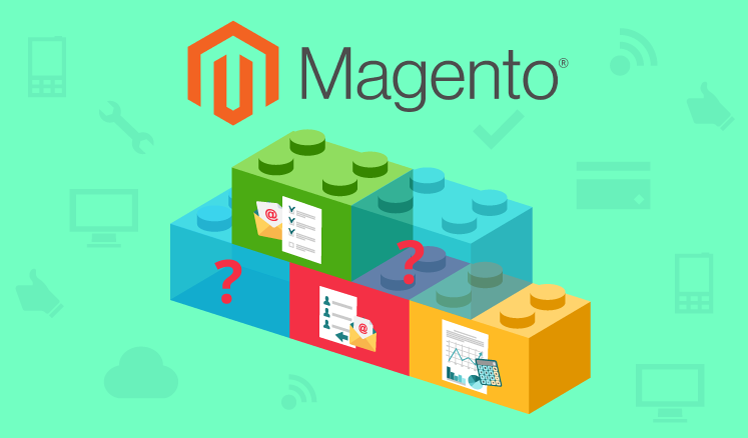 Email marketing campaign step by step
The abundance of email marketing extensions on Magento Marketplace leads to the assumption that Magento default capabilities in this area are weak. Let's go through the main steps of an email campaign developed in Magento without any add-ons to check if this is true.
1. Generate a subscription list
People don't like spam. This fact hints that purchasing email lists for non-targeted mail-outs may be not the best idea. Though instantly expanding your target audience, they can cause long-term harm to your reputation.
To play fair, Magento store owners leverage two ways to add a new email addressee to the list: a registration form and a guest subscription option. The latter appeals to website visitors who will not purchase now, but want to stay aware of further updates.
2. Create email templates
Customers decide to read an email or just close it in a matter of seconds. So, the look and feel of emails come to the fore. An appealing and eye-catching message consistent with the design of your ecommerce website has more chances to reach out to a customer.
Though Magento offers to create an unlimited number of customized templates based on the default one, the editing tool is inconvenient. To add content or a dynamic block with products, one needs to write HTML code. This task can be challenging for an employee responsible for email campaigns.
3. Segment a subscription list
So, we have a list of potential email receivers and email templates. What will be the next step of an email marketing campaign? With so much attention given to personalization opportunities in ecommerce, the most reasonable solution is to segment customers. This way, merchants avoid annoying them with irrelevant offers.
Magento 2 goes with flexible segmentation capabilities only in the Commerce version. It allows creating customer lists based on various attributes, such as personal information or shopping behavior. However, we stumbled upon a big disappointment here – Magento doesn't apply segmented customer lists to email templates.
Furthermore, merchants may want to please customers with personalized offerings. But they can only do it by extending the default functionality with an add-on. There is a number of relevant extensions on Magento Marketplace.
Thus, using the out-of-the-box feature package, merchants miss a stunning opportunity to address their customers with targeted messages.
4. Set emailing schedule
An ongoing growth of the subscription base calls for automation of email dispatch. Magento copes with the task and serves as an email scheduler. To put emails in line for dispatch, admins set the time for each template. When scheduled, a campaign starts accordingly.
To streamline customer communication, merchants may opt for drip campaigns creating whole email journeys based on actions and inactions of customers. However, they need to go beyond the out-of-the-box Magento functionality for this. Relevant extensions can become a solution.
5. Analyze the results
Customers have the emails delivered to their boxes. Has the campaign reached its target? No. Customers may leave the emails unopened nullifying all the marketing efforts. Unless merchants track customers' reaction, they stay blind about the profitability of their marketing policy.
Advanced analytics shows what works best for customers. Seeing the opening and click-through rates, merchants can repeat the campaign that paid off and improve an inefficient one. Though Magento offers a range of ecommerce analytics out-of-the-box, it doesn't track the above-mentioned KPIs, so it cannot help at this last stage of an email marketing campaign.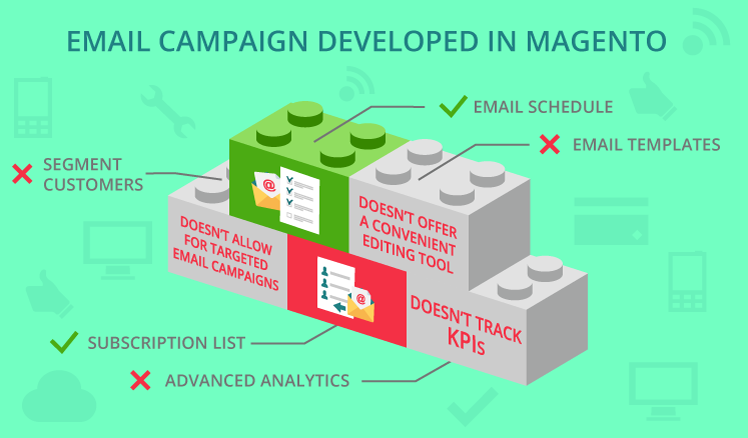 What changes with third-party email marketing services
Magento fulfills basic functions to launch an email marketing campaign. The point is how efficient it will be. As Magento fails to provide the best possible result in three out of five steps – creating email templates, segmenting customers for targeted and personalized campaigns and analyzing the results, it doesn't meet high expectations of merchants with its default package.
With email being a cost-effective marketing tool, Magento extension developers have flooded the Marketplace with ready-made solutions for ecommerce businesses. Staging from email template design to outcome evaluation, they cover all steps of a typical campaign. Besides, you can always go for a custom solution if you feel like you have an outstanding idea and are eager to bring it to life.
Returning to available solutions, we've got used to employing MailChimp as a multi-functional tool for email marketing. Let's see how this service handles the above-mentioned weak points of the default Magento functionality:
Convenient design tools. Magento store admins can quickly create email templates with a convenient drag-and-drop template editor. Emails look like a combination of content blocks (headers, text parts, call-to-action buttons, promotions, recommended products and more). This facilitates and speeds up the process. Nowadays, people "go" to shop online with different devices. Though providing obvious benefits for ecommerce, this demands an email to automatically adapt to smaller screens without losing in visual appeal. MailChimp has customizable mobile styles that fit devices of various screen sizes.
Powerful segmentation capabilities. Merchants need a sophisticated segmentation tool in the drive for targeted email campaigns. MailChimp excels in leveraging customer data for marketing purposes. Having integrated it with Magento, sellers can create their own customer segments specifically for emails. Segmenting is based on the variety of attributes including products in the shopping cart, frequency of purchases or average order value, just to name the few. Moreover, MailChimp's personalization tool analyzes customer shopping patterns and allows sending timely product recommendations. As a result, merchants can avoid bombarding customers with irrelevant emails and increase click-through rates.
Advanced analytics. There is no need to exercise in guesswork trying to develop a good email marketing strategy without past data. With comprehensive reports in MailChimp, merchants see crucial metrics to evaluate the campaign performance: deliverability, open and click-through rates; percentage of unsubscribed customers; number of purchases and campaign revenue. Understanding how customers react to emails allows for ongoing improvement of marketing campaigns. Making their way further to a customer-oriented business, merchants may seek to center a full history of a company's interactions with prospects and customers. Having integrated Magento and MailChimp with a CRM system, they create a single comprehensive profile with all available information and win more loyal customers with a personalized approach.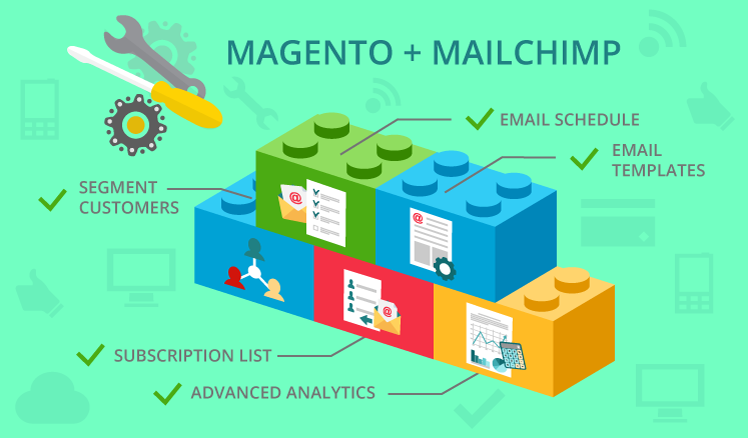 Summing up
Average and excellent are not the same things. As we can see, Magento offers to develop a basic email marketing campaign without extra expenditures on third-party services. But highly-competitive ecommerce market sets strict standards. Merchants don't want to sell randomly – they focus on customer relationship with the business and want to see a high percentage of repeated purchases. Strengthening Magento with email marketing services, they get all the functionality required for an excellent campaign. Merchants depart from bulk mailing, please customers with well-designed emails and personalized offers and, as a result, get high opening and click-through rates.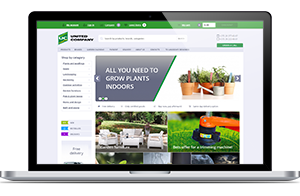 From strategy development to auditing an online store, we look forward to expertly support your each step in Magento development to bring you to the top.