Salesforce Sales Cloud
The aim of Salesforce Sales Cloud is to automate the sales process, assisting both sales managers and reps. Relevant Sales Cloud features help to create a well-structured sales process, show how it's followed, provide extensive customer details and maintain efficient customer communication via multiple channels. And if properly administered, configured or customized, Sales Cloud can bring your sales more value:
increase in sales productivity

increase in sales revenue

increase in the opportunity win rate
Source: Salesforce Customer Success Metrics Survey
How Salesforce Sales Cloud Helps to Sell
Salesforce Sales Cloud provides full-fledged digital workplaces for everyone in sales (sales managers, sales reps, customer success reps, presales specialists). See how Sales Cloud can transform a sales team's daily work.
Policies are in text documents. Team members follow them, when they remember.
Policies are supported by validation rules and automated workflows.
Solve with Salesforce
Sales managers are busy enforcing policies.
Salesforce automatically notifies sales managers when their attention is required.
Solve with Salesforce
Calculations of prices, sales quotas, commissions are in Excel, prone to human error, difficult to maintain.
Salesforce Sales Cloud keeps sales quotas, price books, commission calculation organized.
Solve with Salesforce
Approvals and notifications are in manually sent emails, buried in overloaded mailboxes.
Processes are supported by Salesforce workflows configured with a point-and-click tool, Process Builder.
Solve with Salesforce
Salespeople struggle with inconvenient CRM, they waste up to 5 hours a day for non-productive activities.
+38% sales productivity. It may sound too good, but it's confirmed by a Salesforce's customer success survey.
Solve with Salesforce
Key Features of Salesforce Sales Cloud
Look at the key Sales Cloud features, helping both sales managers and sales reps do their job with increased efficiency:
For Sales Managers
| | |
| --- | --- |
| | Sales Path allows sales managers to define the sales process and makes it easily manageable. It shows what actions are expected from sales reps at each stage, helping sales managers get the expected behavior from their reps. |
| | Lead conversion process available in Sales Cloud can be simplified by tailoring it to your business needs (for instance, with B2B and B2C business peculiarities in mind). It's possible to set up the process of converting a lead into an opportunity, account and contact or just into an opportunity and account, and introduce automated workflows and validation criteria to make lead conversion process smooth and consistent. |
| | Reports and dashboards allow sales managers to track key sales figures along with sales reps' performance. Highlighting sales reps' strong and weak points along with factors influencing their productivity allows sales managers to improve their reps' performance. Advanced sales forecasting paves the way for smarter sales decisions and helps to map out the sales strategy. |
| | Products and Price Books allow drawing up rules to pricing options for products and services, working with multiple currencies. Sales managers can approve large discounts to certain customer groups based on industry, geography, etc. The feature also allows changing prices while keeping the initial price for the proposals sent earlier. It helps to keep everything under control without exhausting manual efforts when price changes take place. |
| | Process Builder helps create an automated workflow, which empowers sales managers with additional opportunities for supervising their reps' performance. |
| | Sales Cloud Einstein provides sales managers with AI-powered analytical capabilities, allowing more accurate sales predictions available due to the advanced analysis of historical pipeline information, business trends and prior opportunity engagement. |
| | |
| --- | --- |
| | Tasks and Events Management. Reps can easier manage their activities (emails, calls, meetings and tasks) with an intelligent activity timeline, available in Lightning Experience UI. It gives reps a thorough overview of their activities related to a certain opportunity or account, available within one record, so reps don't have to search for this info in different related lists anymore. |
| | Social Accounts and Contacts provide sales reps with the info on the contacts or accounts from different social networks (LinkedIn, Facebook, Twitter, YouTube). As a result, sales reps can address their customers' needs more efficiently. |
| | Lightning Voice facilitates communication with prospects and customers, enables one-click calling and automated call logging. What's more, it allows localizing sales reps' phone numbers to their sales territories, which contributes to a higher response rate. |
| | Process Builder helps to automate lots of manual tasks, like following up on a lead or nurturing an opportunity due to email notifications and automated field updates, which helps sales reps execute their routine tasks faster and easier. |
| | Sales Cloud Einstein provides informational support for sales reps' decisions. They get notified about key moments in their deals, the leads most likely to convert and opportunities they should pay more attention to. Hints on further steps of customer communication also help to turn interactions with clients into an all-round win. |
See How Salesforce Sales Cloud Looks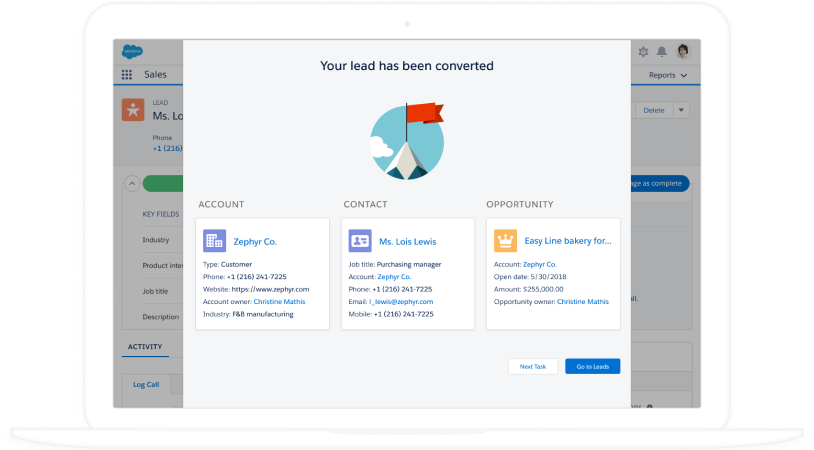 Salesforce Demo: Lead Management
Navigate Salesforce lead management process and explore how to efficiently manage and convert your leads from capture to close.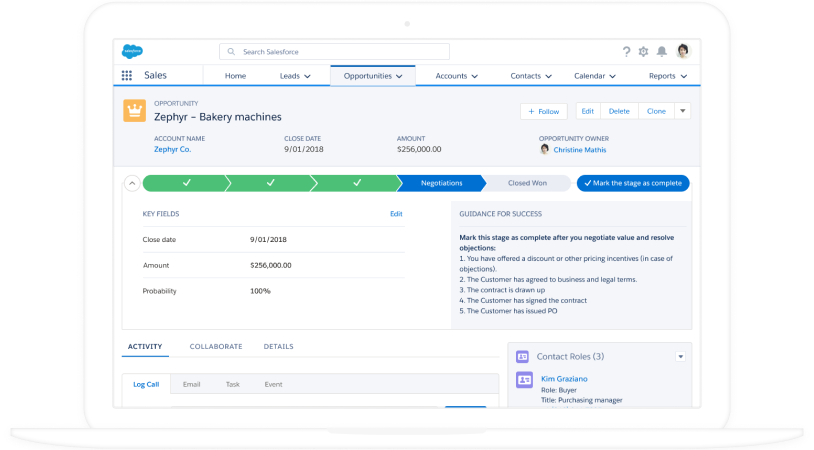 Salesforce Demo: Opportunity management
See how your sales reps can successfully move an Opportunity through its stages tracking their deal's status, keeping in touch with customers and getting guidance from their managers.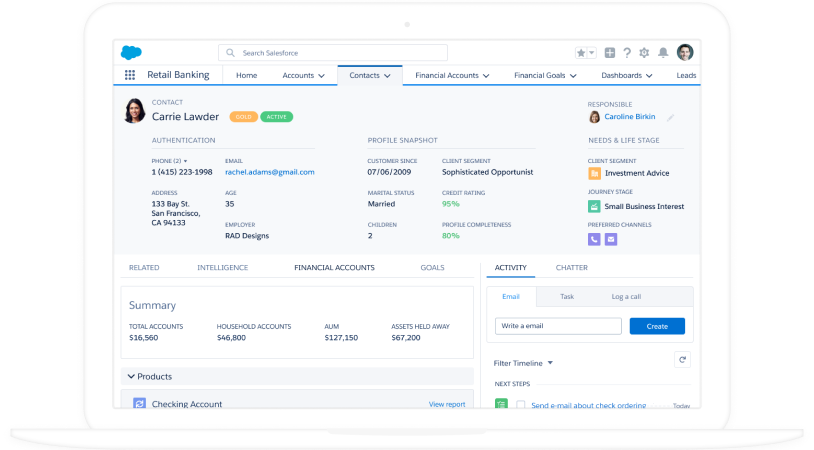 Salesforce Demo: 360-degree Customer Profile
Explore how Salesforce helps you create a single view of the customer and personalize your outreach.
Salesforce is Ranked #1 in Sales
Salesforce ranked #1 for Sales Force Productivity and Management Applications based on IDC 2019H1 Revenue market Share Worldwide.
Source: IDC, Worldwide Semiannual Software Tracker, October 2019
Why 150,000 Businesses Chose Salesforce
Tailored to Your Industry, Your Business
Creating CRM software requires huge investments of time and money. Salesforce.com, Inc. has been evolving the platform for 24 years, and it is now used by 150,000 customers from all industries. The manifold experience incorporated in Salesforce Sales Cloud can hardly be mirrored by a niche player.
You may wonder how Salesforce, being a universal CRM, can meet your specific business needs. The following capabilities allow adapting Sales Cloud to every business that uses it:
Functionality covering all sales processes and best sales practices embedded.
3,400 apps on AppExchange, a Salesforce marketplace. The apps enable you to expand Salesforce functionality for particular domains or tasks.
Exceptional capabilities for customization. Sales Cloud can be customized with a point-and-click tool in a few minutes. And if you need sophisticated functionality to reflect your unique processes, no problem, it can be implemented with code (Apex, Lightning components, Visualforce).
We chose to go with Salesforce for its intelligence, its scale, and its ability to support our needs beyond just the basic CRM.
Michael Eggers, Director of Finance at Amazon Web Services
High ROI
Salesforce Sales Cloud was not designed to be cheap; it was designed to be a tool to win deals from rivals having other CRM software.
Salesforce was created for high ROI, and it works. Salesforce implementation may bring up to 600% ROI.
Convenient for Salespeople
See what Salesforce users say:
It lets you keep accounts, contacts, opportunities and activities organized.
Nothing ever gets missed.
Reports are highly customizable.
Chatter allows keeping communication in one place.
Single entry point for data - a user does not need to reenter it to another application, send email notification manually, etc.
Salesforce got especially convenient with modern Lightning Experience interface released in 2016.
All the tracking, all of the comments and intelligence going back and forth between sales team on how to close that deal, all of it happens in Salesforce.
Jon Dack, VP of Technology at Toast
Integrated with Other Applications
Salesforce customers integrate Sales Cloud with ERP, supply chain, HR, ecommerce and other software of thousands of vendors via API (application programming interface).
There are 2,000 apps on AppExchange that enable integration with other applications.
If you need specific and deeper integration, ScienceSoft will be happy to help and develop custom code for that.
Choose Salesforce Sales Cloud Edition
Salesforce Sales Cloud has 4 editions, so every business can find the one that suites their needs in sales automation best.
Choose the edition that will help you sell more!
All about Salesforce and CRM
<![endif]-->