Editor's note: Max discusses the choice between Magento editions and speaks from our experience – this business-critical decision must be analysis-based. ScienceSoft brings this belief to practice when deliver effective Magento implementation services.
Historically, Magento 2 offered two variations of their flagship product – Magento Community edition (CE) and Magento Enterprise edition (EE), which were rebranded in 2017. The former was renamed as Magento Open Source to "recognize the contribution of its global ecosystem beyond a single product", the latter is now known as Magento Commerce. For those considering Magento as their possible platform of choice, we've summed up the information needed for an informed decision. We've brought in our practical experience in Magento to show business value the editions provide, rather than merely overview the functionality.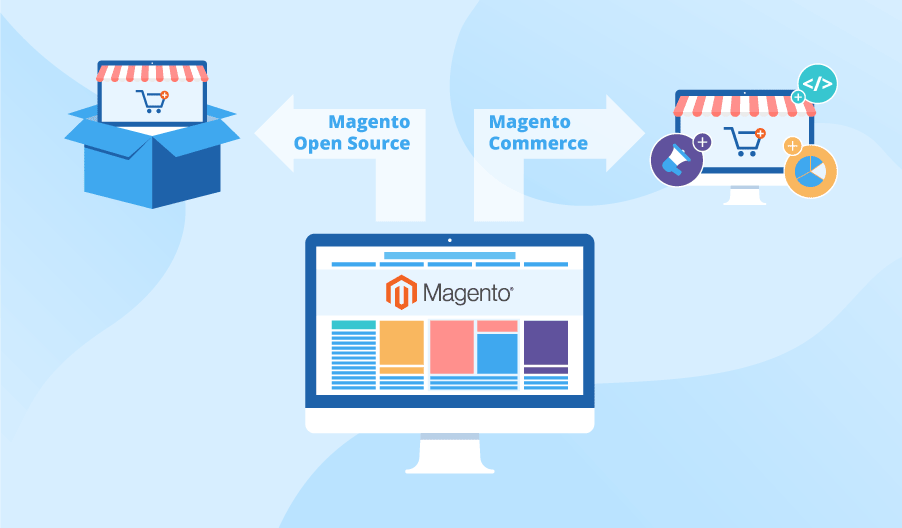 Let us reveal some cards from the very start. Browsing Magento websites built on Open Source or Commerce, you will never tell the difference. In fact, we don't depend on a Magento edition to create any kind of digital and visual experience you want. To prove that, we will later offer you to take a look at website examples. We've specifically chosen one product line for you to taste the difference (or the absence thereof).
What is Magento Open Source?
In a nutshell, Magento Open Source is free and self-hosted ecommerce software. It is traditionally seen as a go-to choice for smaller companies. We must say, we only partially agree. On the one hand, just as any free software product, Magento Open Source is limited in the native functionality it offers. Still, it suffices to support all the essential ecommerce transactions while Magento plugins and extensions will make up for missing features. The rationale for choosing Magento Open Source depends on the extent to which its feature set meets your business goals and how much you are ready to invest in custom Magento development.
The web store built on Magento Open Source – https://www.boodles.com/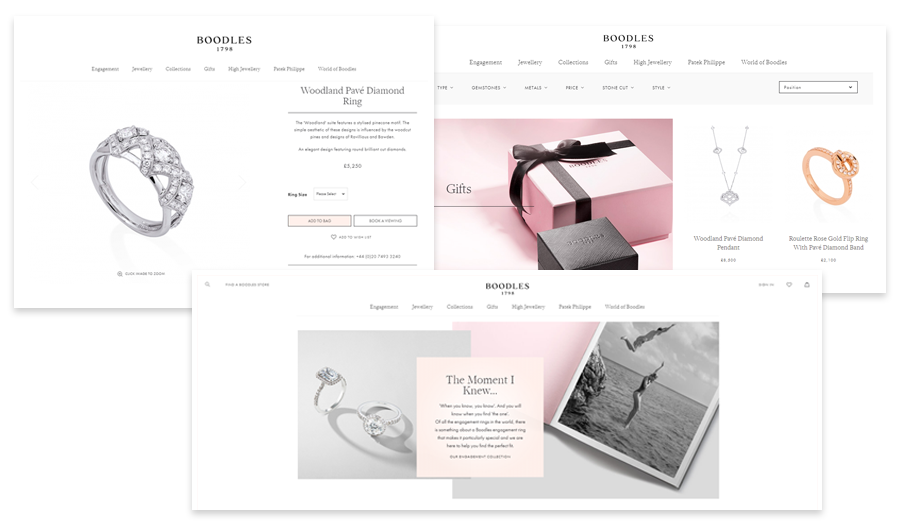 What is Magento Commerce?
Offering a fee-based alternative to their free Open Source product, Magento had to strengthen it substantially to make worth paying for. So, Magento Commerce comes with enhanced built-in capabilities in key areas of data analytics, marketing, content management, and customer experience. Magento Commerce can be bought as self-hosted software or as Magento Commerce Cloud hosted on AWS.
The license cost of Magento Commerce depends on gross merchandise volume (GMV). Using Magento Commerce on-premises, merchants are eligible for its starting price ($24K/year) if they do less than $5 million a year in sales. The price grows for higher GMV retailers. The same pricing principle applies to Magento Commerce Cloud. Catering to businesses of different scopes, it is available in two pricing plans – Starter (from $24K/year) and Pro (from $41K/year). License cost is certainly not the only expense to take when launching a web store. We cover necessary implementation, marketing and support investments in our Magento pricing guide.
The web store built on Magento Commerce – https://www.bulgari.com/en-int/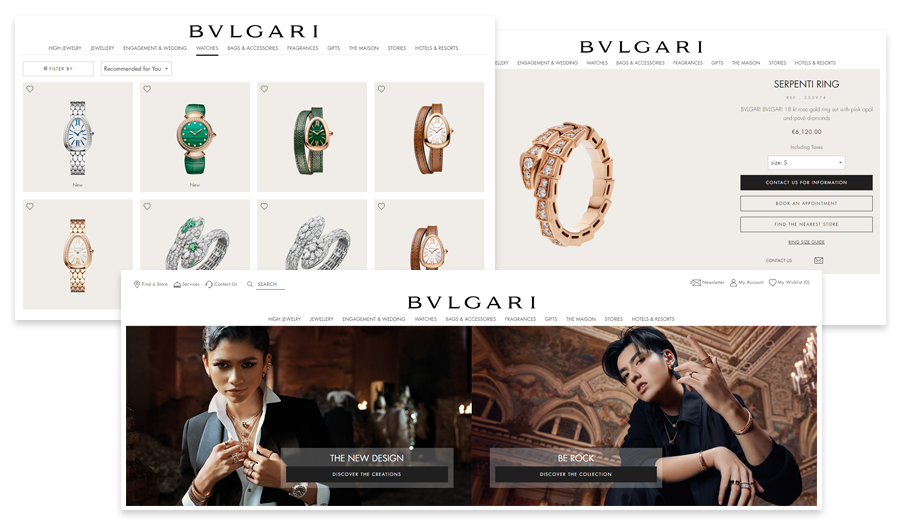 Open Source vs. Commerce comparison: Functionality
The real beauty of Magento is its customization flexibility. Do you aim to provide exceptional customer experience on your website? Practicing Magento extensively, we know that it can be custom-build in Magento Open Source and Commerce alike. But the less functionality is provided out of the box, the higher is the cost of the implementation project and then support services as all the installed extensions are to be upgraded regularly.
To stay within the scope of our article, we only bring to light native capabilities available for Commerce license price stated above or, in Open Source case, delivered for free.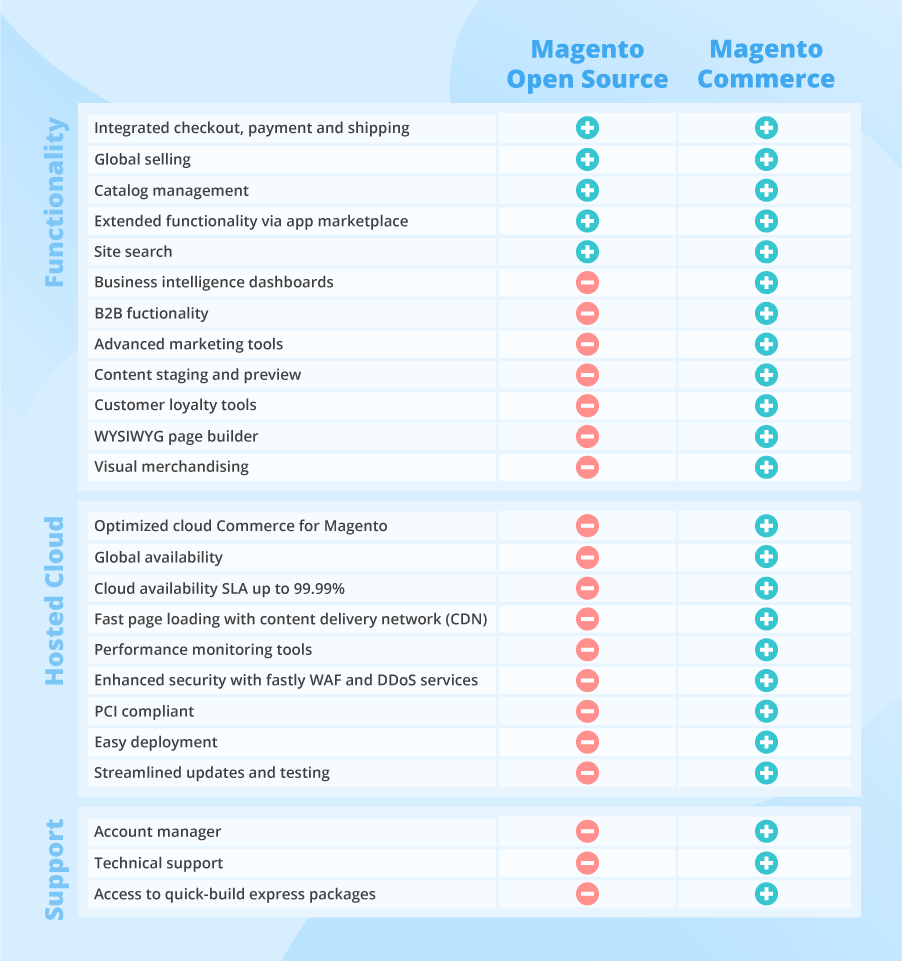 Open Source vs Commerce: Business value
Though the list of features missing in the Open Source version is clear, it still can be hard for you to figure out whether they are valuable for your business. During 8 years of practicing Magento and lessons learned during implementation projects, we've collected a wealth of insights on how our customers benefited from a fee-based Magento solution.
New sales opportunities via content marketing. Creating a content-rich website calls for sufficient content management capabilities. In Magento Commerce, a page editor has been updated from a WYSIWYG editing tool that often required HTML coding to a drag-and-drop page builder. With that, your marketers fully own the process of content creation with no need to seek for development support. In a click, they preview a designed page and can further improve it to achieve its best look and feel.
Higher customer engagement via visual merchandising. Magento Commerce gives you a tool to manage the arrangement of the catalog. For each product category, you decide on your merchandising strategy and set automated rules defining how products will be displayed. For example, showing new arrivals first, you engage loyal customers who check your website now and then for assortment updates. If your most precious customer segments are price-sensitive, informing them about special offers may be more profitable.
Inspired customer loyalty. Among ScienceSoft's ecommerce customers, the two loyalty tools in favor are a rewards program and promotion personalization. Depending on your current goals, you can set up rewards for a variety of customer actions: for example, for Purchase to encourage repeat visits or for Newsletter Subscription for marketing purposes. As for promotion personalization – we wouldn't ignore a possibility to target customer segments differently to earn the loyalty of your most valuable customers. For Magento Open Source users, we have to integrate these loyalty tools with commercial extensions. Magento Commerce has them built in.
Data-driven business decisions. A startup or a mature market player, your business needs a data analytics solution anyway. It supplies you with much needed insights into customer behavior, sales and marketing performance – the wealth of data that is hard to unify and analyze manually. Within our experience of Magento Commerce implementations, we usually see that the Advanced Reporting toolkit included in the license cost suits businesses well. For more advanced data management and analysis, custom data analytics solution is required. It may be a heavy project on its own, like the one we had with a customer running omnichannel retail, hotel, restaurant, and other businesses.
Revenue growth via an integrated B2B sales channel. With a B2B module integrated with Magento Commerce, you can expand your target audience significantly to business entities and provide them with a smooth buying process and convenient account management.
Lower bounce rate and no sales lost during downtimes. Poor website performance is always a painful issue for ecommerce entrepreneurs resulting in lost customers and conversions. Among the advancements Magento Commerce Cloud makes in this regard is Fastly CDN, which provides for fast loading, performance monitoring tools and 99.99% cloud availability ensured.
We draw a line – who needs Magento Commerce
My colleagues, ScienceSoft's business analysts focused on ecommerce, provide a list of requirements that tend to suggest the viability of Magento Commerce implementation. In a nutshell, they advocate Magento Commerce if:
Your business requires rich marketing and loyalty building tools.

You plan to earn via content marketing.

You want to update content and page layout dynamically, without the involvement of your Magento support team.

You are not ready to manage the infrastructure and maintain security with in-house resources.

You are going to adopt B2B sales.
In every particular case, the Magento edition choice may be still uneasy. I tried to share all key factors, but there are many more that may be critical in some situations. If you feel you need help with the choice or complete implementation, don't hesitate to reach out to our Magento team. We can help you settle any Magento-related concerns.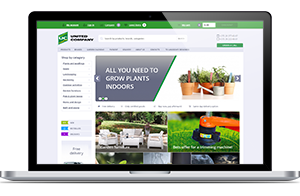 From strategy development to auditing an online store, we look forward to expertly support your each step in Magento development to bring you to the top.