With Magento, you can build a high-end ecommerce business. Yet, as time goes by, you may have an inkling that you need something more than what Magento already offers you. This perfectly natural feeling proves that your business has grown, but doesn't necessarily mean that Magento is no longer a fit for you.
Below, we use our experience in implementing custom Magento web stores to tell you how Magento customization can let your business evolve to the next level without forcing you to abandon the current platform.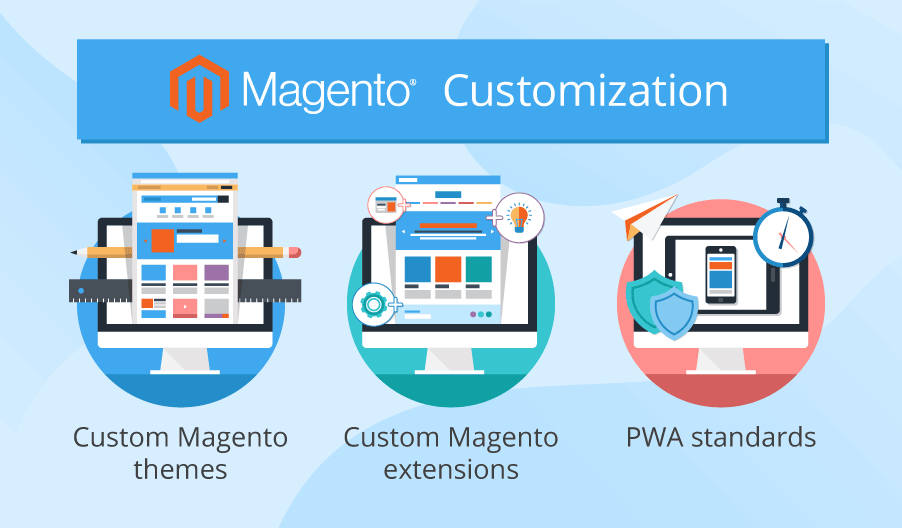 Magento offers a wide variety of commercial themes, but such ready-made templates don't make for good brand visibility and awareness. Custom Magento themes allow you to match the look and feel of your web store with your branded image and help you deliver the user experience that corresponds to your company vision.
To create a good custom Magento theme, a thorough analysis of your current ecommerce business is necessary. The number of category levels in your catalog, the types and attributes of the products you sell, the way you represent them in the store (type and layout of images and videos) – all this and more is taken into account when creating UI wireframes. A deep research of your customer base is crucial too, as it helps to cater to their needs and expectations during UX design.
While offering a rich number of ready-made extensions, Magento can't satisfy all your needs in terms of functionality. Custom extensions are developed specifically with the goal of introducing the features that aren't covered by the commercial extensions but are needed on your web store. Moreover, unlike ready-made extensions that can sometimes be abandoned by their creators and no longer be maintained, custom extensions will continue to be improved and upgraded for as long as you want.
A 'progressive web app' (PWA) isn't just a buzzword but an upgrade that your Magento web store can use to improve performance and raise conversion. The characteristics of a PWA-based Magento web store include:
A PWA presupposes a configured SSL certificate and an HTTPS protocol. This configuration makes for more secure and fast data exchange, protecting your customer's sensitive information (addresses, credit card information, etc.)
PWA-based Magento web stores use data caching to enhance the page load speed and enable stable work on poor networks or even offline. To place an order, your customers still need internet connection, but since most of the catalog data is being regularly cached to their device, they will be able to put the necessary items in their cart regardless of the network conditions.
PWA-based Magento stores aren't simply adapted to the mobile view, they can be installed on mobile home screens like a regular app. Although it is a mere shortcut that opens your website in a browser, it still resides in your customers' devices. Thus, you can send reminders and notifications (for instance, to complete checkout) that will improve user retention and conversion.
Wrap up
Magento customization introduces significant business benefits while letting you stay on the same platform. Development of a custom theme or an extension and an upgrade of your Magento solution's technical characteristics to a PWA can give you more freedom in representing your online retail business and significantly improve the website look or customer experience.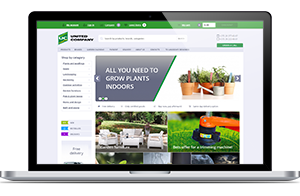 Wondering how to harness the power of Magento? Our domain expertise and keen interest in non-trivial projects are at your disposal.