Editor's note: ScienceSoft's expertise has proven that revamping a Magento store as PWA-powered increases a conversion rate, raises user engagement, and grants other significant benefits. Read on to uncover how and why PWA technology works great for retail and don't hesitate to request our Magento PWA development.
Progressive web apps (PWAs) have been making a stir among Magento developers and owners alike since 2015. It's safe to say that, if you don't strive to deliver PWA experience to your web store's customers, you consciously choose to stay behind in the competition.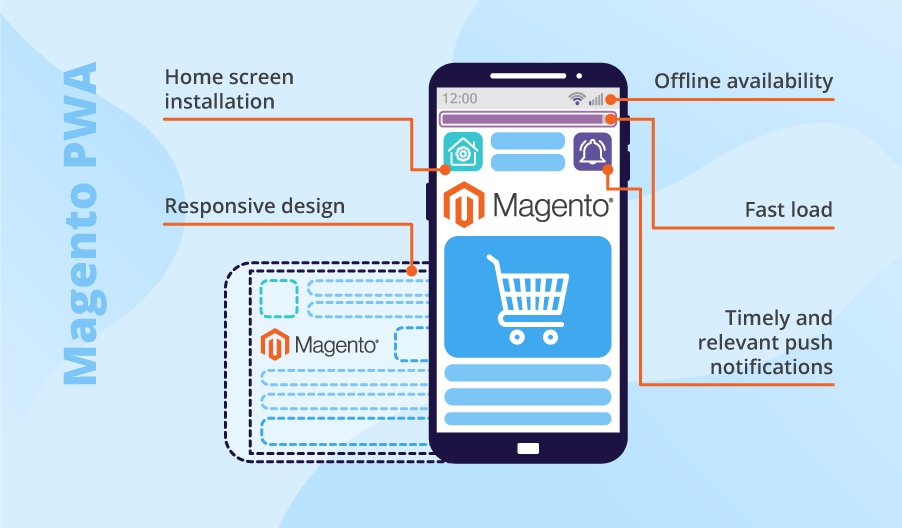 What's a PWA?
Progressive web apps are aimed at offering progressive user experience, characterized by non-intrusive push notifications and sleek design without lengthy page transitions or jumping content. For a short technical insight, ScienceSoft offers the following checklist of basic PWA attributes:
Offline availability via background data caching.
Responsive design and cross-browser compatibility.
Fast load (<5-10s on 4G and 3G networks).
Timely and relevant push notifications.
Possibility of home screen installation.
Considering that high user satisfaction makes for customer retention and an increased conversion rate, PWAs give Magento webstores a great opportunity for improvement.
How PWAs boost ecommerce businesses
Let's shift from theory to practice and look at 3 real examples of how progressive web app technology helped improve large ecommerce businesses.
Alibaba Group
The world's largest B2B online trading platform Alibaba.com upgraded their webstore to a PWA in 2016 and saw a 76% increase in their conversions in less than half a year. Once revamped, their web app also started to get 22% more mobile users. Moreover, the possibility to access the app from mobile home screen resulted in 4x growth of interaction with the store.
AliExpress – a part of the Alibaba Group – is a huge and popular ecommerce marketplace that also received a PWA upgrade in 2016 and saw a 104% conversion rate increase across all desktop browsers and 82% conversion growth on iOS. The progressive experience raised the session time by 74% and led to twice as many visited pages per session as the app had before.
George
Part of Walmart, George is a UK clothing brand that introduced progressive web app experience mainly with an intent to improve the store's speed. As a result of the upgrade, the page loading time decreased by 25%, which cut the bounce rate by half. At the same time, the conversion rate and user engagement significantly improved: conversion – by 31%, engagement – by 20%.
Lancôme
In 2017, the luxury cosmetics brand saw the increase in their mobile users and revamped their store as a PWA in an attempt to increase mobile conversions. The attempt was a success as Lancôme's mobile customer conversions soon grew by 17%. Since the new PWA-powered store enabled push notifications, it also managed to reverse cart abandonment: the conversion of previously abandoned carts increased by 12%. Moreover, mobile visitors now spend 56% more time browsing the store and 10% less of them bounce.
To sum up these success stories, upgrading an ecommerce solution to a PWA can help:
Significantly increase the conversion rate.
Increase user session time.
Raise user engagement and interaction with the store.
Resolve the cart abandonment problem.
How to achieve PWA experience with Magento
Magento Extensions
Magento Marketplace offers a wide variety of extensions that claim to give your webstore the power of a progressive web app. However, it's important to understand that extensions can't magically enable smooth offline availability or positively affect your page load, for instance, since this functionality is defined by core front-end code that extensions can't alter.
Magento PWA Studio
The Magento team actively promotes PWA technology with their PWA Studio project. The Studio is a package of developer tools (mostly JavaScript-based) that help deliver PWA experience to a Magento solution. In this case, your existing front end is replaced by the Magento PWA Storefront, which communicates with your existing (or revamped) Magento back end via GraphicQL-based Magento APIs.
The concept of the Magento storefront is opposed to a common Magento theme. A Magento theme is almost always developed on the basis of the default Luma theme, uses the components it offers and doesn't let you step out of the set frontend limits. Meanwhile, a storefront is completely independent from the Luma layout, that's why it gives you a lot more freedom in visual representation. On a technical level, a storefront can be called a headless Magento, since it exists on a different application layer from Magento back end and is decoupled from it.
Thus, by developing your Magento PWA front end, you reap all the benefits of not only progressive web apps but also of headless ecommerce solutions.
Magento PWA Storefront Showroom
We have looked at several Magento 2 PWA storefront demos, created by Magento itself (Venia storefront) and third-party developers. These demos present the look and feel of already developed PWA-optimized front ends that you can take advantage of while implementing your own Magento PWA. Basically, these are PWA 'Lumas' for your Magento with PWA attributes and a certain layout which you can customize.
We also audited all demos with Google Lighthouse – the tool that helps to analyze and measure how PWA-optimized any web page is – and found out that not all of the storefronts are fully PWA-optimized. This provides solid grounds for considering the development of a custom Magento front end – along with PWA capabilities, it will give you full flexibility in UX and UI design.
Venia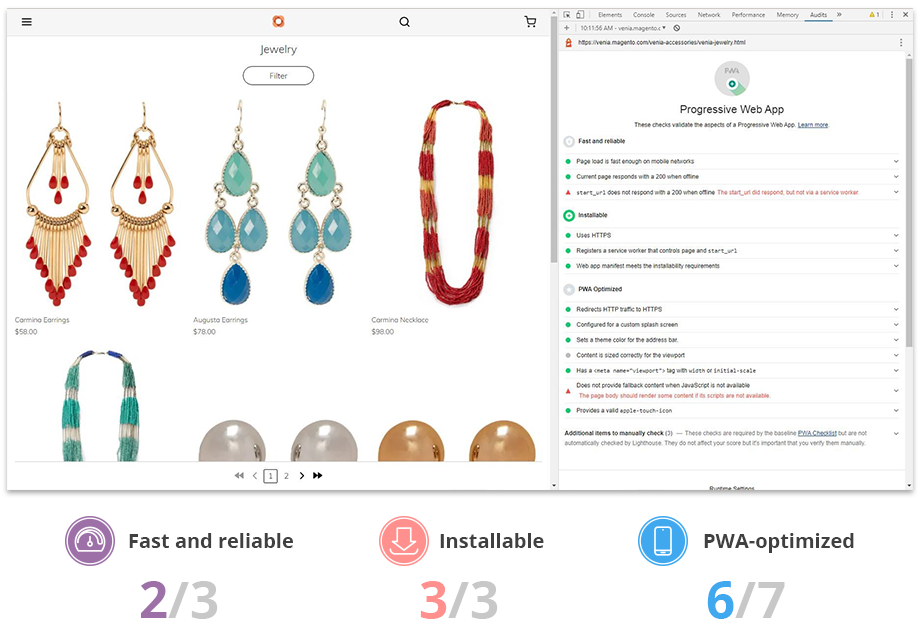 The audit shows that Venia's service workers (i.e., scripts for offline work and caching) aren't set up properly. Also, Magento's official PWA storefront doesn't provide any fallback content if JavaScript rendering isn't available on the user's side.
Inchoo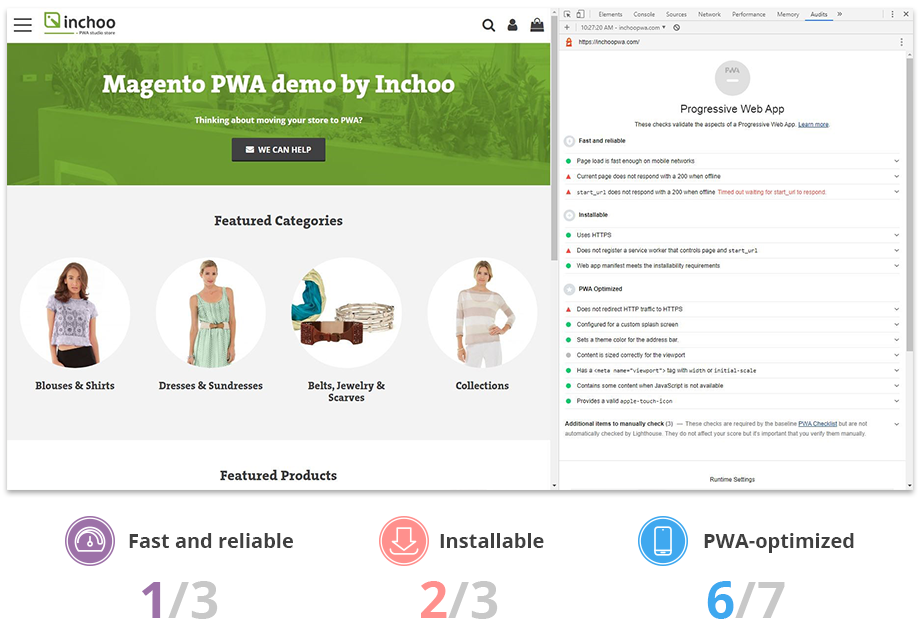 According to the audit, this Magento PWA demo isn't properly set up to work offline and be installed on the home screen. What's more, the storefront doesn't use secure HTTP/2 connection with HTTPS protocol.
Tigren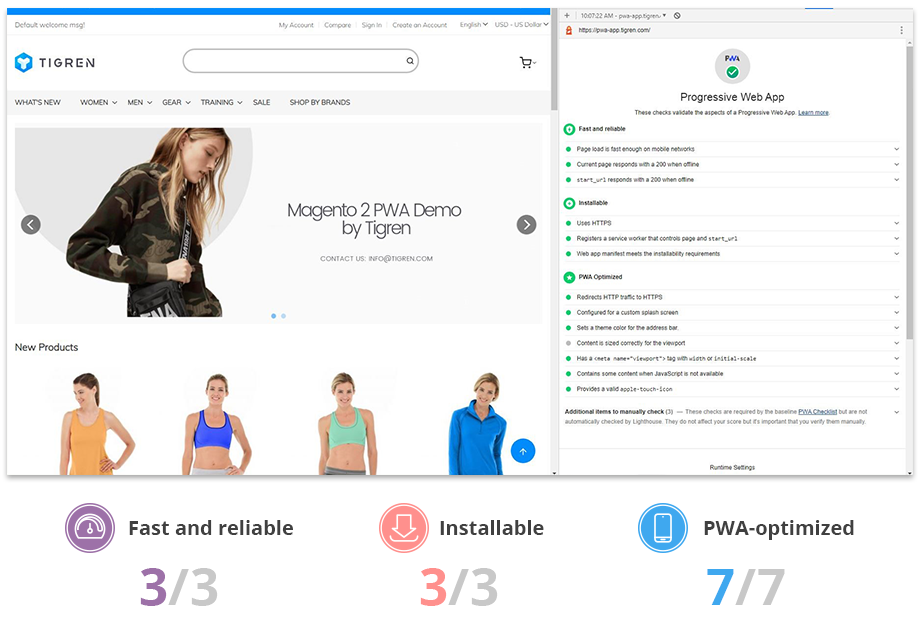 No issues were found during the audit, the Magento 2 PWA demo is fully PWA-optimized.
ScandiPWA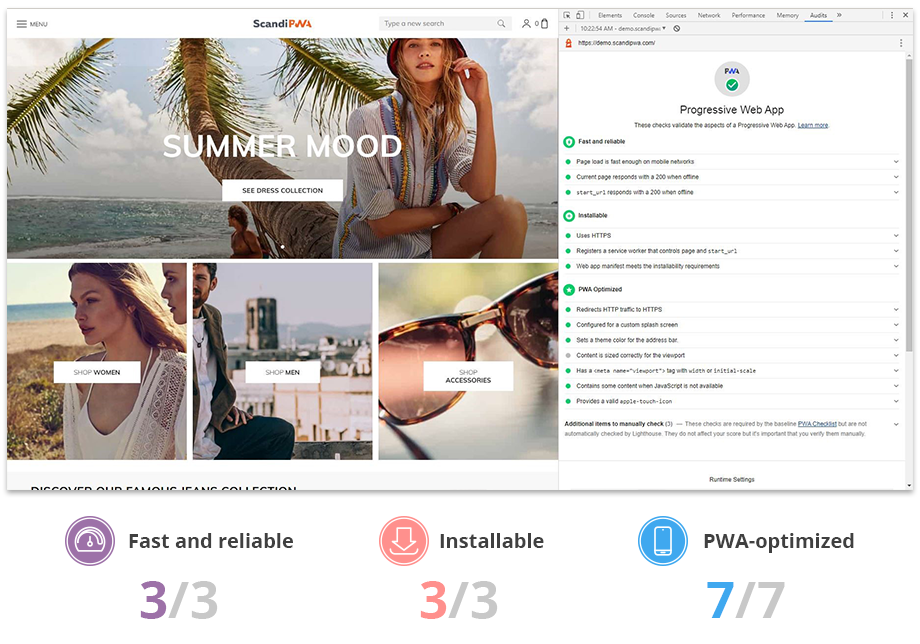 Again, the audit discovered no issues, the demo storefront has a 100%-PWA optimization.
Leverage PWA to Transform Your Ecommerce
Although some of the PWA demos that we audited offer quite impressive technical characteristics, these storefronts all still have specific and limiting layouts that may not suit your ecommerce business perfectly. At ScienceSoft, we believe that each ecommerce business – and thus, each Magento store – deserves a personalized approach. Our Magento implementation gives you not only a tailored Magento PWA with a custom front end that unlocks your full potential, but also guarantees highest PWA optimization score.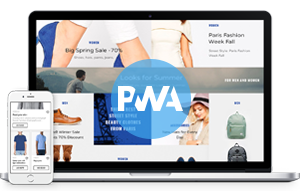 ScienceSoft converts your Magento store into a Magento PWA to increase your conversion, user engagement, and user session time.