Editor's note: In the article, we give average Magento pricing on implementation, support and marketing services. Whereas, costs for real projects vary both ways. Leave us a request for project calculation, and we'll estimate what kind of investment you need to launch Magento.
An expertly designed and implemented ecommerce solution is a workhorse of your business that is supposed to:
Fine-tune your ecommerce operations.

Automate and streamline time-sapping business workflows.

Reduce transaction processing time.

Improve essential ecommerce KPIs: visits, conversions, number of repeat customers.

Earn you 'eight figures' in the long haul.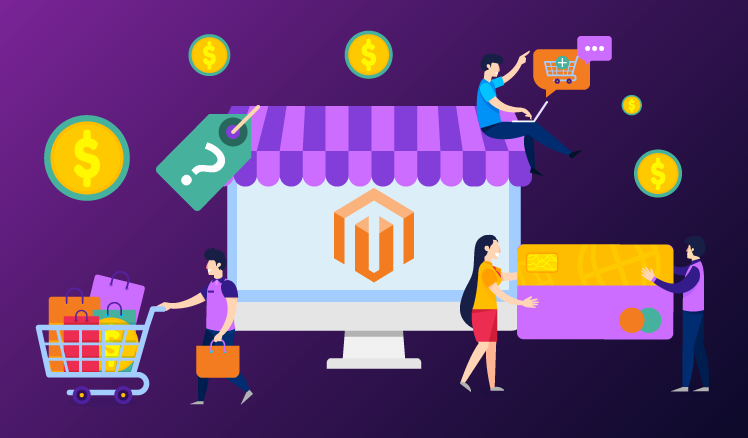 But even anticipating gains in the long run, the concern that arises at the start of solution implementation is its cost. If you consider Magento as the technology to build your business on, learn how ScienceSoft addresses all important cost-related questions now.
A freelance Magento developer or a Magento development service provider?
Given that Magento is complex and feature-rich ecommerce software, which is a completely different ball game to 3dcart or Shopify, implementing a Magento store requires in-depth PHP development knowledge, a thorough understanding of Magento architecture and expertise with other ecommerce technologies to build functional ecosystems around Magento. The cost of a freelance developer starts at $10-20/hour, but they predominantly specialize in one or several fields rather than all aspects of Magento development. This makes qualified freelancers a viable choice for one-time small jobs. The hourly rates of a dedicated Magento development company ranges $60-200/hour since they offer a full-time multi-professional team of experts. For example, as a provider of Magento development services, ScienceSoft houses competencies in ecommerce consulting and business analysis, UX and UI research and design, front- and back-end development, cross-system integrations, testing and QA.
Working with a team, you do not need to worry in case something goes wrong as they have resources to settle any issue that may arise throughout the entire development process. What's more, you are sure to get a dedicated project manager assigned to your project who will take control of the Magento development process and keep you updated on project status.
You surely gain the upper hand if you manage to find a team of enthused ecommerce devotees who are technically skilled and proficient in business analysis so that solutions designed meet your business needs most effectively. It works for you if the team is resourced to maintain long-term partnership since after-launch and further ongoing support is what you can't do without. At ScienceSoft, we've done our best to make up just the right kind of a Magento team.
Magento pricing: editions
At the start, you have to choose a Magento edition to go with. Given that it's the price that matters for you now, we must say the difference between the editions is more than apparent.
Magento Open Source (former Community) is free. And just as all software products that are free, it comes with limitations. Basically, it offers only the entry-level ecommerce functionality to unfold the website. So, add all the customizations you'll have to make to the implementation cost. Also, you will have to take care of hosting, which costs around $2-3/month for shared hosting, $20/month for VPS (virtual private server) and over $100 for a dedicated server. As for the targeted audience of Magento Open Source, we see that it suits ecommerce startups the best.
Magento Commerce (former Enterprise) is fee-based. Magento targets their core product to medium to enterprise companies and provides two pricing plans – Starter and Pro. Both come with the expanded feature set out of the box but differ in cloud hosting options and data volume they can store and process. Magento Commerce Starter is available in shared hosting only, while its advanced peer offers dedicated hosting on AWS. The hosting cost is included in the fee.
The cost for the Magento Commerce Starter plan starts at $1,999 a month.
The cost for Magento Commerce Pro starts at $3,999 a month.
Read also: Magento Community vs. Enterprise: Our Checklist for an Informed Edition Choice
Magento pricing: implementation
As ecommerce projects can differ in scope and complexity considerably, it's not easy to come up with a general price tag. Average Magento project estimates are as follows:
A standard project
Configuration of business logic (work with native functionality).

Mature third-party extensions that perform flawlessly and don't cause extension conflicts.

A ready-made Magento theme.

System integrations via Magento APIs.
Average cost: $60K – $205K range.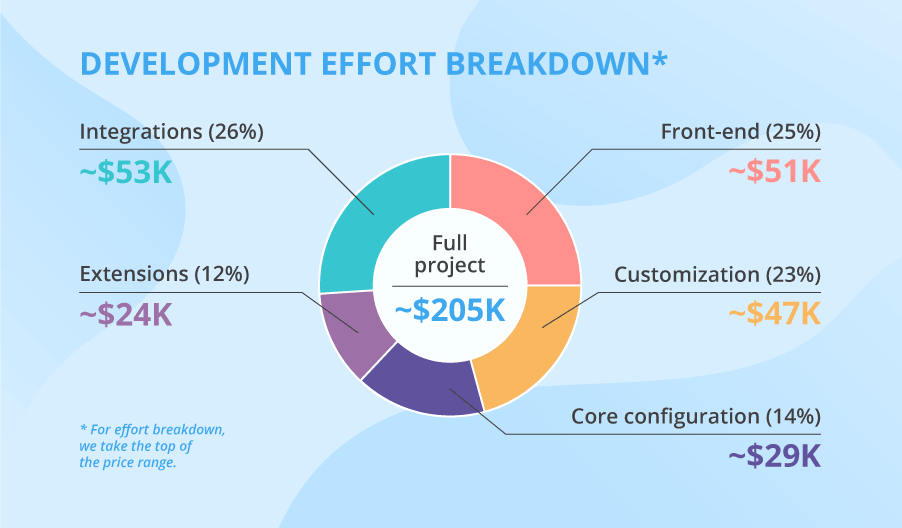 A complex project
Advanced customization of business logic (writing or modification of code).

Many extensions, including custom ones.

Complicated UX/UI retrofits.

Complex integrations via custom coding.
Average cost: from $320K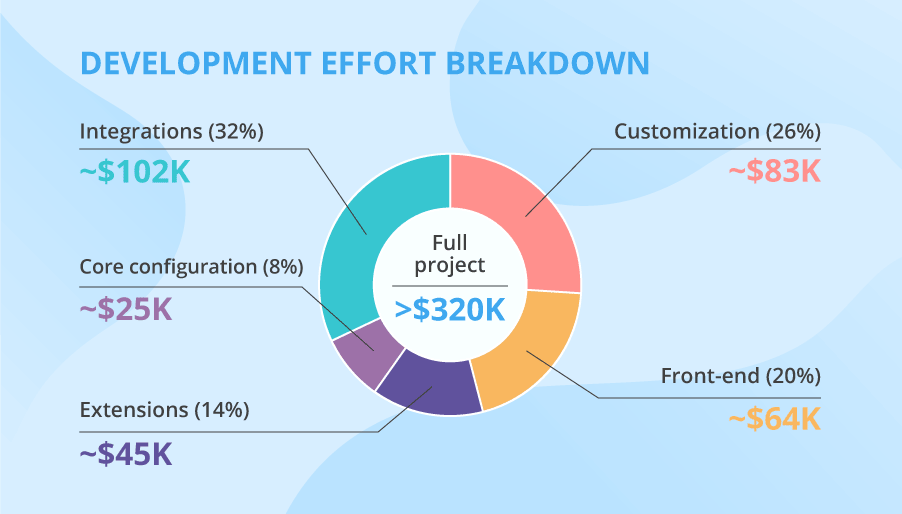 A proprietary offering from ScienceSoft – a standard project aimed specifically at quick launch
A full-feature suite for ecommerce launch.
Advanced reporting.
In-built marketing and loyalty building tools.
Unlimited server resources
Stable website performance and on-demand performance scalability.
Hosting with 1-hour response guarantee
Fixed cost: $25K
Magento pricing: support
Post-launch maintenance of your Magento solution is critical for your business. So, make sure to gain the backing of your Magento team for continuous support:
Application monitoring and on-demand configuration.

Keeping your application up-to-date with the latest Magento release and security patches.

Magento performance management.

Security monitoring.

Timely and urgent bug fixing.

Emergency help in case of website crash or cyberattacks.
Magento support costs largely depend on the scope of services provided. The average for our Magento support cooperation makes up around $40K a year.
Extra pricing: branding, digital marketing, content
However, functional and customer-friendly web store you have built, the return on investment won't be immediate. You need to attract traffic to your website, convert visitors and, once you do, engage them for repeat purchases. Under extra expenses, we have summarized the whole range of activities targeting one goal – to make your website attractive for customers.
Branding
Effective branding allows you to manage the perception of your company, communicate your values, and convey a consistent message in line with your offline presence (if you have it) and across all customer interactions: on the website, in social media, in emails, etc. In a nutshell, this helps you shape and voice your corporate culture.
If you have a clear brand vision, you can do the branding on your own. In this case, your time will be the price to pay. The cost of professional services is more tangible.
Logo and visual identity: $100 – $3K.
Brand positioning: $5K – $20K.
Content management
Content management is not a one-time job but a continuous process. At first, you plan out, create and upload the content needed for the website launch. You update it ever after as new products are added, new blog content is planned and activity on social media grows. The content will range for different brands but generally embraces: company information (story, team, values), product descriptions, multimedia (product images and videos), promotions, social media and blog posts.
Depending on your business scope and your content marketing strategy, you can spend on content management from $1,500 up to $6,500 a month.
Search Engine Optimization
The activities intended to drive organic traffic to your website may include keyword research, technical SEO audit, website structure optimization, content optimization, reporting. As a rule, pricing plans for SEO packages depend on the services you need and may also fall into initial investment and progressive monthly optimization.
Initial SEO investment: $5-8K.
Progressive optimization: $1-4K.
Digital marketing
When it comes to planning a marketing budget, start with deciding what marketing channels you want to engage. Here is a ballpark estimate for the most popular ones.
Email marketing: $300-500 a month.
Social media marketing: $1,400-2,600 a month.
Influencer marketing:
Influencers with 2K – 10K followers: $75 to $250 per post.
Influencers with 10K – 50K followers: $250 to $500 per post.
Influencers with 50K – 100K followers: $500 to $1,000 per post.
Macro-influencers with 100+K followers and celebrities: the price can range from several thousand to millions of dollars.
How long does it take to build a Magento website?
Just as the project cost, the timing depends on your goals and project scale: whether you are going to use built-in features extensively or want custom functionality, what extensions you need installed and what data you need to be migrated.
Besides, no matter how complex your Magento solution will be, there are aspects you'll need to address anyway, such as product photography and copywriting to set up products, website construction, database synchronization regarding prices, stock, promotions and other project issues, shipping configuration and testing.
If we refer back to differentiating between standard and complex ecommerce projects, we from our experience calculate average time needed to design and launch a simple website as 3-4 months. As the solution complexity grows, the project duration increases up to 6-9 months.
Think about Magento implementation?
Our article is intended to give you a general understanding of how much it costs to implement a Magento-powered website. Let's sum it up that the price for a standard project – with a larger focus on configuring business logic rather than custom-building – will start at $60K. Complex Magento projects will cost you $320K and more.
In fact, it can be quite hard for you to estimate project complexity and, hence, needed project budget on your own. For expert estimation, get our Magento team to elicit your business needs and calculate the investments needed to meet them.
Request project calculation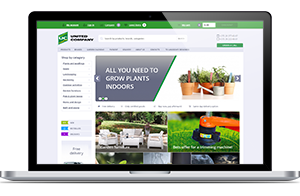 Magento Implementation by ScienceSoft
Let's calculate what it will cost you first.
Request project calculation