When it comes to the implementation of complex ecommerce functionality based on voice/image recognition or augmented reality (AR) algorithms, a regular ecommerce platform will not suffice. To offer this functionality and ensure its quality, you need a custom website. Surely, such ecommerce solution isn't very budget-friendly, but since voice/image recognition and AR features offer high chances to drive up your conversion, this is a rewarding investment.
Below, we share our experience in custom ecommerce website development and tell you about the perks of each advanced feature that can be implemented on a custom web store.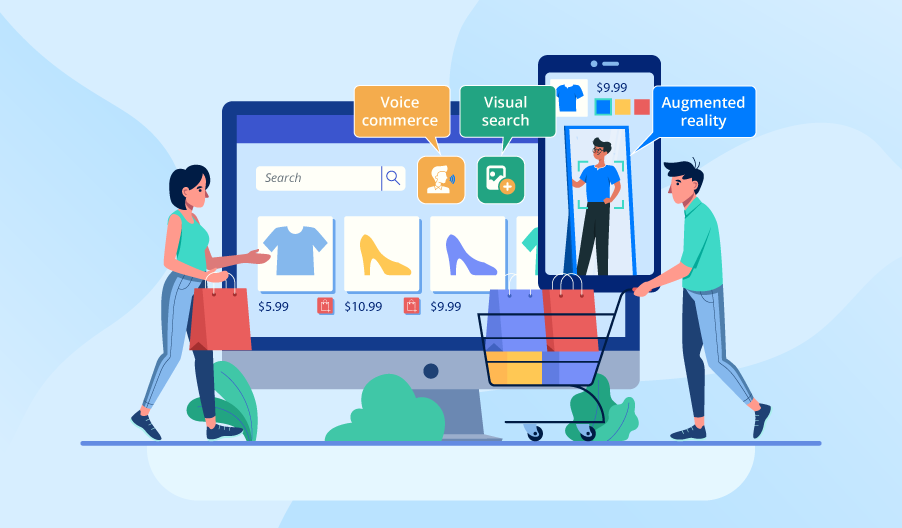 Voice commerce is based on the voice recognition technology. By integrating any of the already existing voice recognition systems (Alexa, Siri, or Google Assistant) into your custom web store, you will have the browsing and buying process looking like this:
A customer says the name of a product to a smart speaker or in a microphone.
The voice recognition assistant installed on your website searches for the requested item in your catalogue.
The assistant suggests ordering the found item.
The customer agrees to the suggestion.
The assistant places an order.
Such shopping is especially convenient for buying expandable products that people regularly restock on: in this case, the voice assistant looks up a customer's purchase history and suggests reordering the same item. For example, if you sell groceries, stationary, or cosmetics – chances are that your customers will embrace the time-efficiency this feature guarantees.
The visual search feature can help customers find new products they are interested in. It's a great feature for retail businesses with rich catalogues (clothes or tech appliances stores) as well as for businesses selling specific items that customers may not always know the exact names of (for instance, plants).
By uploading an image of an item (a dress on a celebrity's photo or a picture of a flower in the park) to your website, a customer can search for similar items. The image recognition algorithms on your custom ecommerce solution will analyze the uploaded picture and run through your image catalogue. After comparing the customer's image against the images of the items you sell, the website will show a list of items that are most similar to the one the customer was looking for.
If you sell furniture items, shoes or other products that customers often feel unsure to buy online, you can raise conversion and lower return rate by introducing augmented reality (AR) models – realistic and high-definition 3D representation of your products. By opening your AR website on a tablet or a smartphone and enabling access to the device's camera lens, a customer will be able to virtually place any 3D model of your product either in their home's real setting or on their reflection in the mirror.
Such a virtual try-on lets customers get a better look and feel of the item and helps them make a more confident decision whether they want to buy the product or not. We also go into more details on how AR works in retail in this post.
On a final note
Striving to take your business to the next level and compete with major market players is way more challenging than just starting out and achieving first market success. A custom ecommerce website with voice recognition, image recognition, and augmented reality features can help you both to stand out in the crowd of competitors and significantly raise your conversion.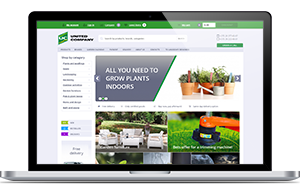 Are you planning to expand your business online? We will translate your ideas into intelligent and powerful ecommerce solutions.