Since a website is the face of an ecommerce business, its look is critical to welcome visitors to start a shopping journey. The choice of a Magento theme plays an important role in creating a customer-friendly and appealing web store. But, investing heavily in Magento development and customization of the required functionality, retailers may be desperate for aspects to cut corners on. While Magento custom theme development is an ideal scenario, is there any way to avoid such expenditure at the start of a business? Knowing Magento theme options, we believe that striking the right balance between your budget and the look of a web store is possible.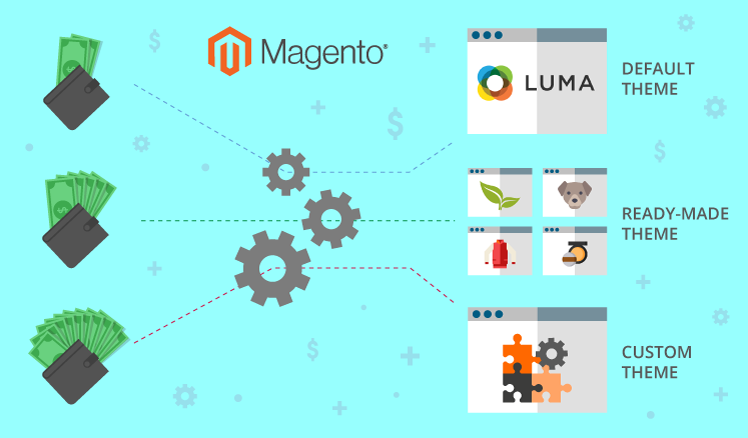 Low budget - Magento default theme
By definition, default functionality can't be in line with the specifics of each business. The key is to make it meet the most fundamental needs of online shoppers. And the Magento team has done an excellent job here. Luma, a Magento 2 default theme, features:
An improved homepage. The way of displaying the information on the homepage sets pace to a customer journey. The Magento team have replaced carousel from a Magento 1 theme with tiles for a reason. The idea behind carousels is to pack more information into each "square foot" of digital space. Though it may sound good in theory, it fails to work out in practice. Customers rarely scroll all sliders, missing most of the information. A tile-based structure, by contrast, ensures optimal viewing experience.
User-friendly catalog pages. Though not expecting a comprehensive product description on a catalog page, customers need to see a minimum of an image thumbnail and available variations to click for details. The Magento default theme enables displaying a product assortment in a convenient way. The page width increased from 680px to 980px allows for larger thumbnails while the product information also includes star ratings, which can engage more customers. The three CTA buttons – Add to cart, Add to wish list and Add to compare – contribute to an excellent customer experience. Still, there are aspects to be improved. For example, the filter responsible for the number of products per page is placed below the list. Customers need to scroll through the first page to find it.
Comprehensive product pages. When customers get interested in some item, they visit a product page. Providing necessary details and a gallery of product images, merchants let them make thought-out purchasing decisions. The Magento default theme allows for customer-friendly product pages with reviews and related products as extra bonuses to comprehensive product information.
Mobile-friendly approach. Luma adapts to screen sizes and ensures equally optimized shopping experience for different devices.
Medium budget – Magento ready-made theme
As the budget of an ecommerce project increases, expectations for the look of a website grow too. Though created not exclusively for a particular business, Magento ready-made themes allow for more freedom to express merchants' vision. An affordable price, customization capabilities and developer support inspire web store owners to view this option favorably, especially considering the diversity of themes on the market. Merchants may choose a universal solution looking good for any business or the one matching a certain industry. Let's take a look at several examples.
Organic web store. Inspired by clean products, the NatureCircle theme is airy and elegant. To reflect the specifics of this business, developers made a focus on the main organic color – green. They used it for icons, prices, links when hovering and other website elements.
Pet web store. Pet parents melt when looking at their "kids". The developers of the Petmark theme offer to play this card and attract the target audience with cute pictures of pets.
Apparel web store. Style becomes of paramount importance when we talk about the fashion industry. You can't position your products as trendy selling them on an out-of-date website. Claue theme offers elegant design and such useful features as sliders, promo banners, price timer, wish list, etc.
Above-medium budget – Magento theme development
There is a difference between buying ready-to-wear and made-to-measure clothing, isn't it? While the former can be too big or too long, the latter fits like a glove. The same is with Magento themes. Choosing Magento theme development, merchants can create an excellent shopping experience as they see it. Though the most expensive option, it offers substantial benefits.
An ecommerce website gets a unique corporate style. Facing tough competition online, retailers can't afford their web store being a copy. Guided by their ideas rather than theme options available on the market, they can stand out in the crowd.
A custom theme allows achieving the desired functionality. Putting an appealing look of the website first, we don't diminish the importance of functionality. A Magento theme is an important brick building the overall performance of an ecommerce website.
There are no customization limits. Having invested in Magento theme development, merchants can further customize it as the business grows.
Afterword
Hundreds of questions bombard retailers at the launch of their ecommerce business. Add to that the necessity to keep within budget, and here is the explanation for growing concerns and sleepless nights. Having outlined possible theme options, we hope to clarify one of the most important aspects.
Standing at the very beginning of their way to ecommerce, retailers may not have a detailed plan of how their company will grow. They can launch quickly and cost-effectively with the default Magento theme. As the business starts turning profit, they may want to get a new look for their ecommerce website. This is time to upgrade to ready-made or custom solution. The process of changing a theme in a Magento web store causes minimum inconvenience for customers when planned for the least active hours. And buyers will have no choice but get pleasantly surprised with the improvements as if implemented with a wave of a magic wand.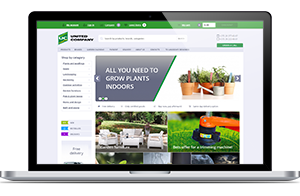 Wondering how to harness the power of Magento? Our domain expertise and keen interest in non-trivial projects are at your disposal.