Top 5 SaaS CRM Software
Tap Into the Best CRM Functionality on the Market
ScienceSoft guides you to the top five SaaS CRM systems and offers to work with you individually to settle on your best-suited one.
SaaS CRM Software: the Essence
SaaS CRM is cloud-based software, which gives permanent access to the CRM functionality and support with no need to invest in installing and maintaining it. SaaS-based CRM brings transparency in relationships with customers and helps businesses automate and personalize marketing, sales and customer service.
What Is Good about SaaS CRM
Here is our list of arguments to prove that SaaS CRM is a good deal for most companies.
| | |
| --- | --- |
| | You get ample functionality for customer management and avoid big investments from the start since you don't need to custom-build everything. |
| | Modern CRM systems are really flexible, so you can make the best of the default functionality and tailor the workflows to your specificity. |
| | With all the CRM data kept in the cloud, your team can access it at any time and not only from their workplaces but also on business trips, lead generation events and during on-site visits. CRM data is not just customer identity records but also a whole bunch of business information regarding sales negotiations and deals, interactions with prospects, open opportunities, marketing campaigns, and more. |
| | As a CRM is a data hub, SaaS providers have thought of APIs and ready connectors to facilitate the integration with data acquisition systems. |
How to Solve Key Challenges You May Face with SaaS CRM
In general, using SaaS CRM is really convenient – you get a full-packed solution that enables omnichannel customer outreach and personalized customer experiences built on comprehensive customer data. However, be prepared that certain aspects may not be perfect and engage CRM consultants (be it ScienceSoft or any other company you trust) to polish them.
A complex, hard-to-adopt system
Being accurate at the stage of CRM selection, you avoid getting abundant functionality hampering your teamwork. If your CRM is the best fit and still poorly adopted by your team, request user training to know how to use it correctly.
Non-intuitive, non-adapted UI
Interview employees who will be using the system to understand what workflows are convenient for them and tune default user journeys accordingly.
CRM performance is lagging behind
All the work on the code level must be done by knowledgeable programmers who ensure all the custom features and modules work as intended and don't overlap.
Incomplete customer information
You need to analyze accurately what sources of customer data your business may leverage and set up relevant integrations.
It's the task for data engineers to find intersections in the multitude of disparate data sets that your CRM collects and configure proper duplicate detection rules.
CRM requiring a lot of manual input
Go for workflow analysis that will highlight manual activities to be automated.
Multi-channel communication with prospects, including via social media.
Manual lead generation.
Automated lead generation from marketing landing pages, digital contact forms, etc.
Business card scanner.
A visually structured sales pipeline.
Lead qualification and scoring (also assisted by AI).
Queues for lead distribution.
Lead escalation.
Activity feed.
Email templates.
Calendar management.
Personal notes.
Scheduled reminders.
Access to the activity history of every lead.
Conversation threads.
Tagging co-workers.
Help desk for omnichannel customer support.
Chatbots.
Service level management.
Self-service portals.
Customer experience surveys.
Customizable dashboards and reports.
Customer sentiment analysis and CSAT scoring.
Predictive analytics (e.g., for lead scoring).
Employee performance management.
Compliance with local, regional, and industry-specific regulations (HIPAA, GDPR, etc.).
User-based access control.
End-to-end data encryption.
| | |
| --- | --- |
| | Note: Presented SaaS CRM platforms are product bundles consisting of modules that can be bought independently or in a combination. |
Microsoft Dynamics 365
Recommended by ScienceSoft
BEST FOR
Building end-to-end customer experience.
Description
Leader in the Forrester Wave for CRM Suites in 2022.
Leader in 2022 Gartner Magic Quadrant for Sales Force Automation.
Offers strong AI capabilities all the way from customer acquisition to support and retention.
Provides a unified data platform for all CRM operations.
With Microsoft Power Platform, offers a low-code way to build new business apps (e.g., customer self-service portals).
Trusted by global companies, among them Accenture, Heineken, Lenovo, UNICEF Netherlands, Siemens.
Pricing
Free 30-day trial.
Pricing depends on the chosen apps and licenses:

Marketing: from $1,500 tenant/month.
Sales: $65-$162 user/month.
Customer Service: $50-$95 user/month.
Salesforce
BEST FOR
Growth marketing.
Description
Leader in 2021 Gartner Magic Quadrant for CRM Customer Engagement Center for the 13th consecutive year.
Users report highly intuitive UI of the platform.
Relies on proprietary solutions: Salesforce Einstein as an AI engine and Salesforce Genie as a real-time data platform that unites data from any channel (mobile and web apps, APIs, corporate data lakes).
Has a vast suite of marketing solutions for customer data intelligence, customer experience personalization, loyalty, advertising, content management.
Works well for global enterprises, among which are PayPal, IBM, T-Mobile, Mercedes-Benz.
Pricing
Free trial on demand.
Pricing depends on the chosen modules and licenses:

Marketing: separate pricing for 8 marketing solutions.
Sales Cloud: $25-$300 user/month.
Customer Service: $25-$300 user/month.
SAP
Best for
Industries with high specificity (industrial manufacturing, high tech, automotive).
Description
Leader in 2022 Gartner Magic Quadrant for Personalization Engines.
Leader in 2022 Gartner Magic Quadrant for Sales Force Automation.
Offers five modules under the umbrella of all-around customer experience solution: sales, marketing, customer service, ecommerce and customer data.
Clients: Bell Textron (aerospace manufacturing), Topcon (optical equipment manufacturing), Dell Technologies, Lufthansa Technik (aircraft maintenance and repair).
Pricing
Prices are available by direct request to SAP.
Oracle Customer Experience (CX)
Best for
Bringing AdTech and MarTech together.
Description
Leader in 2021 Gartner Magic Quadrant for CRM Customer Engagement Center for the 10th consecutive year.
Along with standard sales, marketing and customer service modules, includes an advertising solution and cloud CX platform (for customer data and content management).
Offers low-code development tools to create native extensions and stand-alone web and mobile experiences.
Clients: Mazda Motor Europe, Hermes, Exelon Corporation, Dow Chemical Company.
Pricing
Prices are available by direct request to Oracle.
Adobe Experience Cloud
Best for
Building an omnichannel customer experience (with a large focus on commerce).
Description
A collection of 18 apps to build end-to-end customer experience.
Leader in the 2022 Gartner Magic Quadrant for Digital Commerce for the sixth consecutive year.
Leader in 2022 Gartner Magic Quadrant for Digital Experience Platforms for the fifth consecutive year.
Offers Adobe Analytics solution that enables in-depth customer data analysis, versatile reporting and predictive modeling.
Clients: Walgreens Boots Alliance, Marriott International, Philips, Selco Builders Warehouse.
Pricing
Prices are available by direct request to Adobe.
Support Your Customer-Focused Strategy with the Best CRM
At ScienceSoft, we are happy to see how companies massively aim to be more customer-oriented, and CRM is just the right tool to support this approach. Our team has already helped 40+ companies design their customer management strategy and choose, implement and successfully adopt a proper CRM system. If you are looking for expert assistance, here is how we can help:
SaaS CRM Implementation: Success Stories by ScienceSoft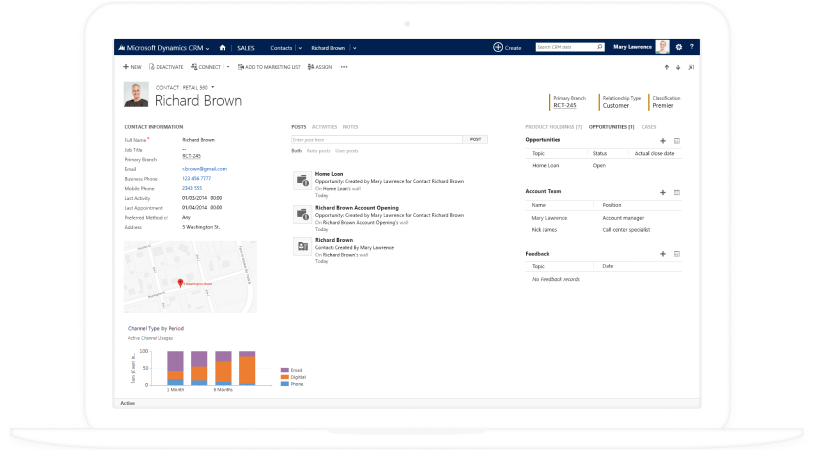 CRM for a Bank with 7 Million Clients, 7,000 Employees and 180 Branches
ScienceSoft made the best use of a robust SaaS CRM – Dynamics 365 – and tuned its customer base management, sales activities planning workflows and reporting for the bank's needs.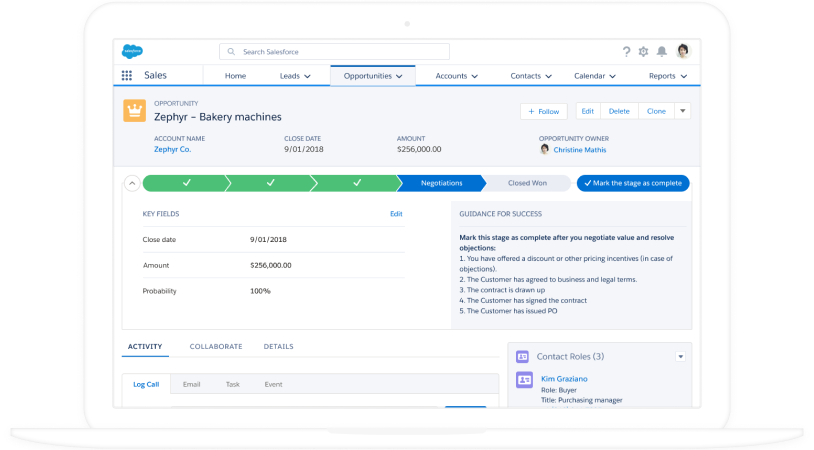 CRM for a Healthcare IT Company
ScienceSoft perfectly tailored sales and decision-making activities in a SaaS CRM – Salesforce Sales Cloud – with point-and-click tools only.
ScienceSoft is a global US-headquartered IT consulting and service company with 34-year experience and a team of 750+ professionals. Since 2008, we offer all-around CRM services to help companies manage the whole diversity of customer interactions in a fast-pacing digital world.

<![endif]--> <![endif]--> <![endif]-->