Each year, we discharge our responsibility as ecommerce consultants and update the list of ecommerce trends to give our take on where the industry of online retail is heading. Don't expect us talking about technology advancements only – they don't emerge that frequently and are just tools to drive your business in the desired direction. That is an evolution of customer experience we monitor and must say – every year, customer demands are mounting.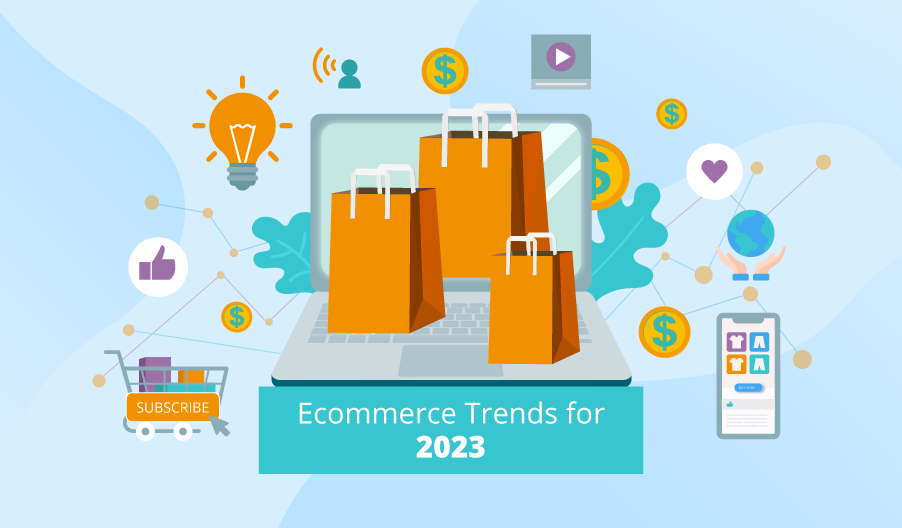 In 2023, we witness ecommerce becoming more:
Contextual
The idea behind contextual commerce reiterates omnichannel marketing to a certain extent. It implies understanding the context in which customers may discover the products and giving them a possibility to buy right at the moment of discovery. We would say, omnipresent purchase opportunities are the right words to describe the concept.
The beauty of adopting contextual commerce is that there is no single strategy to do it, so retailers may go creative in introducing purchase opportunities into customers' daily routine. This may call for implementing new sales channels or require fewer investments but more changes in retailers' mindset. Thus, they may start contriving scenarios of when and how to catch the right audience, give them an impulse and an immediate possibility to buy.
Here is an idea! A food retailer can launch YouTube cooking shows and add a link to shop the recipe in the description. With just a couple of clicks, watchers successfully convert on the website.
On-the-go
Since the early 2000s, mobile commerce has been on the map working its way into the daily life of smartphone users. Its rise owes much to ecommerce developers who have continuously delivered new ways to make mobile journeys convenient. Shoppers have got so used to positive mobile experience that now they expect to shop from mobile wherever they are.
As buying on the go evolved into a full-scale ecommerce trend, it introduced voice-assisted shopping into play. This type of shopping allows for a potentially frictionless experience when people browse, select and buy products hands-free, using voice commands only. As for now, adopters of voice technology can shop via smart speakers when at home and use mobile ecommerce applications with integrated voice-controlled virtual assistants when on the go.
In fact, 77% of car drivers going online engage in commerce of some kind. Hopefully, now they can do it hands-free.
Subscription-based
Subscription commerce was initially driven by the demands of customers to avoid the hassles of repeat orders and get particular products or services delivered as regularly as they want, with no time (and reminders) needed to reorder. Along the way, the idea has evolved.
Several types of subscriptions make this commerce model actionable for a variety of markets.
The replenishment type automates the purchase of necessities and, thus, works well for sellers of everyday essentials, household chemicals, foodstuff or pet food, but not tangible goods only. Companies providing household services like cleaning or dog walking may widely employ it too.
The curation, or discovery, type implies customers subscribe for sample boxes before they commit to trust a brand and order full-sized products. The idea works the best with lifestyle subscription boxes created for a certain target audience. For example, organic beauty products will suit "green" customers or sugar-free snacks will be welcome for healthy lifestyle adopters.
With access subscriptions, customers get member-only perks. These can be early access to new arrivals, offline events, knowledge (for example, free workout videos or skin care guidelines).
Ethical
Did you know that Millennials are called 'Generation Green'?
This fact alone speaks much of a certain rise of conscious customers who care not only what they buy but how the products are produced and what message and value the company conveys. Sustainability, ethics and social impact become important considerations when dealing with ecommerce stores. The latter answer the demand and increasingly organize their processes at least not to do harm and ideally contribute positively to the environment and the society.
We enumerate ethics among the latest ecommerce trends, but we believe that it's a true dedication of companies to act responsible, not just a customer-winning technique.
Ethical commerce can take different forms. For example, Proof Eyewear promotes a socially conscious business model. Not only do they pioneer sustainable eyewear by handcrafting products exclusively from sustainable materials, but also are open about their charity initiatives. And here is an absolutely different but no less important initiative of Asos. This apparel e-tailer has been praised much for supporting the body positivity movement after they started modelling the same apparel items for different body types.
Content-centric
Authentic and relevant content helps earn customer trust and prompt customers towards informed purchasing decisions. Let's see what direction content marketing has been taking in 2023.
They say a picture is worth a thousand words. We say, try a video!
The estimates show that product videos can increase purchases by 144%. When shopping online, customers can't check an item from different angles and often hesitate about its real look and feel and a video gives them a clearer picture of what product they will ultimately get. Apart from the mentioned product videos, retailers can choose video types relevant for their product line and vary their content with how-to tutorials (electronics, sports gear), video storytelling (jewelry, gifts), influencer endorsement (beauty, automobiles) or team videos (excellent for each and every business).
Ecommerce brands have been fostering customers to share their feedback, which makes user generated content a trend number two in content marketing. Retailers agree that it is digital word-of-mouth – customers sincerely advocate the brand and thus increase its credibility in the eyes of others. Among the most popular forms of user generated content in ecommerce are product reviews and social media posts with brands tagged.
Technology-driven
Earlier, retailers used a single piece of ecommerce software for all the fundamental ecommerce operations like product and customer information storage, order and payment processing. Now, as customer demands become higher and market competition fiercer, retailers can no longer shy away from the digital transformation that has the optimization of all business processes at its heart. This is how such systems as CRM, CMS and ERP or tools like personalization and prediction have come to the forefront.
By integrating more technologies, retailers seize new possibilities both to build better customer experience and orchestrate business workflows effectively.
We know that digital business transformation sounds like a big investment. What helps making the experience less painful is agile road-mapping. By prioritizing optimizations areas, companies can start with the ones where a quick impact is expected. As the outcomes have been measured, they should be flexible to rethink and reverse further goals.
Headless
Customers don't really care at what cost their experience comes – retailers do. They allocate funds into ecommerce development to get the expected digital experience on their website. Here is why, among all the current ecommerce trends we have enumerated, headless commerce is much less about well-being of shoppers and much more about that of retailers.
In contrast to a traditional ecommerce solution, a headless one employs decoupled architecture where the presentation layer (the front end) and business logic (the back end) are separated and connect via APIs. Retailers can plot new user experiences and developers can bring them to life by building the front end from scratch without aligning it with the back end. Among the benefits for retailers are reduced development costs and faster deployment time.
Headless commerce is a go-to choice for companies setting sights on the highly customized, very specific front end.
Time for your move
Don't rush into adopting all the ecommerce trends outlined in the article. It's good to start with understanding where your ecommerce business is now, what customer experience it provides and what technology stack employs. From here, you will see if you have any obvious gap or untapped opportunity. As you embark upon the never-ending journey of your business evolution, make sure to go hand in hand with reliable and savvy ecommerce consultants who are always in the know of how the industry progresses.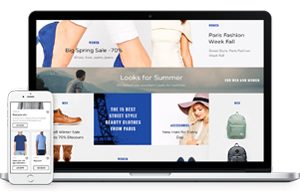 Our consultants will help to shape an optimal ecommerce solution for your business.