Editor's note: In the article, we discuss a number of simple, yet effective, ways to design a furniture ecommerce website and inspire customers to buy. Consider our ecommerce consulting services if you need to bring those to life or look for expert involvement into your business to elevate customer experience and grow profit.
The future of furniture and homeware market is bright: it is predicted to grow at an annual rate of 7.8% making some US$276M by 2024. Though this product line has long had a solid online presence, the pandemic crisis of 2020 has accelerated drastically the shift towards digital experiences and forced more furniture businesses to go online.
Seeing an increased demand for ecommerce implementation services from furniture manufacturers and sellers, we've prepared a short summary of our ideas on how to make this online channel profitable. Here, we focus more on furniture website design, and you can also check our guide explaining how to start a furniture business online and covering some business aspects.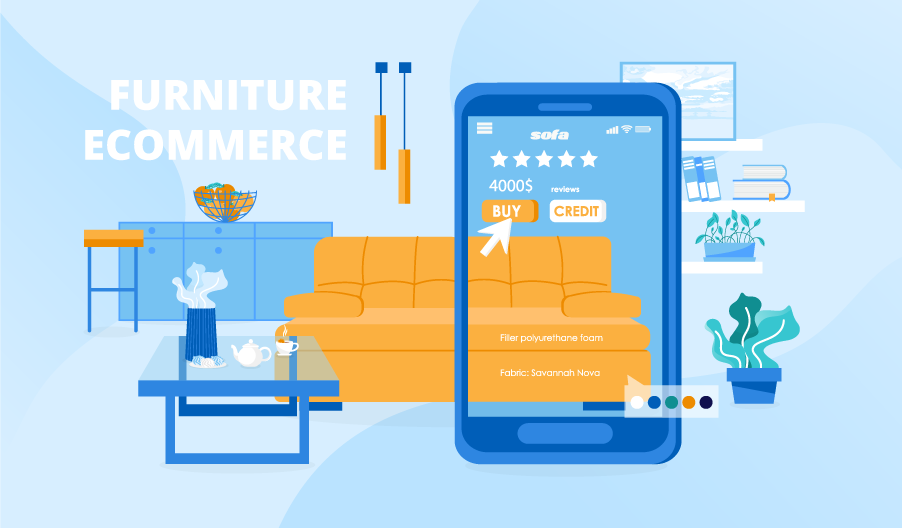 Website features specific for online furniture selling
Rich product visualization. The advantage brick-and-mortar retail has over ecommerce, not only with furniture but across all product lines, is the fact that customers can actually see, touch and try products out. To make online experience competitive, use 360-degree rotating images, add 3D technologies, and picture furniture items in real interiors to create a clear vision on what your products look and feel like.
Layered navigation. This feature is basic, still an absolute must for furniture web stores. As a rule, customers have an idea of what furniture pieces they are looking for (at least regarding color, price range, size) and will appreciate a possibility to filter a large catalog out against various criteria.
Easy-to-use manuals. Customer experience doesn't end with a buy – you need to take care of trouble-free delivery and after-purchase communication. What's more, if you sell self-assembly furniture, customers expect from you detailed instructions on how to put together and use furniture pieces. Most often, downloadable manuals are used for this purpose, but some retailers bring customer convenience even further and provide AR-powered assembly instructions.
Visual product builders. If you give customers a possibility to style furniture pieces and choose the best-suited color or configuration, allow them to visualize the result instantly too.
Store locator. Furniture businesses often have online and offline presence alike, which is surely convenient for people preferring to do online research but hesitant to buy online. Placing a store locator on your website, you inform customers about the nearest offline stores and increase chances to ultimately convert them. Don't forget to add such important information as working hours and parking availability. You can also allow for a possibility to book a sales assistant for particular time slots.
Watch Free Furniture Ecommerce Demo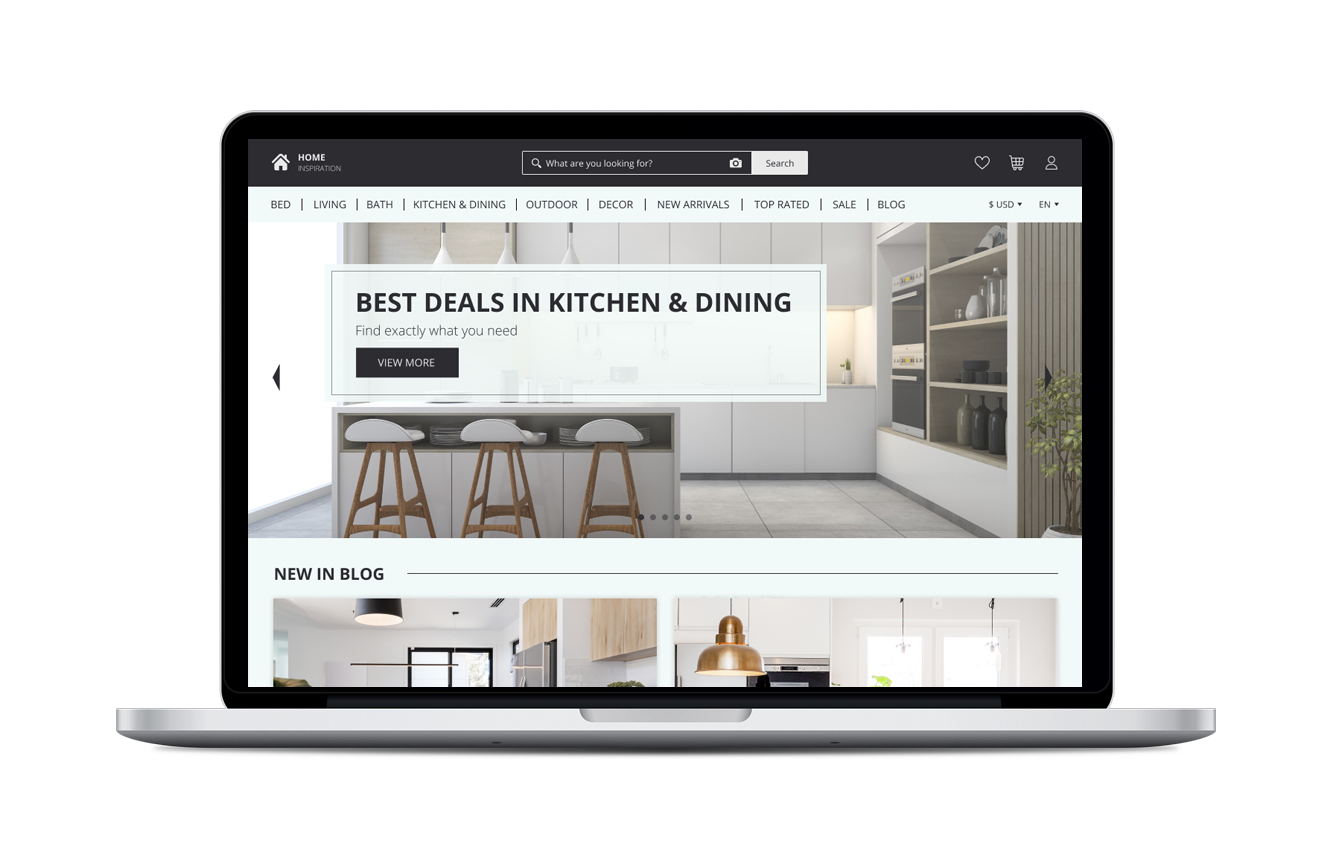 Successful online furniture stores to learn from
Whether you have experience in launching and managing online sales or not, it will be useful to learn from other companies that have already managed to gain good reputation and love of their customers.
The Future Perfect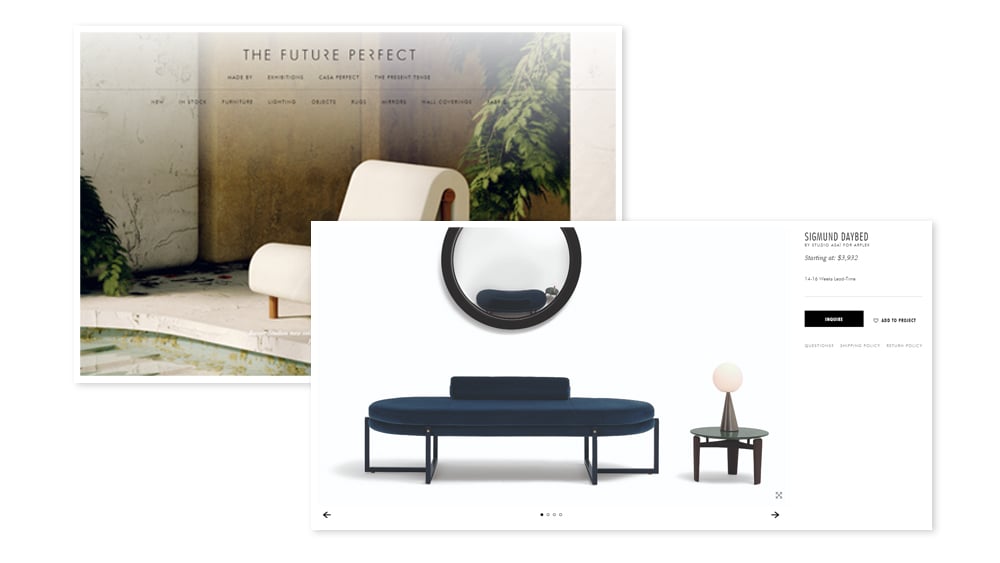 https://www.thefutureperfect.com/
Stunning visual design is the first thing you notice as soon as you open up the website. The company chooses to show their whole furniture catalog online – customers can buy available goods instantly as well as see lead time and pre-order those out of stock now. Selling high-priced furniture, the company also invites online viewers to book a visit to their studios.
Room & Board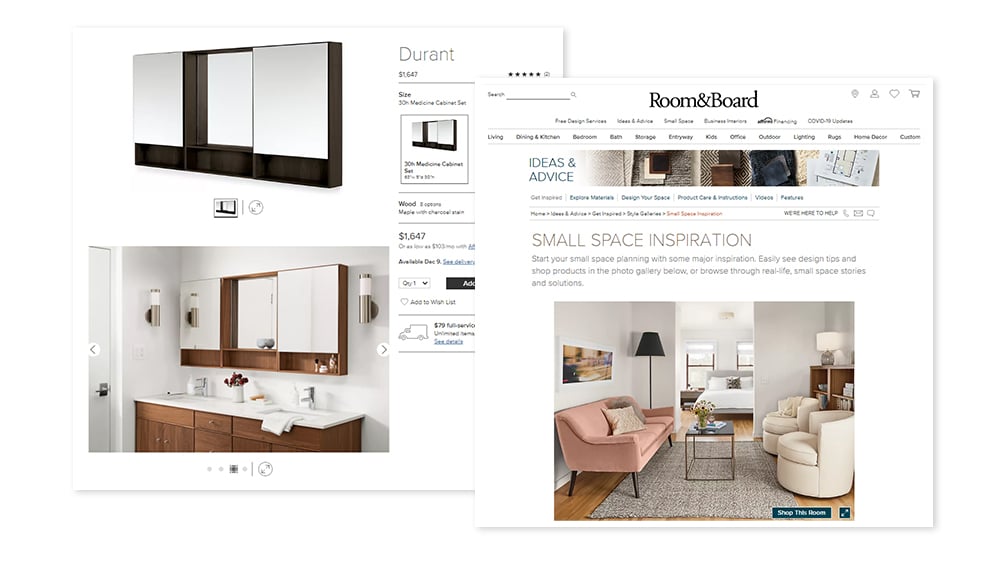 Room & Board does a great job by running an inspirational blog and offering customers to shop the items showcased in blog posts. Product pages are planned in line with all the best practices of website design. For many items, product builders are used allowing customers to customize them as they like. On product images, each furniture piece is styled in many different ways to show how it may fit into different interiors.
Living Spaces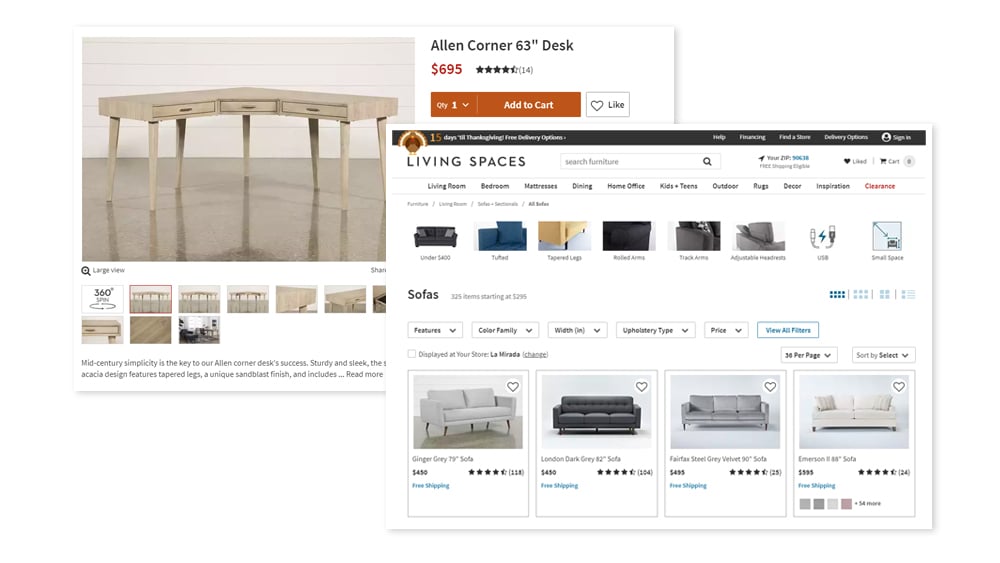 An advanced search system allows visitors of Living Spaces not to get lost in the catalog of thousands of furniture items and find what they are looking for fast. On the site, one can shop by department and further filter products by size, material, price, color, style, etc. Product pages are really comprehensive with all product details and specifications, photo gallery, assembly instructions, additional items from the collection, and customer reviews. What we particularly love is previous questions from customers and company responses placed on product pages. What a cool way to deal with repetitive queries to customer support!
Just as the companies mentioned earlier, Living Spaces offers visitors to book in-store appointment and helps to find the nearest location by zip code.
One Kings Lane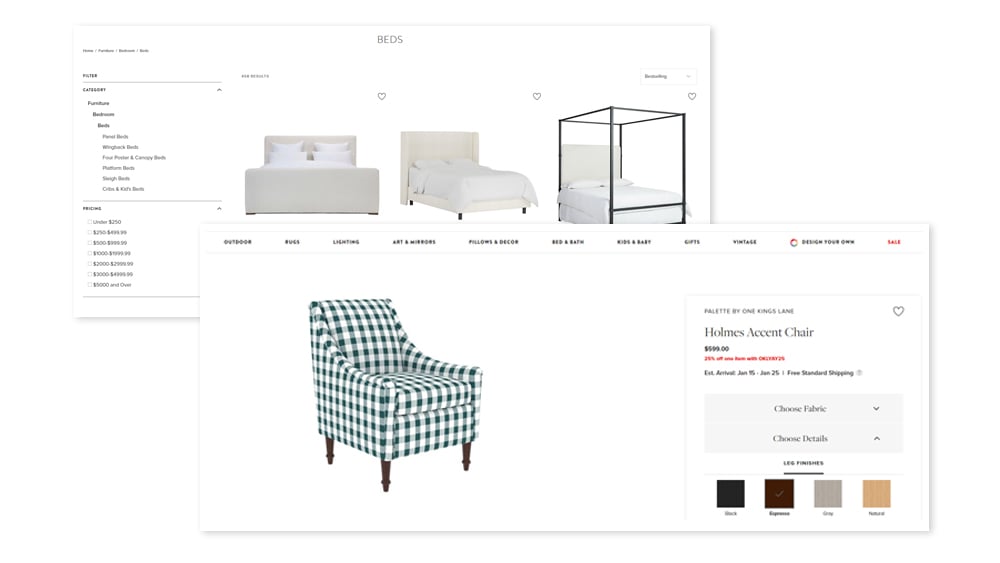 One Kings Lane offers customers to design their very own piece of furniture easily online by trying different furniture styles, fabrics, size and smaller details like leg finishes or brass cap. Otherwise, the product catalog is large and neatly organized. The company offers three delivery options: standard shipping, entryway (delivery to the first room of the address) and white-glove service (delivery with furniture assembly).
Don't miss on the digital surge
Planning digital user experience is not easy as it requires from you to analyze your target audience and foresee their doubts and expectations. Yet, one can't overestimate its importance as an ecommerce website is more than a visual look now, rather a part of a customer journey that starts from brand recognition and ideally evolves into brand advocacy. If you need help with guiding you through the hurdles of an online business launch, you are very welcome to engage our team of experts who have 19 years of experience in all-round ecommerce services.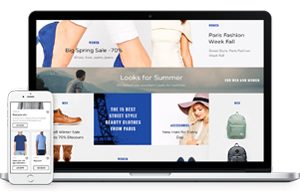 ScienceSoft provides professional ecommerce implementation services. We have the answer to any of your ecommerce-related question.