Thanks to the introduction of augmented reality (AR) development kits for iOS and Android in 2017, AR technology has successfully infiltrated the mobile realm and can now be widely and easily used for mobile app development. Although many people believe, that mobile AR works best for games, like Pokémon GO, or social media gimmicks similar to AR emoji in Instagram, in actuality, AR can bring the fun aspect to any kind of app and introduce advantages to various businesses. Retail is hardly an exception.
Below we give examples of augmented reality retail apps, describe use cases for specific types of retail businesses, and explain how AR functionality can become an intrinsic part of your brick-and-mortar or ecommerce store.
Augmented fitting rooms
Augmented reality can take the tedious part of changing multiple outfits or accessories out of the customers' shopping experience. An augmented fitting room can give a person a tangible presentation of how a certain item (or several items in combination) will look on them. This way, a customer can easily decide whether they should skip the item or try it on in an actual fitting room.
To introduce virtual fitting rooms, stores should provide their customers with an AR mobile app that scans a person's reflection in the mirror and augments it with a layer of clothing, footwear, or an accessory. By holding a mobile device in front of the mirror, a customer can try various combinations of items and inspect their augmented reflection up close and from different angles, which the augmented item will be automatically adjusting to.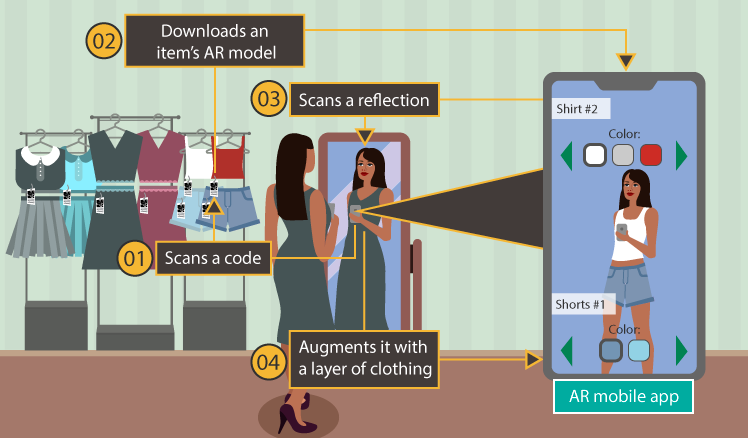 In case of an e-store, such an app should contain a complete catalogue of AR-enabled items that a customer can choose and virtually try on. However, a brick-and-mortar store will benefit from implementing a code scanner feature instead of a large catalogue. With the help of this feature, a customer can scan a tag code on the item they've chosen and have its AR model instantly downloaded to their device. This way, the app itself will be lightweight and easy for walk-in customers to install.
AR positioning and set-up manuals
The augmented reality shopping option can become a deciding factor for customers making large-size purchases, such as furniture, appliances, and cars. Since an AR app can scan a customer's room (or a garage, in case of a car) and augment it with a life-size 3D model of the wished item, the customer will get a clear idea of whether the item's style or size meets their expectations or not. Customers can also inspect the 3D model up close as if the item was right next to them.
The use of augmented reality isn't limited to the pre-buying stage. The AR technology can be a basis for an interactive manual to assembling or setting up a purchased item. A customer will simply need to put the item parts in the focus of a mobile device camera – and the app will provide guidance by showing how to assemble the parts. Such an app will keep the positive customer impression lingering even after the purchase was made, getting you loyal customers.
AR-assisted navigation and consulting
An augmented reality app can play a role of a virtual assistant in a large shopping center. Instead of simply following a map blueprint, a visitor of any shopping mall can walk around with a mobile device in their hand and see set navigations, personalized suggestions or ads right on their screen. They can also trigger 'search' to ask the app to guide them to a certain store or product department.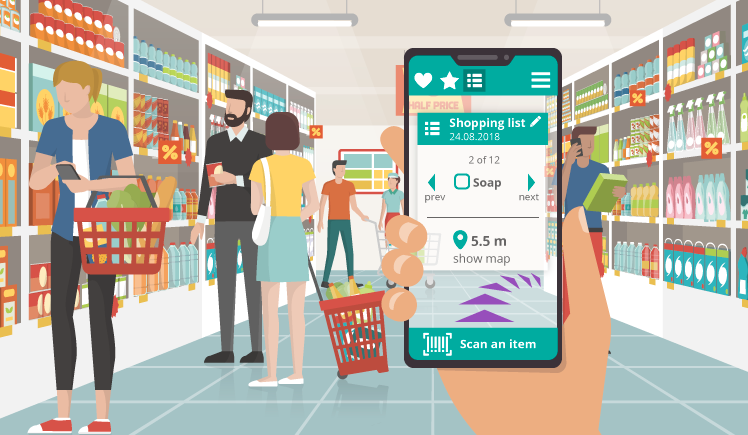 In food retail, such AR navigation can be even more elaborate. When installing an AR app owned by a supermarket chain, every customer will be prompted to create their private profile with various food preferences, diet suggestions, favorite recipes, and grocery lists. Upon stepping inside the chain's retail store, a customer will take out their smartphone, choose any of the modes in the profile (for instance, a list of things to buy or a specific recipe), and use the AR app while walking the isles or scanning the shelves. The app will help the user do their shopping in a faster and more convenient way by showing navigational arrows and displaying product details on the screen of a mobile device.
AR stores
Apart from offering augmented product models in an online or a brick-and-mortar store, your business can opt in for an AR store campaign. In other words, you can encourage your clients to download your app and then notify them about the location of a temporary AR store where you will offer a range of popular items at reduced prices or limited items.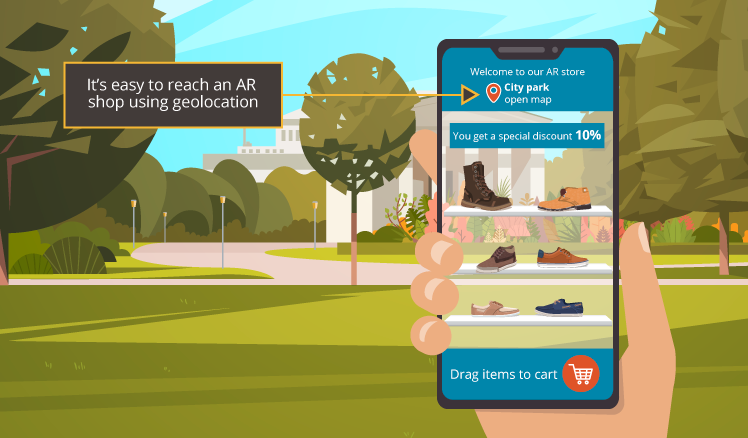 By arriving at the specified location, customers will be able to use their AR apps to see the items in the real world surroundings – just the way Pokémon GO players see a Pokémon. Yet, your customers won't be 'catching' items but putting them in the cart. You can offer a generous discount though, to pay your customers back for the engagement. After all, such stores are primarily a marketing campaign that will certainly draw huge attention to your business.
Retail store integration
Regardless of the type of an AR mobile app, integration between its back end and internal systems is always necessary. To let a customer view any item in an augmented reality mode, a mobile app should have access to the Product Information Management (PIM) solution where AR models are stored. PIM integration is also required for receiving the latest product information (such as product details, stock availability, and location) used by AR navigation apps.
For an AR app to be more than a mere catalogue and offer a seamless purchasing process with an actual check-out, it also needs integration with your existing ecommerce module.
Finally, you'll need to set up a secure one-way communication between your mobile AR solution and CRM to enable mass mailing of notifications about special offers or an AR store location.
From a concept to reality
What makes it possible for a mobile app to augment real world surroundings captured by a device's camera with life-like layers of images is auto-recognition functionality. All its steps, including environmental understanding, motion tracking, and light estimation, are a lot easier and faster to implement now that app developers have powerful AR development tools with already built-in recognition principles. Still, to ensure higher augmentation quality, certain settings have to be tuned individually for every app.
Implementation of virtual product models is a crucial part of AR app development and requires close cooperation between a vendor and a retailer. Upon receiving product images, 3D designers create an elaborate 3D model of every item and then let these models be added to the app by developers. Certainly, as your catalogue can be continuously growing, the vendor should be ready to regularly provide the 3D models of new items and upload them in the app.
Summary
Mobile-enabled augmented reality can transform the entire concept of shopping and significantly improve customer experience. Previewing AR clothing items will save time and energy for shoppers who want to try out various looks and combinations. The possibility to fit an AR model of a furniture item or an appliance in a customer's interior can become a decisive factor for the customer who considers making a purchase. Moreover, AR can become a helping navigating tool in a shopping mall or even an effective marketing campaign when used for creating an AR store.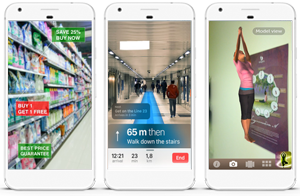 Ready to introduce an augmented reality app as a part of your business strategy? Our skilled AR developers help you to make it happen.