<![endif]-->
<![endif]-->
Dynamics 365 Customer Service
Microsoft Dynamics 365 Customer Service is a module for customer service automation that provides a wide range of features from automated case management to dashboards and reports. Dynamics 365 helps your customer service to become a strong competitive advantage for your business.
How Dynamics 365 improves your customer service
With our assistance, Dynamics 365 can put an end to the most acute customer service challenges, for example:
ISSUE
Poor accessibility of customer support.
Apply Dynamics 365
FIXED
With Dynamics 365 Customer Service, your customers will be heard and helped in reasonable time frames.
ISSUE
Lack of sufficient subject-matter knowledge.
Apply Dynamics 365
FIXED
Your agents will be able to take a quick peek in the knowledge base and easily find the needed info to solve cases faster.
ISSUE
Hardly adequate case resolution times.
Apply Dynamics 365
FIXED
With Dynamics 365 Customer Service, you have a clearly defined case management process and, as a result, minimized case resolution times.
Case management
This feature allows you to set up a case management process supporting everything from case creation to case assignment, escalation and resolution. These actions can be performed automatically if certain pre-defined rules are met. The case record conveniently provides agents with all necessary information: case details, contact/account info, and business process flow (case stages) additional info. Also, case records display activities associated with each case, relevant posts, notes, reminders and contain a knowledge base search option.
Knowledge management
Accessed in a separate tab or directly in the case record, knowledge articles help agents find answers to customers' questions faster. Agents can also email articles to customers. And some knowledge articles can even serve as a basis for a self-service customer portal. Apart from that, Dynamics offers a convenient visual editor to create and manage articles easier.
Service Level Agreements (SLAs) and entitlements
SLAs define how fast cases need to be resolved and whether they should be escalated. Entitlements illustrate customers' rights for different types of customer service (e.g., phone support only, phone + email or exclusive support across all communication channels). To monitor response/resolution time limits promised by each type of support, you need specific SLAs for each entitlement.
Templates
To facilitate agents' work and make it even more productive, Dynamics 365 Customer Service provides a possibility of using templates for emails, entitlements and articles. So, instead of writing text for these 3 entities anew each time, agents can save time by using pre-written templates. Note that email templates still use customers' names and other data to avoid impersonal communication.
Dashboards and reports
Watching over all the key customer service metrics, Dynamics 365 Customer Service provides you with the ability to check the vital performance values of your customer service department. You can easily see such reports as, for example, the number of incoming cases broken down by a communication channel, agent or priority. These reports are available in the form of insightful dashboards.
Additional features
Here are some extra features for Dynamics 365 Customer Service. They are available individually, as part of the more advanced pricing plans or separate Dynamics 365 tools.
Portal capabilities for Dynamics 365
Available starting from the Enterprise plan or separately
Allows creating a self-service portal for customers and takes some load off agents. Also, portals serve as an additional case source if some customers fail to find solutions on their own.
Microsoft Forms Pro
Available starting from the Enterprise plan or separately
Enables creating and distributing surveys to get the much needed customer feedback. Helps to recognize weak points in customer support work.
Gamification
Available starting from the Enterprise plan
Allows conducting games among agents to additionally motivate them for better performance. Also, this feature contributes to increasing tool adoption and agent satisfaction.
Embedded Intelligence
Available starting from the Enterprise plan
Watches all the data and activities stored within Dynamics 365 Customer Service. It helps to provide agents with intelligent recommendations concerning their next steps and fast shortcuts to various parts of Dynamics 365 interface.
Unified Service Desk
Available starting from the Enterprise plan
Enables using multiple Dynamics 365 apps within one interface, which saves agents' time on tool-switching.
Omni-channel
Sold separately
Dynamics 365 Customer Service covers multiple communication channels: phone calls, email, web, chats, social networks, SMS, and even IoT sensors. In social networks, Dynamics recognizes sentiment and intent in customers' posts, finds customer problems and automatically converts them into cases. And in case with IoT sensors, Dynamics can watch the readings from your products in use and inform their owners if possible breakdowns are detected.
Power Virtual Agents for Dynamics 365 Customer Service
Sold separately
Provides in-depth analytical insights into your customer service. Also enables creating virtual agents (chatbots) to facilitate the resolution of typical cases without involving human agents.
Field Service
Available as a separate tool Dynamics 365 Field Service
Allows managing the collaboration of field workers with customer service agents, when a customer case requires an on-site visit of a dedicated specialist. Also, this tool manages work orders and resources, schedules field service visits, etc.
Offer improved convenience to your customer service agents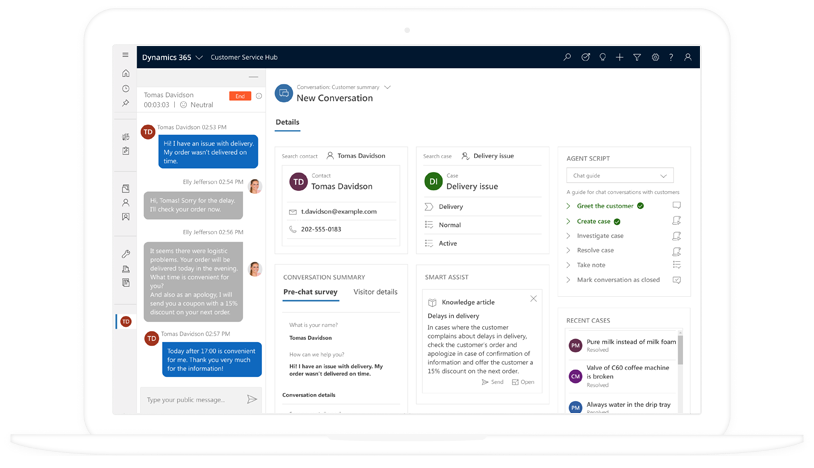 Dynamics 365 Customer Service Demo
See an overview of Dynamics 365 Customer Service capabilities illustrated by our designers and learn how this tool secures both high efficiency and greater convenience for your customer service team.
Integrating Dynamics 365 Customer Service with a sales tool
It provides customer service agents with a better view of each customer. It helps not only to understand each customer's context better and solve their cases faster but also identify new possibilities for cross- and upselling.
Integrating Dynamics 365 Customer Service with a marketing tool
It provides your marketers with all the needed data to create even more personalized emails. For example, they can design email campaigns for customers who happened to experience a number of problems with your product. In those emails, they can offer discounts to make up for any inconveniences.
Also, your marketers can get alerts on particular 'hot' topics of your customer service cases. For example, if your customers find a new feature of your product confusing and have troubles with it, marketers can realize the need to organize a webinar dedicated to answering customers' questions related to the new feature.
Pricing
1
We can assist you in choosing the Dynamics plan that's right for you. Or we can find the reason why your solution's performance isn't meeting your expectations and recommend how to solve the uncovered issues. Regardless of what problem you have or how mature your relationship with Dynamics 365 is, we are always ready to help.
2
Dynamics 365 implementation
Besides just giving recommendations, we can support you with relevant technical skills to carry out the implementation of your Dynamics 365 Customer Service solution. To make sure that it will suit your organization perfectly, we analyze your needs, map them against relevant Dynamics functionality, identify opportunities for configuration and customization (if needed) and conduct the whole implementation process. Besides that, we do all the integrations of your solution regardless of whether it needs to connect with parts of the Dynamics 365 platform (for example, Sales + Customer Service + Marketing) or with external solutions (CRM, ERP, ITSM, accounting, ecommerce, etc.). As a result, you get a fully functioning solution that is an integral part of your IT infrastructure.
3
Dynamics 365 migration
As different as migrations can get, we are prepared to take on any of them. We can help you migrate Dynamics 365 On-Premises to Cloud or change your customer service management tool by moving from systems like Freshdesk, Zoho Desk and Salesforce Service Cloud to Dynamics 365 Customer Service. Within the migration project, we move any elements of your legacy tool that you want to see in the new solution, be it data, processes, configurations, etc. If necessary, we can also conduct user training to ensure your new tool's adoption.
4
Dynamics 365 support and managed services
To make sure that your employees' experience with Dynamics 365 Customer Service is uninterrupted, we provide support and maintenance services (as well as managed services). Within their scope, we not only monitor the health of your system but also fix bugs, support users, perform security audits and create patches for uncovered breach points, enhance your system's functionality, and much more.
<![endif]--> <![endif]--> <![endif]-->