Microsoft Dynamics 365 Customer Service
to Automate Customer Support
Microsoft Dynamics 365 Customer Service can help organizations optimize service operations, increase the productivity of service agents, and boost customer loyalty.
| | | |
| --- | --- | --- |
| | | |
| | | |
| | | |
| | | This all-round overview of Dynamics 365 Customer Service is prepared by ScienceSoft, a certified Microsoft partner. With 15 years of experience in Microsoft Dynamics 365 Services, ScienceSoft's skilled consultants, architects, and developers help companies improve the productivity of service agents, increase customer satisfaction, and reduce customer service costs. |
| | | |
Dynamics 365 Customer Service: the Essence
Microsoft Dynamics 365 Customer Service is an application for customer service automation that streamlines case and knowledge management, enables personalized service with a 360-degree customer view, and provides visibility into service agents' performance with dashboards and reports.
Gartner named Microsoft a Leader in 2021 Magic Quadrant for the CRM Customer Engagement Center.
Among renowned Dynamics 365 Customer Service users are The Coca-Cola Company, HP, Pandora Jewelry LLC, Adobe Inc., and Visa Inc.
Dynamics 365 Customer Service Key Features
Dynamics 365 Customer Service Customization Capabilities
Dynamics 365 Customer Service provides wide customization capabilities, including:
| | |
| --- | --- |
| | Case management workflows customization to automate customer service processes and rules of any complexity. |
| | Data structure customization to add or rename attributes of objects like Customer, Contact Person, Case, etc., which enables tracking and using information specific for your business in automated workflows. |
| | Automation of routine operations and business rules. |
| | Forms customization to create custom forms for surveys, quizzes and polls to collect customer feedback, measure employee satisfaction, etc. |
What ScienceSoft's Customers Say

Shorouq Basnawi
Commercial Applications Sr. Analyst
SAL Saudi Logistics Services
< ScienceSoft's> team implemented a robust Dynamics 365 customer portal integrated with the Sales module. They also conducted training on all scenarios of using the portal for our sales team, which encouraged high user adoption of the solution. We are fully satisfied with the solution and the assistance of ScienceSoft's team.

Knut Vonheim
Client Partner
AITC
AITC has worked with ScienceSoft on both SaaS development and consulting. ScienceSoft's management has quick understanding of requirements while developers possess deep technical skills. The company was committed to time, price, and quality of delivery of our CRM product. We would be pleased to recommend ScienceSoft to others.
View all customer reviews
Offer Improved Convenience to Your Customer Service Agents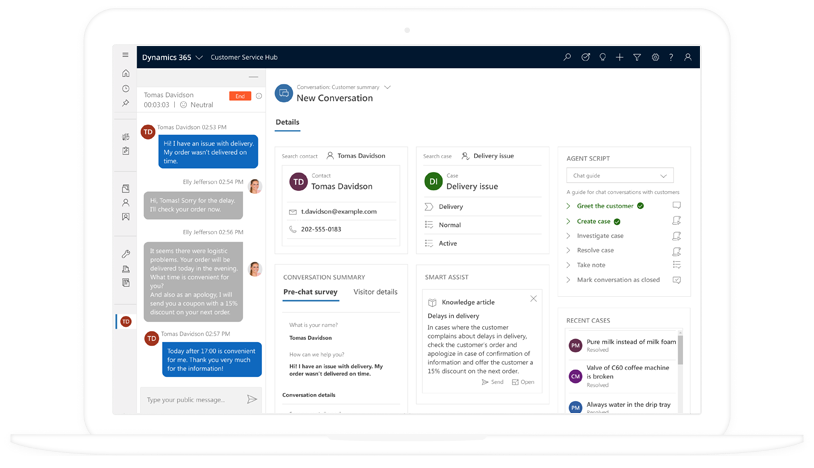 Dynamics 365 Customer Service Demo
Learn how Dynamics 365 Customer Service capabilities help your customer service team handle multiple concurrent service cases quickly and effectively.
Valuable Integrations for Dynamics 365 Customer Service
Dynamics 365 Customer Service + ERP: to enable agents access in Dynamics 365 Customer Service the latest information on the company's products and services (products in stock, service pricing, discount terms, etc.) and the current status of customer orders and invoice details from ERP to answer customers' questions.
Dynamics 365 Customer Service + sales and marketing tools (e.g., Dynamics 365 Sales, Dynamics 365 Marketing): to enable agents to view customer purchasing details in Dynamics 365 Customer Service; to help marketers create more personalized email campaigns with discounts addressed to the customers unsatisfied with the company's products or services.
Dynamics 365 Customer Service + Field service management software: to streamline collaboration between field workers and customer service agents, when a customer case requires an on-site visit of a dedicated specialist; to manage work orders and resources, schedule field service visits from Dynamics 365 Customer Service.
Dynamics 365 Customer Service + Computer-telephony integration (CTI) system: to let customer service agents initiate and accept customer calls directly from Dynamics 365 Customer Service for boosted customer service speed.
Dynamics 365 Customer Service + Document management software: to enable agents to quickly and easily create, search and edit documents (e.g., product usage instructions, presentations) in Dynamics 365 Customer Service.
Common Use Cases for Dynamics 365 Customer Service
Benefits of Dynamics 365 for Ticket Management
ROI

Average payback time

Productivity of customer service personnel

Case backlog

Case resolution time

Customer service costs
Success Stories of Dynamics 365 Customer Service
Saudi Arabia's Sakani program speeds up customer service
Sakani, a program under the National Housing Company (NHC) of Saudi Arabia, is a real estate initiative designed to support and enable Saudi citizens to own their home. Microsoft Dynamics 365 helped NHC resolve inquiries in 1 day instead of 15 days and in some cases, in 3 hours.
HP aims to deliver highly personalized customer service and build customer loyalty
HP wants to provide both enterprise customers and home consumers with exceptional customer service. The company is looking at enhancing its support experience with Microsoft Dynamics 365 to give service agents a 360-degree view of customers in real time, which will help them spend less time gathering information and more time resolving customer issues.
RAK Transport Authority lifts its customer service to new heights
Until recently, various departments of the Ras Al Khaimah Transport Authority (RAKTA) worked with manual processes and struggled to deliver modern customer service. Things changed, however, when the Authority adopted Microsoft Dynamics 365. A response to a customer service request now takes 1.4 minutes instead of 6 minutes.
Dynamics 365 Customer Service Pricing
Dynamics 365 Customer Service offers two pricing plans – Professional and Enterprise. The Enterprise pricing plan can extend the solution's capabilities via an omnichannel add-in offering voice channel, digital messaging, and live chat.
Dynamics 365 Customer Service Professional
Unlimited number of users
Case management
Knowledge management
Limited customization capabilities
Best for: small businesses
Price: $50 per user/month
Dynamics 365 Customer Service Enterprise
All features of the Professional set
Embedded intelligence
Analytics and reporting
Omnichannel add-in support
Full customization capabilities
Best for: mid-size and large businesses
Price: $95 per user/month
FAQ about Dynamics 365 Customer Service

Is Dynamics 365 Customer Service available in the cloud?

Yes, Dynamics 365 Customer Service is a cloud-based solution. It is hosted on Azure, Microsoft's web services platform.

What are the system requirements for Dynamics 365 Customer Service?

The system requirements include an up-to-date version of either Microsoft Edge, Internet Explorer, Google Chrome, or Apple Safari, an operating system no older than Windows 7 for PCs, or 10.10 for Apple devices.

Does Dynamics 365 Customer Service have a trial version?

Yes. Dynamics 365 Customer Service offers a 30-day free trial.

What does embedded intelligence mean in Dynamics 365 Customer Service?

Dynamics 365 Customer Service offers built-in insights about customer behavior and sentiment, optimization of case management workflows, and predictive analytics for marketing personalization, forecasting customer needs, ensuring on-time delivery of goods, and more. These capabilities are available only under the Enterprise pricing plan.

What about data privacy in Dynamics 365 Customer Service?

Dynamics 365 Customer Service is compliant with GDPR. When accessing the self-service portal, customers are able to correct inaccuracies in personal data, have their data erased or restricted from further processing, and more.

<![endif]-->