A low-quality ecommerce solution results in unsatisfied clients, which can bring lost revenue and spoilt brand reputation. Effective ecommerce testing is a reliable method to prevent such risks. Although it's not the responsibility of an ecommerce director to manage how a solution is tested, they will directly face the consequences of launching a buggy ecommerce website or neglecting regular testing aimed at checking security, functionality, performance, and other aspects of the solution.
In the article, we list important points an ecommerce director can focus on to verify if the testing process conducted by an in-house or an outsourced QA team is on the right track.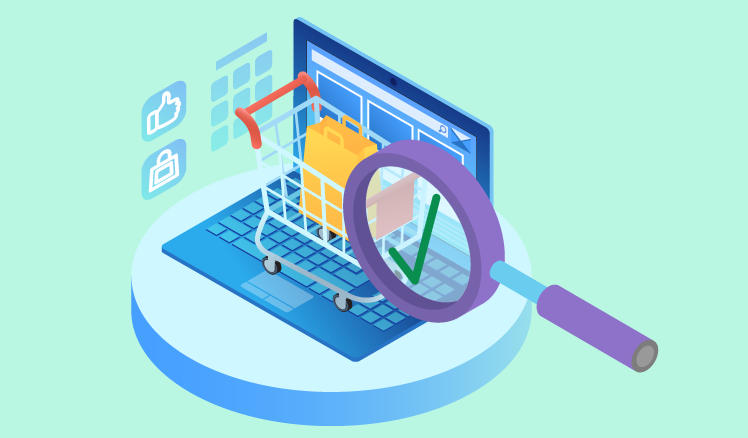 Quality risks that ecommerce testing can uncover and prevent
The online store is unavailable
This problem may originate at a provider's side. On the other hand, a solution may be just not prepared for high loads at peak times (for example, holiday sales), which could be tested and prevented beforehand.
Clients cannot find goods
Before the purchase itself, your site visitors are likely to browse through the items on offer. Weak search functionality and a slow loading speed will definitely disappoint potential customers and result in an ecommerce solution's low conversion.
Clients cannot order goods
It's especially painful when a customer has found the goods they needed, but there are problems with the shopping cart functionality, for example, Add and Remove options don't work, a user cannot apply a discount coupon. In terms of security, bugs in processing transactions are especially dangerous as customers' personal and banking data are involved.
UX is weak
UX is a very subjective but at the same time important aspect, which is likely to influence the opinion and the choice of your potential customers. For example, layout bugs such as overlapping text lines, make a user think that an online ecommerce solution is hacked and leave it without buying anything. Customers are especially fastidious about the layout bugs at the checkout pages when they need to enter their card number, home address and other sensitive information. Also, users may be irritated by inconvenient navigation. Facing UX problems, users are more likely to check what your competitors offer than call your support.
Analytics components give misleading results
With website analytics, it's possible to gain meaningful insights including a sales conversion rate, website traffic, revenue by traffic source, customer acquisition cost, customer lifetime value, average order value, the percentage of returning customers. With poor analytics, a company is deprived of a solid and reliable basis for assessing and updating its marketing, sales and other activities and the overall business strategy.
A tentative checklist for effective ecommerce testing
For an ecommerce director, quick and effective testing means that the solution will be used by potential customers sooner and bring profit. Below, we've gathered the most important points for an ecommerce director to focus on and keep their hand in the testing process.
Basic points of effective ecommerce testing
The test team suits the project
Testing ecommerce websites and applications has its specifics, and some aspects (like a solution's usability) are rather controversial and depend on every user's tastes (e.g. fonts, background color and so on). In such conditions, it is important to ensure that test engineers involved in the project have not only general testing skills but also the experience in testing ecommerce websites. It means that a test team has a better understanding of the way ecommerce solutions should look like and how they should perform in different conditions.
Test cases stay relevant
The requirements to an ecommerce solution can change, which leads to a solution's evolution (for example, adding new features and removing unnecessary ones). In this respect, test cases should be up-to-date and cover the changed functionality well.
Automated testing is used
Automated testing can significantly reduce the testing time and the number of missed bugs. However, not everything in an ecommerce solution is appropriate for test automation. Thus, the test team should strike a balance between manual and automated testing. For example, testing of the search functionality for multiple languages available on an ecommerce website is, as a rule, appropriate for automation. And SEO-related aspects are better to test manually.
What should testing of an ecommerce solution cover
Website functionality for various user scenarios
An ecommerce solution works differently for different user roles, for example, for unauthorized and authorized customers using the solution, online shop managers and sales reps. It's needed to ensure that test cases cover the operations all types of users are expected to perform: filtering items, adding goods to the shopping cart and removing them and so on.
SEO-related aspects
To win higher positions in search, it's important to check whether SEO strategy components, such as the URL structure, title tags, image alt tags, meta descriptions, are implemented correctly and correspond to the requirements (e.g., the number of words in the meta description to make it informative and short enough), product descriptions are unique.
Website performance
Performance testing includes testing the throughput of an ecommerce website such as requests per second or transactions per minute and assessing the response time. It is reasonable to additionally conduct performance testing under high load before your online store is expected to gain higher user attention than usually, for example, before holiday sales.
Security
An ecommerce website should be tested against phishing attacks, malware, spam mails and other security threats. Security testing includes conducting vulnerability assessment and penetration testing, validating role-based access control. Website security deserves specific attention before your ecommerce website is launched, and it should be subject to regular testing after every update to timely identify and address potential security vulnerabilities.
Integration
As an ecommerce website is integrated with other solutions and services (for example, an online payment system), the connection with them should be covered with tests to ensure stable work of the entire integrated system. However, integration testing in ecommerce has additional challenges because the providers of external services should be involved. Thus, it makes sense for the test team to discuss testing with external providers in advance and choose the most suitable time and conditions not to interfere with their business activities. As an additional option, testing on simulators can be used.
The need for continuous improvement
The effectiveness of ecommerce testing becomes clear when a solution comes to end users. Some bugs may come to light only after the solution's launch, and important issues with the solution may be noticed and reported by its end users. So, it is important to ensure that the test team is commissioned to systematically track and fix bugs release by release and conduct regression testing to check whether newly introduced or changed features don't harm the functioning of an entire website.
Communication with a testing team matters
Direct and regular communication with the test lead is needed regardless of whether a test team is in-house or outsourced. The idea is not to micromanage the testing team, but to monitor how quality risks are addressed. The key to success is open communication and trust when an ecommerce director discusses arising questions with the test lead during monthly meetings. Weekly meetings may be needed if quality risks are high.
Summing up
The quality of an ecommerce solution a retail business uses is the crucial point in defining the success of this business. Quality issues with ecommerce solutions bring dissatisfied customers and lost marketing and sales opportunities.
Although an ecommerce director doesn't participate in testing ecommerce websites directly, they can contribute to its effectiveness. In this respect, it's important to effectively communicate with the test team and check if the testing process is effective to minimize an ecommerce solution's quality risks.
Looking for a competent team to test your ecommerce solution? Our specialists are ready to join your project right away.