Many companies worldwide, from small businesses to large, use Salesforce CRM, one of the leading products for sales, marketing and customer service on the CRM market. However, some users are concerned about its cons, like impressive costs of products and implementation services or data storage limits. Others may have invested heavily in Salesforce customization services but couldn't get the expected results. We've considered these and other user concerns and carried out our CRM market review to help users decide whether there is an alternative to Salesforce for them, which can become a perfect match for their business.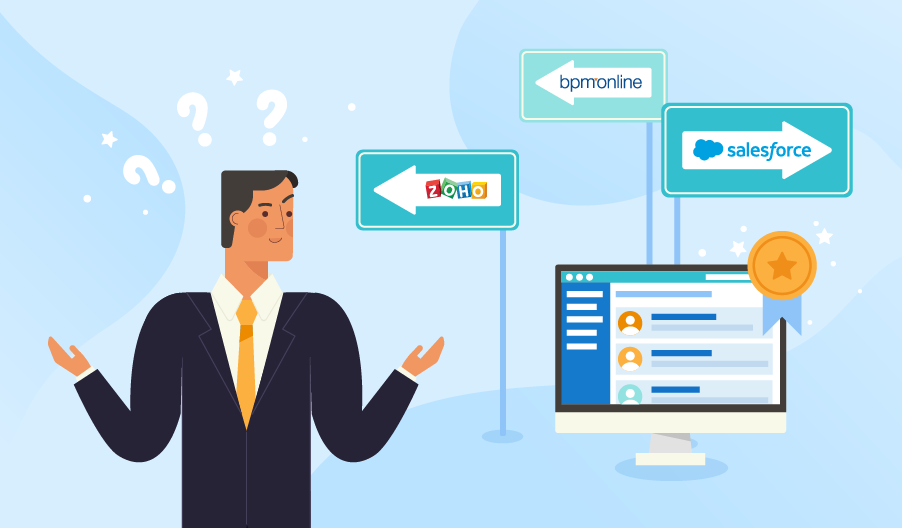 CRM Market Overview
To give you an all-round view of the CRM market, we have analyzed the products of 12 CRM vendors mentioned in the Gartner's 2019 Magic Quadrants on Sales Force Automation, the CRM Customer Engagement Center, Multichannel Marketing Hubs, and the List of 15 Best CRM Software.
We've compared 12 selected CRMs based on their:
Default functionality.
Customization capabilities.
Integration capabilities.
Focus domain (e.g., there are CRMs focused on managing the sales process only and CRMs for managing sales, customer service and marketing processes).
To summarize the results of this CRM market analysis, we've created a CRM Quadrant, where the color of bubbles (light blue and dark blue) indicates the domain CRM is focused on.
Top Salesforce alternatives
We turn to our 15-year experience in CRM consulting and development to estimate the functionality, integration, and customization capabilities of each of the 12 CRMs from our market overview. We scored CRMs on the scale from 0 (weak) to 5 (strong). As a result of the estimation, we have a list of top-performing customer relationship management systems based on different criteria.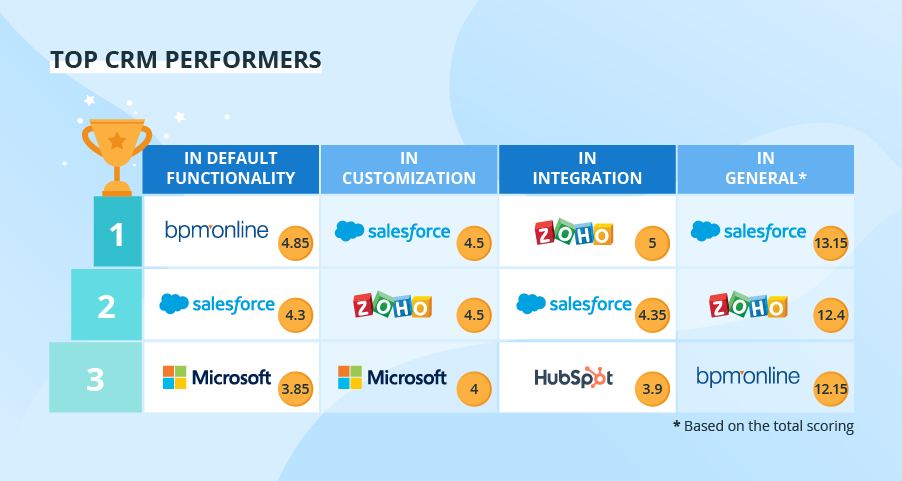 Default functionality
Salesforce holds the second place in this category with 4.3 points. The default functionality of core Salesforce products can successfully cover sales (Sales Cloud), customer service (Service Cloud) and marketing (Marketing Cloud) needs of small and medium-sized businesses and large enterprises.
The main alternatives to Salesforce in the category are Microsoft Dynamics 365 and bpm'online.
Microsoft Dynamics 365
Microsoft Dynamics 365 has on-premises and cloud-based versions, which are very similar in functionality. There are products to see to sales (Dynamics 365 for Sales), customer service (Dynamics 365 for Customer Service) and marketing (Dynamics 365 for Marketing) needs.
As we show in a Dynamics 365 Sales demo, core functionality for the sales domain includes account, contact, opportunity and lead management, sales pipeline management, sales process flows, activity (customer email, phone calls and meetings) management, sales analytics tools, collaboration tools for team selling (like Microsoft Teams).
As we show in a Dynamics 365 Marketing demo, core functionality for the customer service domain includes case management features, a knowledge base for customer service agents, customer service analytics.
As we show in Dynamics 365 Customer Service demo, core functionality for the marketing domain comprises multichannel marketing campaigns management, lead scoring, nurturing and prioritization, audience segmentation and event management.
bpm'online
Available both on-premises and in the cloud, bpm'online has comprehensive functionality for managing sales (bpm'online sales), customer service (bpm'online service) and marketing (bpm'online marketing) processes for B2B and B2C companies of all sizes.
Among the CRM features essential for the sales domain are lead, opportunity and contact management, order, contract and invoice management, project management, sales process management, and sales forecasting. What makes this CRM stand out is the functionality for field sales management that allows setting workflow rules for sales reps selling outside the office to different categories of customers, schedule customer visits for each field sales rep, monitor the actual visits by geo-tags, etc.
Features for the customer service domain include a contact center for case queue management and monitoring communication with customers, service catalog (a unified database of service options to help service agents quickly offer a necessary one), and knowledge management (a unified knowledge base with articles for quicker case resolution by service agents). The Dynamic Case Management (DCM) feature offers patterns to manage cases that differ from the cases available in the knowledge base, allowing agents to select the best set of activities for the efficient resolution of such cases.
Among marketing features, there are marketing campaign management, website behavior tracking (gathering info about leads visiting your website, their activity and time spent on the website), and email marketing campaigns management. Another valued default feature is event management helping to plan and manage events like promotions, advertising campaigns, conferences, webinars and other off- and online activities.
Customization capabilities
In the category, Salesforce leads with 4.5 points due to extensive customization capabilities made possible with point-and-click tools or Apex code (a programming language for Salesforce development), Lightning Component and Visualforce (UI frameworks). Configurations done with point-and-click tools allow, for instance, creating custom objects and fields, introducing workflow rules and approval processes. Code-based customization implies deep CRM modifications, for instance, creation of custom reports and dashboards, complex multistep sales-related processes, or enabling automated operations, like the mass update of manifold records (e.g., lead and contact records). Another customization option is resorting to Salesforce custom app development to obtain the needed features.
The main alternatives to Salesforce in the category are Microsoft Dynamics 365 and Zoho.
Microsoft Dynamics 365
Microsoft Dynamics 365 can be configured without code, which manifests in creating workflows, dashboards and reports, calculated fields and email templates. As for code-based customization, it's applied for building custom apps, workflows, custom UIs and more. However, user reviews on Software Advice mention that it takes a long time and much effort to make CRM's UI convenient for new users via customization. If you need help with Microsoft Dynamics 365 customization, you are welcome to check our customization services offer.
Zoho
Zoho CRM can be configured with point-and-click tools, enabling the creation of custom objects, page layouts, workflows, user roles and filters to sort out CRM records by pre-defined criteria. Also, developers can use Deluge, Zoho's low-code scripting language, to enable custom processes for the calculation of taxes, expected revenue, etc. and workflows for automating daily tasks of sales managers and reps.
Integration capabilities
In this category, Salesforce ranks second with 4.35 points. It can be integrated with Outlook and Gmail with default means. To integrate Salesforce with external systems (like ERP, DMS, ecommerce, social networks, etc.), developers resort to default tools (e.g. Files Connect for Salesforce – SharePoint integration) open APIs (e.g., REST, SOAP) and custom development or AppExchange integration apps.
The main alternatives to Salesforce in the category are Zoho and HubSpot.
Zoho
Zoho can be easily integrated with manifold external systems, like Microsoft Office 365 Suite, document management systems, collaboration tools, social media, and VoIP through a large variety of integration apps and extensions on its proprietary Marketplace. Integration with an email client (for example, Gmail) can be performed using API.
HubSpot
HubSpot is a free open-source CRM that can be natively integrated with, for example, Microsoft Office 365 Suite, Shopify, WordPress. Additionally, there are apps for HubSpot integration available on HubSpot Connect, a marketplace of certified third-party HubSpot tools.
Top-performing CRMs from users' viewpoint
Summarizing user reviews on reputable web-portals, like Capterra, Software Advice and G2, we can spot what customers value most in the three top-performing CRMs of our ranking.
Salesforce
Starting price – $25 user/month (limitations: 10 users maximum, no possibility of code customization).

Deployment models – SaaS.

Company size – Small, Midsize, Large.

CRM domain – Sales, Marketing, Customer Service.
Salesforce, which is evaluated the best CRM according to our research, is appreciated by customers for:
A big variety of products and add-ons for sales, customer service and marketing needs for companies of all sizes and domains.
The availability of additional software from Salesforce and third-party software vendors (there're over 5,000 applications on Salesforce AppExchange).
Extensive customer support and self-service capabilities (a wide range of online resources, like Trailhead and product documentation for user training).
Zoho
Starting price – $12 user/month.

Deployment models – SaaS.

Company size – Midsize, Large.

CRM domain – Sales.
Zoho, which ranks second according to our research, has the following benefits from the customer viewpoint:
Lower pricing than that of the leading vendors, like Oracle, Microsoft Dynamics 365 and Salesforce, makes Zoho attractive for midsized businesses.
An active user community.
The product's customization is easy and doesn't require coding skills.
bpm'online
Starting price – $25 user/month.

Deployment models – SaaS, On-premises.

Company size – Small, Midsize, Large.

CRM domain – Sales, Marketing, Customer Service.
Bpm'online, which ranks third according to our research, is preferred by customers due to:
Extensive out-of-the-box capabilities for modelling internal business processes for B2B and B2C businesses, efficient managing of long and short sales cycles and customer service processes.
Deployment flexibility: there are on-premises and cloud CRM versions.
Attractive and intuitive UI.
An afterlook at the main Salesforce competitors
Our CRM comparison proves that Salesforce remains one of the leading CRMs for sales, customer service and marketing. Still, there are some decent competitors that challenge Salesforce in terms of default functionality (bpm'online) and integration capabilities (Zoho). Thus, every business can find a CRM to satisfy its particular business needs.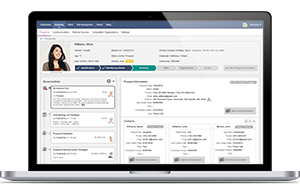 A CRM consulting vendor with 15 years of experience, we will help you choose and implement a CRM that suits your business best.