Financial Software Development Services
Serving a wide range of industries, ScienceSoft gives special attention to the banking, financial services, and insurance sector (BFSI). Since 2005, we deliver state-of-the-art BFSI solutions that bring 2–25x+ faster business processes, 5–40% reduction in operational costs, 10–15% increase in revenue, and 100% visibility of financial transactions.
Financial software development services are aimed to help companies from banking, financial services, and insurance industries increase operational efficiency, improve customer engagement and retention, and leverage new, more profitable business models.
ScienceSoft provides full-cycle IT consulting and custom software development services to help BFSI companies digitally transform their business operations and unlock new opportunities for growth. We guide our clients through the whole financial software implementation journey and give the highest priority to sensitive data security and achieving regulatory compliance.
Software Development for All Financial Service Domains
Click on the cards below to explore a full scope of ScienceSoft's services for your business area.
Solutions to Handle BFSI Operations of Any Complexity
ScienceSoft develops purpose-built solutions and all-in-one systems with complex financial logic to seamlessly handle even the most complicated, highly specific BFSI operations and sophisticated financial calculations. The examples of BFSI systems we create include:
Web and Mobile Applications to Introduce Excellent Digital Customer Experience
Since 1999 in web and since 2005 – in mobile development, ScienceSoft knows how to create top-flight custom web and mobile applications for banks, financial services companies, and insurance providers. Our financial software development company delivers client-facing BFSI apps for a rich variety of use cases:
Why Trust the Development of Financial Software to ScienceSoft
Since 1989 in IT and 750+ professionals on board.
Since 2003 in cybersecurity to guarantee full protection of BFSI software.
Compliance experts with 5–20 years of relevant experience to achieve BFSI software compliance with the required regulations.
Mature collaborative culture to drive sustainable long-term value of our engagements.
Quality-first approach based on an ISO 9001-certified quality management system.
Robust data security management supported by an ISO 27001 certificate.
The Financial Times Includes ScienceSoft USA Corporation in the List of the Americas' Fastest-Growing Companies 2023
For the second year in a row, ScienceSoft USA Corporation ranks among 500 American companies with the highest revenue growth. This achievement is the result of our unfailing commitment to provide high-quality IT services and create best-value solutions that meet and even exceed our clients' expectations.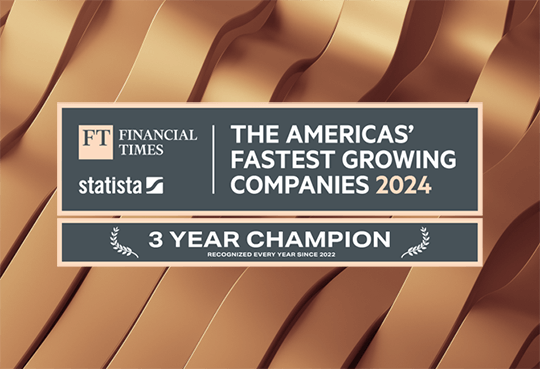 Perks of Our Approach to BFSI Software Development
Risk-free cooperation start
Before the project start, we provide a detailed cost estimate and analyze the economic feasibility of your initiative to help you confidently decide on further engagement. We are ready to sign an NDA before the introductory call to legally protect your confidential business data.
We accurately scope the project, provide a detailed development plan with time and budget estimates, and introduce a tailored set of KPIs to measure cooperation success. We monitor the project risks and design a pragmatic risk mitigation plan to proactively address potential issues.
Designing for unimpeded growth
We create BFSI software with a cloud-centric scalable architecture to enable smooth integration with all required systems and support business growth.
Ensuring easy maintenance
We thoroughly document our software and technical design decisions and consistently share the documents with your team to streamline software support and evolution.
Driving value with advanced techs
With decades of experience in AI, big data, blockchain, IoT, and AR, we know how to employ advanced techs to improve the speed, accuracy, and safety of financial operations.
We grant you access to our project tracking systems and provide regular reports on the accomplished tasks to ensure you always stay updated on the development progress.
We follow the SSDLC best practices and design solutions powered with multi-layer data encryption, biometric authentication, intelligent fraud detection, and other advanced cybersecurity mechanisms to ensure full protection of BFSI software and sensitive data it stores.
Our BFSI Customers Say
Nahid V. Zeynal
CIO, Deputy Chairman of the Board
Kapital Bank
Since the start of our cooperation in 2016, ScienceSoft has been a reliable tech partner in our mobile banking development projects. We are impressed with their pragmatic project management, quality-first mindset, and transparent communication. ScienceSoft's solution architects, developers, and QA engineers are true experts in their fields.

Juhani Onkalo
Head of eBanking
Tieto
ScienceSoft powered Tieto with a competent team to develop products for banking services. The team has been delivering results within budget and time. I'm absolutely satisfied with the quality of their services, their development skills and responsibility as well as the way they manage communication with us and our clients.

Khalid Ahadov
Executive Director
Unibank
We were pleased with the outcomes of the project, as well as with the collaboration mode. ScienceSoft brought to the table substantial expertise in mobile application development and explicitly customer-centered approach to the application design. We especially appreciate their professional approach to security issues, which were among our main concerns due to strict regulations.

Jeff Cafolla
CMO and Co-Founder
Secure-DeFi
ScienceSoft's team performed a discovery phase to help us define an optimal approach to crypto wallet development. They came up with a go-to architecture, features, and tech stack for our multi-chain wallet, and introduced a detailed roadmap for crypto wallet implementation. We highly appreciated their approach to consulting and mature project management culture.
View all customer reviews
Financial Software Development Costs
Financial software development costs may vary significantly depending on the type of software you want to implement, as well as on the scope of the solution's functional and non-functional capabilities.
Based on ScienceSoft's experience, financial software development costs may range from ~$150K (a custom mobile app for the finance company's clients) to $2M+ (a complex software system aimed to digitalize specific BFSI operations).
Technologies & Tools We Use To Build Reliable BFSI Software
ScienceSoft's Featured Success Stories
Here are some of our hallmark software solutions for banks and financial services companies:
Frequently Asked Questions
Will you help us optimize the project cost?
We analyze a client's business needs to define an optimal feature set for the finance solution and avoid packing it with unnecessary functionality. We also apply an iterative approach to BFSI software development to introduce essential features first and enable faster payback from software implementation. Plus, ScienceSoft relies on proven frameworks, platforms, and ready-made components where possible to streamline custom financial software development and cut its cost.
What are the popular cooperation models for BFSI software development?
Do you offer any specific services for fintech?
ScienceSoft provides full-cycle design and development services to help fintech startups and traditional BFSI companies create innovative solutions that enable more efficient financial service models. For fintech companies specifically, we provide product, security, and compliance consulting services to help them step into the market with minimal risks and promptly succeed with the brand-new solution. Visit our dedicated page to learn more about ScienceSoft's fintech development offering.
All about BFSI and Investment
<![endif]--> <![endif]--> <![endif]-->