Editor's note: Andrew outlines the key features of CRM for insurance agents and presents a list of top 3 insurance CRM systems. If you are interested in implementing an insurance agency CRM solution, feel free to check ScienceSoft's CRM services.
Nowadays, a CRM solution for a company providing services is not just a trend but a must as CRM helps build stronger relationships with customers and sell more and faster. No wonder that 50% of CRM buyers are in insurance, consulting, or distribution markets. Today, I focus on how CRM can benefit insurance agencies and bring the ROI of $8.71 for every dollar spent.
Why should insurance agents use insurance brokerage CRM?
An insurance CRM system provides insurance agents with necessary features to increase policy sales, manage marketing campaigns to attract policyholders, simplify insurance application processing, and strengthen customer relationships. To benefit from using a CRM platform, I suggest looking for the following features in it:
Insurance leads tracking.
Policy management.
Policy sales analytics.
Insurance workflow automation.
Claims management.
Email marketing management, etc.
If you'd like to see how a CRM solution streamlines the work of an insurance agency in practice, check ScienceSoft's project for a US-based analytics company.
Top 3 CRM systems for insurance agents
Microsoft Dynamics 365
Key strength: A CRM solution based on Microsoft Dynamics 365 will provide your agents with tools to deliver outstanding policyholder experiences, automate the policy sales process, and launch personalized multichannel marketing campaigns.
Unique features:
Policy management (providing information on active policies, upcoming renewals, and policy premiums).
Virtual Agent (creating, testing, and launching chatbots with easy-to-use templates to resolve standard issues of policyholders).
Knowledge management (creating and managing knowledge articles needed for a case resolution).
Softphone dialer (initiating a call while dialing a customer from a browser).
Dashboards and reports (checking key performance indicators, e.g., agents' performance by territory).
Limitations: Limited number of integrations with third-party services.
Pricing: Starts at $115 per user/month (Customer Engagement Plan).
Microsoft Dynamics 365 also allows for purchasing apps separately:
Sales: Starts at $65 per user/month (Professional Edition).
Marketing: $1,500 per month/10,000 contacts (as a standalone app).
Customer Service: Starts at $50 per user/month (Professional Edition).
More about Microsoft Dynamics CRM
Salesforce Sales Cloud
Key strength: Salesforce Sales Cloud empowers insurance agents to boost policy sales efficiency, develop policy sales strategies, gain the trust of new insurance leads and build long-term relationships with existing policyholders. There's also a special product based on Sales Cloud functionality – Financial Service Cloud – that can meet the specific needs of insurance agencies.
Unique features for Salesforce Sales Cloud:
Dashboards and reports (using out-of-the box dashboards or customizing them based on your agency's needs, e.g., policy sales activity, policyholder's activity; creating reports on monthly policy sales and renewals, policy sales forecasting, etc.).
Products and Price Books (creating pricing options for insurance products (e.g., auto insurance, life insurance) and insurance services (e.g., policy renewal, policy loan) available in different currencies).
Lightning Dialer (enabling one-click calling and automated call logging).
Unique features for Salesforce Financial Service Cloud:
Customer and household data management.
Policyholder insights.
Life events management.
Insurance claim management, etc.
Limitations:
For Sales Cloud, no on-premises implementation.
For Financial Services Cloud, lack of currency management.
Pricing: Sales Cloud starts at $25 user/month for the Lightning Essentials edition (billed annually). Financial Services Cloud starts at $150 user/month for the Professional edition (billed annually).
More about Salesforce Sales Cloud
Insureio
Key strength: Insureio is life insurance CRM software that offers a scope of advanced features for insurance workflow automation.
Unique features:
Policy management (providing all the details like a current status, number of days in a current status, quoted details, associated tasks, etc.).
E-application and e-signature (creating and adopting e-signature, signing and submitting insurance policy applications online in a few clicks).
Templates (350+ templates for marketing emails, SMS and dozens of pre-built marketing campaigns).
Click-to-call (calling a customer without leaving CRM).
Limitations:
No on-premises deployment.
Lack of features for health or property insurance agencies.
No mobile app.
Pricing: Starts at $25 user/month (Basic Edition).
Increase the efficiency of your insurance agency with CRM
CRM can become the key ingredient for your insurance agency to raise competitiveness. For that, you should carefully choose and implement an optimal CRM system. And to ensure that the implementation process runs smoothly and brings the maximum ROI for your CRM, reach out to ScienceSoft's CRM experts.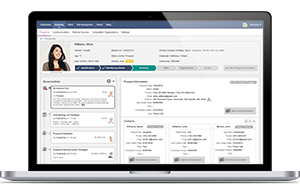 Do you want to manage customer relationships more efficiently? Experienced consultants will help you with CRM software of any complexity.