Claim Management Automation
A way to unlock up to 30% reduction in claim processing costs.
Claim Management Automation: Key Aspects
Claim management automation helps streamline and speed up the entire insurance claim cycle, from claim data intake to claim settlement and reporting. An automated claim management system relies on artificial intelligence (AI) to enable analytics-based claim decisioning, accurate damage estimation, and instant detection of insurance fraud.
Rather than completely eliminate manual efforts, claim automation aims to minimize low-value claim-related tasks and let the employees focus on handling complex cases that require human involvement. It helps optimize operational costs and ensure topflight customer experience.
Necessary integrations: a customer portal, a policy administration system, accounting software, etc.
Implementation time: 9–15+ months for a custom claim management automation system.
Development costs: $200K–$500K+, depending on a solution's complexity.
A payback period: <12 months.
4 Main Claim Management Areas to Automate
Get fast and accurate claim validation with minimal human involvement thanks to RPA- and AI-based automation. Leverage intelligent detection of fraudulent claims to prevent financial losses.
Harness the power of the cutting-edge AI, big data, IoT, and image analysis techs to get streamlined damage inspection and precise damage assessment.
Automate claim triaging, decisioning, and payment to achieve 80%+ faster claim cycle. Get 100% visibility of the claim handling progress.
Employ AI-powered virtual assistants to deliver automated personalized customer interactions via the client's preferred method of communication.
Key Features of a Claim Management Automation System
In our insurance claim automation projects, ScienceSoft designs and builds solutions with functionality bound to each client's unique claim management needs. Below, our consultants list the core features most commonly requested by our customers:
Essential Integrations for an Automated Claim Management System
Integrating claim processing software with the relevant back-office and third-party systems helps achieve higher degree of automation and instantly access the required claim-related data. ScienceSoft recommends establishing the following integrations:
Customer interaction channels (a customer portal, email services, messaging services, a business phone system, etc.) - for instant claim aggregation and facilitated claim status reporting to customers.
Policy administration system - for streamlined claim validation.
Third-party data sources (internal systems of medical information bureaus, police administration, etc.; social media) - for data-driven claim decisioning and damage assessment.
Tracking solutions (IoT ecosystems, computer vision systems, and asset monitoring software of the insurer, commercial customers, third-party telematics providers, etc.) - for fast and precise damage estimation.
Vendor management software - for prompt selection of optimal health and repair service providers to recommend to policyholders subject to damage.
Accounting system - for automated recording of claim payment transactions in the general ledger.
Financial planning and analysis software - for accurate planning of claim handling expenses.
Business intelligence solution - for comprehensive claim analytics and reporting.
Claim Management Automation Pricing and ROI
Implementing claim management automation for a midsize insurance company may cost around $200,000–$500,000+, depending on the scope and complexity of an automated claim processing system.
Below, we provide the approximate cost estimations based on ScienceSoft's experience in the claim management automation projects:
Development of a custom automated claim management software of average complexity.
Building a comprehensive custom claim management system powered with AI/ML, big data, blockchain.
| | | |
| --- | --- | --- |
| | | |
| | | NB! If you don't have specific requirements for the UX and UI design, ScienceSoft suggests building your claim processing automation system based on a low-code platform (e.g., Microsoft Power Apps). Our experience shows that this option helps reduce the development cost by up to 70%. |
| | | |
Key financial outcomes of claim management automation
decrease in claim processing costs

increase in business profitability
Success Factors for Claim Processing Automation
According to McKinsey, RPA-enabled process automation alone can bring up to 200% annual ROI. Additionally, covering the following important factors will help you drive even higher payback from automating your claim management operations.
To leverage no-touch claim processing, instantly detect fraudulent claims, and rely on intelligent decision-making.
Integration with multiple data sources
To verify claims and evaluate damage with full insight into the claim case details, customer behavior, and external conditions.
To smoothly process abnormally large volumes of claims caused by external factors (e.g., claim handling during natural disasters or spikes of the COVID-19 pandemic).
To avoid penalties for non-compliance and reputational damage, make sure your automated claim processing system meets the legal framework and can be easily evolved to adopt frequent changes in the regulatory requirements.
When to Opt for a Custom Solution
ScienceSoft's experts recommend building a custom claim management automation system in the following cases:
You need to automate complex or unique claim management workflows, for example:

Extracting and processing claim-relevant data in various formats, including voice recordings, handwritten text, video, unstructured and semi-structured IoT big data.
Claim triaging based on custom rules.
Damage estimation for specific insurance types, such as crop and livestock insurance, professional liability insurance, or parametric insurance.

You need a flexible solution that can be easily evolved with:

New functional and non-functional capabilities required for sustainable business growth.
Trending insurtechs, e.g., to leverage computer-vision-supported claim adjudication or blockchain-based claim payments.

You want smooth and cost-effective integration of claim processing automation software with all the required systems, including legacy tools and complex asset tracking systems.

You need a solution that provides compliance with necessary legal regulations, including local regulations.
Claim Management Automation with ScienceSoft
In insurance software development since 2012, ScienceSoft provides comprehensive consulting and development services to introduce seamless claim management automation.
A Featured Success Story by ScienceSoft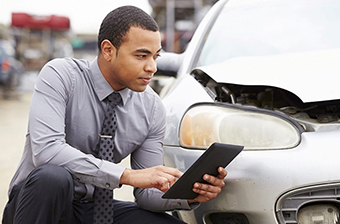 Development of an Automated Claim Processing System Powered with Augmented Reality
Automated processing of car damage claims, damage photos, and AR-supported 3D car images.
Rule-based claim routing for estimation to the available analysts.
Instant customer notifications on claim approval or rejection.
Suggestions on the fitting repair facilities and automatically calculating the distance to each facility.
Value: Facilitated damage estimation, faster claim resolution, improved customer experience.
About ScienceSoft

ScienceSoft is a global IT consulting and software development company headquartered in McKinney, Texas. Since 2012, we help insurance companies implement effective claim processing automation. Being ISO 9001- and ISO 27001-certified, we apply a mature quality management system and guarantee that cooperation with us does not pose any risks to our customers' data security.

<![endif]--> <![endif]--> <![endif]-->