<![endif]-->
<![endif]-->
CRM for Banks and Credit Unions
With 15 years in Banking IT, ScienceSoft delivers Banking CRM solutions to help retail, corporate, community, investment and private banks as well as credit unions manage their relationships both with individual customers and business clients. Our specialists help to automate manual business processes, enhance generation of customer-related data as well as effectively communicate with prospects and current customers.
Choose Your Banking CRM Platform
At ScienceSoft, we guide banks of various types and sizes through the whole process of CRM deployment including reviewing requirements, consulting, project management, system tuning, integration, updates and training. We work with leading CRM platforms, such as Microsoft Dynamics CRM (now Microsoft Dynamics 365) and Salesforce to provide you with the utmost experience in customer relationship management.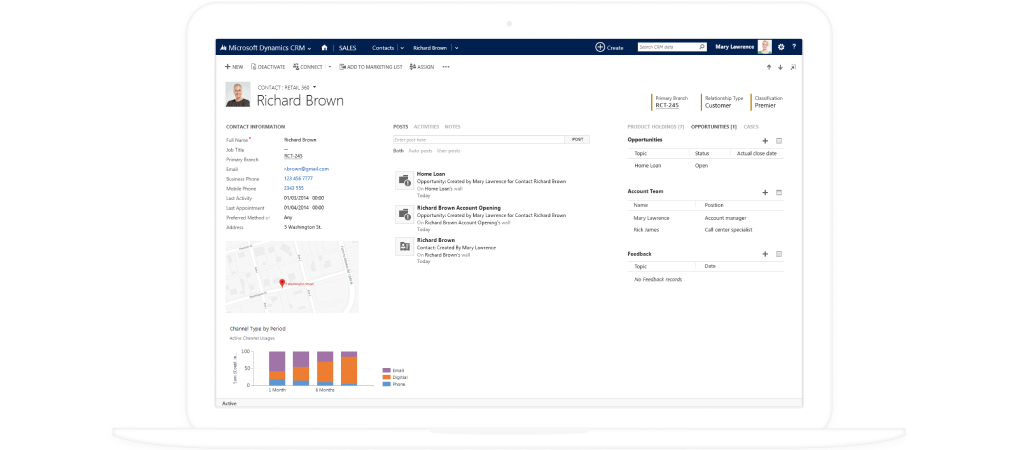 CRM for a Retail Bank with 7+ million Clients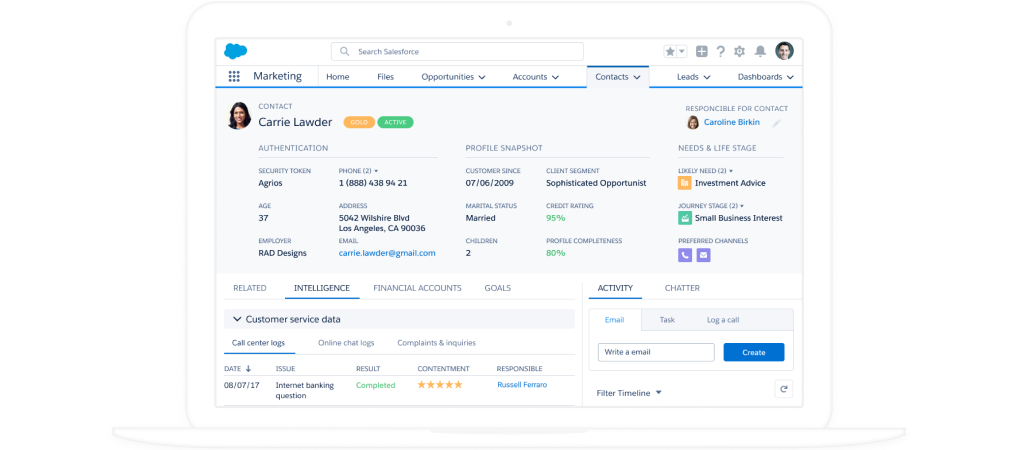 Banking CRM Demo: 360-degree Customer Profile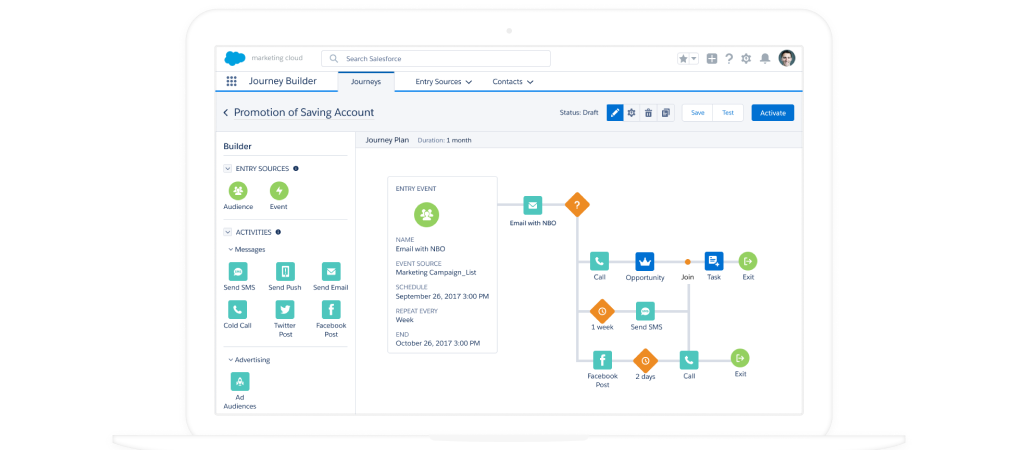 Banking CRM Demo: Marketing Campaign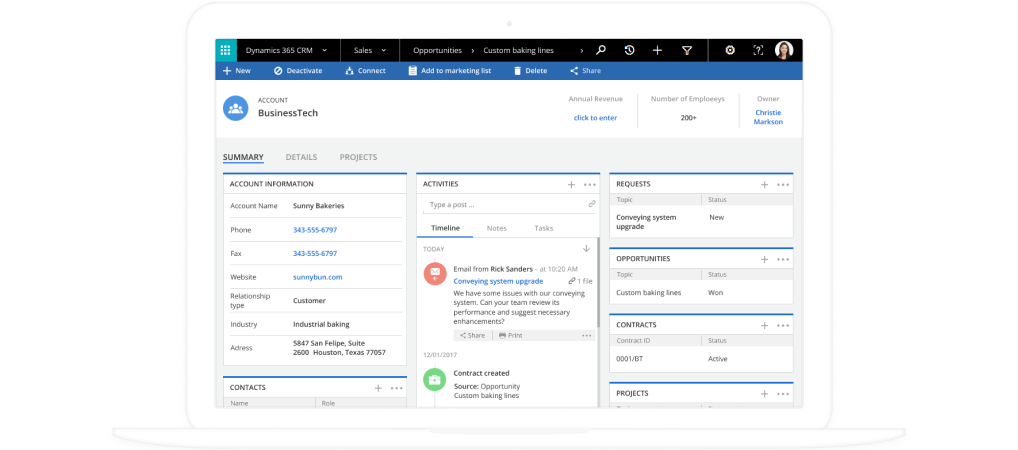 Dynamics 365 Demo: Sales Cycle
For midsized and large banks
Integrate data from other banking systems, including marketing, lending, customer service and other platforms to create and retain close ties with customers wherever they are.
Meet the needs of local community and businesses with personalized service and product offers.
Get rid of an account-centric approach and focus efforts on member convenience. Create detailed member profiles to become a trusted adviser improving member experience and, therefore, satisfaction.
We Can Solve Your Business Challenges
At ScienceSoft, we deliver CRM systems that help banks to improve efficiency and motivate sales and marketing staff to do their best work. With CRM solutions, our customers can solve the following business challenges:
Long sales cycles
They delay return on investment as well as make sales consultants less confident about the success of their selling efforts. With the right approach and methods to reach prospects, financial institutions can ensure a standardized selling process that shortens sales cycles.
High customer churn
Losing customers, you have to constantly attract new ones to patch the gaps. To slow down customer churn, financial institutions should understand why customers choose their competitors, define the most valuable customers of all and learn how to keep in touch with them most efficiently.
Weak cross-selling
Banks' sales consultants may not use cross-selling opportunities fully if they don't know about previously purchased products and services, as well as about what complementary products can be the most relevant. Creating a comprehensive database that stores data on customer preferences and previous behavior allows banking consultants to make more targeted sales offers.
Unsystematic customer communication
If customer data is scattered across spreadsheets or multiple disconnected systems, banks' employees won't be able to see into each customer relationship. And that lack of customer communication makes promotion of new products and services nearly impossible. Storing all customer-related data and activities in a unified database enhanced with automated communication tools improves the quality and promptness of customer communications.
Low customer satisfaction
In the absence of a centralized customer base, banks may face problems with storing and sharing knowledge about customers across departments. This may result in missed opportunities to spot changes in customer needs and preferences, obtain customers' feedback, find out and effectively meet customers' needs. With a suitable approach and methods tracking all these characteristics, banks and credit unions can substantially increase customer satisfaction.
Make the Most of CRM Features
| | |
| --- | --- |
| | Data management, profiling and targeting. CRM helps to create a unified view of a bank's customer base, which includes all activities, updates and past transactions done through ATMs, branch tellers or customer service agents, to create complete customer profiles. Bank employees can use CRM to view balances and all changes related to a certain banking account or customer. The database can store information about account openings and closures, deposits, withdrawals, etc. to analyze and predict customer behavior. Using this information, banks can create targeted offers and provide superior customer experience. |
| | Customer analytics. CRM systems allow defining customers' product and service preferences, uncovering the average transaction size for each customer segment as well as tracking an individual's profitability. This helps to identify high-potential customer segments as well as the most valuable customers. |
| | Sales and marketing automation. With CRM, financial institutions can ensure meeting the goals and deadlines of marketing and sales campaigns by automating core repetitive tasks. For example, marketing specialists can automatically segment customers based on their transaction history, account balance and other significant attributes. Using this knowledge, banking CRM software can automatically recommend financial products and services that correspond to a certain customer segment or a particular customer. Thus, marketing specialists and sales representatives can organize tailored e-mail, phone, event and other campaigns, track customer responses and analyze them. |
| | Workflow management. CRM solutions help managers automate workflow processes such as tasks, alerts, calendar events and other activities to define all stages needed for successful deal closing. CRM will automatically outline an action plan to increase employees' productivity. Bank managers can use data logged in the system to track employees' performance. |
| | Risk management. With CRM software, bank representatives can identify unreliable customers with high-risk behavior such as late payments, low credit score and other triggers that can help them proactively identify unsafe issues and take appropriate decisions. |
| | Customer satisfaction and loyalty management. Banks can use CRM to better define customer retention strategies, shape pricing policies for certain customers and later analyze their impact on overall customer satisfaction. Banking CRM helps to refine the vision on customer preferences and allows providing superior advisory services that improve wallet share and loyalty. |
<![endif]--> <![endif]--> <![endif]-->