Editor's note: By investing heavily in data assets without the appropriate strategy, you run the risk of making decisions resulting in unsatisfactory business intelligence ROI. Read on to learn about ScienceSoft's propriety BI strategy, and check our offer in BI implementation services to learn how we can shoulder your BI project following this approach.
A well-developed BI solution is one of the success factors of a company's wellbeing. It contributes to enhancing your business by enabling proactive optimization and becoming a BI-driven company. A well-thought-out business intelligence strategy ensures ROI from substantial investments into a BI solution.
According to the 2020 Global State of Enterprise Analytics survey, "only 52% of front-line employees have access to their organization's data and analytics", which is a hurdle to data literacy expanse among employees. In this article, we will share how to plan a BI strategy that will lead to the increased data literacy in your company and transform it into a BI-driven enterprise.
To benefit from your data, you need to start with the understanding of data potential to solve your business problems. A BI solution implemented following a well-thought-out enables a company to:
Improve operational efficiency
You can understand and refine every operational process, creating a potential to drive revenue.
Empowered by advanced analytics, BI software allows assessing risks (be they risks in day-to-day operations or strategic decisions). In manufacturing, for example, it provides the opportunity of forecasting machine breakdowns, consequently reducing operational costs.
Create new products/services and enhance customer experience
You can tailor your products and services in accordance with real-time customer data (interactions, transactions, feedback, sentiment, etc.). Thus, by taking customer-centric decisions, you grow your top lines.
Your company is able to identify the opportunities for improvement by studying its competitors' performance and adopting best practices.
Get autonomy for instant decision-making
A self-service BI solution powered with the 4 types of data analytics helps companies quickly react to changing business requirements and operate different business environments without the need to involve IT teams. In our BI demo, you can see how an intuitive interface of a self-service BI solution makes it easy to spot trends and patterns and answer your business questions.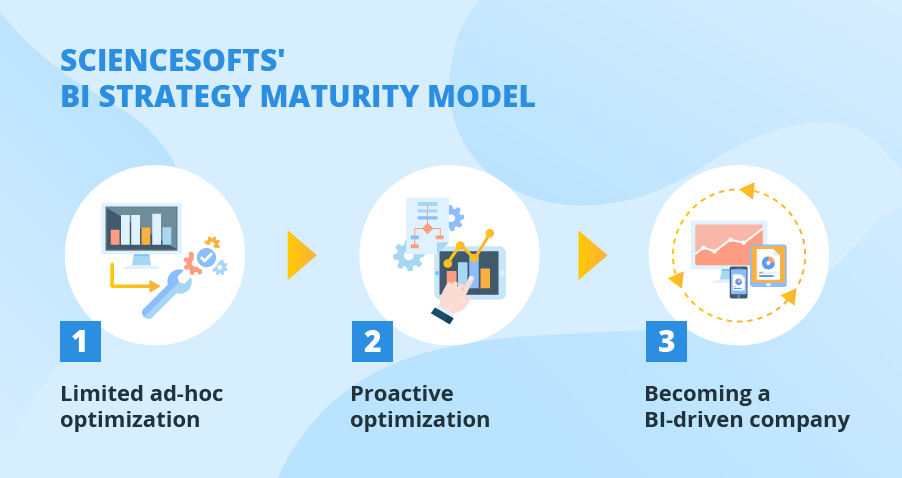 Drawing on 16 years of experience in BI, ScienceSoft worked out its own approach to developing a BI strategy. Our maturity model allows incrementally reaping the BI benefits, starting from analytics that requires minimum investments and moving towards deeper insights:
At this stage, a company leverages the acquired data to tune its current processes. Let us set an example here: Company X launches a marketing campaign to increase the sales of a certain product, but it seems to be fruitless. The company needs to learn the reason for that and define what adjustments need to be made.
As a starting point, the company evaluates its data – what data sources are currently available and how the retrieved data can be beneficial. In other words, the company assesses the data in terms of its potential to improve its marketing campaign. The company concurrently ensures data quality by conducting data quality management. Otherwise, low-quality data can totally discredit the company's attempts. Then, the mix of descriptive and diagnostic analytics is employed to define what exactly is wrong about the marketing campaign and the reasons for such an outcome. When the problem and its root cause are defined, the marketing campaign can be optimized accordingly.
At this maturity stage, the strategy presupposes implementing a BI solution that is aimed at gaining new insights to find more elaborate ongoing optimization options. Let us return to the previously mentioned company X, which is about to launch a new marketing campaign. This time, a BI solution empowered by predictive and prescriptive analytics enabled by machine learning capabilities allows the company to tailor its marketing campaign upfront.
The third maturity stage addresses the challenge of delivering insights to the right people at the right time. At this stage, company X employs self-service BI software to grant its business users (according to their user roles) independence to make quick data-driven decisions without the need to involve the IT department. That way, all-level employees can have access to the data relevant to their tasks, which contributes to data literacy expansion among the whole enterprise.
A business intelligence strategy is a framework that enables gradually reaching the following business objectives: optimizing current business processes, creating top-notch products and services and becoming a data-driven business.
Do you want to improve the decision-making process through business intelligence? Turn to ScienceSoft to get your own roadmap to success.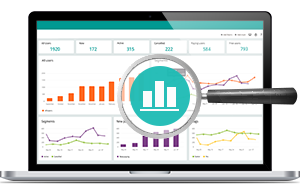 BI expertise since 2005. Full-cycle services to deliver powerful BI solutions with rich analysis options. Iterative development to bring quick wins.