Microsoft Dynamics 365 Marketing
Microsoft Dynamics 365 Marketing is a marketing solution that unifies your customer information, provides marketing automation features such as lead scoring and customizable email templates, and allows you to create personalized customer journeys.
Numerous companies across business domains (and maybe even your top competitors) already employ marketing automation extensively and witness truly great results:
in lead volume
in lead conversion
in marketing ROI
Do You Want to Reap Those Marketing Automation Benefits Too?
Dynamics 365 Marketing can be just the right tool. Let's study its feasibility for your business!
Available as a part of the Marketing package:
The Core Marketing unit covers a comprehensive customer profile, email management, marketing forms and pages, customer segmentation, customer journeys, lead management, marketing analytics.
The Event Management functionality allows centralizing and monitoring all event-related information.
Forms Pro provides a possibility to launch online surveys and analyze their results.
Available also as separate add-ons:
Dynamics 365 portals give the audience (whether customers or your internal team) an online space to communicate and collaborate.
Dynamics 365 Connector for LinkedIn Lead Gen Forms imports leads generated with LinkedIn's lead tools into Dynamics 365.
How Dynamics 365 Marketing Transforms Business Processes
Covering the app functionality is essential to give a general overview. Now, we will focus on translating core functionality into the business language to show exactly what business challenges Microsoft Dynamics 365 Marketing solves and what benefits it provides.
Centralized marketing information
When your team members share one source of company marketing data, they are less dependent on each other for exchanging and updating information. Having all the details of marketing activities at hand, marketing teams work more coherently and effectively.
Personalized customer communication
Dynamics 365 Marketing delivers customer segmentation to tailor communication to customers' needs and interests. Before launching a campaign, marketers think over its target audience, create a relevant segment and win customers' trust by communicating with them at a new quality level.
Here is an idea!
A chain of beauty salons is planning to run a number of workshops presenting their new treatments. With Dynamics 365 Marketing, they may start out with filtering active customers for the last three months and further segment them based on gender and age. In this way, they make sure they have nailed it with offering a specific treatment to the right audience instead of disturbing the whole client base with irrelevant invitations.
Customer journey mapping
Customer Journeys in Dynamics 365 Marketing helps you achieve automation of daily processes that can be triggered without the direct participation of your marketing team particularly valuable. Imagine that your team members have a board game where they map out a customer journey from different elements (customer segments, actions, triggers) and decide how the journey unfolds depending on a customer's reaction to a marketing action.
Like a game, indeed!
On-brand email templates
You can optimize the process of launching future marketing campaigns and customize the templates in line with your corporate style from the very start. When creating emails is not a time-stealer anymore, your marketers feel inspired to diversify email campaigns and tailor communication to different customer situations.
Your customers might expect these very emails right now
A welcome email.
A newsletter.
Order and shipping confirmation.
Event registration.
A discount email.
An upsell email.
An abandoned shopping cart reminder.
A win-back email.
A feedback request.
A customer survey.
Holiday greeting.
Events as a new marketing channel
Don't overlook an interesting way to showcase products or services – events. Some of the possible ideas are exhibitions, lectures, runway shows, and presentations.
Why arranging events in Dynamics 365 Marketing is so convenient
The team members participating in the preparation keep all event-related information in one place. Thus, they are always abreast of updates made by their colleagues. Similarly, they don't need to rely on memory or paper notes to take all details into account. The actual complete information is always full accessible in their Dynamics organizer.
A possibility to listen to your customers
Dynamics 365 Marketing has a solution for you to gain first-hand customer feedback – Forms Pro. There, you can create surveys that can be further integrated with events, emails, and customer journeys. A customer's survey responses not only reveal possible flaws and serve as growth points for a business, but they also can be of great help while processing this customer's service requests and cases.
Lead scoring automation
The process of generating and nurturing leads gets more effective. With an opportunity to set lead-scoring models, you have the Microsoft tool generating leads from marketing activities and scoring them automatically depending on their activities, interactions or over time. Additionally, Dynamics 365 Marketing has a connector to LinkedIn Lead Gen enabling you to collect leads from ads on LinkedIn.
Informed marketing decisions
Analytics is the key to understand how marketing activities resonate with the audience, what works best for them and what can be excluded from the marketing strategy. Dynamics 365 Marketing tracks KPIs for its every unit (email management, customer journeys, etc.) to provide you with insights into customer behavior and lead you to data-driven marketing solutions.
Plan and Execute Large-Scale Marketing Campaigns with Dynamics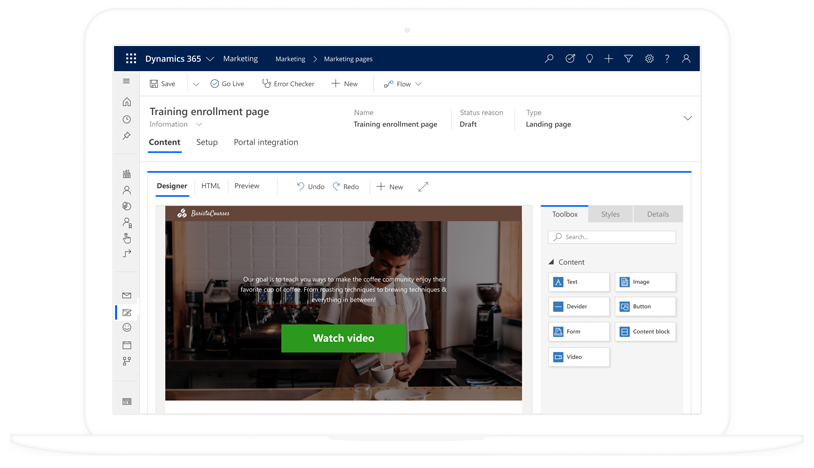 Dynamics 365 Marketing Demo
We overview marketing automation tools provided by Dynamics and show how exactly it helps to plan and execute a large-scale promotional campaign time-effectively.
Seems like Dynamics 365 Marketing Is the Right Tool for Your Business?
The general overview is good but you need a targeted consultation from Microsoft Dynamics experts to make an informed decision.
Since Dynamics 365 offers a set of business apps (Sales, Marketing, Customer Service, etc.), the pricing plans differ depending on how many apps a company uses.
As an add-on to your suite of Dynamics apps
* The price applies if you use any of qualifying Dynamics 365 apps with more than 10 users
Additional contacts pricing
| | | | | |
| --- | --- | --- | --- | --- |
| 5,000 – 49,999 contacts | 50,000 – 99,999 contacts | 100,000 – 249,999 contacts | 250,000 – 499,999 contacts | 500,000+ contacts |
| $250/month | $1,500/month | $1,250/month | $750/month | $500/month |
ScienceSoft knows first-hand the quality of Microsoft products – we have been delivering Microsoft Dynamics CRM solutions for 14 years and have earned the status of Microsoft Gold Partner. Now, we are driven by knowledge and experience to realize your vision of a full-featured marketing solution.
We ensure the best ROI of Dynamics 365 Marketing implementation by assisting you throughout the experience.
1
We start with business analysis to hear your ideas and outline our vision on how to make the project the most beneficial for your company. We give you more details on the functionality of Dynamics 365 Marketing, discuss how we can take into account all the peculiarities of your business and customize the app to achieve an optimal solution.
2
Despite its diverse functionality, Dynamics 365 Marketing has been developed with general marketing needs in mind. To become a perfect solution for your business, it requires customization (adding new fields or removing unused ones, developing custom workflows and more). Our professional competencies allow us to implement all changes, improvements, and adjustments we will agree upon. Still, our good knowledge of out-of-the-box functionality ensures that we avoid unneeded customization and come up with the most cost-effective result.
3
Dynamics 365 integration
We take responsibility for making Dynamics 365 Marketing fit into your corporate infrastructure smoothly. As far as it requires customer data (personal and contact details, transactional data, history of interactions with a company, etc.), it must work in sync with other corporate systems (e.g., an ecommerce platform, a POS system, other Microsoft Dynamics 365 apps (Sales, Customer Service, etc.)).
4
Dynamics 365 user training
We believe it's safe to say that you look for marketing software to facilitate the way you plan, execute and analyze marketing activities, optimize routine tasks your team conducts and gain better visibility into the overall picture of the marketing strategy. Unlocking these benefits seems hardly possible if direct users of the platform lack the know-how to work with it. In ScienceSoft, we believe that successful implementation of software solutions should be necessarily followed by profound user training where we explain the functionality users get with Dynamics 365 Marketing and teach them how to employ it with maximum efficiency.
5
Dynamics 365 support
To free you from delving into the technical details of software, we take on the support of Dynamics 365 for your company. We are always here to assist you in solving arising issues and ensure the smooth operation of the app. We act promptly and professionally to minimize its downtime.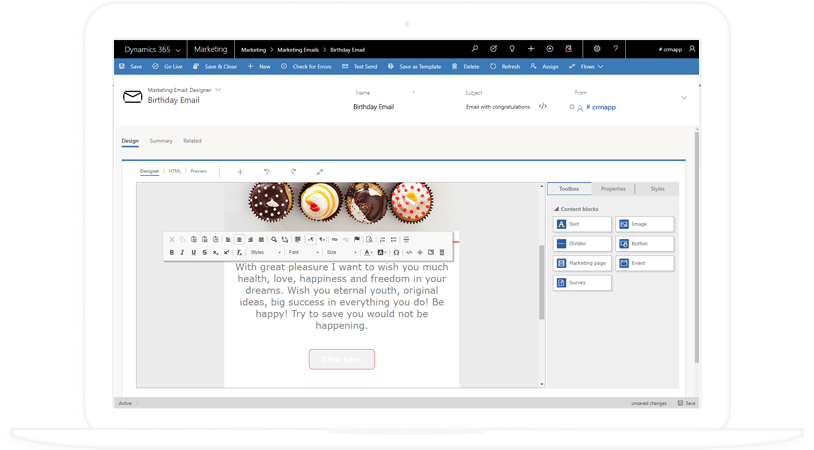 ScienceSoft introduced omnichannel automated marketing to a luxury fashion retailer. We assisted in designing a company's marketing strategy and customized Dynamics 365 Marketing capabilities accordingly. This resulted in a better marketing ROI on the stages of customer acquisition and retention.

With the Right Tool, You Don't Have to Put Up with Ineffective Marketing

Manual marketing activities eat up your productivity. We can show you how to make the most of Dynamics 365 Marketing for your business.

<![endif]--> <![endif]--> <![endif]-->