Editor's note: In this blog post, Denis shares insights on how to approach marketing automation and touches on key factors that you should consider to stay within a budget and get the necessary automation functionality. If your company considers implementing marketing automation, feel free to leverage ScienceSoft's 12-year experience in CRM consulting.
According to the Digital Marketing Institute research, 44% of marketing leaders claim that automation will become their priority in marketing in 2020. And it's not surprising, considering benefits marketing automation brings to the table. Essentially, it streamlines the routine processes (email marketing, campaign management, etc.) and allows you to focus on more demanding activities, such as content marketing, further boosting your lead-generating capabilities. To be precise, setting efficient automated processes cuts marketing expenses by 12% on average and increases your sales productivity by 14%. In this article, I'll cover the main points you need to consider to join the "automation winners" club.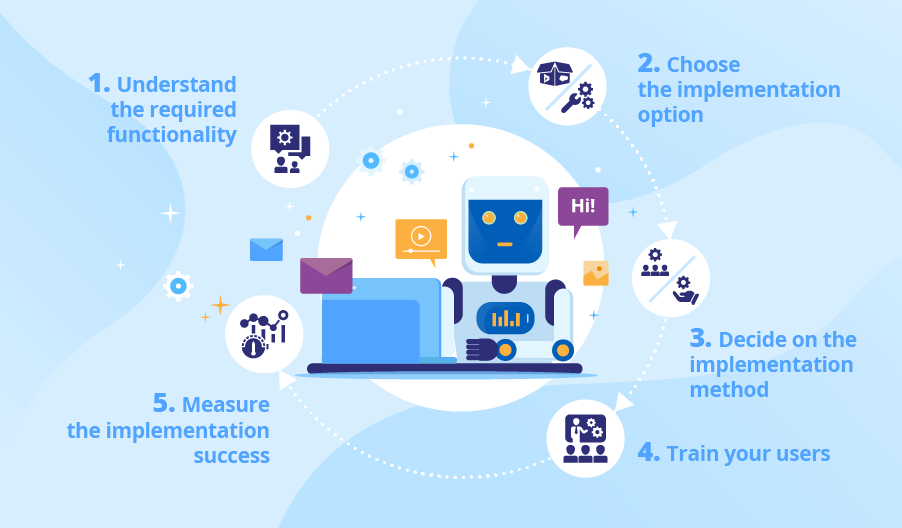 Marketing automation capabilities: What it can do for you
My recommendation is to start with email marketing automation as it frees the time spent on rather routine activities and helps to deliver relevant message in time. Then, if you are seeking to expand your social media presence, digital marketing automation can become a solution. For example, you may set automatic alerts each time your brand is mentioned online and introduce interaction plans to act accordingly. Some marketing software, for instance, Dynamics 365 for Marketing, may even define the tone of the mention. Further, automation can help with advertising, loyalty and referral marketing programs by setting up automated campaigns with customized content to target the specific needs of each customer segment.
To see how marketing automation can enhance prospects' engagement, check examples of ScienceSoft's projects on loyalty program management implementation and a solution for a large retail chain employing social media automation.
How to go about automation: 3 simple steps to follow
The most common reason for marketing automation projects failure is the initial poor understanding of the required functionality. If not attended, it may lead to under/overspending when the time comes to choosing marketing automation software. From my experience, underspending may be as dangerous as overspending, as you might miss out on the functionality that could be essential for your marketing needs. Thus, to automate marketing, it's important to have a clear vision of how it will influence business. Here are my 3 steps to ensure all your marketing automation needs are covered, and you remain within a budget.
Step 1
Gather internal data concerning the marketing department's processes and their efficiency, and interview marketing employees to gain an understanding of their needs.
Step 2
Create and evaluate a list of tasks to automate. From my experience it's best to start small and grow from there. The previously conducted interviews will be of particular help when deciding which tasks take too long, so you won't end up spending a chunk of your budget on implementing the "fifth wheel".
Step 3
Proceed to define which technologies and implementation options are best suited for your needs and create an implementation plan.
Choose your implementation option: Platform-based vs. custom
Your implementation process will differ based on your existing CRM and its capabilities. Here, I'll give you an overview of automation implementation options with platform-based solutions and custom software.
Platform-based solution
Chances are, you're already using one of the popular CRM platforms for sales automation. If you're fully content with the results it provides, you may implement a marketing automation solution based on the same platform. For example, CRM industry leaders, such as Salesforce and Microsoft Dynamics 365, offer wide marketing automation functionality (lead scoring, customer journeys, automated email campaigns, etc.), which you may further configure and customize to meet your needs.
If you are using a CRM platform that is devoid of required marketing automation functionality, or you're in general dissatisfied with existing options, the market offers options to consider. Here is a brief overview of 3 popular automation solutions.
#1 Dynamics 365 Marketing
Strengths: Dynamics 365 Marketing has wide automation capabilities, ranging from email marketing to telemarketing and offline events. It provides a plethora of content design tools, customizable templates and content blocks. The product features automated workflows that further streamline marketing processes.
Possible limitations: Additional specific functionality often requires separate license purchase.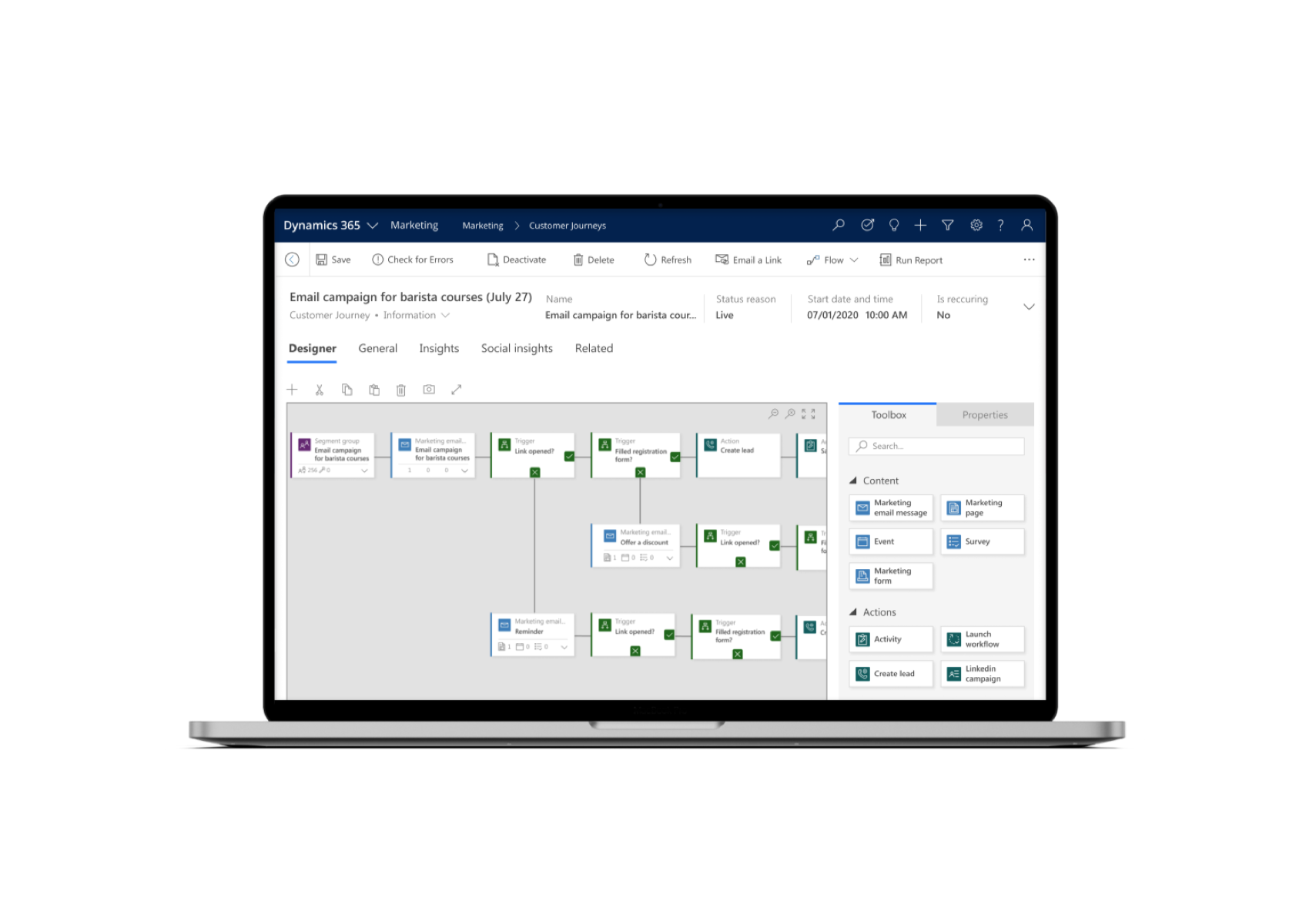 #2 Salesforce Marketing Cloud
Strengths: Salesforce Marketing Cloud provides such features as customer journeys, automated email marketing, custom landing page designers and smart prospect capture forms. Marketing Cloud includes Pardot, a handy automation tool for B2B marketing.
Possible limitations: Mainly caters to B2B companies.
#3 HubSpot
Strengths: HubSpot allows automating marketing tasks based on prospects' behavior. Automation includes emails, content, and workflows.
Possible limitations It is tricky to implement due to its architecture and rather hard to customize.
Custom solution
If you use custom-built CRM, you may opt for custom software development to add a tool for marketing automation as it might be a more cost-efficient option for you compared to buying a platform-based solution. Even if you're using a platform-based solution, not always you may get the desired functionality reasonably priced. That's where custom development comes to aid, helping you to extend the platform-based functionality avoiding high license costs.
Decide on the implementation method: Through a vendor or in-house?
When deciding whether to implement your marketing automation solution in-house or hire a vendor, it's important to understand that this process usually involves a wide range of activities. Such activities can be, for example data import and cleaning, as well as quality assurance aside from development or customization. If your in-house team lacks the competencies required for implementing a marketing automation solution, turning to a vendor is a solid option.
Train your users
Marketing automation is nothing if your users tend to ignore new features. Thus, user adoption is probably as important as automation itself. To ensure proper user adoption, I suggest you devise a detailed training strategy. For example, you may schedule training sessions with the company's leading marketing reps (influencers), so that they highlight how the marketing automation tool will be of help making its benefits tangible.
Measure the implementation success
Once you've implemented your marketing automation solution, you need to make sure it works as intended and yields the needed results to prove that the resources you've invested are well-spent. I advise you to set KPIs to track how your newly implemented automation solution supports marketing processes for about 4-6 months after rollout. In my opinion, three key indicators of automation success are an increase in:
Lead count.

Average STV.

Prospect conversion rate.
If you see a positive trend in these KPIs, you may think about driving your marketing automation initiative further by trying out the more advanced features like AI-based recommendations for marketers or estimation of marketing performance with AI predictions.
Join the automation winners club!
I always tell that the real work starts beyond the decision to go for marketing automation implementation. To end up a victorious automation club member, you should consider a number of factors, such as what marketing activities to automate and what tool to choose for that. Approaching marketing automation while lacking such insights is likely to cause you more headaches than benefits, which is why having a guide to each step of the implementation process is invaluable, and we at ScienceSoft are always ready to provide the guidance necessary.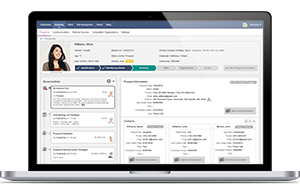 Do you want to manage customer relationships more efficiently? Experienced consultants will help you with CRM software of any complexity.