SharePoint Business Intranet
SharePoint business intranets create a business-centric digital environment with personal workplaces and collaboration spaces for teams and org units. With 16 years in SharePoint development, we help orgs raise overall productivity due to smooth SharePoint-driven collaboration and project management.
Our SharePoint Competencies
Microsoft Partner since 2008.
Recognition for ScienceSoft's ample expertise in SharePoint business intranets from Microsoft.
For the second straight year, ScienceSoft USA Corporation is listed among The Americas' Fastest-Growing Companies by the Financial Times.
100+ completed SharePoint projects since 2007.

130+ testimonials from our valued clients who belong to different industry verticals and geographies.

20+ Microsoft-certified SharePoint experts.
Expertise in complex SharePoint customization and integration.
Our SharePoint Intranet Portfolio
Business Challenges that Our Intranets Solve
| | |
| --- | --- |
| | Time-consuming tasks. We offer the full automation of tasks like document approval, employee recruiting, onboarding training, which speeds up business operations, boosts overall employee productivity and reduces operational costs. |
| | Fragmented business processes. We unite such processes as document management, project management and asset management into one system to help you to avoid the silo approach and increase efficiency. |
| | Low employee performance. We provide your employees with a personal digital workplace that contains all necessary SharePoint productivity and collaboration tools at their fingertips. If your business needs go beyond SharePoint functionality, we will extend your intranet's features through integration with other Microsoft products or third-party tools. Thus, employees won't lose time switching between the tools, which will increase their performance. |
| | Inefficient collaboration. We build business-oriented intranets as centers of employee collaboration. We enrich them with a range of tools (team sites, project sites, discussion boards, instant messaging) that connect employees and allow them to share information and edit documents in real time. If you choose the cloud deployment of a SharePoint intranet, we will help you to nurture collaboration even across geographically dispersed teams due to its 24/7 access and availability from different devices and browsers. |
| | Unorganized information storage. To facilitate and accelerate employee decision-making, we deliver business-oriented intranets that serve a single source of the company's information: corporate news, project-related updates, organizational knowledge base, and employee handbook. We also leverage SharePoint search capabilities, for example, full-text search and personalization of content to let users quickly find relevant information. |
| | Compliance risks. To support a company's compliance with internal regulations and external regulations like SOX, HIPAA, GLBA, we create a safe working environment for your employees. We enable restricting user access to SharePoint collaboration areas based on permissions and two-factor authentication. In addition, we implement audit reporting, content retention and deletion policies, which is required by compliance regulations. |
Business Processes that Our Intranets Transform
Depending on your business needs, we will fill your intranet with a set of features that facilitate and accelerate your business operations, such as:
Document management

via document co-authoring, version tracking, automated approval, search by full text and metadata

Project management

via project and task tracking, task assigning, alerts and notifications about milestones and deadlines

Employee management

via onboarding training, scheduling of shifts, meetings, training sessions, organizational chart and employee profiles, working time and holiday tracking, employee performance and satisfaction assessment, certification testing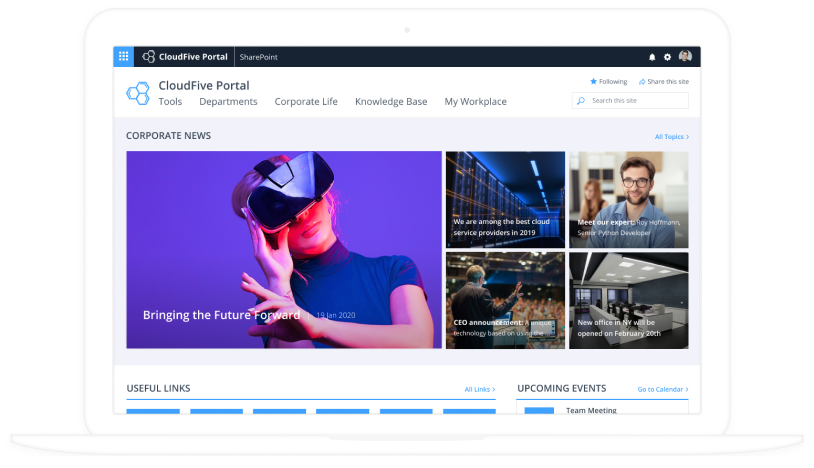 SharePoint Intranet Demo
See the most popular business features of SharePoint intranet in our live demo.
Service Options We Offer
Development of a business-oriented intranet from scratch.
Redesign of your intranet.
Addition of new features to your intranet (learning management, content management, knowledge management, etc.).
Migration of your intranet from third-party platforms to SharePoint and from SharePoint to newer versions of the platform or to the cloud.
Types of Business Intranets We Deliver
Based on your business needs, you can choose the most suitable type of business intranet:
An intranet with business-specific web parts and applications. We enrich your intranet with web parts that facilitate business activities: Events, Planner, People, Quick Links, Recent Documents and others. Web parts can also help your employees to stay tuned for the latest industry news (the News web part) and financial data updates (the Stock Quotes web part).
An intranet with customized business sites for departments and teams. We attend to departmental work specifics by creating custom sites within a company's intranet. We fill them with relevant content (documents, forms, knowledge base) and tools, for example, the Stock Quotes web part for a financial department. We also implement necessary integrations to facilitate the work of particular departments and teams. For instance, we can integrate a SharePoint intranet with a billing system (an accounting department), CRM (a sales team), a case management tool (a legal department), an asset management system (a procurement department).
An intranet centered around specific business functionality. It may be contract management, training and development, ticketing and help desk, asset management, knowledge management, etc. Besides general business features, our solution will cover training enrollment and scheduling, group project space, knowledge assessment and certification. We can also implement a microtraining app to enable your employees to learn on the go.
How We Deliver Business Intranets
We provide a complete set of services aimed at bringing you a robust business-driven intranet:
1
Consulting
We study your company's processes and help you to understand SharePoint capabilities to address your business needs. We also help you find the best way how SharePoint can improve or transform your business processes. If needed, we can recommend you how to make necessary adjustments to your processes before mapping them to SharePoint. We advise you on how to get maximum value of a business intranet and provide ROI analysis. What's more, we offer consulting support on SharePoint implementation and user adoption.
2
Discovery and business analysis
We gather and analyze information from you to identify your challenges and needs. For this purpose, we conduct electronic surveys and interviews with your employees. Then we transform your needs into a requirements specification of a SharePoint solution.
3
Implementation
We elaborate intranet architecture that will ensure the stable and error-free performance of a solution. We design an implementation plan, including an intranet's feature set, customizations and necessary integrations for your business intranet. To minimize risks, for large business intranet projects with changing requirements, we can apply an iterative approach. We start with the key required functionality and gradually extend it with new features.
4
UX and UI design
To ensure better intranet adoption, we bring a user-friendly design to your intranet, which makes it convenient to use even for non-technical users. We conduct UI testing and analysis with user journey mapping. Also, we make intranets adaptable to mobile and tablet devices and create a unique look and feel aligned with your corporate culture via SharePoint branding.
5
Customization
We customize your intranet to automate business processes and tasks, ensure its high security, add new functionality, enable seamless migration to new versions of SharePoint or to the cloud as well as smooth operation of integrated systems and tools.
6
Integration
We make your intranet work in sync with your contract management, learning management, knowledge management, policy management, ticketing solutions and more.
7
Quality assurance
We employ a thorough QA approach from the start of the project to deliver a sound solution by offering regular code review and unit testing. We also provide test automation and conduct continuous testing during intranet implementation.
8
Managed services, support and evolution
We offer after-launch support to ensure the flawless and stable operation your business intranet. We also improve UX and UI, implement required customizations and integrations to adapt your intranet to the changing business needs. Also, we provide continuous intranet support and help desk services.
9
Training
We provide SharePoint training for administrators, developers, and end users to help them use the solution's capabilities to the full.
Our Approach to Business Intranet Implementation
We take up the role of a product owner, recommend and implement a suitable solution.
We practice a personalized approach to implementing a business-oriented intranet and attend to industry specifics of your company.
We utilize SharePoint out-of-the-box functionality where possible and custom-made components and tools to reduce implementation costs and maximize ROI of your business intranet.
We offer full-cycle services from consulting to support and evolution for your business intranet.
Objectives and Key Results We Help You Achieve
The outcomes you achieve with our intranets are tangible. Here is a sample set of OKRs you may use to measure the benefits they bring:
Costs: reduced travel expenses, administrative expenses, printing costs.
Employee behavior: increased performance, reduced human error, time saved on document approvals.
Employee attitude & loyalty: increased work satisfaction.
Customer service: reduced time for processing customer requests, increased customer satisfaction.
<![endif]-->