Custom SharePoint Development Services
With 16-year experience in SharePoint, ScienceSoft delivers robust tools to orgs to help their employees collaborate and fulfill job tasks effectively.
SharePoint development covers building SharePoint solutions and apps as well as individual features like workflows, site templates, and more. Our SharePoint developers are ready to help you with anything from SharePoint solution development to implementation of custom branding or integrations for your current SharePoint solution.
Scope of Our SharePoint Development Services
We never limit our SharePoint projects with customization of out-of-the-box features but offer custom tools both on premises and in cloud, which helps to marry the platform with customers' particular business needs.
We can help you to automate sophisticated business processes by structuring them into effective and logical SharePoint workflows.
Timer jobs and event receivers
When out-of-the-box features are knocked down, we come up with custom timer jobs and event receivers to let you fulfill non-standard actions on your SharePoint site.
We offer an individual approach to managing data that go beyond any of the standard SharePoint fields without falling upon any other software.
Custom site/subsite templates
We create handy templates to keep all the site features and customizations that you can use to deploy similar solutions on several SharePoint sites and to ensure design consistency within your company.
We use the latest JavaScript frameworks such as Angular.js, Backbone.js and Knockout.js to develop SharePoint apps that are intuitive and easy-to-use.
Custom SharePoint-based solutions
We commissioned ScienceSoft to implement a document management system based on SharePoint Online. Under the project, ScienceSoft's team developed custom document approval workflows that provided automated protection of a document from modification after approval. Thus, the developed DMS solution helped us accelerate document-driven business processes and ensure data security and integrity.

To enable our employees to create document workflows of their own, ScienceSoft's SharePoint team also created a reusable workflow template. What's more, the team implemented custom forms for employee information and payroll management.
Moin uddin Mohammed, Group IT Manager & ERP Consultant, Eastern Coast Group
If your SharePoint challenge lies beyond custom development, and you look for in-depth consulting services or need a reliable partner to carry out a turnkey project, please visit our SharePoint consulting page and discover our approach to building up effective SharePoint solutions tailored to your business needs.
Microsoft Partner since 2008.

For the second straight year, ScienceSoft USA Corporation is listed among The Americas' Fastest-Growing Companies by the Financial Times.

16-year experience in SharePoint consulting and development.

100+ SharePoint projects.

130+ testimonials from our valued clients who shared their experience of working with ScienceSoft.

20+ Microsoft-certified SharePoint experts.

Custom solutions on SharePoint Online and SharePoint On-Premises for

healthcare, manufacturing, banking, retail, telecom, education and other industries.

Featured in the list of Top SharePoint Developers in 2023 by Clutch.
our Approach to SharePoint Development
Guided by our customers' requirements, we develop SharePoint solutions based on the platform's best capabilities and our 16-year expertise. At the same time, we understand that our solutions are created for employees' convenience and not for developers' sake, that's why we focus on user experience during the entire development cycle.
Reliable architecture
Our SharePoint architects build a durable architecture from scratch and improve the legacy architecture for it to respond adequately to a company's changing scale.
Explore the details
We start our SharePoint development projects with a technical analysis of the existing infrastructure and software in use to offer an efficient architecture that will serve as the foundation of the solution's vitality. As the SharePoint architecture is the key to its trouble-free performance, we design our solutions taking into consideration both your IT resources and the system's requirements, in order to ensure the further sleek performance of the platform.
Unique branding
You don't have to stick to SharePoint's default design when you can make it your own. Our team of web designers and SharePoint developers will tailor your solution according to your corporate style and your requirements taking into consideration the latest web design trends. We will help you create personalized master pages and page layouts to add dynamic elements and custom navigation.
Smart add-ins
We offer diverse handy add-ins for your SharePoint solution to extend its capabilities, increase its business value and enhance user experience.
See more info
Our development team has been constantly working on new proprietary add-ins that will help you to make your SharePoint solution more interactive and offer a new user experience.
You are welcome to use our proprietary adds-in to diversify your everyday SharePoint activities:
We are also ready to deliver custom add-ins that will be created exclusively for your SharePoint site.
Seamless integration
Our experts connect your SharePoint solution with SharePoint-based and third party tools to help you to make the most of the integrated collaboration environment.
View the details
Integration of your SharePoint solution with other enterprise systems is an important step ensuring continuity of your business processes. Our SharePoint developers will accomplish a seamless integration of SharePoint with such enterprise systems as ERP, CRM, HR system, Exchange Server, accounting system, etc., ensuring a more convenient way for your employees to have a single access point to the key enterprise data.
We provide integration services using both Business Connectivity Services and Active Directory to easily connect external data to your SharePoint site and use it as the site's native data. We also offer to develop custom integration modules able to interact with any third-party interfaces via APIs.
Timely maintenance
After the project is completed, we provide all-inclusive support services to ensure high security and performance of your SharePoint solution.
Check our SharePoint support services
Solving SharePoint-related technical issues
Our target is to identify and fix possible software defects in the shortest time to make your users satisfied with the solution.
Expanding your solution's functionality
Whenever you decide to enrich your SharePoint with new features, our SharePoint developers will help you to design, implement and test new functionality to make your solution even more engaging to work with.
Installing SharePoint updates
We provide our customers with cumulative updates and service packs that allow to ensure the solution's better performance and shellproof security.
Ensuring SharePoint backups
Our SharePoint administrators can assist you in timely backing up your SharePoint manually or in scheduling and setting automated backups.
ScienceSoft was extremely competent in terms of understanding the scope I provided, and delivered a finished Sharepoint architecture with very little adjustments required. Every individual was pleasant to work with, and any inquiry that I did have was addressed within a very short time.
Ricky Ehrgott, CEO, Rev1 Energy
Thinking of Every SharePoint Aspect
One of our key objectives while deploying a SharePoint solution is to ensure its stable operation for many years ahead. To guarantee the sustainability of the solutions we provide, our SharePoint team sticks to the following key points:
Usability
We apply user-centric approach at all stages of SharePoint development watching over every implemented feature that should facilitate working process. Being devoted SharePoint geeks, we never forget our top prerogatives such as user experience and adoption. Attractive SharePoint UI, quick response time, handy SharePoint add-ins, engaging sites, user-friendly mobile versions are not just concepts for us but indispensable parts of every successful SharePoint project.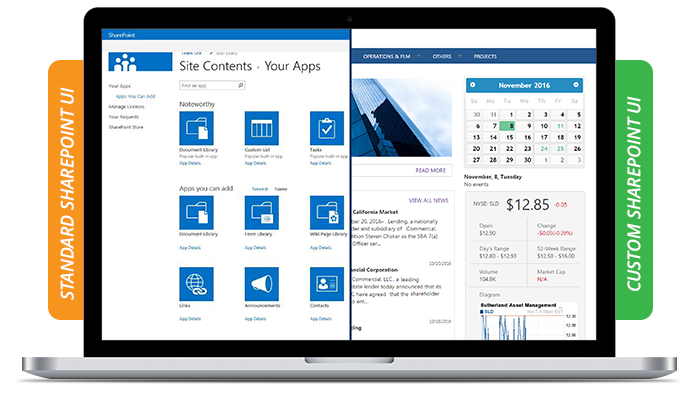 Performance
We know that SharePoint performance is the key to users' high productivity and buy-in. For this purpose we thoroughly test our solutions before their official launch to ensure sleek and error-free operation. To prevent issues, we check your solution's architecture, data structure and its compliance with Microsoft recommendations, analyze custom code and web parts to reveal errors.
In our practice, we apply the proprietary SharePoint Health Check methodology to get a comprehensive picture of the solution's functionality and pinpoint possible problems.
Security
To ensure your data protection and to avoid the system's vulnerability, we use Microsoft best practices and proprietary tools to protect your SharePoint solution from both internal and external threats by:
Aligning user permissions and access rights with the company's security policy.
Ensuring that custom web parts and apps do not contain errors that cause system breaches.
Developing custom security token services to provide you with non-standard protection tools, such as the two-factor authentication.
This was my first time working with developers on custom development and the entire experience exceed my expectations. It is great working with ScienceSoft on the SharePoint project. ScienceSoft team is responsive, professional, and easy to communicate with. I am extremely satisfied with this project.
Nate Chervek, IT Manager, Pro Star Aviation
<![endif]-->