Since 2007, ScienceSoft's experts has been delivering all-round SharePoint development services to provide our customers with user-friendly, feature-rich SharePoint applications. Taking advantage of SharePoint's flexibility, we create solutions that incite users to collaborate and help thousands of employees to fulfill their tasks successfully.
Our team of Microsoft-certified experts have already accomplished more than 100 SharePoint projects of different scale and complexity for the customers in Healthcare, Banking and Finance, Retail, Telecommunications, Manufacturing, Insurance, Oil & Gas and other industries.
Success Stories:
If your SharePoint challenge lies beyond custom development and you look for in-depth consulting services or need a reliable partner to carry out a turnkey project, please visit our SharePoint consulting page and discover our approach to building up effective SharePoint solutions tailored to your business needs.
You Plan, We Act
Guided by our customers' requirements, we develop SharePoint solutions based on the platform's best capabilities and our 12-year expertise. At the same time, we understand that our solutions are created for employees' convenience and not for developers' sake, that's why we focus on user experience during the entire development cycle.
Thinking of Every SharePoint Aspect
One of our key objectives while deploying a SharePoint solution is to ensure its stable operation for many years ahead. To guarantee the sustainability of the solutions we provide, our SharePoint team sticks to the following key points:
Usability
We apply user-centric approach at all stages of SharePoint development watching over every implemented feature that should facilitate working process. Being devoted SharePoint geeks, we never forget our top prerogatives such as user experience and adoption. Attractive SharePoint UI, quick response time, handy SharePoint add-ins, engaging sites, user-friendly mobile versions are not just concepts for us but indispensable parts of every successful SharePoint project.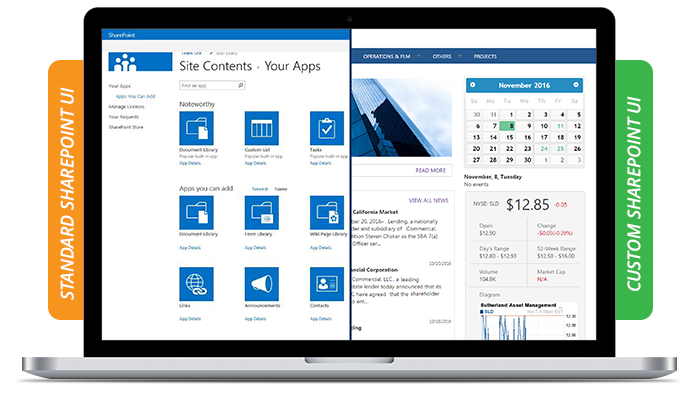 Performance
We know that SharePoint performance is the key to users' high productivity and buy-in. For this purpose we thoroughly test our solutions before their official launch to ensure sleek and error-free operation. To prevent issues, we check your solution's architecture, data structure and its compliance with Microsoft recommendations, analyze custom code and web parts to reveal errors.
In our practice, we apply the proprietary SharePoint Health Check methodology to get a comprehensive picture of the solution's functionality and pinpoint possible problems.
Security
To ensure your data protection and to avoid the system's vulnerability, we use Microsoft best practices and proprietary tools to protect your SharePoint solution from both internal and external threats by:
Aligning user permissions and access rights with the company's security policy.
Ensuring that custom web parts and apps do not contain errors that cause system breaches.
Developing custom security token services to provide you with non-standard protection tools, such as the two-factor authentication.
Easy to Start
Feel like going for SharePoint development? Contact our dedicated team that is always ready to give you a free consultation, deliver a proof-of-concept and to transform your requirements into a fine-tailored SharePoint solution.