Editor's note: Andrew explains the growing demand for high-quality B2B marketing software and presents the list of top 5 platforms for B2B marketing automation. And if you are looking to implement a fitting solution to meet your B2B marketing needs, feel free to consider ScienceSoft's marketing automation services.
66% of B2B companies consider generating high-quality leads as the main benefit of marketing automation software. Besides streamlining lead generation and nurturing, B2B marketing automation platforms allow you to manage different marketing campaigns in one place, influence your prospects' decisions and, ultimately, turn them into your long-term customers.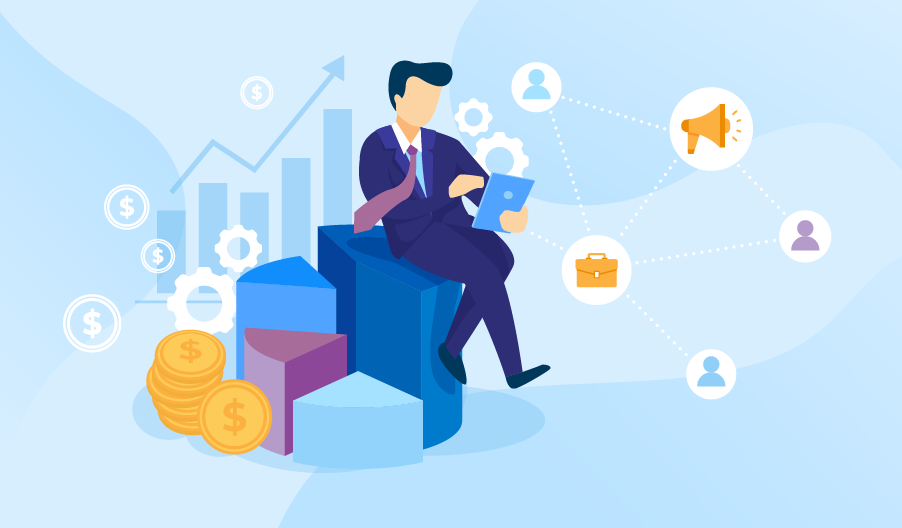 Although both B2B and B2C marketing target high-quality lead generation, their target audiences determine the difference in attracting potential customers for B2B and B2C, respectively.
B2C marketing is all about targeting individuals with engaging and responsive marketing campaigns. By appealing to consumers' emotions, marketers tend to generate more leads and drive sales. As the buying decisions are often made within a few minutes, B2C relationships are short-term.
B2B businesses, on the other hand, focus on building close long-term relationships with their prospects and concentrate on building brand awareness and creating shared values. Thus, B2B marketing presupposes longer customer journeys, multiple touchpoints with prospects, detailed and informative product/service descriptions, and continuously building trust in your target audience.
Overview
Microsoft Dynamics 365 Marketing helps automate a customer journey across multiple channels so that B2B marketers will target prospects during the whole decision-making process, provide them with the relevant content, and analyze the gained insights.
Hallmark features:
Multi-channel campaigns – orchestrating multi-channel B2B campaigns, including SMS, email marketing, social media, and other channels.
LinkedIn integration – allows B2B marketers to explore professional groups, run targeted campaigns, and automatically import the promising leads from LinkedIn to Dynamics 365.
Event campaign management – organizing events to demonstrate your products or services, providing marketers with dashboards with your event-planning activities (attendee registration, event broadcasting) and results (post-event analytics, ROI evaluation).
Analytics – tracking B2B marketing KPIs (Visits Per Channel, Marketing Qualified Leads, Retention Rate, etc.).
Limitations: Limited number of integrations with third-party services.
As a standalone app – $1,500 per user/month for 10,000 contacts.
As an add-on to your suite of Dynamics 365 apps – $750 per user/month for 10,000 contacts.
More about Microsoft Dynamics 365 Marketing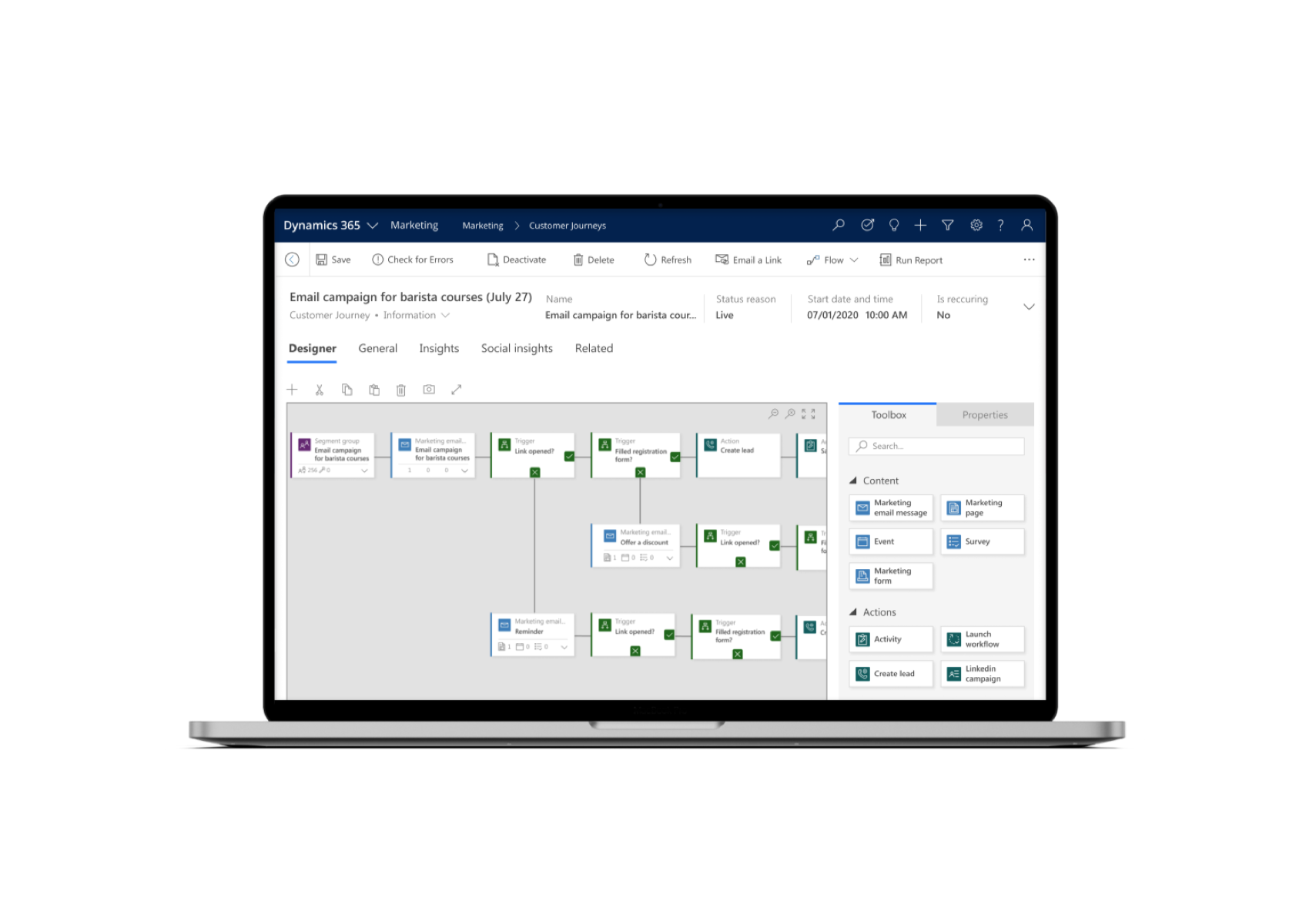 Overview
Pardot is marketing automation software specially designed for B2B companies providing tools like lead management, tracking customer behavior, ROI insights, etc.
Hallmark features:
Pardot Einstein – analyzing data to find the best prospects, prioritizing leads using lead scoring models, informing a marketing team when prospects are ready to buy. Marketing campaign insights to optimize future campaigns and find new audiences.
B2B Marketing Analytics Plus – to get insights on campaign performance by creating predictive models, e.g., for measuring campaign engagement, by using Salesforce internal data or different external sources like LinkedIn.
ROI reports – developing ROI reports showing the number of responses, the campaign's total cost, the campaign ROI, and the average cost per customer and response.
Limitations: Limited number of event management features.
Pricing:
Growth Edition $1,250/month for up to 10,000 contacts (billed annually).
Plus Edition $2,500/month for up to 10,000 contacts (billed annually).
Advanced Edition $4,000/month for up to 10,000 contacts (billed annually).
Premium Edition is 15,000/month for up to 75,000 contacts (billed annually).
Get more details about Salesforce Marketing Cloud
Overview
HubSpot has many features for B2B marketers to create engaging content across multiple channels and carry out account-based marketing.
Hallmark features:
Ideal Customer Tier – creating a customer profile based on industry, revenue, etc., to automatically identify customer tiers (e.g., tier 1 is high-priority, while tier 3 is low-priority).
Email marketing management – creating B2B marketing emails in the drag-and-drop editor, running A/B tests to compare the engagement rate of each letter.
Vidyard integration – creating and inserting videos into emails and landing pages to demonstrate your product or service.
Templates – using pre-built templates to customize B2B marketing proposals or reports.
Limitations:
Limited number of customization capabilities.
Limited number of event management features.
Pricing:
Starter Edition starts at $50/month.
Professional Edition starts at $890/month.
Enterprise Edition starts at $3,200/month.
Overview
Marketo is a marketing automation platform that offers B2B business features to communicate and build continuous relationships with leads across different channels.
Hallmark features:
Predictive Audiences – using AI to track prospects similar to your best customers.
Website management – create dynamic content tailored to the type of targeted organization, its size, etc., providing insights on web visitors by companies, etc.
Event management – planning and organizing a live event to demonstrate your company's products/services, promoting it using various channels (emails, social networks, etc.), tracking event attendance using the Check-In app, providing post-event reporting to make necessary improvements to future events.
Zoom integration – scheduling a Zoom webinar, creating an event program in Marketo and connecting it to the webinar, creating a Marketo event program template for your Zoom webinars to use it and update for each event, etc.
Limitations:
No free trial.
Lack of report customization capabilities.
Pricing: Contact the vendor to get information on pricing plans.
Overview
Sprout Social is an all-in-one social media marketing tool helping marketers optimize and manage posts across social networks like LinkedIn and Facebook.
Hallmark features:
Content management – creating and scheduling posts on Facebook Pages, LinkedIn Company Pages, using audience targeting based on a company's type, size, etc.
Influencer marketing management – identifying influencers within your present or former customers.
Analytics – gathering insights on impressions, engagement, etc., in all social profiles in one place, comparing your performance to your competitors, identifying your best content based on its performance, etc.
Limitations:
Limited number of social profiles.
Limited number of integrations with third-party services.
Pricing:
Standard Edition - $99 per user/month for 5 social profiles.
Professional Edition - $149 per user/month for 10 social profiles.
Advanced Edition - $249 per user/month for 10 social profiles.
Start your successful marketing journey right now
With 53% of B2B companies already using marketing automation software, it's high time for you to uncover its benefits to support your B2B marketing strategy. If you are interested in streamlining and reducing efforts on planning and creating successful B2B marketing campaigns, you are welcome to contact our team.
As a marketing automation provider, ScienceSoft will help you optimize marketing processes with platform-based or custom marketing automation software.