Microsoft Dynamics 365 as a Ticketing System to Automate Help Desk
Overview
Microsoft Dynamics 365 Customer Service can automate help desk workflows, which brings higher productivity of help desk agents, fewer errors, and higher quality of data.
Request Demo
Dynamics 365 Customer Service: Core Concepts
Microsoft Dynamics 365 Customer Service can act as a help desk ticketing system to serve a company's employees or customers needing support.
Forrester recognizes Microsoft Dynamics 365 as Strong Performer that enables end-to-end customer service. Among Dynamics 365 Customer Service users are Adobe Inc., Visa Inc., The Coca-Cola Company, and others.
Best for personalized support via any communication channel.
Automatic ticket creation
Automatically converting incidents and requests submitted via email, web, phone call, etc. into tickets.
Key information on a ticket
Including ticket subject and ID, incident description, origin.
Automatically assigning tickets to help desk agents or to queues according to predefined rules.
Ticket reassigning and escalation
E.g., when different or deeper competencies are needed to handle a case.
A guided process with stages and steps used to resolve a case.
Capability to reopen a case, e.g., if an agent made a mistake or if an issue reappeared.
Capturing activities on a case resolution process for agents (emails received, follow-up tasks for agents, case-related notes, etc.)
Knowledge management and self-service
Knowledge articles editor
Creating content for agents, employees or customers.
Approving, scheduling and publishing articles in the knowledge base.
Making translations of knowledge articles and publishing them in all supported languages at the same time.
To make sure the content in knowledge base stays relevant.
For employees or customers to search knowledge articles and documents or create support tickets via a portal.
A chatbot with natural language processing capabilities to resolve common issues without a human agent's intervention.
Customer Service Insights
To find opportunities for improving resolution rates, wait times, and decreasing customer service costs.
Dashboards for agent- and process-related KPIs
Including CSAT against priority, volume against channel, open cases against queues; average resolve time CSAT and survey sentiment by agent, etc.
Gathering and analysis of customers' or employees' feedback to create contextual insights in order to improve agents' work.
Natural language processing and machine learning algorithms to understand employees' or customers' sentiments.
Knowledge article statistics
Tracking how many times an article is used, viewed, and sent to customers or employees to find demanded topics for future articles.
Defining type and level of support an employee or a customer is entitled to.
Defining case resolution terms for, e.g., first response time, time to resolve a case, etc.
Offer Improved Convenience to Your Customer Service Agents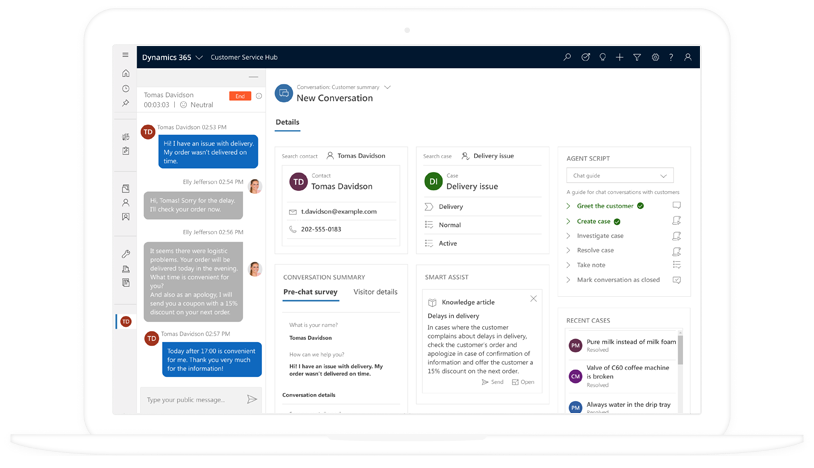 Dynamics 365 Customer Service: Demo
See how to build an effective help desk ticketing system on top of Dynamics 365 Customer Service and learn to employ its vast capabilities for daily operations.
Important Integrations
Integrations allow help desk agents to receive a better view of employees and customers needing support, collaborate with colleagues smoothly, and streamline support workflows for faster ticket resolution.
Dynamics 365 Customer Service + Email (e.g., Outlook) – to easily communicate with employees and customers on their issues.
Dynamics 365 Customer Service + IT Asset Management Tool – to track hardware and software assets involved in a request or incident.
Dynamics 365 Customer Service + HRM – to get access to employees' profiles, their place in the organizational structure, competencies, compensation, etc.
Dynamics 365 Customer Service + Sales CRM (e.g., Dynamics 365 Sales) – to get access to complete customer information, including purchasing details, to solve their cases faster.
Dynamics 365 Customer Service + Field Service CRM (e.g., Dynamics 365 Field Service) – for streamlined collaboration of field workers and help desk agents when ticket resolution requires on-site visits.
Dynamics 365 Customer Service + Business Intelligence (e.g., Power BI) – to get insights based on historical operational metrics and key performance indicators, and also share dashboards with colleagues.
| | | |
| --- | --- | --- |
| | | Since 2008, ScienceSoft has been providing consulting, implementation and support services to help organizations get the most value from Help Desk based on Microsoft Dynamics 365 Customer Service and its predecessors with minimal costs. |
Dynamics 365 Customer Service Benefits
ROI: 234%
Payback: ~5 months
Cost – benefit ratio is

1:3.5
The value comes from the help desk workflow automation (up to 95% manual efforts can be automated), which brings:
Higher productivity of help desk agents.
Fewer errors in and higher quality of data.
Increased number of tickets that agents can successfully resolve every day.
<![endif]--> <![endif]--> <![endif]-->