SharePoint Intranet
to Facilitate Employee Collaboration and Management
With 15 years in SharePoint intranet design and development, ScienceSoft helps organizations leverage intranet solutions based on the SharePoint platform with minimal costs.
SharePoint Intranet Development Services
SharePoint Intranet in Brief
A SharePoint intranet is a flexible collaboration solution with rich communication, content, project and employee management features (see SharePoint intranet examples) best suited for mid-size and large organizations to connect employees from different departments and nurture corporate culture. SharePoint intranets regularly win awards like Nielsen Norman Group's 10 Best Intranets.
Famous brands using SharePoint intranets: NASA, Nestlé, Ikea.
Employee information management
Creation and management an organization chart and employee profiles showing an employee's position, department, working schedule, qualifications, contacts, etc.
Employee learning management
Authoring and managing learning materials.
Scheduling and enrolling employees to onboarding, compliance, and job-specific trainings.
Tracking employee performance.
Employee assessment and certification.
Submission and tracking of employee requests on vacation, health insurance, office supplies, equipment maintenance, etc.
Digital workplace management
Team sites and communication sites for group and company-wide collaboration on tasks and documents, for sharing files and news, and more.
Full visibility into an employee's projects and tasks, including information about a project team, timeline (Gantt chart), files
Discussion board for a project team.
Automated notifying of employees about an approved contract, a completed training, a project milestone deadline, and more.
Fast access to recently viewed documents, knowledge base, or useful tools (e.g., Office 365 productivity apps).
Content and knowledge management
Storage and management (e.g., editing, approval, distribution) of diverse content (e.g., documents, images, audio and video files) in various formats.
Centralized repository for news, document templates, employee benefits, policies, wikis, FAQ, blogs, learning materials, and other types of content.
Automation of a document's lifecycle from its creation to archiving.
Real-time collaboration on documents.
Policy creation and approval workflow.
Automated policy renewal.
Policy acknowledgement.
Assessment of employees' policy knowledge.
AI-powered personalization
Personalized newsfeed, content and training suggestions for higher accessibility of useful content.
Full text and metadata search of employee info, files, news, events, and more across the intranet and integrated systems (e.g., DMS, CRM, HRMS) and search results ranking.
Communication and social features
Tools for formal and informal communication (e.g., instant messaging, discussion boards, blogs, forums).
Integration with social media and video-conferencing tools.
Non-monetary recognition via birthday and work anniversary dashboards on the intranet's homepage
Gamification elements (e.g., badges, levels, leaderboards) in employee training or working activities.
Communities, contests, surveys, media galleries with pictures and videos from corporate events to promote corporate values and strengthen the corporate spirit.
Two-level BitLocker encryption of data at rest: all data is encrypted on a disk and there's a unique key for each file.
Data in transit is protected due to SSL/TLS connection.
Permission-based intranet access to protect sensitive content from unauthorized viewing, modifying, and deletion.
Two-factor authentication
Additional protection layer (apart from a password): entering a code from an email or a text message.
Tracking changes in documents via storing document versions to prevent accidental deletion or unwanted changes in documents.
Tracking various types of user activity with intranet content: access time, the user who opened, modified, downloaded, emailed or printed it out.
Compliance with most government and industry-specific regulations (e.g., GDPR, GLBA, SOX, HIPAA, PCI DSS).
Automatic termination of an electronic session after a predetermined time of inactivity (e.g., 15 minutes).
Examples of Key SharePoint Intranet Functionality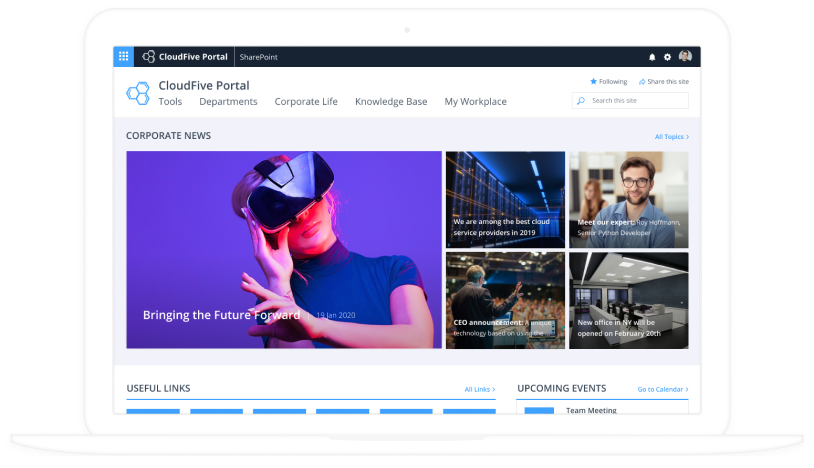 SharePoint Intranet Demo
Explore collaboration, communication and content management capabilities and an intuitive and eye-catching design of a SharePoint intranet in a live demo.
SharePoint intranet + CRM
SharePoint intranet users gain the capability to create and edit customer-related documents (e.g., contracts, purchase orders, invoices) right in CRM. Also, a SharePoint intranet provides cost-efficient and large (up to 25 TB per site or site collection) storage for CRM documentation and enables sharing bulky files (up to 15 GB), which CRM system may lack.
SharePoint intranet + HRMS
Automated creation of a new hire's profile and assigning an onboarding training to them on the intranet based on the HRMS data (e.g., the employee's skills, position).
Building of visualized reports on a variety of business data (e.g., employee performance, learning progress, collaboration effectiveness) in BI software and spreading them throughout the company in a few clicks, collecting data on the intranet's use and popularity (e.g., content ratings, page views) to provide insights on how to improve it.
| | | |
| --- | --- | --- |
| | | |
| | | With 700 employees on board and 15 years in SharePoint intranet design and development, ScienceSoft, a Gold Microsoft partner, helps organizations leverage intranet solutions based on the SharePoint platform with minimal costs. ScienceSoft's ample expertise in SharePoint intranets has been recognized by Microsoft. |
| | | |
| | | |
| | |
| --- | --- |
| | Higher employee productivity due to quick access to information, effective search, document templates and a capability to work at any time and at any place with a mobile version of a SharePoint intranet. |
| | More effective collaboration due to project management and communication tools, online collaboration on documents, facilitated file sharing, and more. |
| | Improved employee engagement and satisfaction due to a variety of social and gamification features. |
| | Reduced hiring, onboarding, and training costs due to automation of these processes via the intranet. |
| | Enhanced regulatory compliance (e.g., GDPR, HIPAA, PCI DSS, GLBA, SOX) due to strong security features. |
<![endif]--> <![endif]--> <![endif]-->