SharePoint Intranet
to Facilitate Employee Collaboration and Management
With 16 years in SharePoint intranet design and development, ScienceSoft helps organizations leverage intranet solutions based on the SharePoint platform with minimal costs.
SharePoint Intranet in Brief
A SharePoint intranet is a flexible collaboration solution with rich communication, content, project and employee management features (see SharePoint intranet examples) best suited for mid-size and large organizations to connect employees from different departments and nurture corporate culture. SharePoint intranets regularly win awards like Nielsen Norman Group's 10 Best Intranets.
Famous brands using SharePoint intranets: NASA, Nestlé, Ikea.
SharePoint Intranet Features
Employee management
Employee information management
Creation and management an organization chart and employee profiles showing an employee's position, department, working schedule, qualifications, contacts, etc.
Employee learning management
Authoring and managing learning materials.
Scheduling and enrolling employees to onboarding, compliance, and job-specific trainings.
Tracking employee performance.
Employee assessment and certification.
Submission and tracking of employee requests on vacation, health insurance, office supplies, equipment maintenance, etc.
Digital workplace management
Team sites and communication sites for group and company-wide collaboration on tasks and documents, for sharing files and news, and more.
Full visibility into an employee's projects and tasks, including information about a project team, timeline (Gantt chart), files
Discussion board for a project team.
Automated notifying of employees about an approved contract, a completed training, a project milestone deadline, and more.
Fast access to recently viewed documents, knowledge base, or useful tools (e.g., Office 365 productivity apps).
Content and knowledge management
Storage and management (e.g., editing, approval, distribution) of diverse content (e.g., documents, images, audio and video files) in various formats.
Centralized repository for news, document templates, employee benefits, policies, wikis, FAQ, blogs, learning materials, and other types of content.
Automation of a document's lifecycle from its creation to archiving.
Real-time collaboration on documents.
Policy creation and approval workflow.
Automated policy renewal.
Policy acknowledgement.
Assessment of employees' policy knowledge.
AI-powered personalization
Personalized newsfeed, content and training suggestions for higher accessibility of useful content.
Full text and metadata search of employee info, files, news, events, and more across the intranet and integrated systems (e.g., DMS, CRM, HRMS) and search results ranking.
Communication and social features
Tools for formal and informal communication (e.g., instant messaging, discussion boards, blogs, forums).
Integration with social media and video-conferencing tools.
Non-monetary recognition via birthday and work anniversary dashboards on the intranet's homepage
Gamification elements (e.g., badges, levels, leaderboards) in employee training or working activities.
Communities, contests, surveys, media galleries with pictures and videos from corporate events to promote corporate values and strengthen the corporate spirit.
Two-level BitLocker encryption of data at rest: all data is encrypted on a disk and there's a unique key for each file.
Data in transit is protected due to SSL/TLS connection.
Permission-based intranet access to protect sensitive content from unauthorized viewing, modifying, and deletion.
Two-factor authentication
Additional protection layer (apart from a password): entering a code from an email or a text message.
Tracking changes in documents via storing document versions to prevent accidental deletion or unwanted changes in documents.
Tracking various types of user activity with intranet content: access time, the user who opened, modified, downloaded, emailed or printed it out.
Compliance with most government and industry-specific regulations (e.g., GDPR, GLBA, SOX, HIPAA, PCI DSS).
Automatic termination of an electronic session after a predetermined time of inactivity (e.g., 15 minutes).
Examples of Key SharePoint Intranet Functionality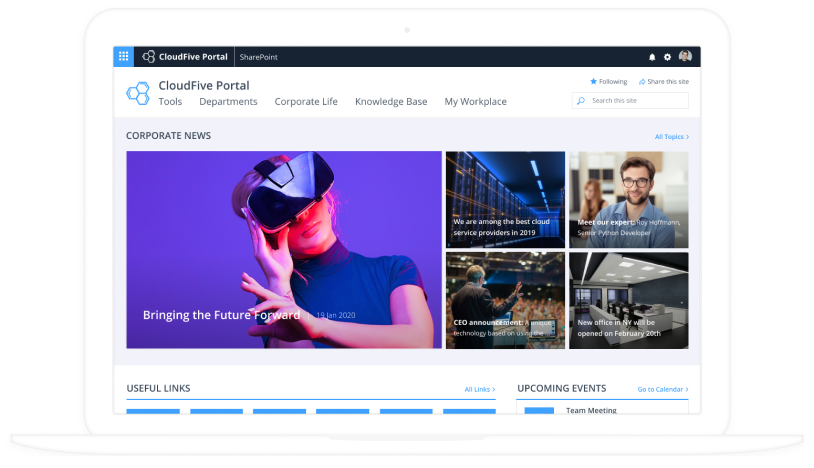 SharePoint Intranet Demo
Explore collaboration, communication and content management capabilities and an intuitive and eye-catching design of a SharePoint intranet in a live demo.
Key SharePoint Intranet Integrations
Integrating a SharePoint intranet with other software enhances data consistency across the company and streamlines work activities, communication and internal collaboration of employees, as they don't need to switch between the tools.
SharePoint intranet + CRM
SharePoint intranet users gain the capability to create and edit customer-related documents (e.g., contracts, purchase orders, invoices) right in CRM. Also, a SharePoint intranet provides cost-efficient and large (up to 25 TB per site or site collection) storage for CRM documentation and enables sharing bulky files (up to 15 GB), which CRM system may lack.
SharePoint intranet + HRMS
Automated creation of a new hire's profile and assigning an onboarding training to them on the intranet based on the HRMS data (e.g., the employee's skills, position).
Building of visualized reports on a variety of business data (e.g., employee performance, learning progress, collaboration effectiveness) in BI software and spreading them throughout the company in a few clicks, collecting data on the intranet's use and popularity (e.g., content ratings, page views) to provide insights on how to improve it.
| | | |
| --- | --- | --- |
| | | |
| | | With 750+ employees on board and 16 years in SharePoint intranet design and development, ScienceSoft, Microsoft partner, helps organizations leverage intranet solutions based on the SharePoint platform with minimal costs. ScienceSoft's ample expertise in SharePoint intranets has been recognized by Microsoft. |
| | | |
| | | |
Amanda Oliva
SharePoint Functional Analyst
Bentley Systems
At the end of a long migration project to the SharePoint O365 environment, our infrastructure software company desired to update the face of our intranet site with a fresh look. We required specific SharePoint customizations as well as an assurance that frequent Microsoft updates wouldn't disrupt the design. ScienceSoft expertly met these requirements and their delivery on countless details and change requests were lightning-fast and their communication excellent.
Shawn Hyman Jr., MCSE
Manager of Information Technology
Delaware Valley Community Health
I started my search for someone to help my organization to help us build an intranet site and came across ScienceSoft. Their reviews were nothing but positive and I've learned why first hand! They were responsive and very knowledgeable for assisting with our Intranet implementation. We met twice a week, and everyone was punctual with meetings and deadlines. I recommend ScienceSoft for any needs!
Brandon Heagle
Chief Digital Officer
Stella Rising
We knew we needed to have stronger remote work tools and decided it was necessary to have a company intranet to streamline communications, social connectivity, and key documents. After interviewing several firms, we landed on ScienceSoft based on their experience, strong client references and efficient pricing. We have been thrilled with the results, professionalism and reliability of the team.
Denise Yarian
People and Culture Manager
Autosoft DMS
We cooperated with ScienceSoft on our company intranet project. Their work will help us achieve a higher level of communication with our diverse workforce. We have already seen an increase in event participation and use of the tools built into the site which allow the employees to have a greater part in self-managing their needs.
Tejas Gajjar
Chief Technology Officer
Meysan Partners
We turned to ScienceSoft's consultants and developers for advice and assistance in implementing a SharePoint intranet. The team leveraged SharePoint capabilities to create an attractive, functional, and easy-to-use intranet that is available in two languages: Arabic and English. The solution is integrated with multiple third-party systems, incorporates both out-of-the-box and custom-built functionality, and automates required business flows.
Allen Firouz
Chief Information Officer
City First Bank
We partnered with ScienceSoft for a SharePoint intranet project for our financial institution. We needed to convert our classic SharePoint intranet to a modern experience, create a hierarchy of sites to mimic our organizational structure, and extend the intranet's capabilities with custom workflows, automation, and security controls. We are thankful to ScienceSoft for a great job on upgrading our intranet. The new intranet is easy and convenient to use.

Andria Hoda
Senior Account Director
Red Nucleus
Along with extensive SharePoint expertise, ScienceSoft's team is no doubt proficient in intranet development. They significantly improved the usability of our client's space by organizing the corporate content and reworking the navigation across numerous pages, folders and files.
Miguel Angel Ripoll
General Manager
Llaves Altuna de México
We worked with ScienceSoft in developing our SharePoint intranet. The development and implementation process was very smooth and delivered the exact results we were expecting. We will surely work with them in the future.
Kristin Ventura
Marketing Operations Manager
Cal Am Manufacturing
We worked with ScienceSoft on building out our SharePoint Intranet company wide. Their team is very professional and responsive. They were great to work with and helped us build solutions that improved our infrastructure. We are continuing to consult with them as we grow.
View all customer reviews
Common SharePoint Intranet Use Cases
By core functionality
SharePoint Online Pricing Plans
Pros and Cons of SharePoint Intranet
Key Financial Outcomes of SharePoint Intranet
| | |
| --- | --- |
| | Higher employee productivity due to quick access to information, effective search, document templates and a capability to work at any time and at any place with a mobile version of a SharePoint intranet. |
| | More effective collaboration due to project management and communication tools, online collaboration on documents, facilitated file sharing, and more. |
| | Improved employee engagement and satisfaction due to a variety of social and gamification features. |
| | Reduced hiring, onboarding, and training costs due to automation of these processes via the intranet. |
| | Enhanced regulatory compliance (e.g., GDPR, HIPAA, PCI DSS, GLBA, SOX) due to strong security features. |
<![endif]-->