SharePoint HR Management System | Streamline Work of Your Human Resources Team
SharePoint human resource management system (HRMS) helps businesses effectively search for high-quality candidates, streamline employee lifecycle management, increase employee engagement and retention, and reduce hiring and L&D costs. SharePoint HRMS solutions are best suited for mid-size and large orgs in healthcare, retail, manufacturing, professional services, banking and finance.
Employee information management
An employee database: personal details (name, contacts, education, etc.), historical data on employee activity (e.g., promotions, transfers, and salary changes).
Employee search and search filtering (e.g., by department, skills, experience, education).
Automated notifications (e.g., job contract expiration).
Reporting (e.g., employee performance, turnover).
Employee lifecycle management
Document management for an HR team to support diverse employee transactions (e.g., onboarding, promotions, transfers, offboarding).
Automated approval workflows set-up for employee-related transactions.
Collecting and managing data required for payroll calculation, such as work hours, special pay items (e.g., overtimes), deductions and taxes.
Tracking and approving salary changes (e.g., payroll review after a trial period).
Determining employee pay grades based on employee performance metrics.
Automation of compensation planning process, including real-time compensation reviews.
Tracking employee eligibility to corporate benefits (e.g., holiday bonuses, fitness reimbursements, medical insurance).
Managing enrollment of employees to benefits programs.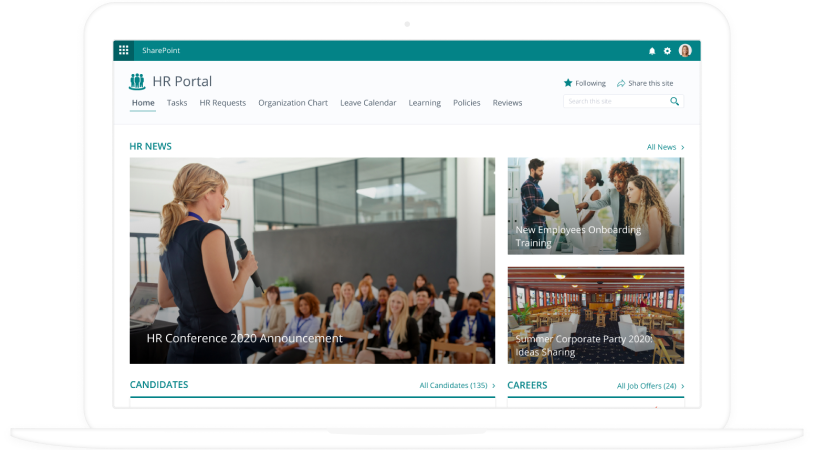 SharePoint HR Management Demo
See how SharePoint can streamline HR processes from onboarding to learning management and increase the productivity of your HR team.
Applicant tracking through each stage of the recruitment cycle (e.g., sourcing, sorting applicants, scheduling interviews).
Managing resumes, job and skill libraries, talent pools, and other recruitment data via a recruitment database.
Automated approval of the employment requisition (candidate approval workflows).
Advanced candidate search across integrated systems using search filters and search results ranking.
Recruitment reporting and analytics (e.g., interview statistics).
Creating a knowledge base for new hires (guides, an employee handbook, benefits, e-forms, training materials, etc.).
Tracking the onboarding progress via real-time dashboards for new hires, HR teams, and managers.
Automated welcome emails.
Automated notifications and reminders, for example, to sign a non-disclosure agreement.
Employee KPI tracking (e.g., open/completed tasks, overtimes).
Automated scheduling individual employee performance reviews and advance notifications about them.
Feedback on employee performance by their managers.
Tracking performance review results via dashboards (e.g., completion of goals, performance rating) and creating visualized reports.
Certification of employees and reminders for necessary certification renewals.
Employee self-enrolling to training or enrollment as a result of automated approval workflow initiated by their manager.
Automated notifications (e.g., course deadlines, knowledge assessment).
Evaluation of newly acquired knowledge and skills after an employee finishes the training.
Creating a database of employees' and their skills, experiences, certifications, achievements, and work history.
Competency analysis of employees based on self-assessment questionnaires.
Automated identification of competency gaps.
Career and succession management
Succession planning for job roles and employees.
Tracking employee career goals and setting up career paths.
Evaluation of a succession candidate's readiness based on their competencies and performance.
Creating a talent pool.
Comparing employees' profiles in the talent pool.
Polls and surveys to collect employee feedback on work, learning, etc. and measure their satisfaction.
Personalized newsfeeds with relevant content.
User-generated content (e.g., blogs).
Communication tools for social interaction (e.g., instant messaging, video conferencing), discussions, likes, commenting, sharing ideas, and more.
Employee recognition (e.g., announcing awards, promotions).
Media galleries with videos and pictures from corporate events.
Gamification (achievement points, leaderboards, badges, etc.).
Time and attendance management
Monitoring employees' working hours and absences, vacation and sick leave accruals, job contract terminations, and more.
Scheduling shifts for employees via calendars.
Automated detection of shift conflicts.
Tracking of vacations, sick leaves, maternity leaves, etc.
Manual approval of vacations by managers.
Automated leave approval in case of compliance with preset rules.
Automated notification of managers about non-compliance with rules (e.g., too many department employees take a vacation simultaneously).
Automated analysis of the current state of workforce, trends (e.g., how workforce resources will evolve over time through turnover).
AI-powered predicting of future workforce needs based on historical data, trends, and business needs (e.g., calculating the number of employees needed for a certain project, scheduling work for a certain time of the year).
Determining gaps between the current and projected workforce needs.
Reflecting the organization hierarchy and relationships between employees; routing HRMS users to employee profiles.
Employee personal pages with diverse information (e.g., skills, learning history, certificates, contacts, bank details, hobbies) that can be accessed and edited by employees.
An organized and searchable knowledge base with documents, presentations, videos, links, etc. to help employees resolve common HR-related issues without submitting a ticket.
FAQ section with quick, detailed answers to popular employee questions.
Communities, blogs, forums with how-tos and tips.
News and announcements (e.g., about new HR policies, employee benefits or changes in labor legislation).
Employee handbook with information about the company's mission, culture, values.
Digital HR document management
Document templates (e.g., an NDA, an insurance application, a resignation letter).
Centralized document repository.
Advanced search (by titles, metadata, full text).
Tracking changes in employee-related documents like an employment contract or a job description due to versioning.
Employee request management
Submitting requests related to vacation approval, travel arrangements, fitness reimbursements, medical insurance, etc. and tracking their status by employees via a self-service portal.
Handling employee requests by managers (e.g., request approval, rejection, escalation).
Automated notifying employees about request approval/rejection.
Chatbots and virtual assistants
AI-powered assistants that answer employees' common HR-related questions, provide relevant documentation and guides, book vacations, and more.
Reusable templates for making typical policies or updating the existing ones.
Centralized storage of internal policies and procedures, associating them with external regulations (GDPR, HIPAA, etc.).
Dashboards showing a list of policies, their creation dates, status (new, approved or pending), an approver's name, and more.
Compliance acknowledgement by employees.
Scheduled notifications about the need to review policies or reminders of a certification that is about to expire.
Policy knowledge assessments via quizzes and surveys.
Protecting employees' private information due to data encryption, multifactor authentication, permission-based access, audit trail, control over document downloading, printing out, etc.
Tracking an organization's compliance with state and federal labor laws for breaks, payment, time-off policies, IT security, occupational safety, and more (e.g., FLSA, FMLA, GDPR, OSHA).
Tracking compliance with corporate policies (e.g., data protection, diversity and inclusion).
SharePoint HRMS integration with other software streamlines HR processes like employee lifecycle management, payroll management, and more, increases productivity of HR teams and improves employee experiences.
To enable automated enrollment of a learner in relevant training in the LMS based on the changes in the HRMS data (e.g., promotion, new job responsibilities); automated updating of learning records in HR software based on the learning history (e.g., passed assessments, completed courses). Also, LMS can enable AI-based recommendations of trainings to learners based on employees' skills available in the HRMS.
To automate the lifecycle of employee-related documents (e.g., applications, employment contracts), including e-signing.
To sync employee data stored in HRMS (e.g., performance, leaves, overtimes, benefits) with payroll data (e.g., salaries, bonuses, taxation) and enable payment calculation by payroll software, which is updated in real time based on the changes in HRMS data.
+ project management software
To provide information on human resources needed for a project, so that an HR team could use it to choose the resources from the talent pool in the HRMS based on employee availability, skills, and more or initiate hiring of such resources.
+ recruitment database software
To provide automated transfer of the info about new hires (e.g., education, competencies, contacts) from a recruitment database into HRMS and updating of job postings in the database after a candidate gets a job or a current employee gets promoted or leaves the company.
Custom HR documentation templates.
Employee and HR team performance assessment dashboards.
Employee lifecycle management workflows.
HRMS page layouts, unique branding, and more.
| | | |
| --- | --- | --- |
| | | |
| | | With 14 years in SharePoint, and 9 years in HR software development, ScienceSoft helps recruiting agencies and HR departments of organizations streamline HR processes with minimal costs. |
| | | |
| | |
| --- | --- |
| Increased efficiency of HR teams via employee self-service | Reduced administration and labor costs via digitizing recruiting, onboarding, training and other HR processes |
| Reduced security breach costs due to granular permissions and other strong security measures that help protect sensitive employee data | Higher learner engagement and satisfaction due to rich social, employee recognition and gamification features and effective employee request management |
<![endif]--> <![endif]--> <![endif]-->