Editor's note: Learn how B2B marketing automation helps minimize manual tasks in marketing campaigns and consider ScienceSoft's marketing automation services to build a marketing automation strategy for your business and support it with fitting marketing automation software.
Of the top B2B performers, 69% use marketing automation for customer acquisition, while 50% use it for customer retention. B2B marketing automation can help you influence your prospects' interactions with your brand with strategically placed ads and inbound marketing, estimate their converting potential and facilitate their journey to conversion.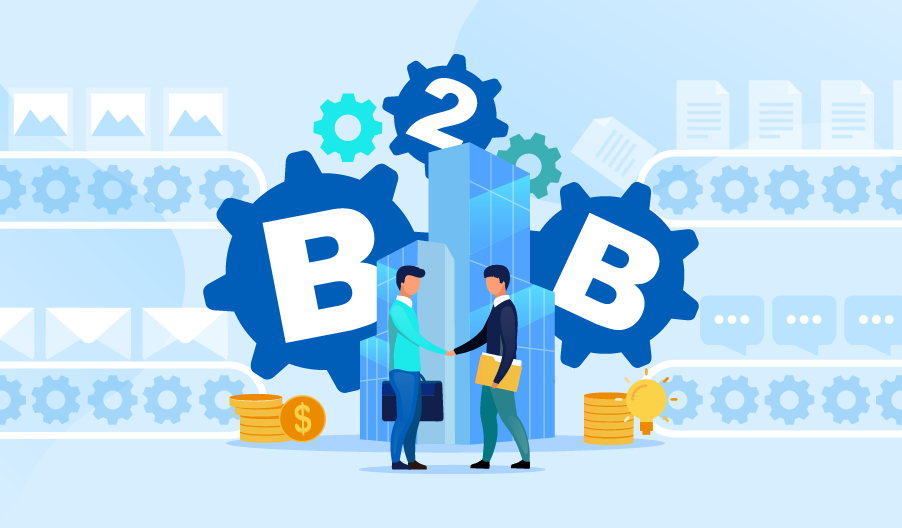 B2B vs. B2C

marketing automation: Sales cycle

Although B2C marketing and B2B marketing have similar objectives, the way B2C and B2B marketing processes are automated may vary. B2C is all about a buying journey where an individual is at the center of the automation process. The buying decision is, as a rule, autonomous and usually impulsive, which means a shorter sales cycle and a single vector communication with a customer.

B2B companies, on the other hand, have longer sales cycles that involve multiple key personnel to arrive at a purchasing decision on behalf of their company. So, your marketing automation should be built around brand awareness and value-sharing aimed at generating leads and further retaining B2B customers.
Automation of key B2B marketing processes
#1 Lead scoring and categorization
I suggest starting with optimizing your first engagement point (landing page, email, social media, etc.) with content and offers that compel your prospects to click on your CTA. It's a win-win situation where the prospects get the promised content/offer, and you get their contact information. This contact info will be the starting point of your lead generation database.
Based on the engagement levels of each lead, you can score and categorize them. For example, you give a high score to those who view your pricing page and a low score to those who only view your About page. The ensuing campaigns will be tailored according to the lead categories.
#2 Prospect management and conversion
Guide your prospects all the way until becoming leads and collect prospect data for further insights from various touchpoints alongside. With that info at a table, you can tailor the elements of the buying journey to specific prospect groups rather than applying the same campaign tactics to all your contacts. For example, one group will receive emails about upcoming product discounts to entice them into buying, while another group - free newsletters to pique their curiosity.
#3 Alignment of efforts on key accounts
Once your prospects are at the end of the purchasing cycle, you can align your efforts with the sales team for successfully closing the deal. This approach is especially effective in B2B and targets high-value accounts, which are one step away from turning into loyal customers. With automation in place, marketing and sales teams can come up with scheduled and targeted campaigns for such prospects.
Top marketing automation platforms suitable for B2B
Below, I provide the list of B2B platforms we at ScienceSoft consider most effective.
#1 Dynamics 365 Marketing
It is a marketing suite with comprehensive lead management functionality, which provides a holistic view of prospects.
Some of its distinctive features are:
Your marketing team can organize events as a means to showcase products/services and invite B2B prospects. Dynamics 365 Marketing helps you plan an event, register event attendees, broadcast your event, and analyze its results.
Connection to LinkedIn for lead generation
More B2B marketers are turning to LinkedIn due to the nature of the platform that is more business-centric. There are a lot of potential B2B clients out there looking out for products/services suitable for their companies.
It allows tracking your marketing KPIs to gain insight on your performance while identifying which activities contribute positively and which do not.
Limitations: Dynamics 365 Marketing has a basic WYSIWYG design editor, which can be difficult to create customized marketing content with, so you may need to leverage HTML/CSS.
Pricing: The pricing plans differ based on the number of apps being used. As a standalone app, it starts from $1,500 per month for 10,000 contacts. As an addition to your Dynamics apps suite, it's priced at $750 per month for 10,000 contacts. The price is also incremented based on additional contacts.
Check out our Dynamics 365 Marketing overview or shortcut your way to a more structured knowledge of this platform with our demo.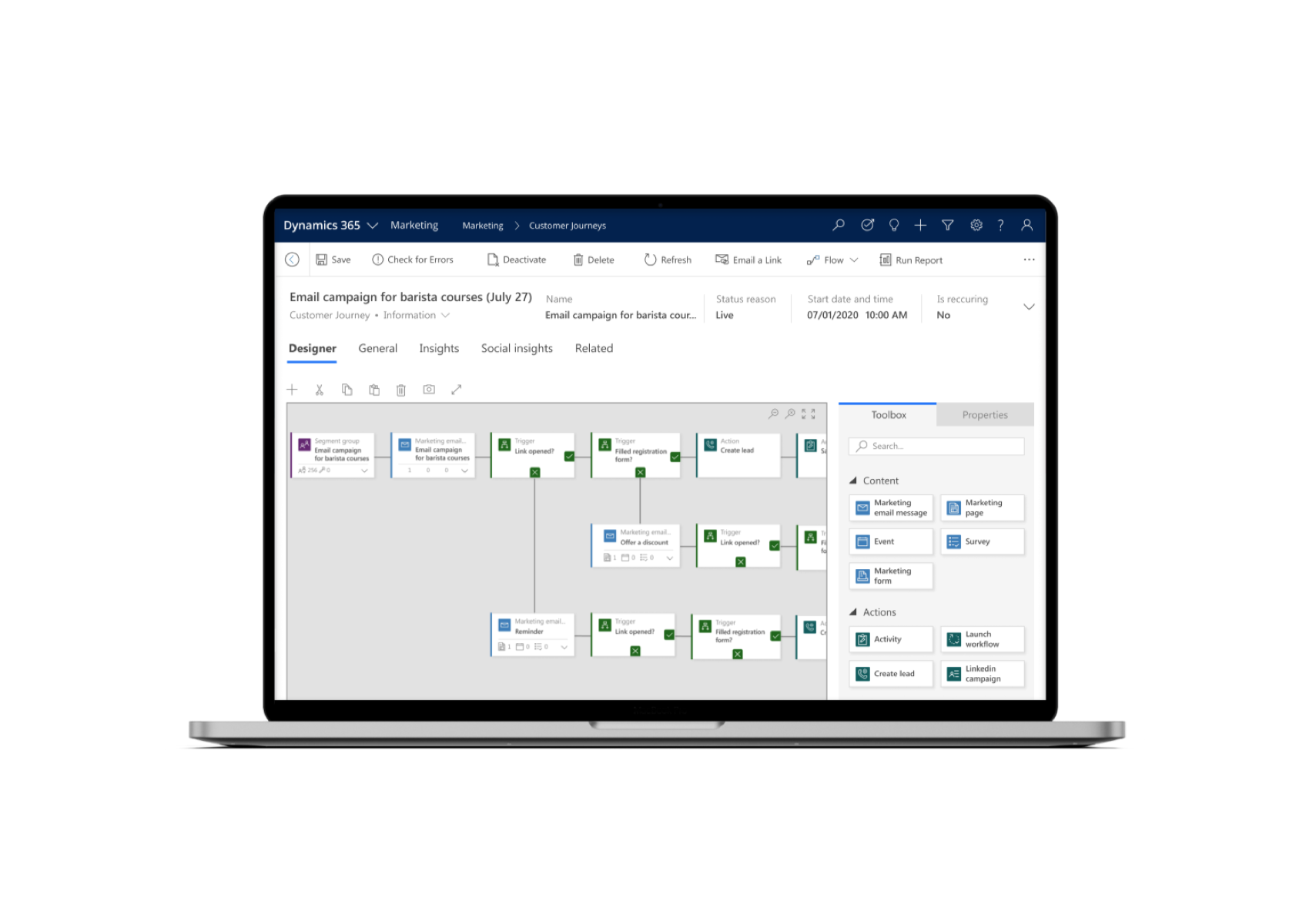 #2 Pardot
Pardot is B2B marketing automation software built on Salesforce. Take a look at some of its unique features:
Progressive profiling collects information from the smart forms at every stage of interaction with prospects. It prevents prospects from being frustrated at having to fill in too many details.
Integration with Google Analytics and AdWords
You can get a true picture of your ROI as Pardot seamlessly integrates with Google Analytics for syncing and analyzing leads, as well as AdWords for easier management of advertising campaigns.
You can utilize the underlying CRM data to predict the types of prospects that are most likely to engage with your content/ads. Einstein Behavior Scoring can alert you when leads are ready to buy based on their behavior.
Limitations: Pardot has limited event management functionalities in terms of scheduling, attendees and facilities management.
Pricing: Its lowest pricing plan starts at $1,250 per month for up to 10,000 contacts. The premium plan is priced at $15,000 per month for up to 75,000 contacts.
Check this page for a comprehensive overview of Salesforce Marketing Cloud functionality.
#3 HubSpot
HubSpot prides itself on being at the forefront of inbound marketing. Its distinctive features include:
Provides you with the ability to build, visualize, and tie your marketing workflows to a clear goal so that you are in control of your marketing campaigns and multi-stage customer journeys. You can score prospects, guide prospects throughout a buying journey, and trigger internal notifications when a customer takes a notable action.
Integration with Salesforce
With this integration, qualified leads are transferred to your sales team with no manual efforts involved.
Email marketing and personalization
Enable the creation of email templates and automatic personalization down to subject lines for each recipient and execute A/B tests to determine which message/content has better reach and conversion.
Limitations: Software customization capabilities may not be able to cater to specific marketing needs.
Pricing: HubSpot CRM is free. The Marketing Hub, which has all-in-one marketing software, starts at $800 a month.
Your next step to B2B marketing automation
With 63% of companies outgrowing their competitors through marketing automation, you should be joining the bandwagon. And to finish your automation journey with success, I recommend you starting it together with a reliable marketing automation implementation partner. If you need help with any aspect of marketing automation, give us a shout.
As a marketing automation provider, ScienceSoft will help you optimize marketing processes with platform-based or custom marketing automation software.